How To Start An Art Journal: A Complete Beginner's Guide
If you're thinking about how to start an art journal, I'm glad you're here because this post is going to give you all the important info you need to get the ball rolling.
I just wanted to remind you that this guide is really in-depth, and I don't want you to get overwhelmed.
My goal was to put all the info you might be curious about when it comes to starting an art journal.
Please don't try all the things at once but just inform yourself about all things art journaling and then take one step at a time.
Disclaimer: Some links in this post may be affiliate links. This means that if you purchase something through that link, I get a small commission, at no extra cost to you.
What is an art journal?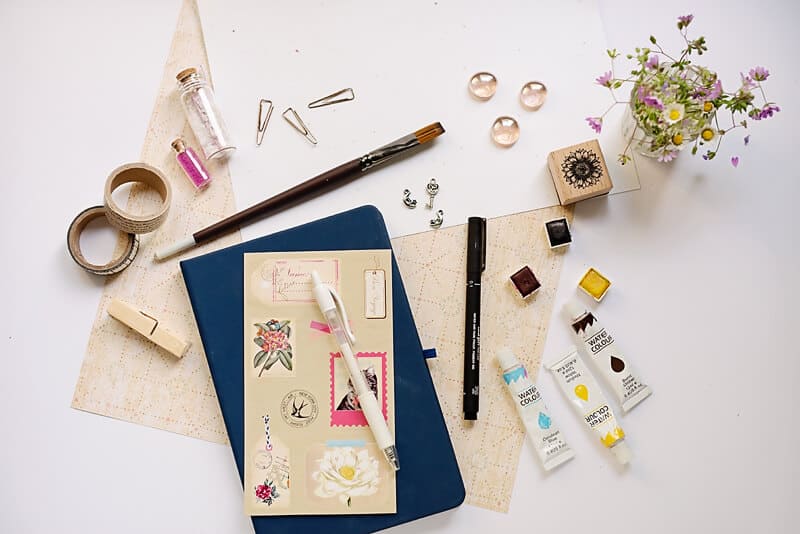 An art journal is a visual diary where you practice making art while expressing yourself at the same time.
Think of it as a journal or a diary and just add this artistic element to it. How awesome is that?
An art journal can be anything, really.
You can make your own, buy them in a shop, or use old books, notebooks, planners, etc.
Anything goes as long as you do it for yourself, have fun, and use it to express yourself.
Reasons you should start an art journal
There are so many benefits of art journaling and I could talk about this for days because having an art journal definitely changed my views on art and helped me express myself better than in any other way.
Having an art journal is fun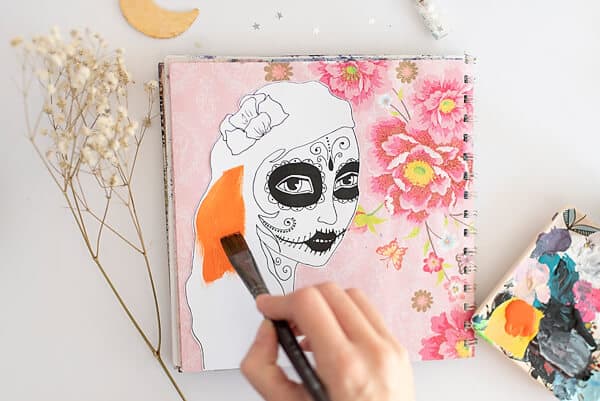 Yes, it's fun! It's not a serious academic exploration of techniques, motifs, themes or art exhibitions. (Oh, I just got tired of all these fancy words.)
Making things in your art journal is a playful activity where you can unleash your inner child and be carefree with your art.
Imagine playing with paints just to see how they look on paper or finger painting! Yeah, why not forget about brushes and play with paint using your fingers?
You can create every day
If you want to, you can make art every day in your art journal. It's so easy to pick up a journal and start creating.
There's no fuss with canvases, no pressure to make it perfect.
The bottom line is, that having an art journal lets you make small art every day without any pressure of having to finish a piece.
A quirky detail: My fingers also get covered in paint, and it doesn't wash right away, so I have a feeling of having an artist's fingers and I love that. It's quirky, I know.

Having some paint on my fingers the whole day is such a small thing but it really makes me happy because it reminds me I did something artistic that day.
There's no pressure or fear
I would use a canvas or a piece of paper and was eager to make something, but there was always that fear of ruining the canvas.
This thing really blocked my creative process, like having handcuffs and not being able to do anything right.
On the other hand, an art journal doesn't seem as serious as a canvas does.
You get to grow artistically and personally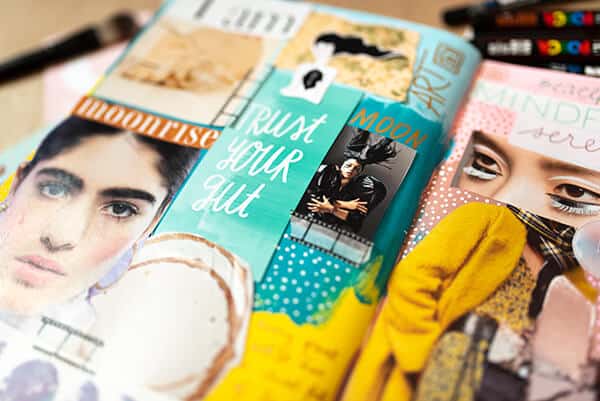 What I love about the combination of art and journaling is that it covers two amazing things and binds them together in a beautiful balance of self-expression.
On top of all that, your artistic skills develop more quickly. Also, you become aware of your style, and what you like or don't like, and you learn many new art techniques with so much ease and no pressure.
What to think about before buying an art journal
The size
Ask yourself what size suits you considering the work you'll be doing. It's just a matter of preference.
But, If you're just beginning, you might try something smaller, like an A5 size. It's the size of a regular notebook and it's easy to carry around.
Also, you won't be intimidated by a big art journal and all that space you'll need to fill in it.
However, if you really want to draw and paint big, and use big letters, then, by all means, get yourself a bigger one, like an A4 size. Just bear in mind that the larger ones are harder to carry in bags, and of course, are much heavier.
The paper
Choosing the paper has everything to do with the style you're into.
For instance, if you want to play with watercolor or sprays, you'll definitely need an art journal with thicker paper that doesn't bleed. In this case, look for journals that specifically say they are for mixed media and watercolor.
On the other hand, if you're planning to do only sketching, doodling, or using acrylic paint, you can get an art journal with thinner pages.
Also, if you have a journal with thin pages and you want to use wet media, you'll often need to make the pages sturdier by using gesso, or by gluing two pages together.
It's the opposite with the thicker pages because there's no need to prepare them, you can just start painting and not worry about bleeding, crumpling, or ruining the page with wetness.
Note: No matter what the paper, you'll still need to set some limits before putting all the water you can get on the paper. Paper is still just paper, and if you put an enormous amount of water on it, it'll eventually soak and tear.
The binding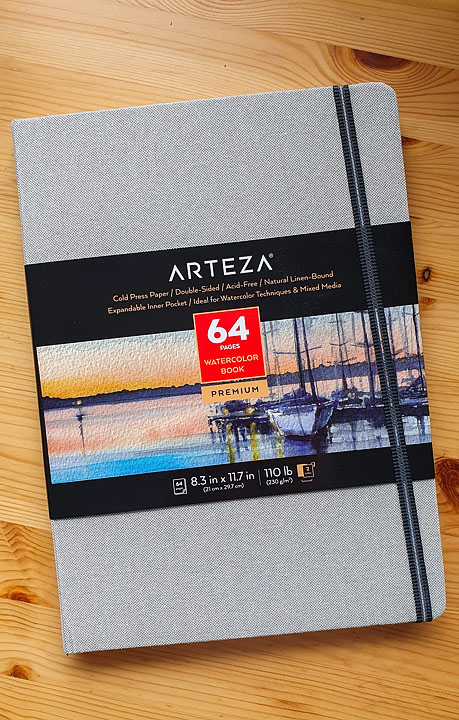 Thinking about binding is just being practical, and has nothing to do with your art style or the media you use.
There are art journals with spiral binding which are great because you can take out pages and use them separately if you want to.
They also break the spread into two separate pages that don't have to be connected while making art.
The art journals with a spiral binding can also open flat so it's easier to work in them.
Stitched journals sometimes make you struggle with having them lay flat. In this case, I just use paper clips to hold the pages down.
These journals are great because they are sturdy and let you use the whole spread as one piece of art. This way, you connect the two pages into a spread and have more space to work on.
What are the best art journals?
There are many art journals to choose from, but you can also make your own.
Here, I'll list the best art journals I've tried (and love!) and some journals recommended by other artists. Also, I'll share how to make an art journal yourself.
I'm using the A5 size of these art journals, they are sturdy and easy to carry around.
What I love the most about these journals is their paper. They have thick watercolor paper inside which is amazing because:
The thick paper inside lets you use different wet media like watercolors, acrylics, or spray inks, without worrying about pages bleeding. These can take so much water and still not bleed.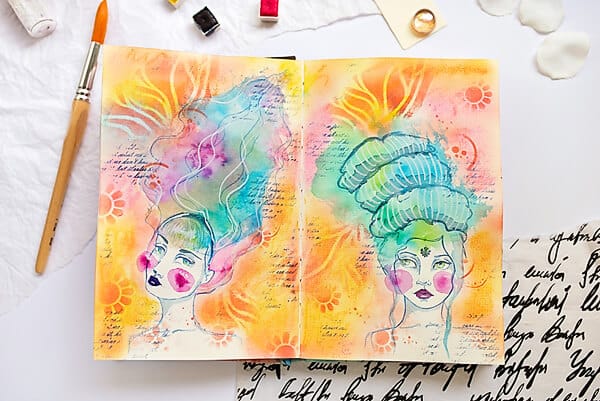 Even more, you can get the journal with blank canvas covers so you can paint them in whatever way you like.
Marabu mixed media art journals
These were the first art journals that I purchased. They come in different sizes and paper thicknesses.
I've used A4, A5, and A4 landscape journals with spiral binding.
Marabu art journal A5, 72 Pages, 180g
Marabu art journal A4, 72 Pages, 180g
They're still great for drawing and painting, but you have to be careful not to put too much water on them because the pages bleed.
For example, I can't use acrylic sprays on them, they always tend to bleed through paper.
But, they are amazing for drawing, sketching, and painting with acrylic paint.
Art journals other artists recommend
I haven't tried these journals but I've seen many art journalists use them and are satisfied with the paper inside.
Maybe you'll find the best art journal for you here.
What I love is the fact that it can hold so much wetness. I've also seen Dyan Reaveley (the creator of these journals) work in them with sprays and water, and the pages still hold really well.
Also, they come in various sizes, colors, and shapes and have a chipboard cover that you can paint as you like.
I've heard about this one in all the Facebook art groups I've been in.
It seems artists love it because of its price range, the spiral binding so the pages can be separated from the journal, and the fact it can hold most wet media like acrylic paint, light watercolor, and other mixed media.
How to make an art journal
One of my favorite crafts is making my own DIY art journals.
There are so many ways you can do this.
1. Turn an old book into an art journal. Pick a book that you like, and take out some pages because the book will get bigger as you use it.
Also, prepare the pages for art journaling by applying gesso on the paper or by gluing two pages together to make them thicker.
2. Make a DIY art journal. Gather some paper you'd like to use, whether it's watercolor paper, scrapbook paper, or any other paper you think can serve well for your art journal pages.
There are different ways of binding these pages together, and here are my favorites:
Use a piece of twine, like in the photo below.
If you want detailed instructions on making a DIY art journal, here's a link to a tutorial for a very simple handmade one:
Gather the pages and make them the same size. Then, fold them in half and make two holes for the binding on the crease.
Next, take brads and use them to connect all the pages together, as I did with my gratitude art journal below.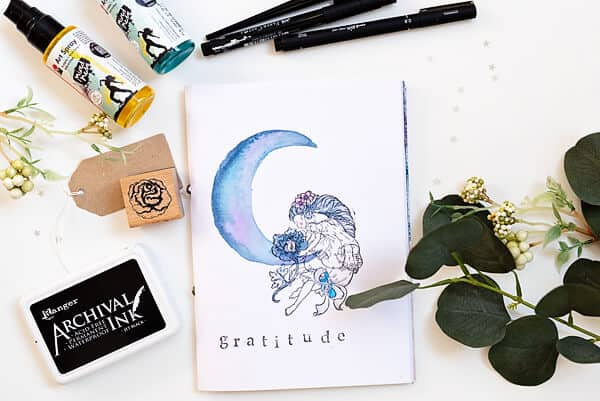 Instead of brads, you can stitch the pages using a needle and a thread. I usually don't have the patience to do this, but you go for it!
Spiral binding. Books with spiral binding are sometimes practical because you can lay them flat open and turn the pages freely.
That's why I take some of my DIY art journals to a stationary store, or a printing studio, where they offer this kind of binding, and they do it for me for an affordable price.
Best art journal supplies for beginners
To be completely honest, you can start an art journal if you only have a pencil and a few pens. Since there are no rules in art journaling, there are no rules when it comes to art journal supplies.
In order to get you started, I'm going to list some art supplies I think would be useful for you at the beginning, but I'll also include more things if you want to check out other options for art journaling, besides the basic ones.
Pens and markers
You'll definitely need pens because they can be used for almost anything: writing, doodling, outlining, tracing, etc.
The most important thing to look for in pens is that they:
At least, that's what's important to me because I don't want my pages to smear when I add paint or water to them.
Also, if you doodle with pens, at one point you'll put your hand on the paper while drawing and might smear the pen. And then all the effort is gone to waste.
That's why I use these pens all the time and they never smear and are waterproof. I can easily paint over them with watercolor and not worry about ruining the page.
Pens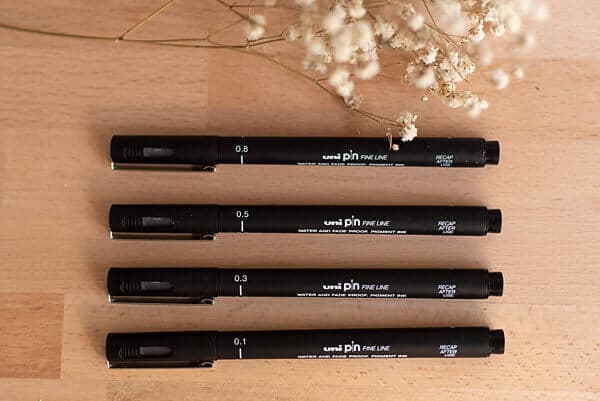 Unipin Fineliners. These pens are awesome and they come in different sizes. I usually use the 0.1, 0.3, 0.5, and 0.8 sizes.
Faber Castel Pitt Pens. I own a few of these and love them for doodling or outlining. They also come in different sizes and colors. I've heard that other artists love them as well.
Platinum carbon ink fountain pen. If you want to try out a fountain pen, this is a great choice, because, once again, it's waterproof. Even more, it's great for sketching.
Markers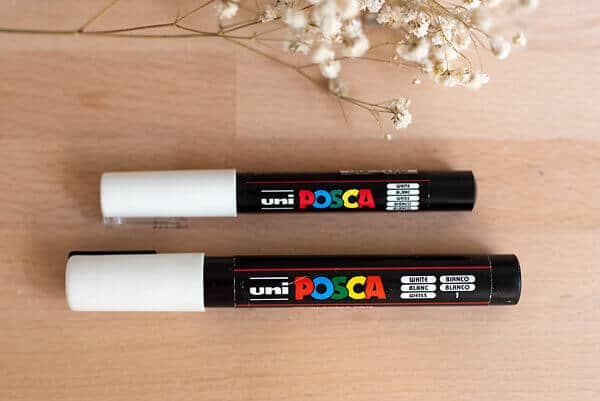 I've found that the best markers are the Posca paint pens, especially the white ones.
They come in various colors, are amazing for doodling, and you can use them on acrylic paint and even textured backgrounds.
I love using the white Posca paint pens on dark backgrounds because it's opaque and the ink flows perfectly and smoothly. That's why when I paint with them, I also enjoy looking at the trace the pen is leaving.
I love these quirky small joys while using my art supplies. It somehow adds to the beauty of making art in your art journal.
Paintbrushes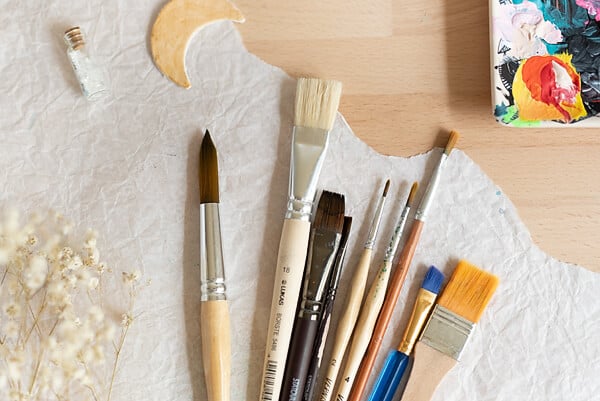 When it comes to paintbrushes, don't worry about them too much. You can start with student-grade brushes until you learn some techniques and different purposes the brushes have.
This way, you'll save your money, but also your nerves and frustration. Imagine buying an expensive brush only to ruin it by experimenting with different supplies and techniques.
Just to be on the safe side, use affordable brushes for now. Later, when you develop your skills and style, you'll have more confidence in investing in new brushes.
However, I'd still recommend an awesome type of brush called the water brush.
This one is so amazing because it already has its own water container so you don't have to use glasses or mugs of water.
I have these in various sizes and since I've had them, I haven't used the regular brush that often.
Note: these brushes are used only for watercolor, not acrylic paint. However, I've used them with ink or liquid acrylic from spray bottles.
Acrylic paint
I'm sure you already used acrylic paint, at least in school projects.
Acrylic paint is easy to use, dries fast, and comes in so many colors that you won't be able to decide which one to get.
And there are a gazillion beautiful colors out there, some even looking like ice cream and so yummy.
When buying acrylic paint, I'd also go for the affordable ones, especially if you're just beginning.
There are a lot of brands to choose from, but the good thing is that acrylic paint is available in almost all stores. I even found some of mine at home decor and furniture stores.
You can check out some of the great acrylic paints here.
Watercolor
If you're just a beginner and want to experiment a bit with watercolor and don't care about the professional quality, then just use student-grade watercolor.
However, if you want to try more quality ones, I can show you which ones I use, and they are amazing watercolors.
Ever since I tried Jane Davenport's watercolor sets, I haven't used any other. These watercolor sets are so rich in color and you need just a tiny bit to get awesome results.
I have 2 sets:
The bright palette is wonderful, and the colors are rich and mix together perfectly. Here are some examples from my art journals:
The neutral palette is great for painting faces and skin in general. With these, you don't have to mix a perfect color for the skin, you already have enough shades already made for you.
Stamps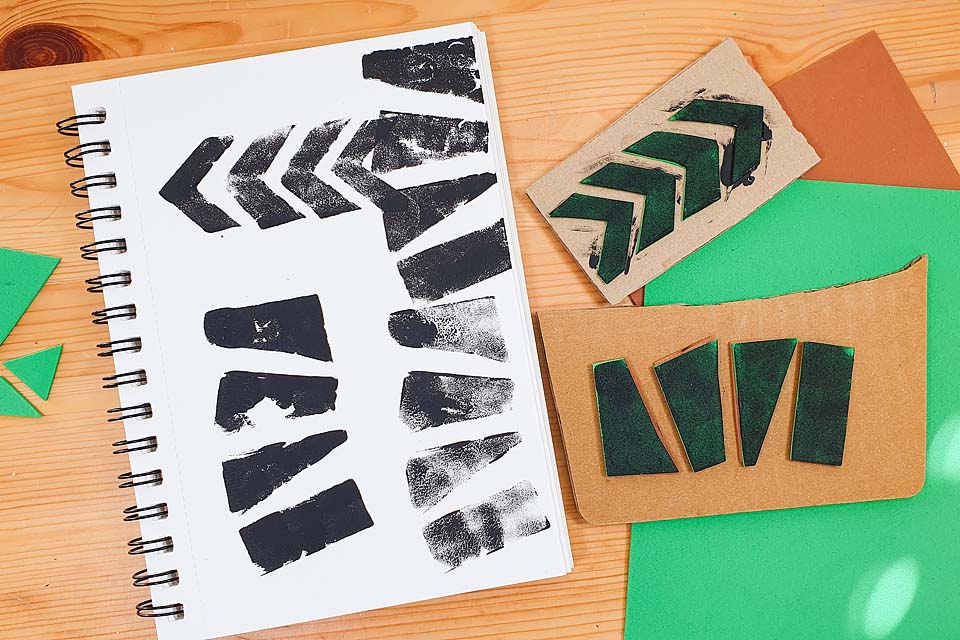 When I started my art journal, I immediately liked how easy it is to create pages with stamps.
That's why I think it's a great idea to include some basic stamps in your stash.
The ones that are the most versatile are alphabet stamps, flower stamps, and some kind of shapes, geometrical or abstract.
With them, you can write text, make decorations with flowers, and combine them together to get even prettier designs.
You can make your own stamps out of foam or buy them.
Here are some of my picks that you can buy:
Alphabet stamps
Miscellaneous
Stampers Annonymous Rubber Stamp
Ink pads
If you want to work with stamps, then you'll need ink pads.
There are a few brands and colors I've used for a long time and really love them. I'll also show you examples of my art journal pages using these products.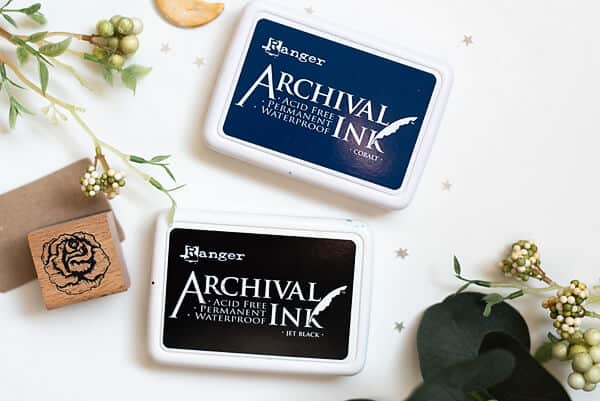 I love them because they're waterproof.
Imagine this, you stamp the images you love and just paint watercolor over them without the fear of smudging the stamped design. Oh, how I love that I have that possibility. If I don't have to worry about these things, I'm more relaxed, and of course, happy.
They come in a variety of colors, but if you decide on getting one for yourself, I'd recommend you buy the black ink pad because black is neutral and you can use it for many projects.
Here are some examples of using this black ink in my art journals: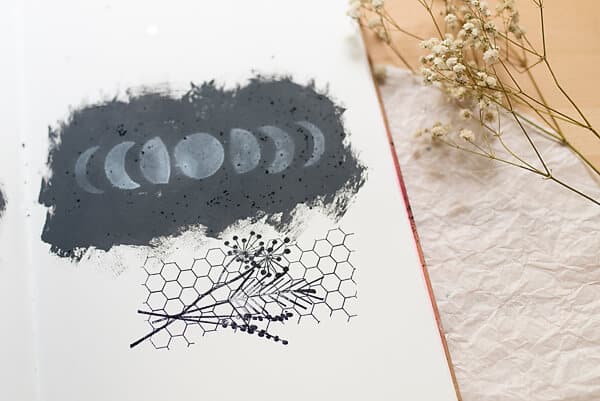 Household items
You can always use things around your house as art supplies.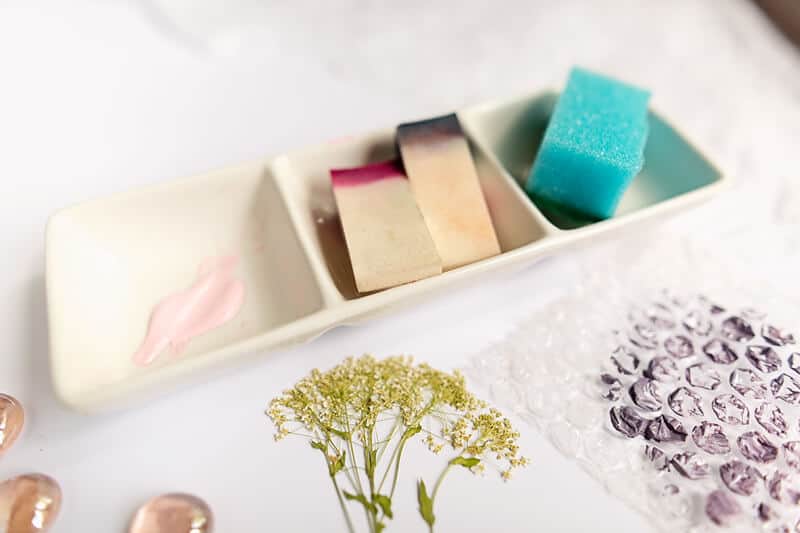 For example, my favorite one is the kitchen sponge. You can use it for applying acrylic paint.
Another one I often use is the make-up sponge. It's a great choice for blending ink from ink pads.
There are many other items you can experiment with and see which ones you could use, like toilet paper rolls, bottle caps, forks, etc.
How to start an art journal step by step
Now that you know a bit more about art journaling and the supplies you could use, let's dive into making some art journal pages.
1. Prepare your art supplies
So, now you have picked an art journal or made one yourself, and have prepared art supplies that you like.
These supplies can be anything: paper scraps, magazine photos, stamps, acrylic paint, pens, markers, etc.
START AN ART JOURNAL TODAY WITH A FREE STARTER KIT
Get your FREE Art Journal Starter Kit and start making art today even if you're a complete beginner. You can create lovely art and this guide will help you.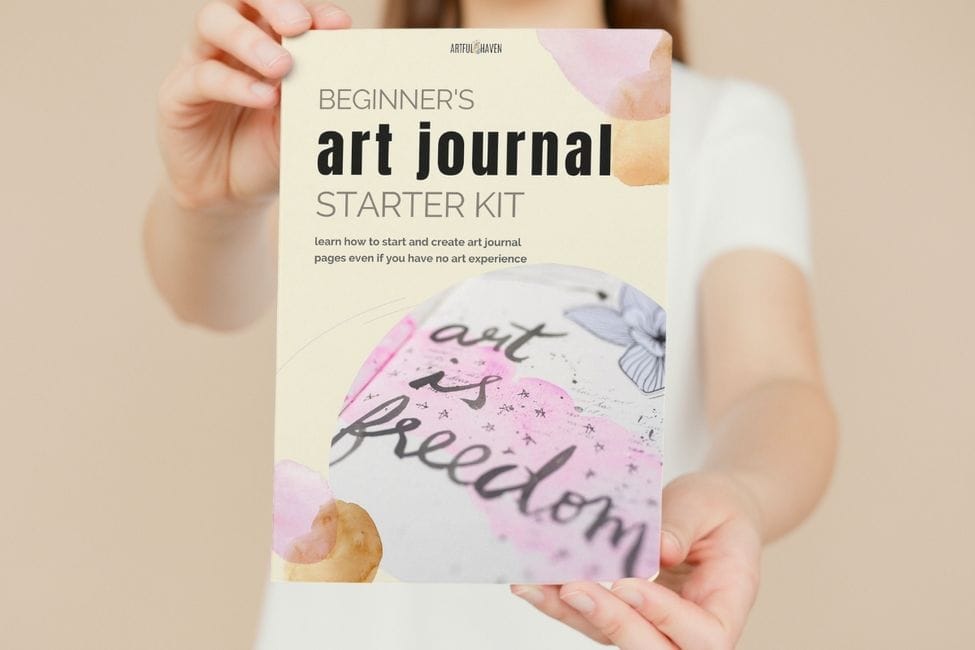 2. Decide where you'll make the artistic magic happen.
If you don't have a craft desk, you can use the kitchen table, or anywhere else you find comfortable.
Make sure nothing can distract you while you're having your alone time. If that's not possible, put headphones on, and enjoy.
Acrylic paint background
I love making acrylic backgrounds, and here are a few ideas:
Take some acrylic paint and apply it with your brush or a sponge in three areas on the page.
Then, take another color and cover some more areas.
Next, decide if you want to keep just these two colors, or if you want to add a third. It's all up to you.
When you've done that, you already have a simple background. Check!
Now, let it dry completely before you continue with your page.
4. Layering is always fun!
Making layers in your art journal is a fun way to add more interest and depth to your art.
When that first layer of acrylic paint is dry, add another one by painting shapes, like circles or squares.
Also, you can always add layers with stamping. Try stamping your image on three different parts of the page.
After that is dry, take some white acrylic paint and smudge it in some areas with your fingers.
Don't worry if you cover some of the stamps or other layers, it's supposed to be like that so the layers seem natural and really beneath one another.
Let this dry.
5. Create a focal point
It can be a bit discouraging when you look at the background you've created because it can be hard to continue after that. Again that question: What to do now?
When you're in doubt like this, always remember to have a focal point on the page you're creating.
What does a focal point mean?
It's a part of a photo, room, or painting where there is a main object your eyes are drawn to.
The fun part of this is you get to play with where to place the focal point.
In photography and design, there is a thing called the rule of thirds.
This means that an image is divided into 9 equal parts (something like a Tic Tac Toe grid). The lines mark the thirds of the image, so if you put your main object on one of those lines, or meeting points, it will attract the eye naturally.
Here's a visual so you can imagine it better:
This is the cover of my handmade photo album and I painted these clocks in the places where the lines meet.
It doesn't have to be exact, and you don't need a ruler or anything. Just figure it out approximately.
The bottom line is, that things look a bit more interesting when they're off-center. So, by moving your focal point to the side or up and down. you make the composition more eye-appealing.
Your focal point can be anything. Perhaps you can draw something or glue a photo, magazine image, or any other paper cut-outs you have.
6. Make swatches
If you really have no idea what to paint or write but still want to make something, you can always do swatches.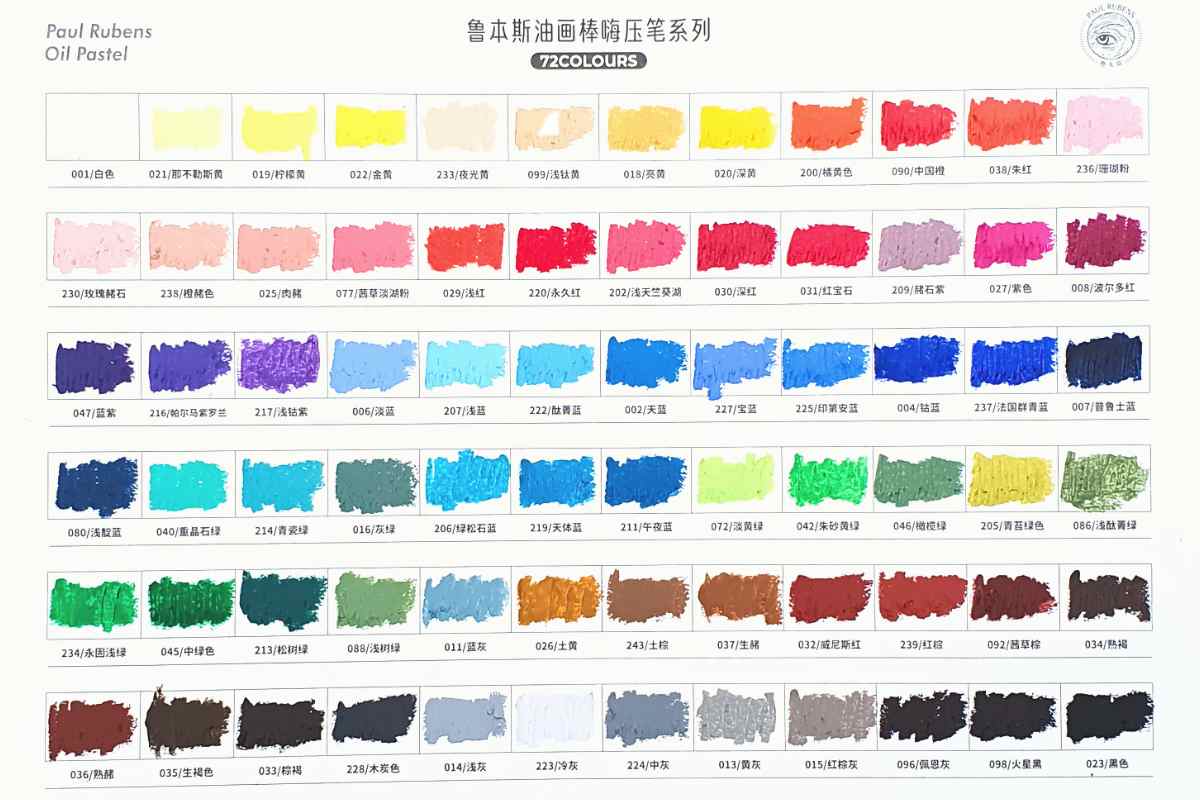 How do you do that?
You can make swatches with any kind of supply.
For example, you buy a new set of colored pencils and want to try them out on paper.
Then you try each colored pencil in your art journal and make small squares or circles or just scribbles, in order to see what they look like on the paper.
This way, when you want to use them later, you can refer back to the swatches and decide on the color more easily.
You can do this with watercolor, pens, acrylic paint, or anything you want to try.
Another idea is to play with swatches and different kinds of paper.
For instance, try watercolor swatches on watercolor paper and some other kind of paper, to see the difference.
Fun tip: Try mixing colors together and make your own shades and tints. Just make a note of what you've mixed so you have a handy reference.
7. Time for journaling
We've been talking about the art part of starting an art journal, now let's continue with some writing.
Now that you have your background and a focal point, you can do some journaling around it.
First idea: you can use a marker and write over the background. Just bear in mind that most pens can't write on acrylic paint, so markers are better options for this.
Second idea: you can write your words on a piece of paper and then glue them down on your page.
If you write in pretty handwriting, everything will seem even more special and artistic, so play with fonts, too.
What to write in your art journal?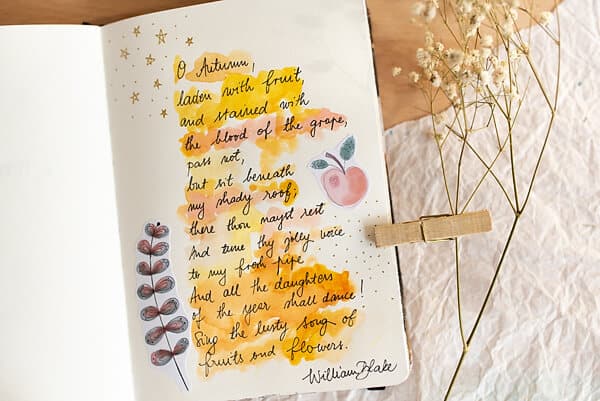 The most common answer for art journaling questions is:
There are no rules, you can do anything.
The same goes for writing in your art journal.
Having this in mind, you can write whatever feels right to you, whatever moves you at the moment, or troubles you.
Your art journal is for your eyes only, if you decide that, so just feel free to pour out anything you want to.
To help you start your art journal writing, here are a few ideas on what you can write about.
The brain dump
It's so obvious, right? Journaling is mostly seen as writing down your own thoughts.
What about your thoughts on art? Or maybe you're thinking about how to solve a problem you're having.
In this case, try the so-called brain dump. Just unleash your stream of thought onto the paper.
This is sometimes liberating because it helps you get those thoughts out of the mind and onto the paper.
It's like you physically move a bunch of folders from your mind's drawers, and find peace of mind at that moment.
Dreams
Have you ever written about your dreams?
Maybe you have interesting and vivid dreams that might show you the state of mind you're having at that period of your life.
If you start writing them down and read them later, maybe you'll see a connection or a pattern that might uncover some neat things about yourself.
And one more thing, doing this is fun! Dreams are mysterious to us humans, and giving them some thought now and again, makes it some kind of a discovery hunt. Fun, right?
Quotes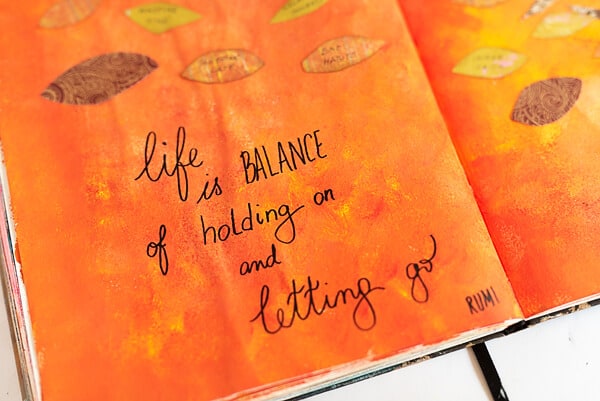 I think quotes are my favorite and I use them all the time in my art journals.
Quotes help us describe a moment or situation perfectly, even better than we can sometimes, so they're a great thing to include on your art journal pages.
There are so many great quotes out there, so you can find your own pearls pretty easily.
Here are a few sites that I often visit for quotes:
Positive affirmations
I can't stress enough how using positive affirmations in your art journals can help you be more mindful of yourself.
I use them all the time, and the great thing is that I write my own. You should, too. You don't have to search the Internet for them.
Because affirmations are personal, only you can decide which words describe what you really need and feel.
Emotions
We're all emotional and whoever says they're not, they're wearing lying pants.
Writing about how you feel in your art journal is like making it a visual diary.
How do you feel today? Why?
How did it feel when your work wasn't noticed, or when you got stood up?
What were your feelings when you reached that life goal of yours after so many months of hard work?
Write it all down while making art. I promise you, it's liberating and fun.
Ideas
You can use your art journal to write about your ideas for a new personal project, or any other ideas no matter how odd they seem.
Maybe you have ideas on how to dress up on Halloween or how to decorate that lonely corner in your home.
Whatever the idea is, and no matter how crazy it sounds, write it down and enjoy the process.
Lists
If you're a bit nerdy (welcome to the club), you create lists for a number of things, even if they're only in your head.
I know I always write something down in lists or mind maps.
If that's the way you like to do things, then use your art journal for this.
Make lists of your favorites, or a bucket list, travel list, and so on. So many choices!
When you make your list, decorate it with florals or dots, stars, stickers or watercolor splashes.
Lyrics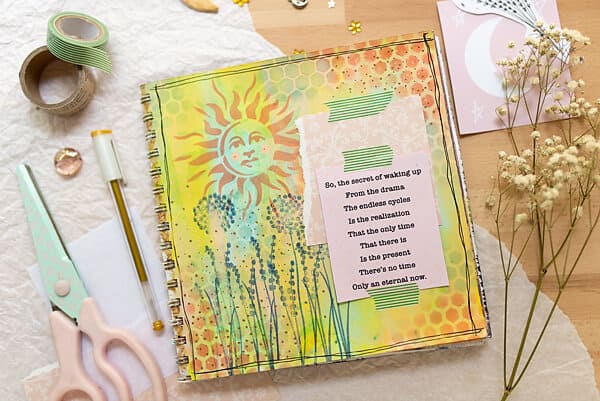 I'm sure there are lyrics you find inspirational.
So, use lyrics on your art journal pages if you're not sure what to write. Song lyrics can have amazing and deep words that can resonate with you.
Different types of art journals
Since there are so many things you can write about and make art around it, you might love the idea of themed art journals.
The thing is, you choose a topic for your art journal and stick to it.
For example, you can start an art journal for quotes or an art journal for your visions and inspiration. The sky is the limit.
Here are some ideas you might like for a themed art journal:
Minimalistic and aesthetic art journals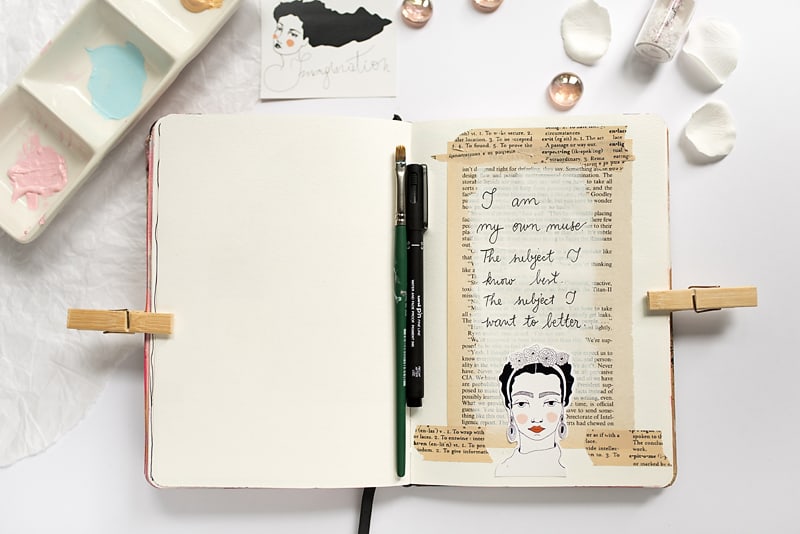 I love the minimalistic style but I often fail at doing it. It's probably because I can't stop using just one art supply. I like making a mess with paints and trying so many different things at once.
However, these aesthetic and minimal art journal pages are so beautiful, and if you're interested, you can start with this style.
It usually requires more gluing than painting and it involves playing with color combinations.
How to start?
First, gather some magazine photos and paper scraps, maybe a few stickers. Also, choose a black pen for doodling and writing.
Now, take the paper ephemera you've collected and group the pieces together according to color.
Choose a focal point on your page and glue things down. In this case, you can layer the paper scraps and images and put the most prominent one on top.
Next, use the pen to add some star doodles or words that you like.
Here are a few of my examples so you can get the picture.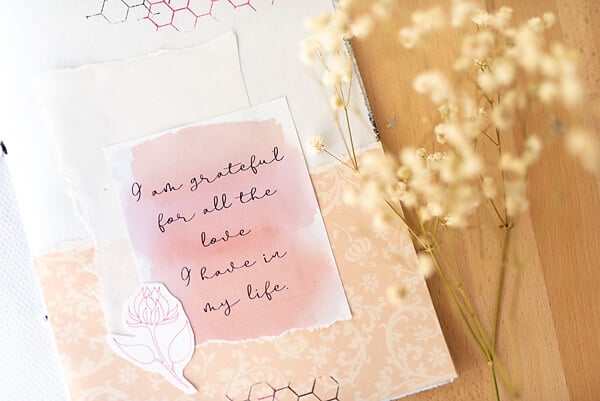 Books for art journaling
Do you like reading?
But do you like reading books about art? You know, practical books filled with tutorials?
I love them! Having these books has helped me a lot on my art journaling journey, and if you're eager to start an art journal, you might like some of these.
Here are some of my favorites:
This book has helped me practice my drawing skills when it comes to drawing faces.
What enchanted me in this book was Jane's approach to drawing which is simple, unique, and most importantly, gives results.
Check out Beautiful Faces on Amazon here
After using her book I was able to draw and paint these: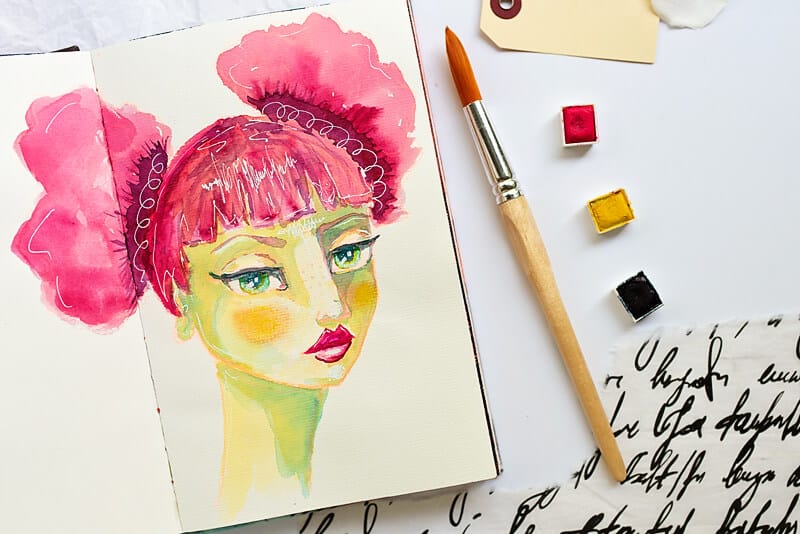 I've tried her Beautiful Faces book and I couldn't resist getting this one, too.
It's a great book for someone who's just starting to draw.
Jane's instructions are not technical and you don't feel intimidated by them.
She's found a way to present figure drawing in such an easy way that anybody can start drawing female figures and be satisfied.
She goes into detail on how to draw hair, hands, fingers, feet, legs, and so, so much more.
Here are some of my drawings after I went through this book: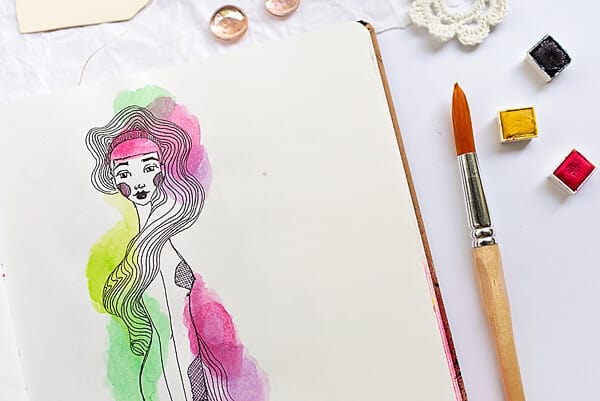 Check out Beautiful Figures on Amazon here
Now you have all the info on how to start an art journal
I hope you now have all you need and the useful info to start an art journal or an art diary, as some call it.
Basically, to start an art journal, you should:
decide on the art journal you're going to use,
gather some art supplies, paper ephemera, favorite pen
think about the background and make layers
decide on your focal point
write about your feelings, and ideas or just choose some quotes
enjoy your art journal every day!
Welcome to the world of magical art journaling!
START AN ART JOURNAL TODAY WITH A FREE STARTER KIT
Get your FREE Art Journal Starter Kit and start making art today even if you're a complete beginner. You can create lovely art and this guide will help you.