What Is Art Journaling: Everything You Need to Know to Get Started
I get a lot of questions like these: What is art journaling? How do you even do that? Why would you do that?
My experience has taught me that with art journaling, you become an artist.
I don't mean that you aren't an artist now and that you'll be one in three months if you do this or that. No, it's quite the opposite. With art journaling, YOU will realize that you've always been an artist.
Moreover, you'll feel this from the inside, it'll change your mindset about art and yourself. And you'll celebrate it! And be proud! This is what I want you to remember throughout the entire post. In the end, you can send me virtual kisses. And after that initial bonding, we're going to awake that inner artist of yours.
So, let's answer some questions about art journaling.
What is art journaling?
Simply put, art journaling is the process of making art while you write in a journal.
So what's all this about then? Art journaling is special and it's a game-changer, a life-changer. It's so powerful that once you start it, you'll be completely engrossed in it and won't have enough.
Sounds like just epic praise? But, let me back it up with some real-life benefits you get from art journaling.
WANT TO START AN ART JOURNAL EVEN IF YOU DON'T FEEL LIKE A STRONG ARTIST?
Get your free Art Journal Starter Kit and create your pages with step-by-step guidance, with a simple approach and no overwhelm.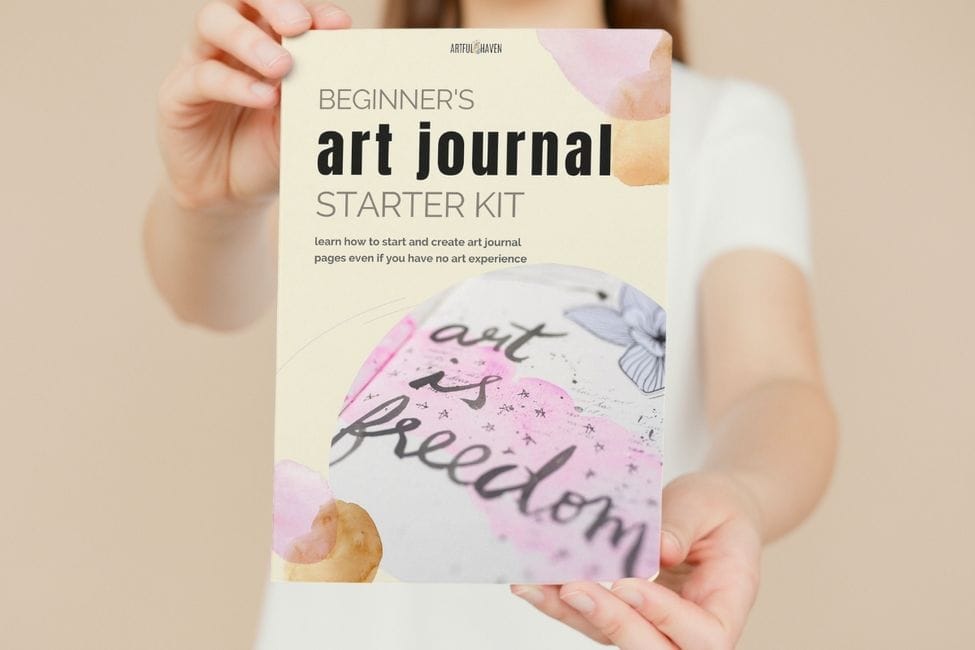 What are the benefits of art journaling?
There are endless possibilities with art journaling. Let me just point out some of the most remarkable ones, but you can read about art journaling benefits in more detail here.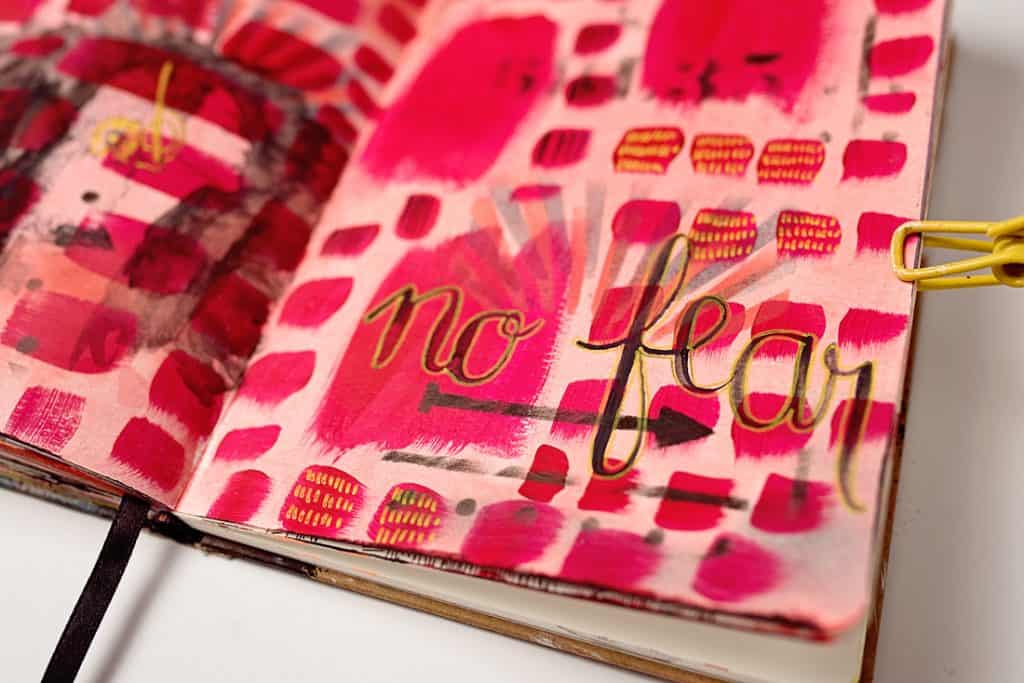 It's carefree.
Firstly, art journaling is carefree. What I mean is you can't go right or wrong here. The thing you enjoy the most is the process of creating. So, the result is not that important. The truth is that every result, every page you create in your journal says something about you.
Art journaling knows no fear.
Secondly, art journaling allows you to let go of fear. If there's no right or wrong, if every mistake is a chance to learn, then you can create freely without fear. How amazing is that? This was the greatest revelation I had about art journaling.
You can create every day.
Thirdly, having an art journal lets you create every day. It is convenient and doesn't require you to have loads of supplies or an art studio. So, it can be as simple as you want it. Also, you can take your art journal wherever you go, and create it on your balcony, on the train, on a plane, in a coffee shop, or on a bench in a park.
With art journaling, you grow artistically and personally.
Finally, art journaling lets you grow artistically and personally. And you'll see these results very soon after you start. If you create often, freely, and without any fear, your growth is inevitable. I must tell you this is addictive, but it is a feast for the soul.
What are the art journal supplies for beginners?
An art journal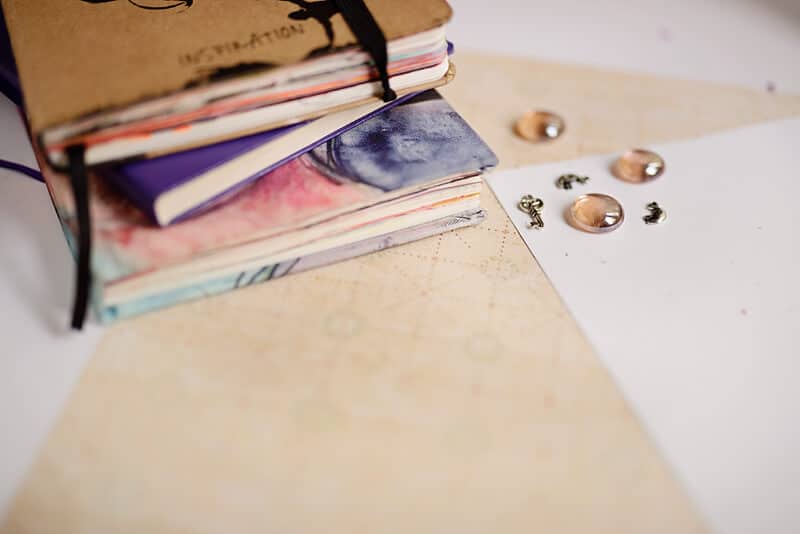 The obvious thing is that you need some kind of journal. If you think in these carefree terms, an art journal could be anything.
You can buy a pre-made art journal in any size you want. There are a lot of art journal manufacturers but the one I really love is a canvas art journal by Jane Davenport. She's an artist from Australia and her art and supplies are something special.
DIY art journal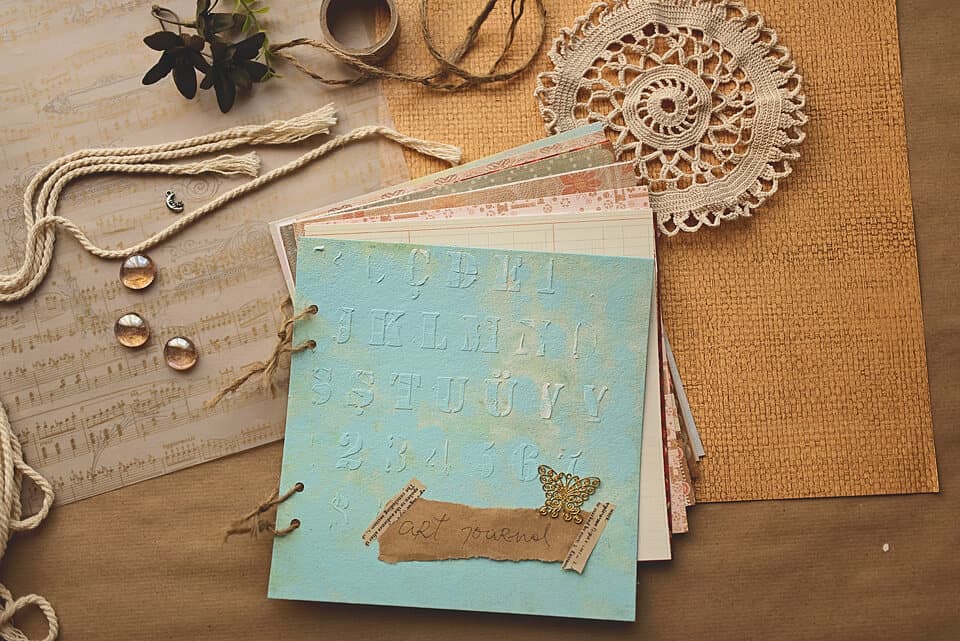 On the other hand, you can make your own art journal. In short, you choose the kind of paper and number of pages, you bound the journal in a way you prefer.
How do you make an art journal?
There are many ways of doing this. If you're just starting with art journaling, I think you should make something simple.
To begin with, all you need are some paper, cardboard for covers, and twine.
For example, I've made some DIY art journals and I love each one of them. Also, I've experimented with different papers, sizes, and binding. Check out how I made this DIY art journal, it's one of the simplest to make. (It's the one in the photo above.)
Choose the right paper for your DIY art journal
When creating your own art journal, just keep in mind the paper you're going to use. If you're planning on using acrylics or watercolor, then you should have thicker paper because it can hold more water than regular copy paper or any other thin paper.
But, if the thin paper is all you have right now, don't worry. You can always glue two pages together to make the page thicker.
Art supplies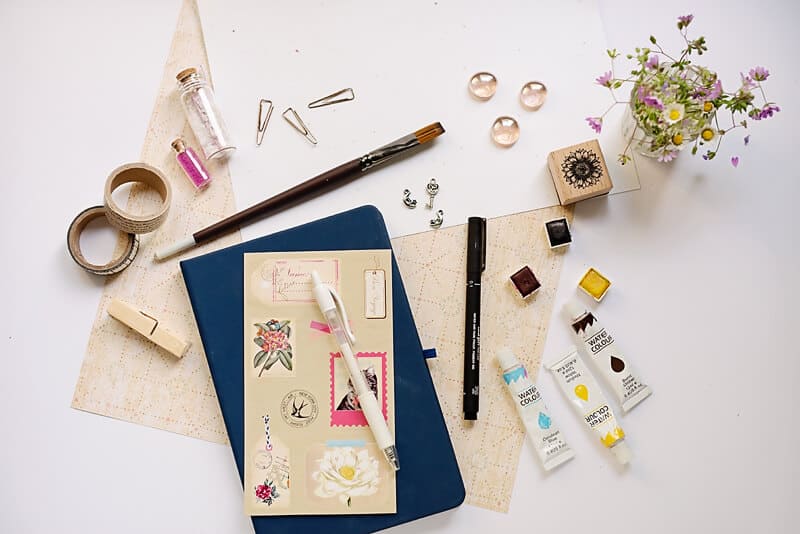 I've written an entire post on art supplies for art journaling beginners, but I'm going to list some of the most basic ones here, so you can start thinking about them.
First of all, gather some pens and markers. They are so versatile and practical, especially waterproof ones.
Then, think about the paints. I bet you used acrylics and watercolors in school, and you know how they're used. They come in handy for art journaling and the best thing is that you don't need expensive paints to make art. There are so many that are so cheap but still do a great job.
Next, if you're going to use paints, you'll need some paintbrushes. Don't buy expensive ones until you figure out how to use them. So, go cheaper and you won't have to worry about ruining the brush. Above all, art journaling is supposed to be carefree and enjoyable.
What about household items as art supplies?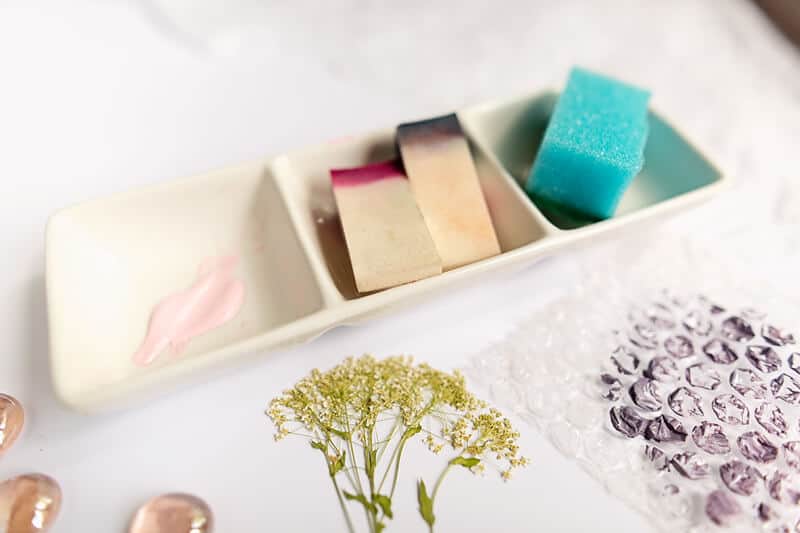 Finally, go around your home and collect things like a kitchen sponge, a make-up sponge, toilet paper rolls, or bottle caps. Also, you can read more on how to use these in this post about using household items for art journaling.
There are so many supplies to use. You'll figure them out eventually and see which ones you like. Don't overwhelm yourself with buying everything that's out there. So, stick to the basics for now, and you'll evolve from there.
What to art journal about?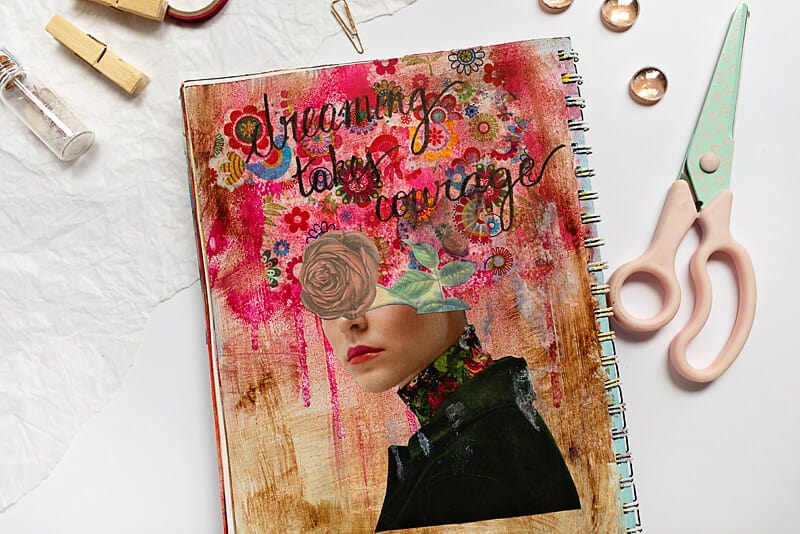 Oh, well, about anything! That's why I love art journaling, its possibilities are endless. Here are just some of the ideas.
You can practice:
You can learn:
to express your emotions and thoughts
to use art to be more self-aware (my favorite)
more about yourself than you can imagine right now
In other words, you can use your art journal to collect quotes, words, positive affirmations, or ideas. Also, you can journal about your travels, desires, plans or just record your memories with photos and art.
For instance, among others, I have a quote journal, a gratitude journal, and a vision board journal. These are all art journals that help me get to know myself better and see the changes I've made in my personal and artistic life. In other words, I can easily observe how I grow.
Well, didn't I tell you it's a life-changer?
Remember, you can art journal about anything, as long as it makes you happy and puts a smile on your face. Your art journal won't judge, just go for it and experiment with different supplies to see what you'll create.
How to find inspiration for art journaling?
Go outside
You can find inspiration all around you. For example, if you go for a walk in nature, you'll find plenty of things to inspire you such as plants, colors, shapes, etc. Also, just getting outside in the city can be inspiring. You can observe architecture, windows, trees, colors, and geometry. After that, you can use what you see in your art journal.
For example, you see an interesting shape on a building and you make a similar mark in your art journal. You can use this mark or a part of it to draw on your page later on.
Explore your hobbies and interests
Also, you can find inspiration in the books you read, or movies you love. Music is a great resource for inspiration, too. Are there any lyrics that move you? Write them down and make art.
Next, think about a topic that really fascinates you and do more research on it. Then record what you find in your journal in an artistic way.
If you wish to create art but struggle with finding inspiration, you can read this post on how to find inspiration when you get stuck. There I share some action steps I take to get my artistic mojo back. And they work because I always end up creating something.
How to start an art journal page?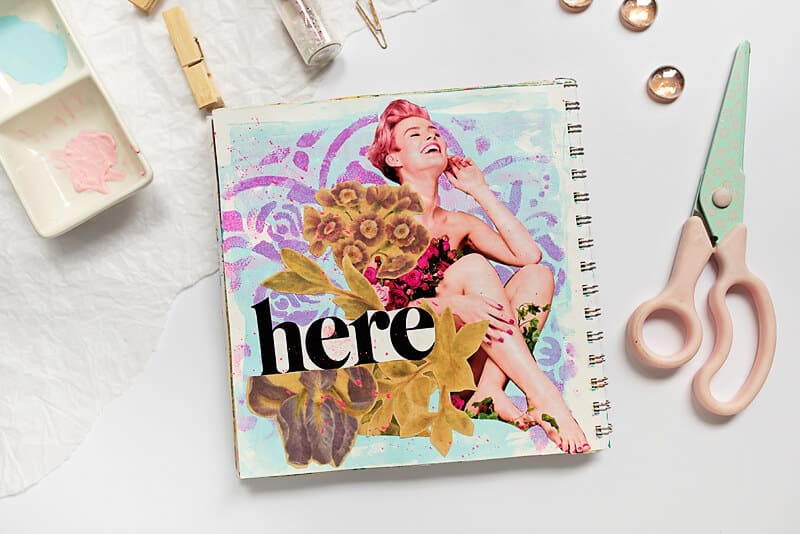 This one gets asked a lot. I know how I struggled with the blank page. I even felt desperate at times. Do you know that feeling when you are so eager to create something, but just don't know what your first move would be?
Let me tell you that all artists and art journalists deal with this problem. It's not a big deal. But I don't want you to think that you're not creative or that you're not an artist. Delete these thoughts from your hard drive right now. Consider them harmful viruses. Done? Let's move on then.
Start small
There are many ways to start an art journal page. In this case, your attitude should be something like this: I'm just gonna create something, anything, even if it's just a line. And then you make that line. And then another one. After that, you draw a circle or a square and you realize that you're onto something. Something is cooking!
You can also use magazine photos and other paper cut-outs for your art journal page. Also, doodling is a great way to start drawing something. Another idea is to paint different shapes with watercolor or acrylic paint and see where that takes you.
Art journal prompts are a great way to start!
Besides these ideas, one of the best ways to start a page is by having a prompt. It's always helped me overcome that initial block. For example, if I give you this prompt: your favorite word, you instantly have a direction to follow. So you write that word. Then, you will get ideas on how to decorate it or write what the word means to you.
I have a list of 30 art journal prompts, so check them out if you wanna see how they work.
Mindful art journaling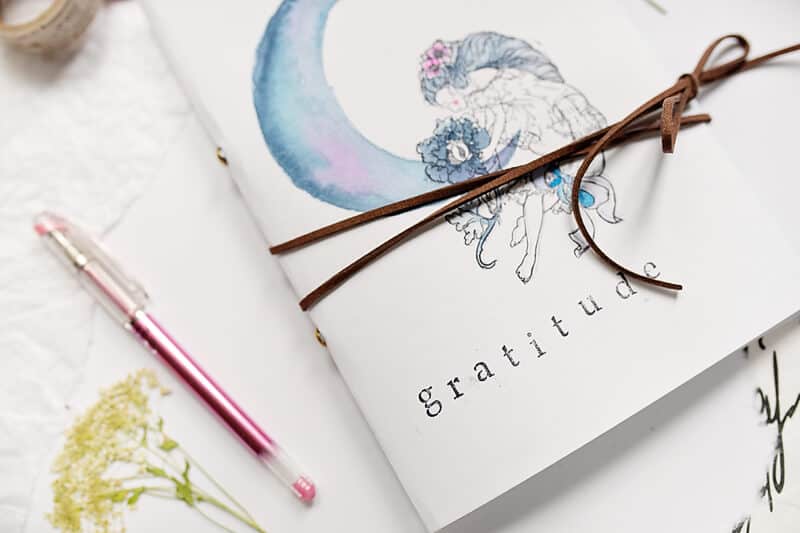 Finally, I want to talk about mindful art journaling. This is one aspect of art journaling that I enjoy the most. I've already mentioned how mindfulness is important and how you can understand yourself better by doing mindful exercises with art journaling.
But, what is mindfulness anyway? Mindfulness is your ability to be fully present in the now. It is a practice of being aware of everything around you, especially your emotions, reactions, and your senses.
So how can you accomplish this with art journaling?
You can use your art journal to express how you feel at a certain moment and record your deepest thoughts. If these feelings and thoughts are negative, like anger or self-criticism, you can write them all down.
What's more, seeing these words on paper makes them tangible. Now you can physically destroy them in your journal. How? Create art over or around them. Then replace them with positive thoughts. You can paint over those negative words and bury them under coats of paint. Although it's a metaphorical process, it works.
Art journaling and positive affirmations.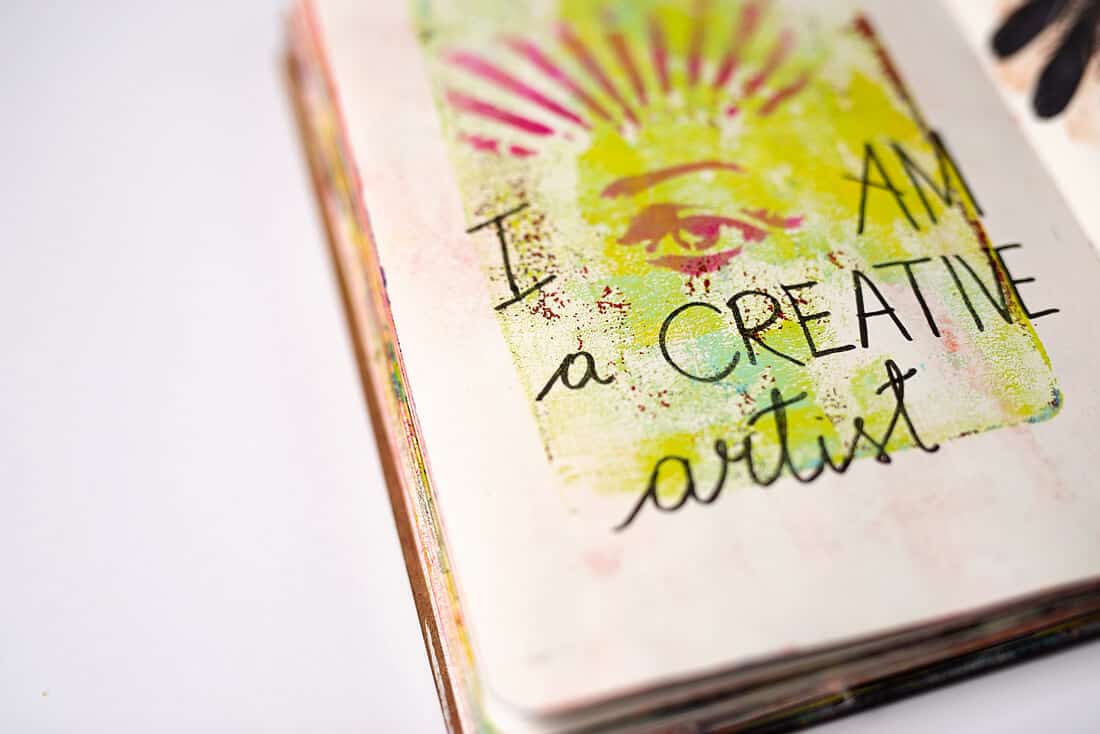 What I love the most about mindful art journaling is using positive affirmations. I use my art journal to record them, make them beautiful, and then use them every day to achieve a certain goal.
Read more about positive affirmations with art journaling in this post where I write about silencing the inner critic with positive affirmations, how to create them, and use them daily.
Mindful art journaling can also include creating a gratitude journal, a quote journal, a bucket list art journal, or a travel art journal, just to name a few. Check them all in a post about mindful art journaling ideas for self-awareness.
The best thing about mindful art journaling is that you make art and at the same time you practice being more self-aware. In the end, you're the most important person in your life and you deserve this alone, artsy, creative, deep, and mindful art journaling time.
What is art journaling for you?
Do you feel inspired and motivated? I hope that you do. I also hope that you have a clearer image of what art journaling is and how you can use it.
In short, you've learned today what supplies you need to get started with art journaling, some ideas on how to start, where to find inspiration, and what mindful art journaling is and its benefits.
What I want you to do now is think about what art journaling could mean to you and which aspect of it you want to start exploring.
Whatever you chose or do here, it'll help you realize you have an artist inside of you just waiting to be found and heard. Remember that I told you this at the beginning of the post?
Above all, with art journaling, you will free that inner artist of yours and start believing in her.
WANT TO START AN ART JOURNAL EVEN IF YOU DON'T FEEL LIKE A STRONG ARTIST?
Get your free Art Journal Starter Kit and create your pages with step-by-step guidance, with a simple approach and no overwhelm.