How To Include Lyrics In Your Art Journal: A Mindful Art Experience
Creating a lyrics art journal lets you combine two forms of art into one artistic explosion. The bottom line is that you take inspirational music and lyrics and make art in your journal.
This process of creating art in a lyrics journal is elevating, mindful and it'll spark your creativity.
"Music gives a soul to the universe, wings to the mind, flight to the imagination and life to everything." ― Plato
No need in arguing Plato. Oh, that Ancient Greek nerd. I bet some of his amigos back then used to tell him he's a know-it-all. But man, was he right!
You know the feeling when you listen to heavenly music and hear lyrics that speak straight to your soul? You stop doing everything and get in the zone. Then you hit replay. And once again.
How does music affect us?
Isn't it amazing how music can take us places even though we don't even move an inch? But we travel with music. Perhaps we visit our memories, or we plunge into an imaginary world of our own.
I'm sure you experienced the physical effects music has on us. Goosebumps, smiles, tears, faster heartbeats, playing piano with our fingers in the air, some would even dear to sing (Me? only when alone, otherwise I wouldn't have any friends) or dance (always!).
RELATIONSHIP BETWEEN MUSIC AND ART
Music is art! As simple as that. As well as any art form, the music evokes deep feelings which further inspire people to create art.
Music, painting, and drawing are all connected and similar. They rely on balance (or disbalance). In music, it's about relations between words and music notes. In painting, it's about harmony between objects, brush strokes, pencil lines, and colors.
Music and art are inspirational
Also, they are mutually inspirational. Many artists listen to music while they paint, draw or doodle. Listening to music while making art is a great way to explore brush strokes: light or firm, thin or thick.
What's more interesting, certain music can make you choose specific colors to paint with.
Song lyrics can also inspire artists to create on a deeper level, to be more mindful about what they're making at the moment. Lyrics move us because we relate to the message, and when we transform that into a work of art, we somehow become more aware of who we truly are deep down.
We experience art and music individually and personally
It all depends on how you experience music. For each of us, it's different, but the fact is that we are touched by art every day. Art is deeply rooted within our beings, whether it's music or painting. And the two of those combined can make the artistic experience feel like fireworks.
Get your free Book of Mindful Art Journal Prompts
Make unique & meaningful art without the burden of making it pretty
but actually enjoy art as self-care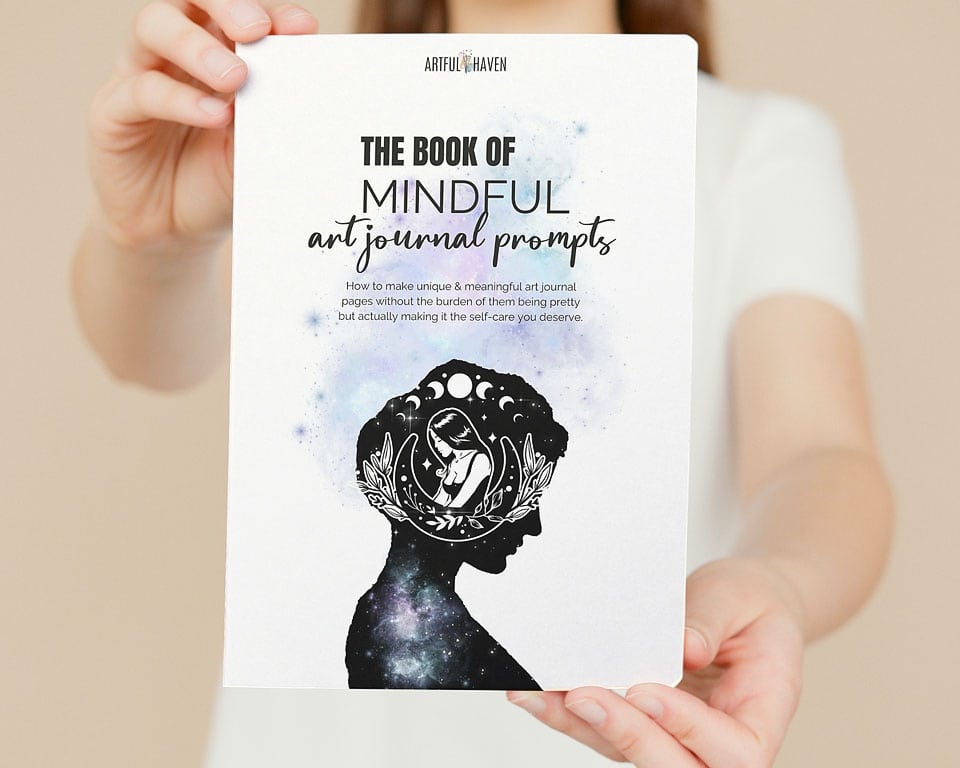 LYRICS ART JOURNAL
When you realize how music and art journaling can be a mindful exploration of your inner self, then you'll want to have an art journal just for this purpose.
Why?
I can speak for myself only, but having an art journal for a specific purpose like this makes my art more profound. I become aware of what I love to draw and how music affects me. Somehow I peek under the blanket and see how I really feel at that moment.
Also, by creating a lyrics art journal, you make a source of inspiration you can check whenever you feel stuck. Imagine a flip through a finished art journal like this. I imagine it as a small book of wonders, colors, and art.
If you want to make your own art journal, I've got you covered. Here's an easy and fun step-by-step guide on how to make one.
MUSIC JOURNAL IDEAS
I'm going to share with you a few ideas on how to use music and song lyrics to create inspirational art in your art journal.
Also, I'd like to show you four songs that I think are deeply moving, fantastic pieces of art that you can use for your lyrics art journal.
HOW TO PAINT MUSIC
Yes, you can paint the music. Well, I've never asked anyone if I could, I've just done it intuitively. Here's the deal: your art journal lets you do anything, so forget about what can or can't be done.
So, how are you gonna do that? I have a few ideas.
What color is the music?
When you sit down to make a page in your art journal and play a song you like, close your eyes for a few moments.
What colors do you feel in the song?
Is there only one color? Or perhaps the song is screaming with a bunch of colors.
Are the colors bold or gentle?
Are they dark or light?
Now, pick whatever you want to paint with. And choose the colors you saw in the song. I usually use acrylic paints when painting music because I can express anything with them.
You can just start painting with these colors or try the next two steps below.
Music rhythm and finger painting
I can't stress enough how I love finger painting. It's stress-relieving, expressive, free and so playful that you feel like a toddler smudging some paint on the bright new kitchen wall, causing your mom a heart attack.
In this technique, you dip your fingers in acrylic paint and make marks to the rhythm of the song. Also, you can pretend to play the piano on paper.
Play with the beat and the strokes, pressure, and amount of paint. Make lines, shapes, or just tap your fingers on the paper while following the rhythm.
I bet that if you mix different colors and do this, you'll end up with interesting background on your page.
To make the page even more special, write lyrics of the song with a marker. BUT, avoid using fine tip pens on acrylic paint, you might ruin them that way. I know I have my share of ruined pens I really liked. So, I sure as hell learned my lesson.
Music rhythm and brush strokes
If you're like me, this idea will make some colorful mess on your desk. When I listen to my favorite songs I really get in the zone or even pretend I'm a conductor. I know it's silly, but it's fun.
Try putting acrylic paint on a brush, or two brushes, one in each hand. I wave around with them, but close to the paper. Well, sometimes all around, too, but I don't care.
I just move the brushes following the music. If you don't like a mess, don't do this to a heavy metal song or some other energetic, headache-provoking song.
Experiment with the pressure, amount of paint, and different strokes. Try to connect the strokes to the music and its rhythm.
Doodling music
Prepare a black pen and play your song of choice. Again, listen to the rhythm of the song and draw lines. Make patterns related to the way rhythm moves you.
Once the rhythm changes, change the line. If you did short and straight lines for a faster beat, now choose wavy lines for the slower motion of the song.
DRAWING SONG LYRICS
I've used song lyrics in art forever. I remember my teenage room door painted in purple. At the time, I was inspired by a Guns'n'Roses song so I wrote the lyrics on a large piece of paper, glued a dried rose on it and painted some weird things on there (well, hey, I was only fifteen). How I loved that piece of art something.
My point is that, when the connection between music and lyrics moves you and makes you stop and listen, it's like a discovery of a new tiny world you can relate to.
Also, words are powerful. When it comes to songwriting, some people are extremely talented in using words and creating wonderful lyrics that speak to the soul. We can use those words to create powerful messages in our art journals.
So, pick your favorite song lyrics, and let's do this.
Experiment with fonts
You can choose only a verse or a line and write that in a font that's not your handwriting. If you do the whole song, maybe you can use a different font for each line or verse.
Before I do any writing, I like painting a watercolor cloud on my page, and when it's dry, I write on it.
Another idea is to type the lyrics, print them out and glue the words on the page.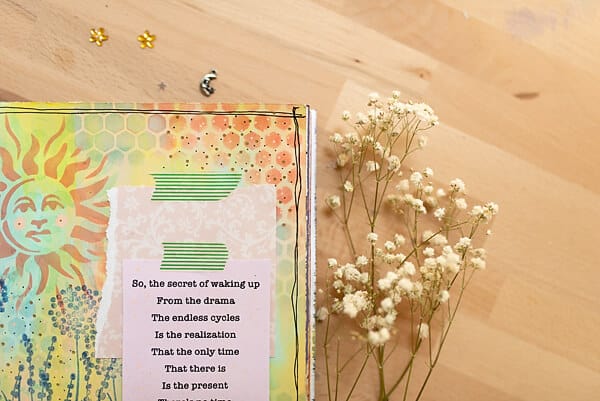 Draw what you see in the song
Close your eyes and relax to the song. Are there any images you see while listening? Are they vivid? Gloomy? Joyful? Sad? Do you see people or objects?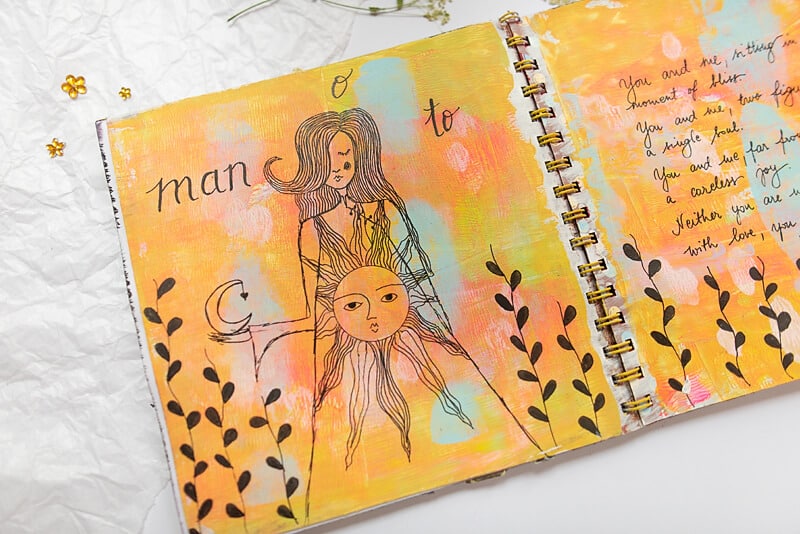 After the first image pops up in your mind, draw it in your journal. Forget about perfectionism. That's a myth. Trust your hand and your gut here.
You can use a pencil, pen, brush, or whatever you feel comfortable with.
MUSIC FOR DRAWING AND PAINTING INSPIRATION
So, in addition to all this, I'd like to share a few songs I find inspirational and breathtaking. They are deep, universal, and I dare say, spiritual. I'll put the lyrics in the post, and the links to the songs, so you can check them out.
Maybe you can start your lyrics art journal with them, and then continue adding songs and lyrics that you find inspirational.
Song lyrics #1: Man o To by Nu (a poem by Rumi)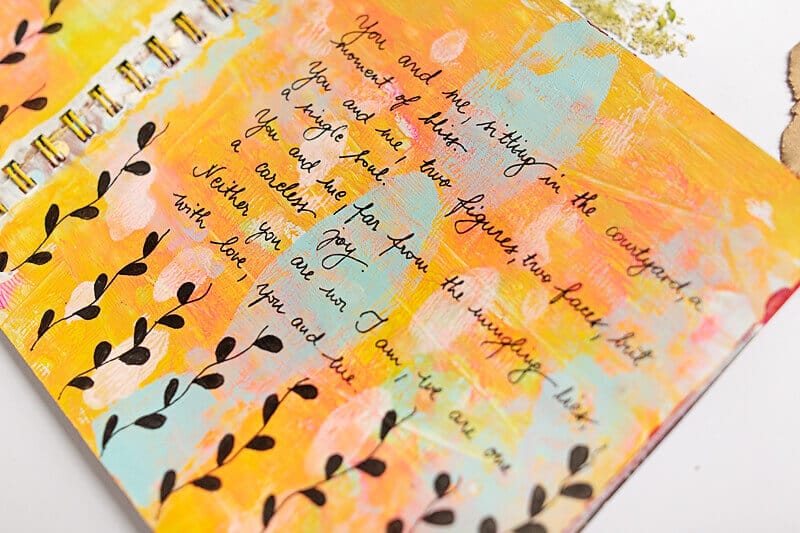 A friend told me about this song a few years ago. I instantly fell in love with the music and the lyrics.
Have you heard of the poet named Rumi? He was the greatest Sufi mystic and poet in the Persian language. His poems are passionate, emotional, and mainly about divine love.
You can listen to the song here, and here are the lyrics in English (there are many translations and interpretations, but the gist is the same):
You and I. Joyous, blissful moment, sitting on the porch, you and I. Two forms, two faces, yet one soul together, you and I. Cast aside absurd stories and nonsense, you and I. You and I united as one in the ecstasy and delight.
This song can mean different things to different people. Some say it's about two lovers, while others say it's Rumi's poem to God. Either way, the song, and the poem are beautiful. And the Berlin artist Nu combined it with this wonderful music and created an awesome piece of art.
I'd like you to try using it for inspiration in your lyrics art journal.
Song lyrics #2: the album Web of Life by Man of No Ego
I discovered this one by accident. I think YouTube suggested it for my playlist. And I was amazed. Astonished. The music and lyrics (sampled speech from Alan Watts) blew my mind! The whole album The Web of Life is outstanding.
Here are some words I find inspirational on this album.
So, the secret of waking up from the drama, the endless cycles, is the realization that the only time that there is, is the present. There's no time. Only an eternal now.
You're not something that is a result of the big bang – on the end of the process. You are still the process, you are the big bang- the original force of the universe, coming on as whoever you are.
You see when I first meet you, I see not just what you define yourself as, this is so and so, this so and so, and this so and so. I see every one of you as the primordial energy of the universe coming on at me in this particular way. I know I'm that too.
The music and the lyrics are sublime. It can be great as relaxing painting music, meditation background music, or you can draw inspiration from the lyrics.
Song lyrics #3: Teardrop by Massive Attack
Why do I love this song for art journaling? Its lyrics create visual images that you can easily paint, like black flowers blossom. Also, it has words that can evoke strong feelings like fearless, teardrop, and fire.
Besides words, the music is also elevated and inspirational.
Here are the lyrics:
Love, love is a verb, love is a doing word. Fearless on my breath. Gentle impulsion shakes me, makes me lighter. Fearless on my breath.
Teardrop on the fire, fearless on my breath. Night, night after day, black flowers blossom. Teardrop on the fire, fearless on my… Water is my eye, most faithful mirror. Fearless on my breath. Teardrop on the fire of a confession.
Song lyrics #4: Dreams by Nuages
I just have no words to describe this song and lyrics. Whenever I hear it, I get lost in it. It will definitely disarm you and take you on a mindful and spiritual adventure.
And here are the words from the song read by Alan Watts:
Let's suppose that you were able every night to dream any dream you wanted to dream, and you would naturally as you began on this adventure of dreams, you would fulfill all your wishes.
You would have every kind of pleasure, you see, and after several nights you would say, well that was pretty great, but now let's have a surprise, let's have a dream which isn't under control. Well, something is going to happen to me that I don't know what it's gonna be.
Then you would get more and more adventurous, and you would make further and further out gambles as to what you would dream, and finally, you would dream where you are now.
CREATE YOUR OWN LYRICS ART JOURNAL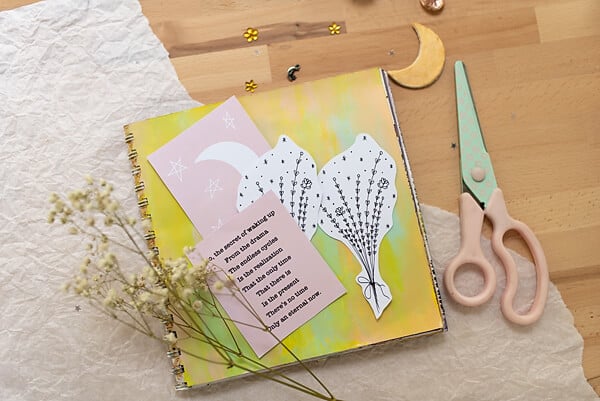 Do you feel inspired? I hope you do.
You can use a lyrics journal to record all the emotions songs have evoked in you. What emotions do you experience because of these lyrics? Paint your emotions by focusing on strokes, pressure, and speed of strokes.
If they triggered a memory, try journaling about that past event and why it's important to you.
This is a great combo of music and art activities, but also an enjoyable and fun mindfulness exercise.
Love for music is deeply rooted in all of us. It's inspirational and it'll spark your creativity and imagination in a beat.
Get your free Book of Mindful Art Journal Prompts
Make unique & meaningful art without the burden of making it pretty
but actually enjoy art as self-care