28 Easy Things to Draw (Even If You Have No Skills)
If you're a bit intimidated by drawing thinking you have no drawing skills, you can still draw something simple and make your art journal pages interesting.
To help you with that, I've prepared a list of easy things to draw that you can do right away. They are super easy, cute, and whimsical and they'll take you just a few minutes.
When I don't know what to draw and feel a bit uninspired, I always turn to simple things.
It's also true for drawings. If every once in a while you turn to simple things again, you'll realize how much you can create with only a few lines.
So, let's check out these simple and easy things to draw.
Disclaimer: Some links in this post may be affiliate links. This means that if you purchase something through that link, I get a small commission, at no extra cost to you.
What are some easy things to draw?
If you're a beginner, you'll love these doodles, flowers, and all kinds of whimsical drawings. I promise you, they are all easy to draw and you'll have fun doing it.
Doodles
You can always take a black pen and do some doodles. With doodling, there's no right or wrong, you just go with the flow.
Play with lines, circles, dots, mini flowers, small stars, or spirals.
Here are a few examples: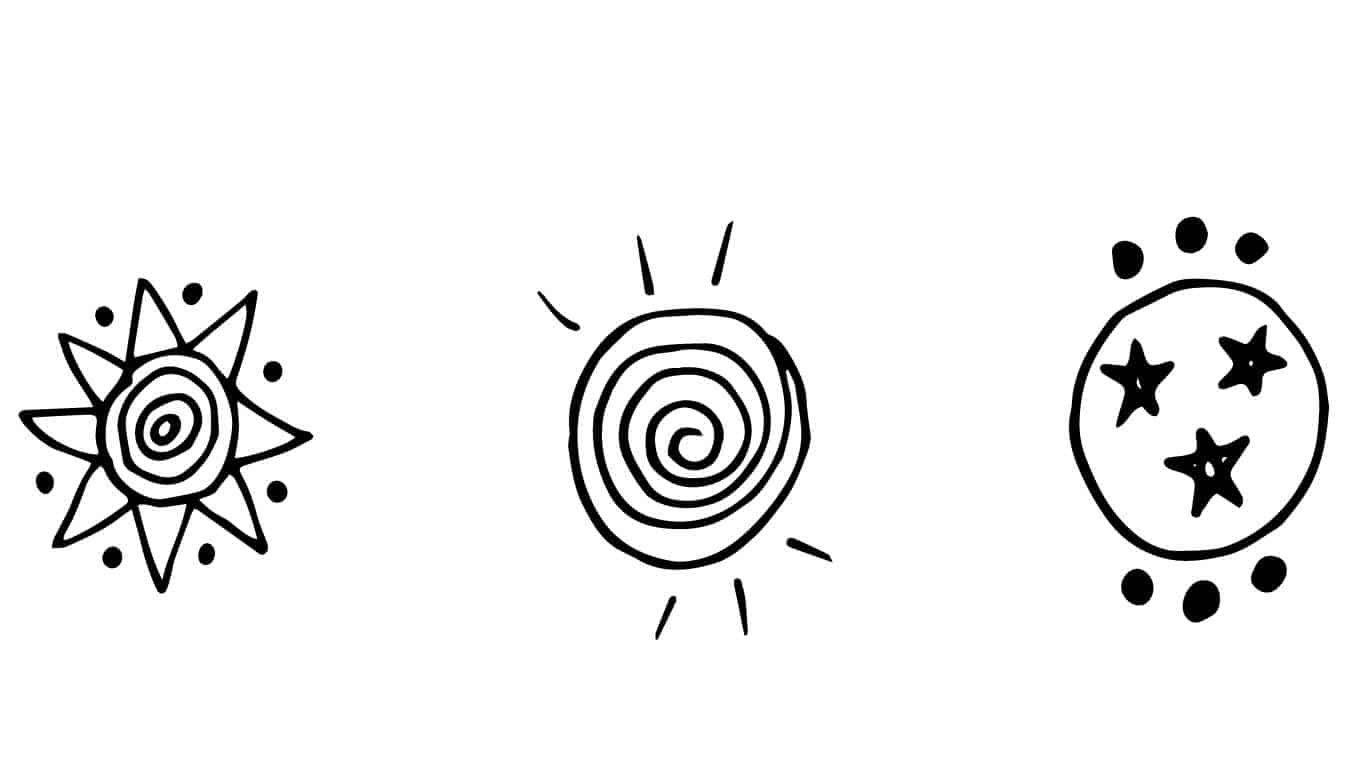 Arrows
Arrows are so fun to draw because you can make different kinds just by adding new lines or changing the point of the arrow.
Also, you can add lines and dots on them to make them more interesting.


If you like, you can draw a nice small feather on your arrows to give them a tribal or bohemian look.
Swirls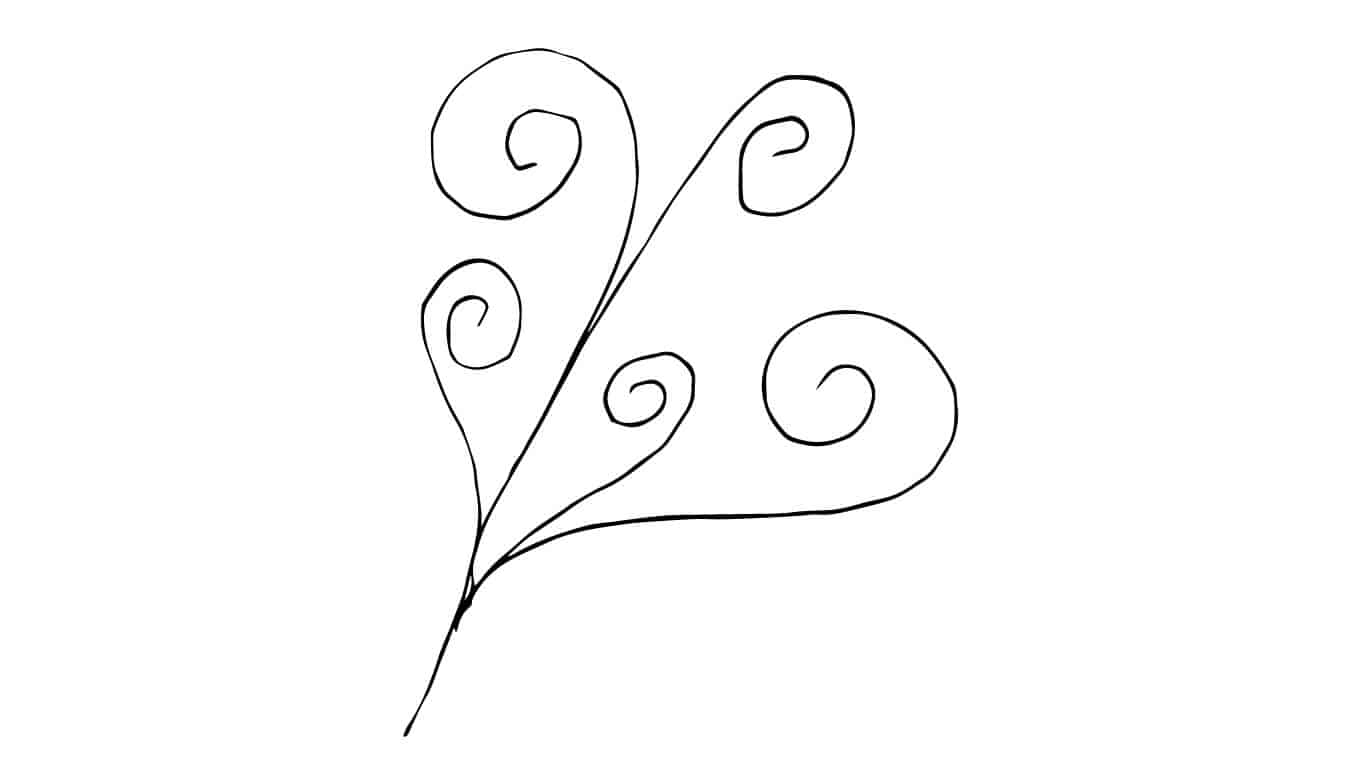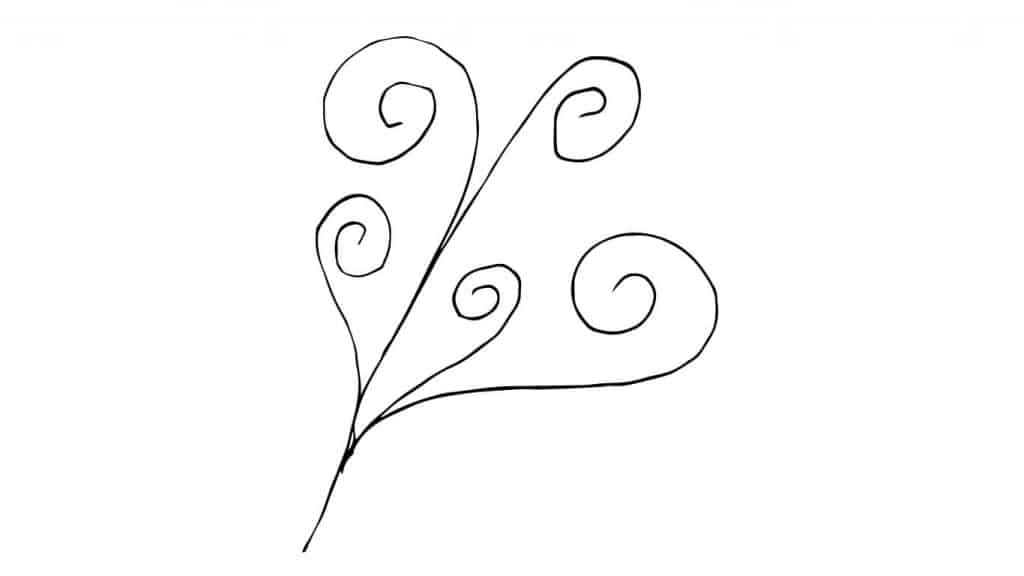 Have you ever tried doodling swirls? I always do these when I wander in my imagination, or when I talk on the phone.
Also, I love drawing them on whimsical girls I paint, whether I put them in their hair, under their eyes, or on their clothes.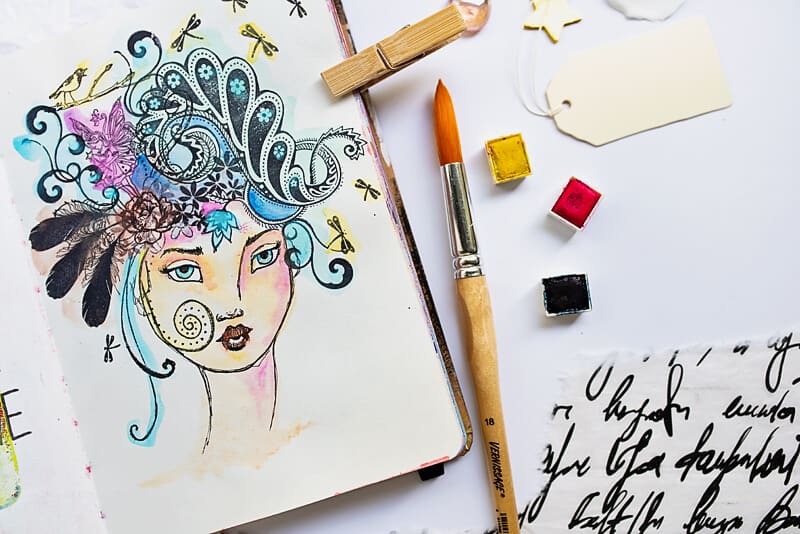 Stars
Stars are one of my favorite doodles. I put them almost everywhere because they are so easy to draw. Here's how I doodle them quickly: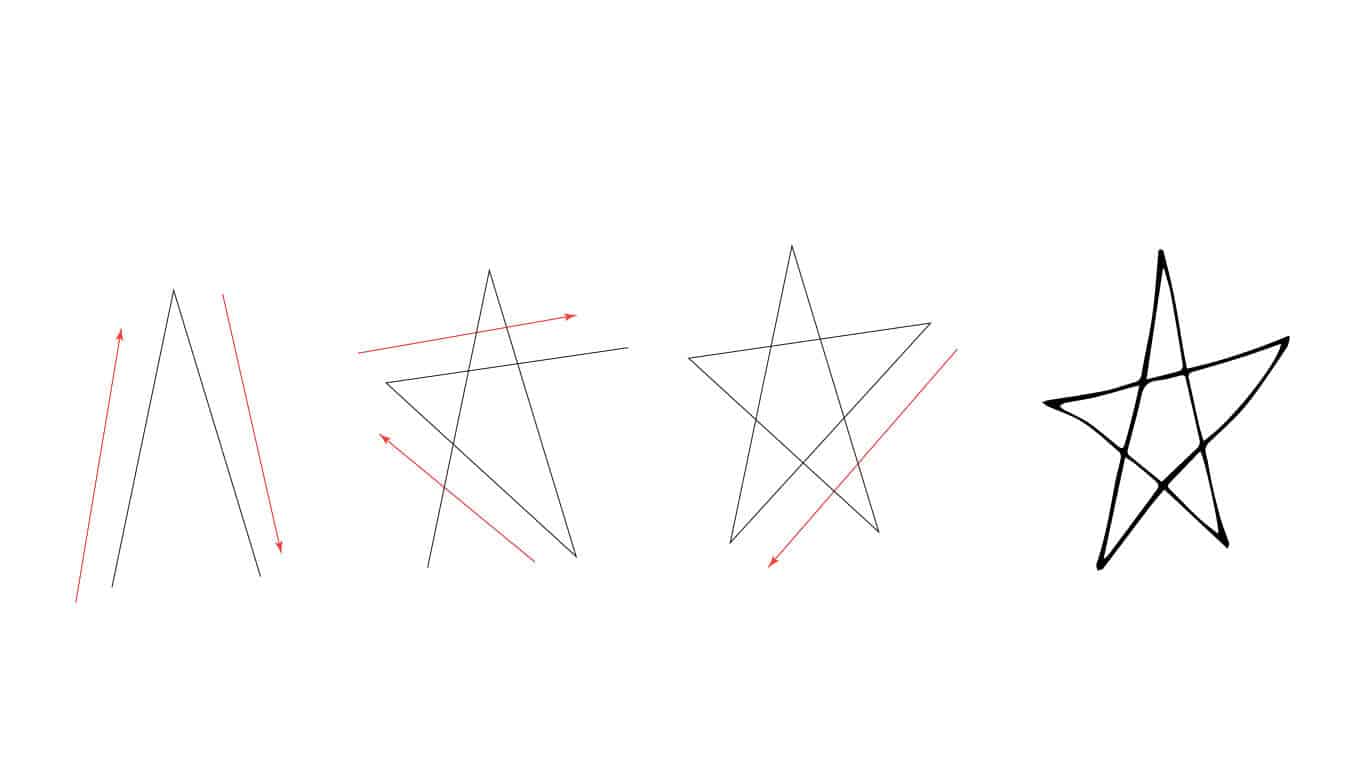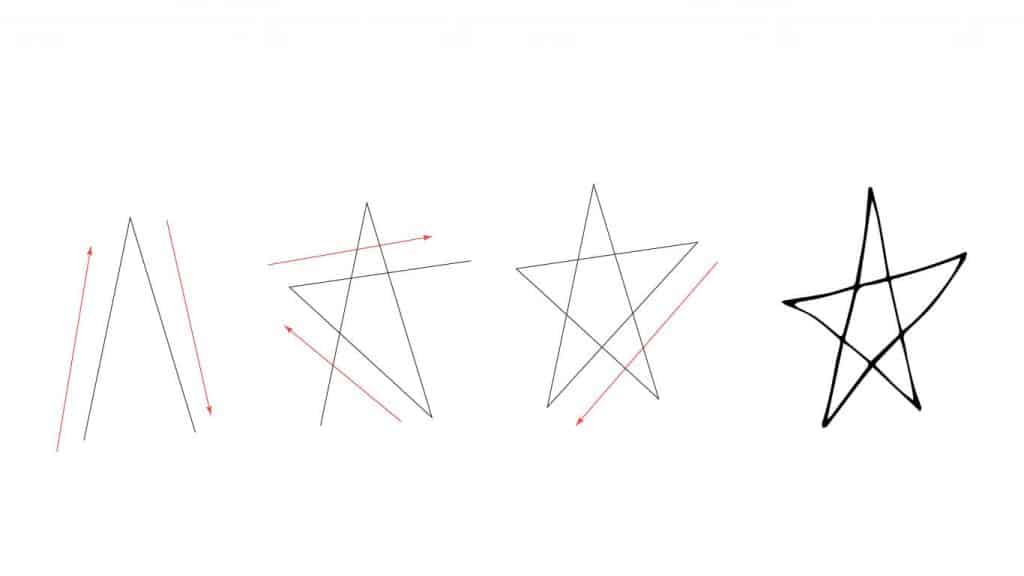 Flowers
There are so many different flowers out there. I like to practice with simple flower doodles.
I mostly draw them from my imagination, because I'm sometimes afraid I won't be able to draw the perfect resemblance of a tulip or a rose.
That's just the case of the lack of self-confidence, and that's fine, too.
So, when everything else just seems like too much pressure, I draw simple flowers.
Here are some of my examples.
Something like a dandelion
When you draw a dandelion, all you draw here are lines and circles. But when you combine them, you can really make a wonderful bouquet.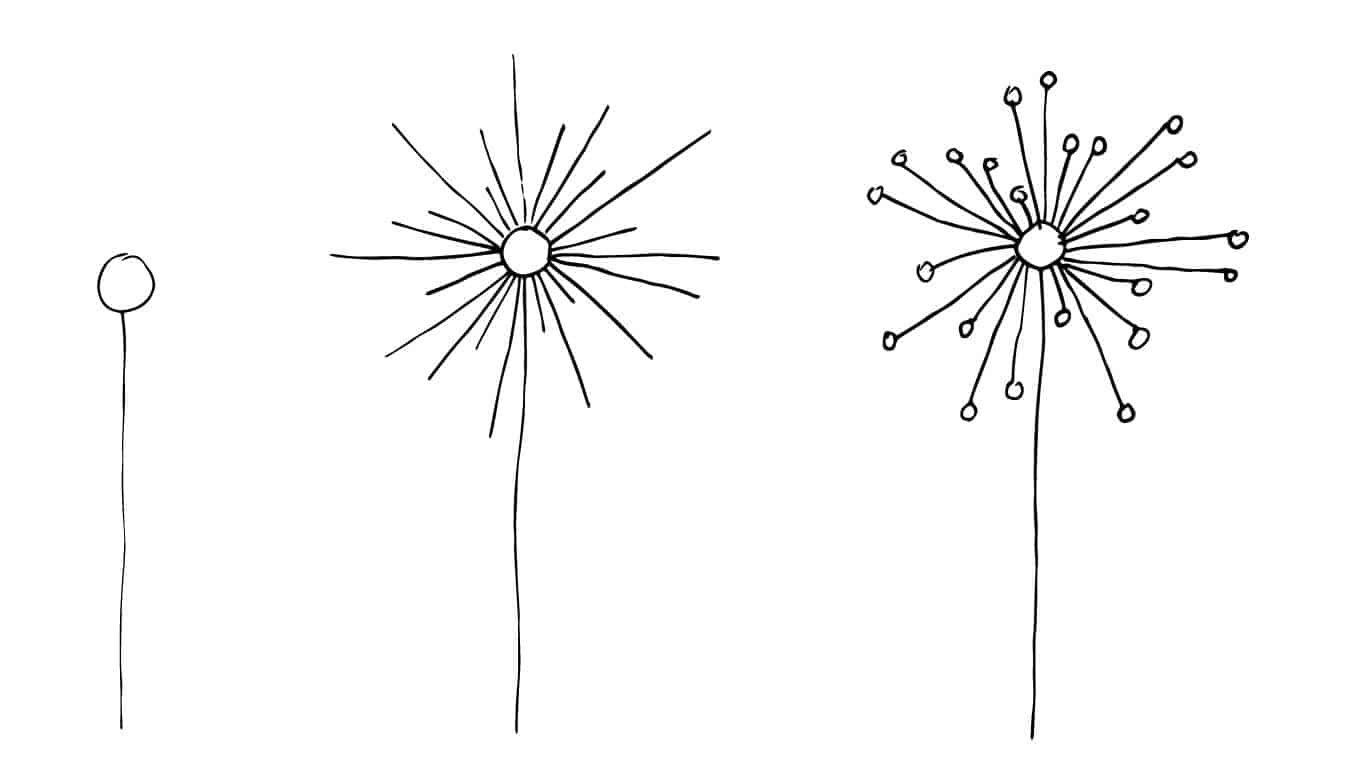 First, draw a circle and a line for the stem.
Then, add some lines around the circle, but don't make them the same length, rather make short, medium, and long ones.
Finally, add some tiny circles on top of the lines.
Flowers in a bottle
I love putting flowers in nice and interesting bottles. Why not try drawing some of these? Here's an example: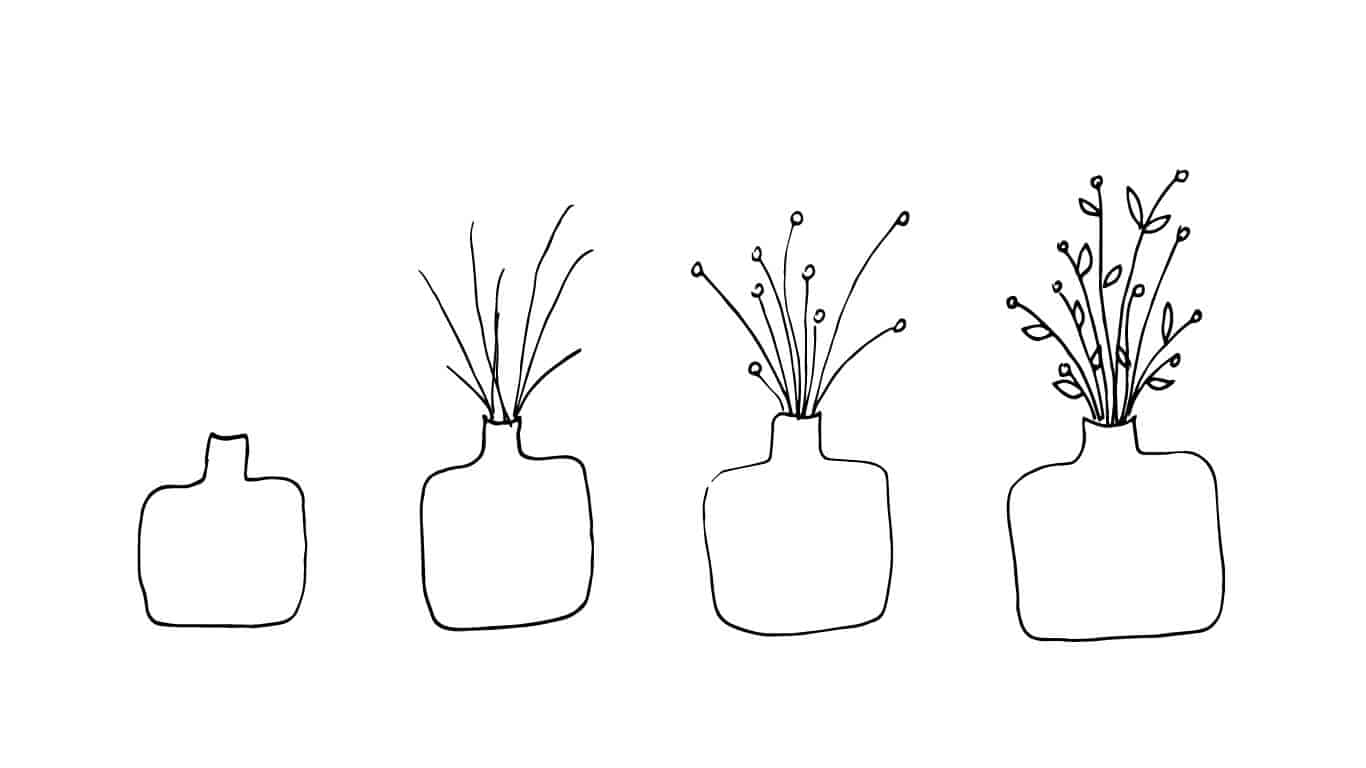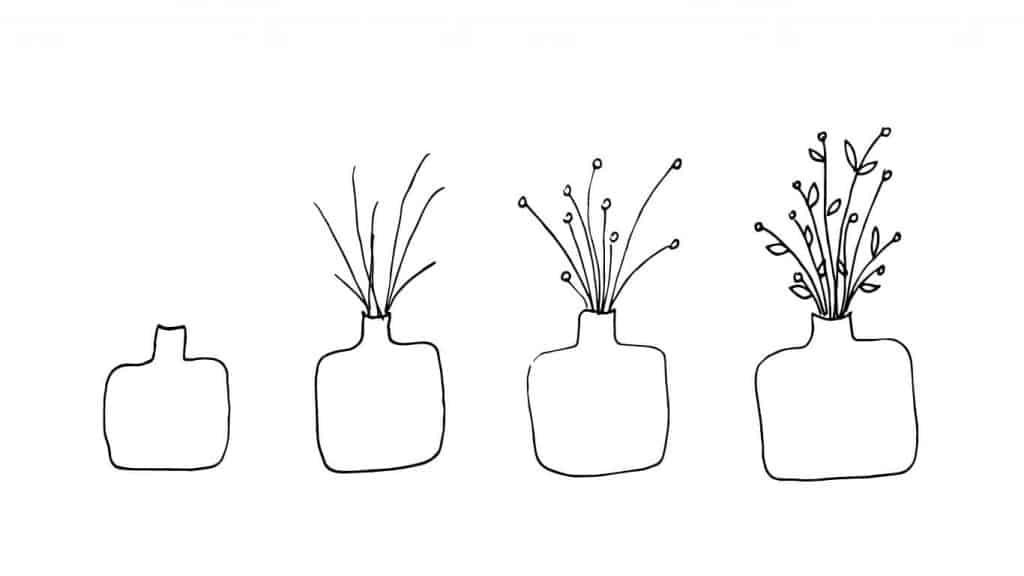 What I haven't done here is draw the stems inside the bottle as well, but you can do that so the drawing has more feel to it, and to make the bottle transparent (like I did with the vase in the photo below).
Flower in a vase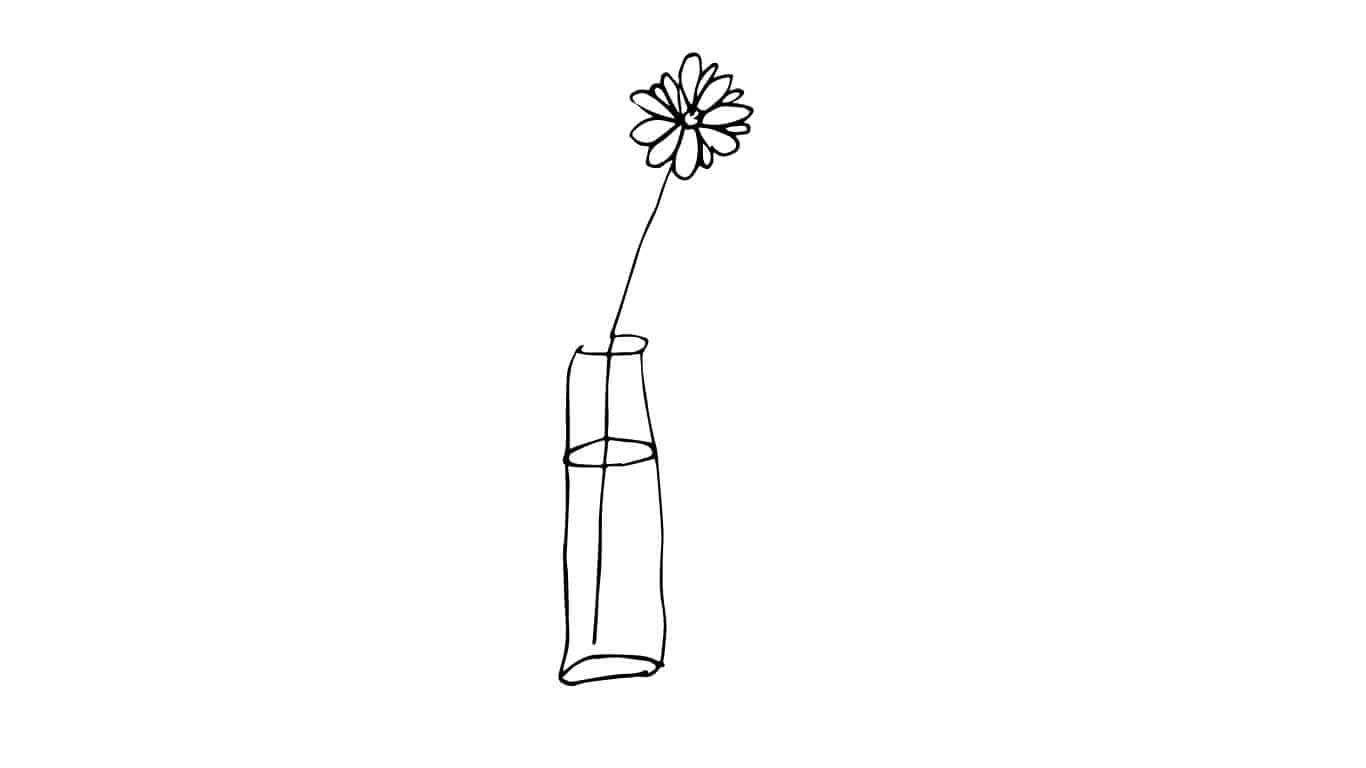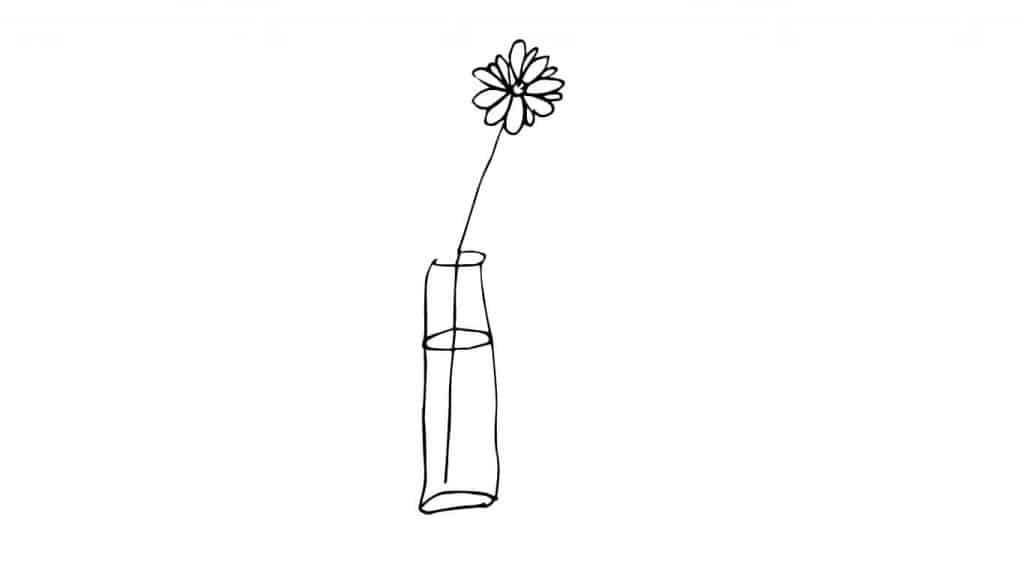 Having just one flower in a small vase is also very minimalist and cute. You can draw it smaller or as big as you want.
I love making the vase transparent, and that's why I added some lines to indicate that.
A flower with leaves
You can draw any flower from your imagination. Just remember to give it petals, a stem, and some leaves.
Tip: if you draw the flower with curvy lines, it'll be more appealing and have a hand-drawn vibe.
A simple flower bouquet
Drawing these bouquets is also one of my favorite easy drawings.
First, you draw just the stems together.
Then, you add a small bow, and finally, you draw some leaves and flowers on the stems. I also added small stars around the bouquet to make it more interesting.
Easy whimsical drawings
As I already said, I love drawing from my imagination. That's why cute whimsical drawings make awesome doodles in art journals.
Easy whimsical face
This whimsical face is so easy to draw and you'll want to use it again and again.
Use a pencil for this, because you might want to erase some lines later.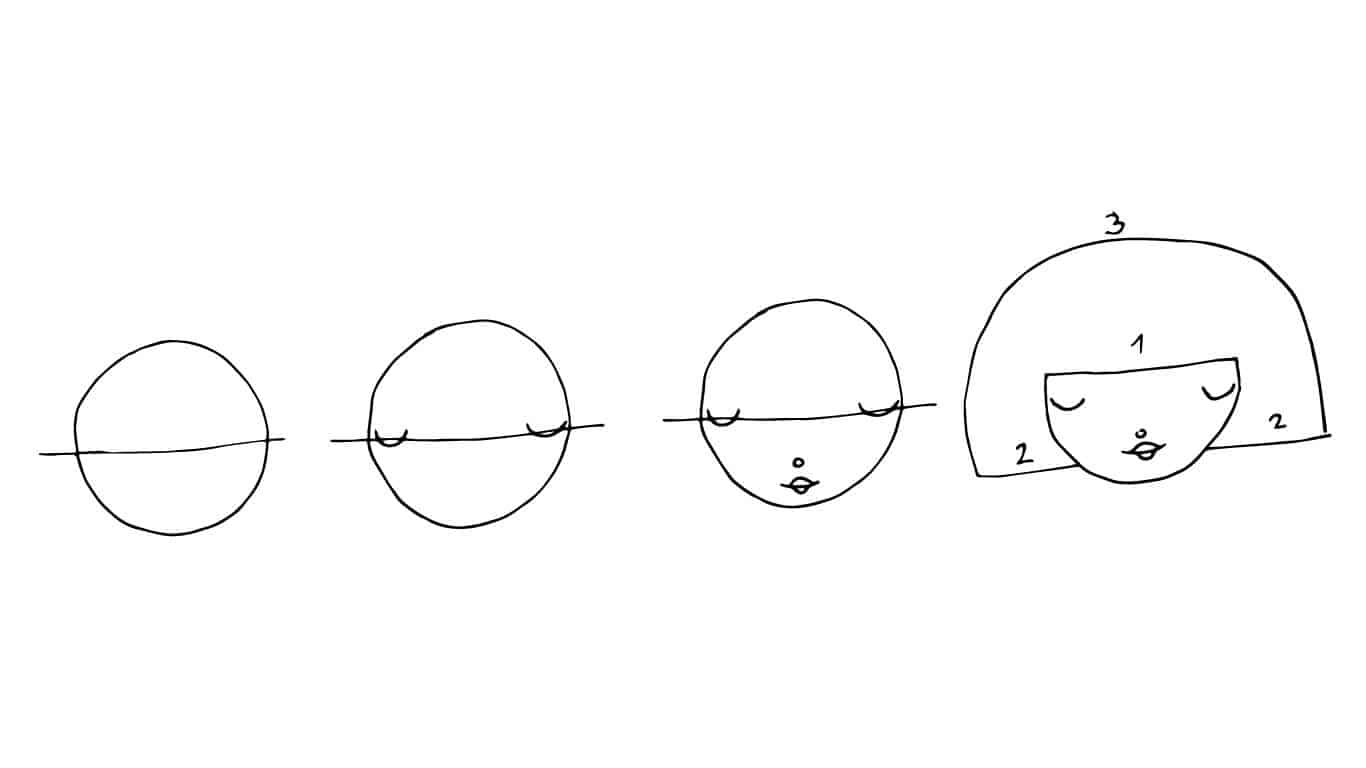 First, draw a circle and one line to split the circle in the middle.
Then put two curvy lines for the eyes on each end of that line.
Next, draw a circle for the nose and small lips.
This is how I draw these simple lips: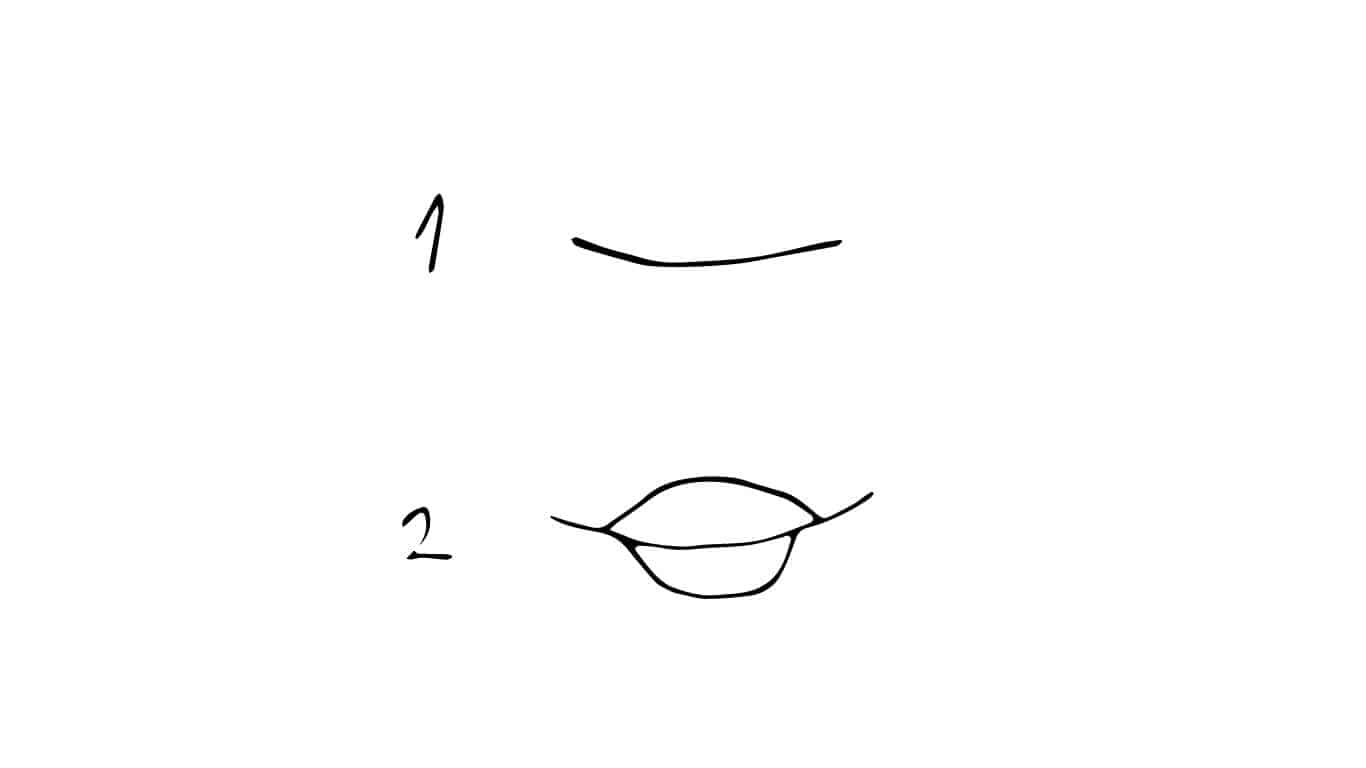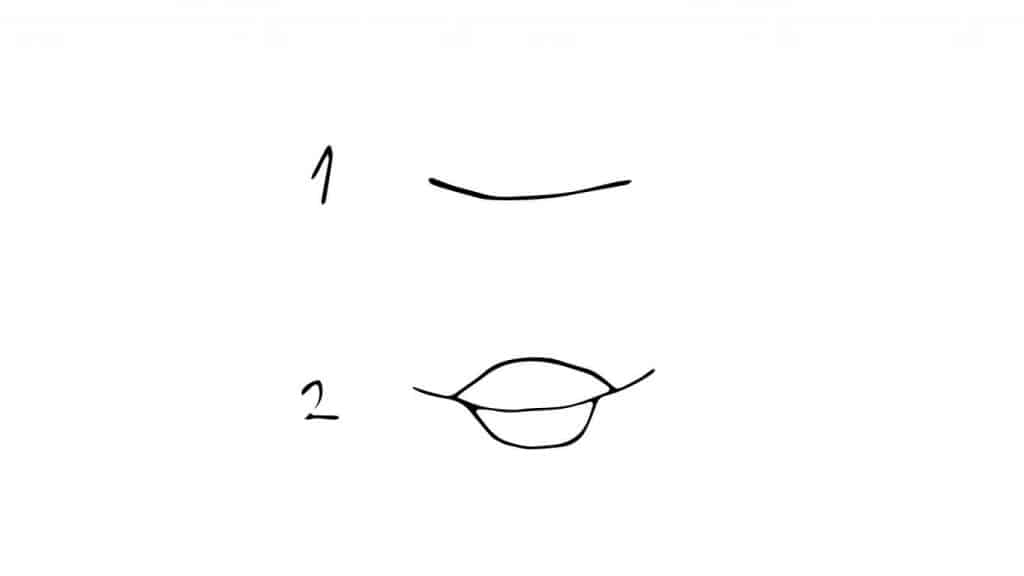 Finally, draw the hair. The simplest way to do this is to make it something like a bob haircut. Just follow the lines in the picture above.
Later, you can add color or even more lines in her hair to make her more dimensional. Also, why not add a simple figure with a rectangular dress?
Whimsical houses
I often forget how simple house doodles can be so darn cute. And with these houses, you can really go wild. What I mean is that you can let your imagination flow.
Your windows can be circles or hearts, the roofs may be any shape you like, and you can make the walls interesting by adding lines, dots, or any other doodle you love.
Here are some of my examples:
Leaves
In the past, I tried to draw leaves realistically, but then I often got disappointed with my drawings.
So, over the years I've been mostly drawing from my imagination. This is also true when it comes to leaves. I love mine whimsical.
Here's one of the recent ones I've drawn.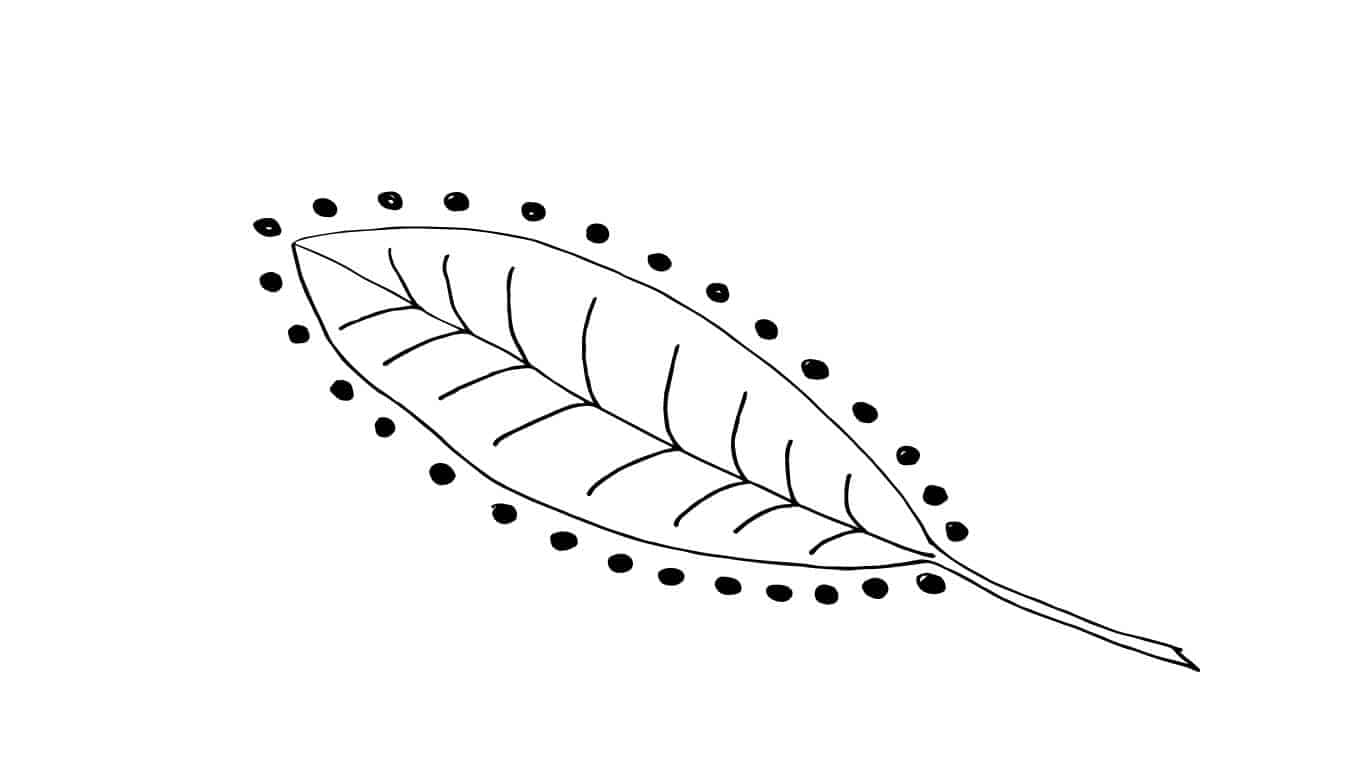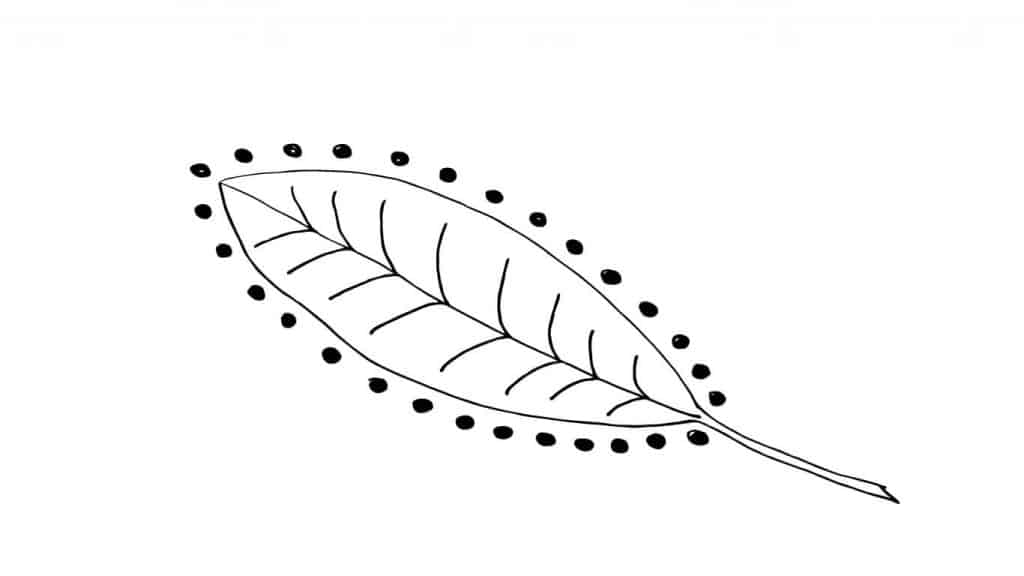 You can make your leaves even more complex by adding swirls, dots, or curvy lines. Just play and see how whimsical you can get.
Body parts
Yes, body parts can be easy to draw if you just keep it simple and think about them as a group of lines.
I'll show you how to draw simple whimsical eyes, lips, and hands.
Whimsical eye
Here's how to draw a simple whimsical eye step by step.
First, you make an almond shape for the eye.
Then, you add another line for the eyelid and after that add the pupils by drawing two half-circles.
If you draw the whole circle in the eye, then it'll look frightened and unnatural. Try to cover the upper and lower parts of the pupil behind the eye lines.
Next, draw a heart inside, or a star, for a touch of whimsy.
And finally, instead of eyelashes, draw some lines and dots above the eye.
Simple lips drawing
I know drawing the human face and the body is intimidating for beginners, but just keep an open mind here and keep going with simplicity.
Here's how I would draw simple lips.
Make a line like this for the upper lip.
After that, add a curvy line connecting the end of the upper lip lines. Make it curvy so that the middle is curved upward.
Now, draw the lower lip by making a curvy line like in the picture. Here, you can play with the thickness of the lip and its shape.
Hands
Worried about drawing a simple hand? Just pretend you're a kid, put your hand on the paper and outline it. Easy-peasy!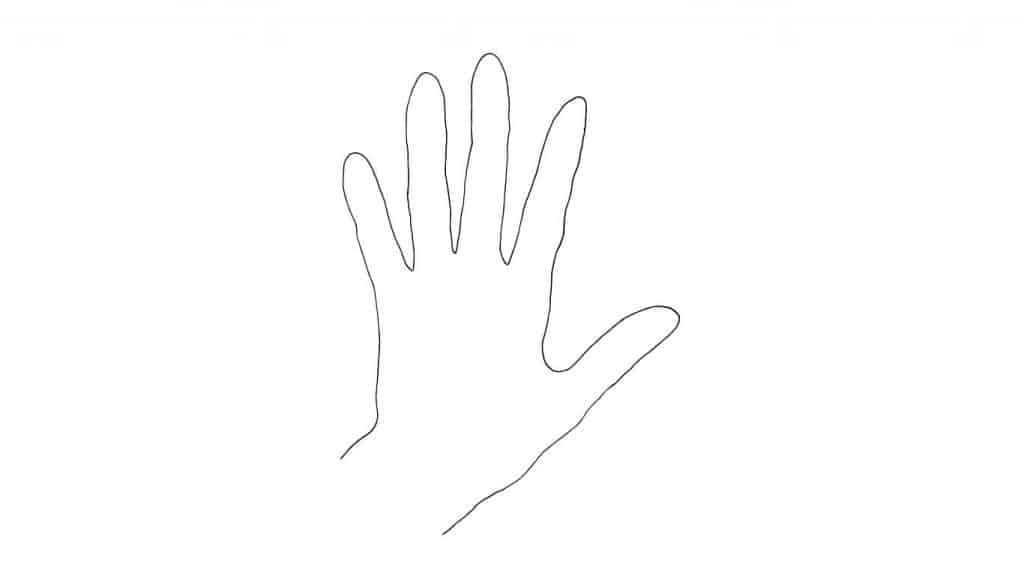 Also, you can draw inside the hand for a more tribal or whimsical look. Try doodling inside it with some shapes or symbols. You can even write on the outline of the hand and the fingers.
Closed eyes
There's something so gentle and soft with drawings of closed eyes with eyelashes.
You don't have to go into the details of drawing the eyelashes, just make some basic lines and it'll be pretty.
Try something like this.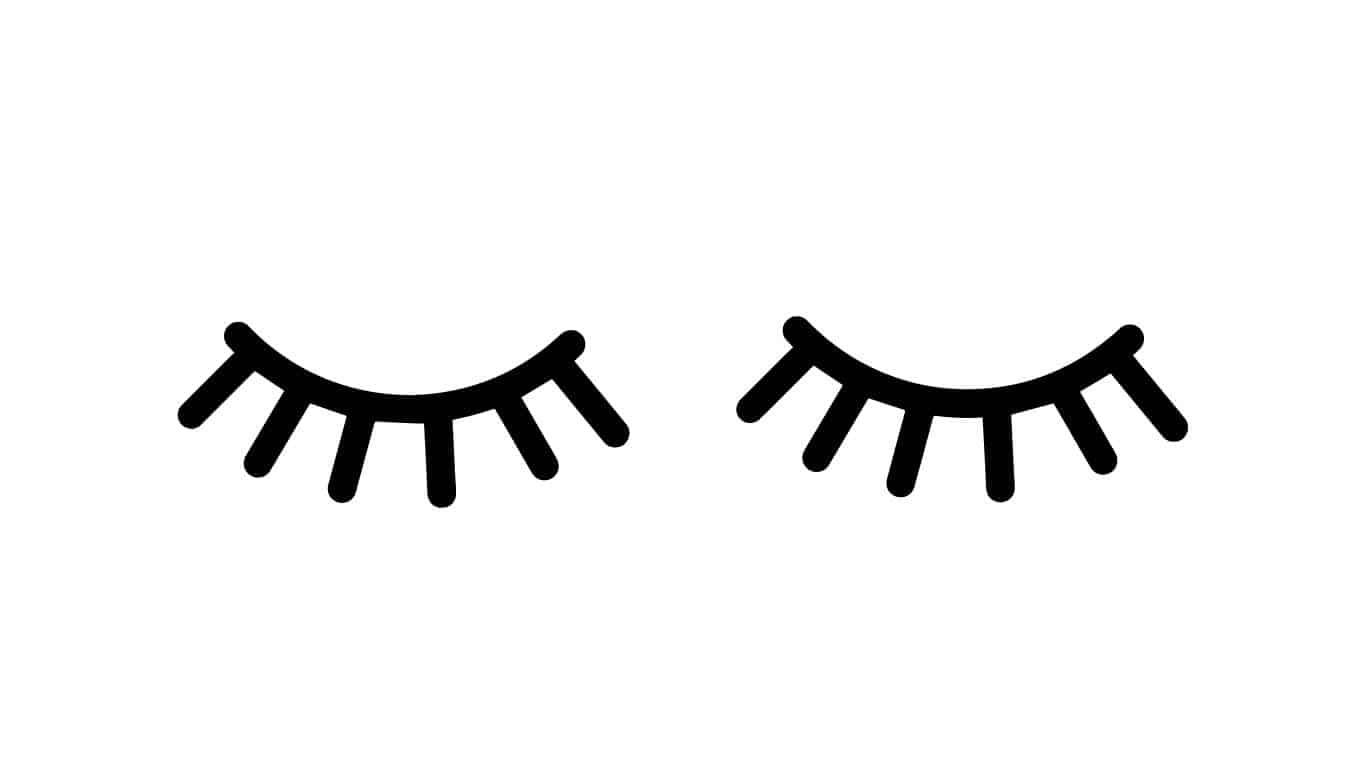 Easy things to draw from the universe
The topic of the universe has always amazed me and that's why I love drawing stars, moons, and planets, or painting galaxies.
Here are a few simple examples.
Planets
Planets are easy to draw if you have a minimalist approach in mind because you just draw simple circles and lines.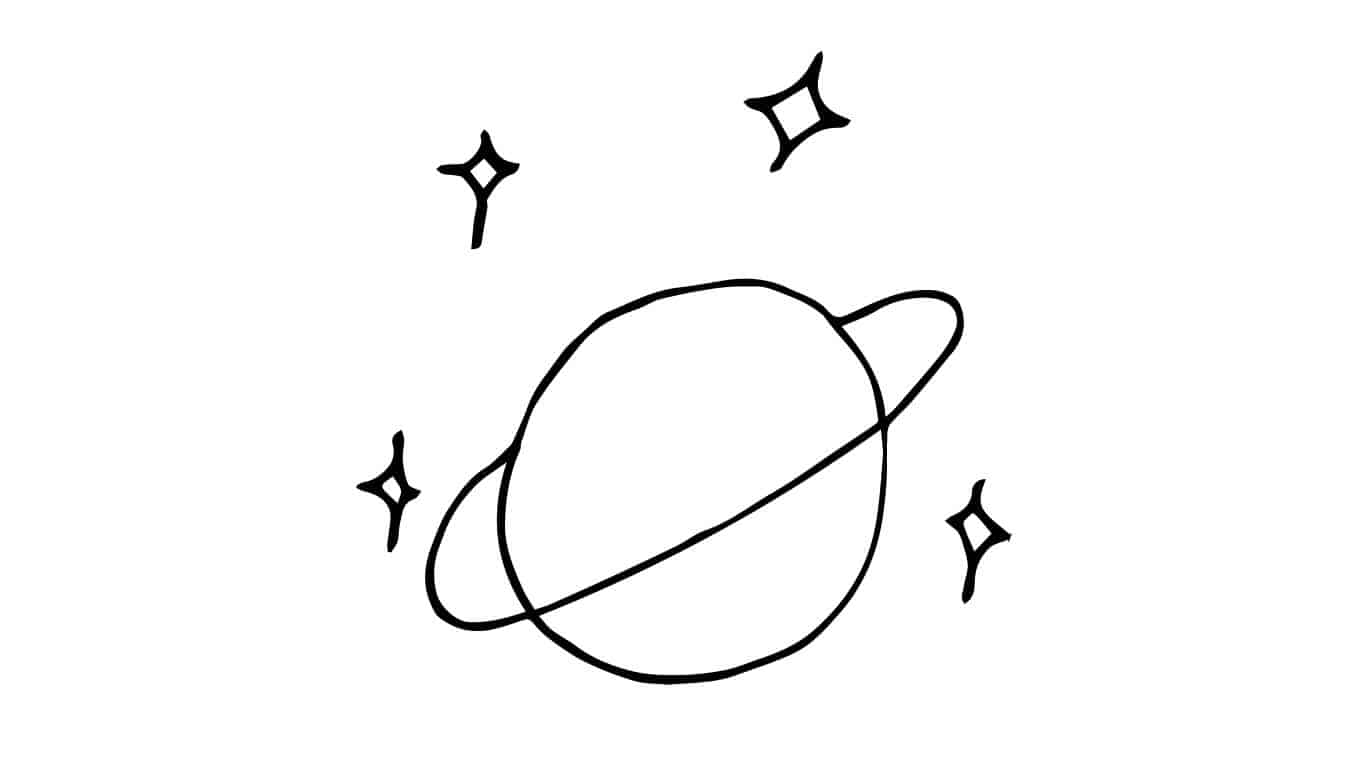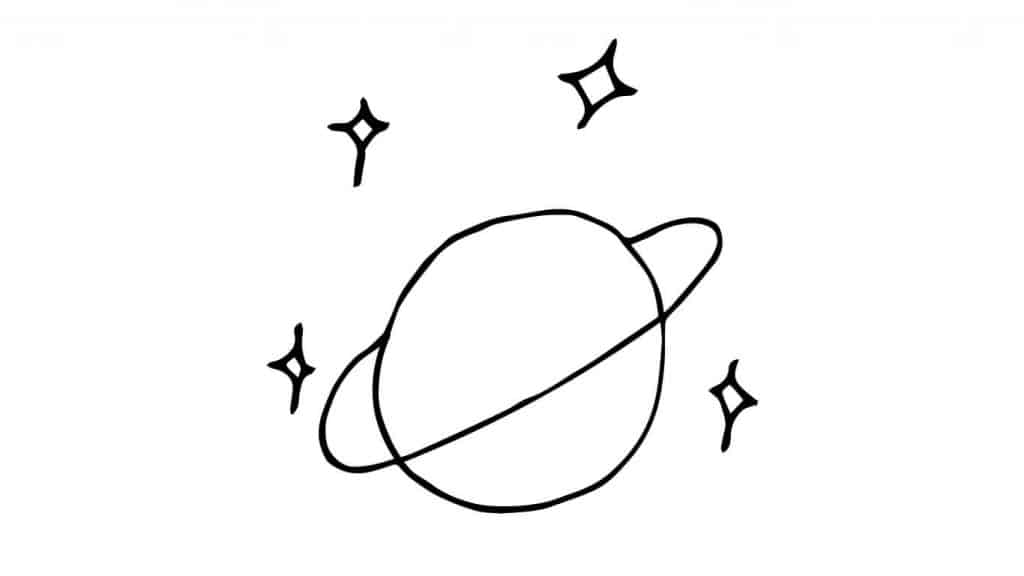 You can draw small stars around them, or add some depth by drawing tiny craters on the planets.
This is what I mean: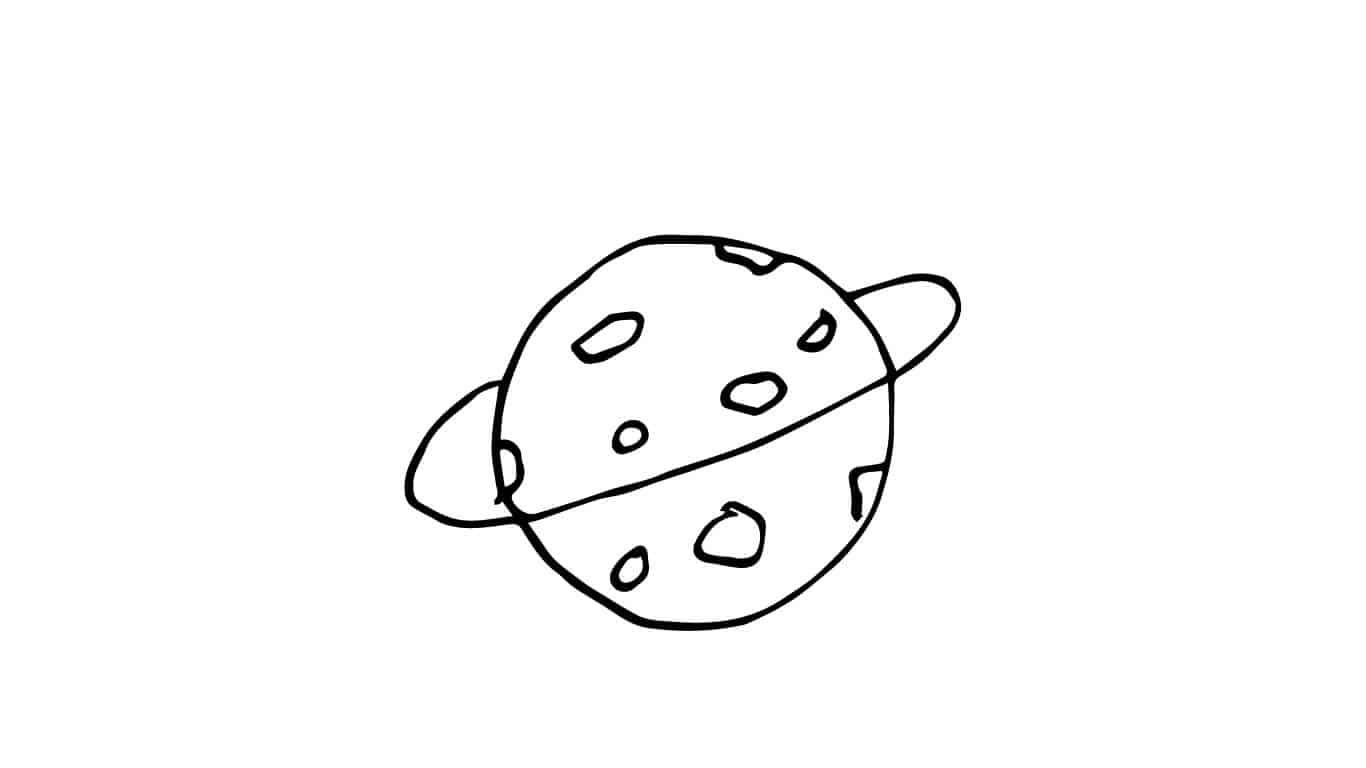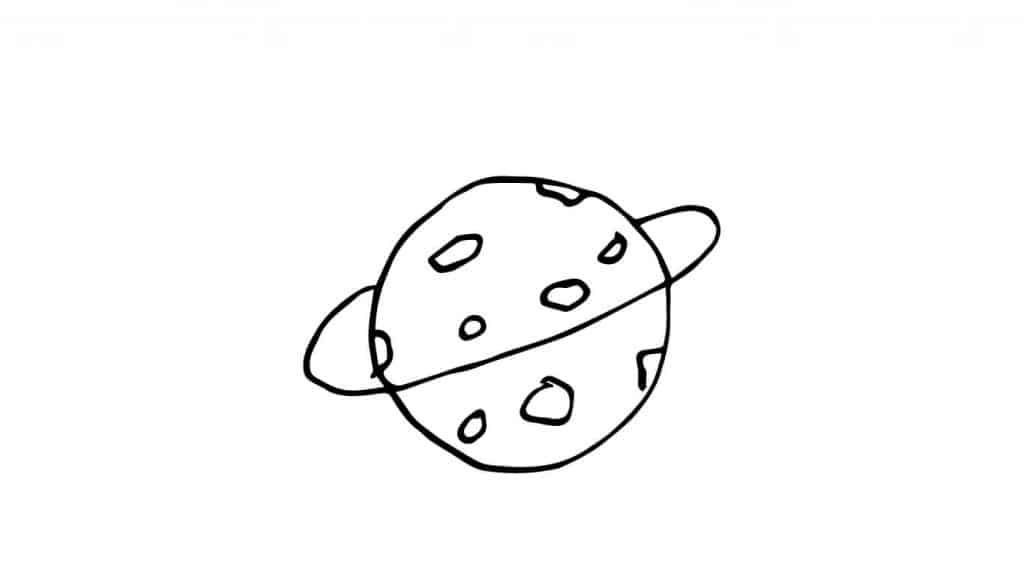 A shooting star
This is also a very easy drawing for your art journal. Imagine making a whole page with these little doodles and maybe writing something inside of them.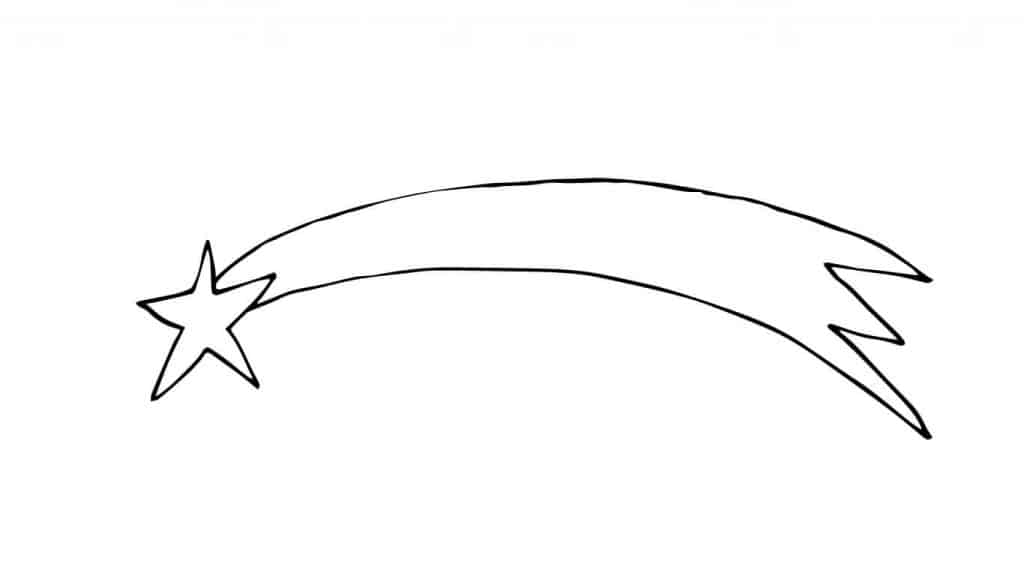 The Moon
I'm in love with the moon. You can find the moon in many cultures as being important for spirituality.
I think it has the power to amaze us and affect us. And its mysterious feel often inspires artists of all kinds.
So, you can draw the moon just by making two Cs together. If you're not confident to draw it with your hand only, try using round rulers.
This has helped me decide on the size and it's really easy to draw.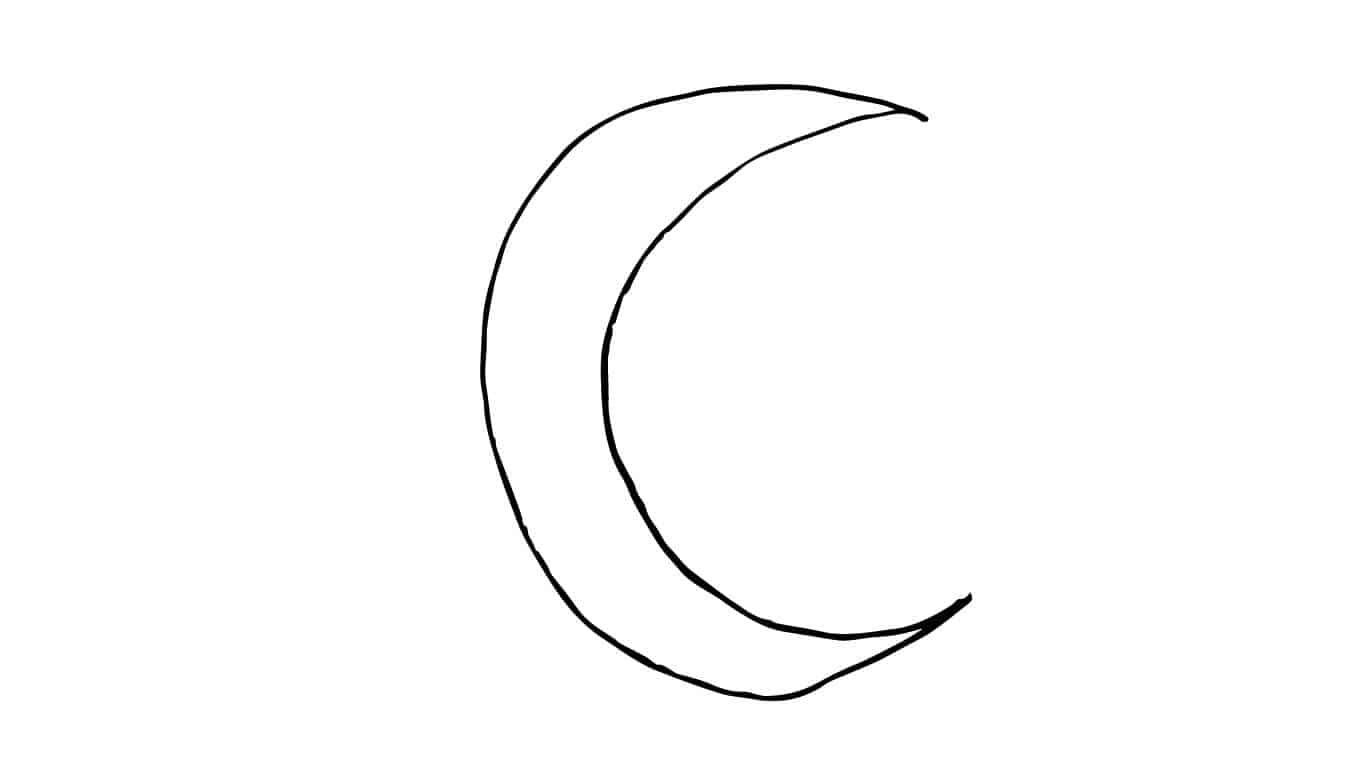 Also, if you like, you can add lines going away from the moon, or dots and stars around it.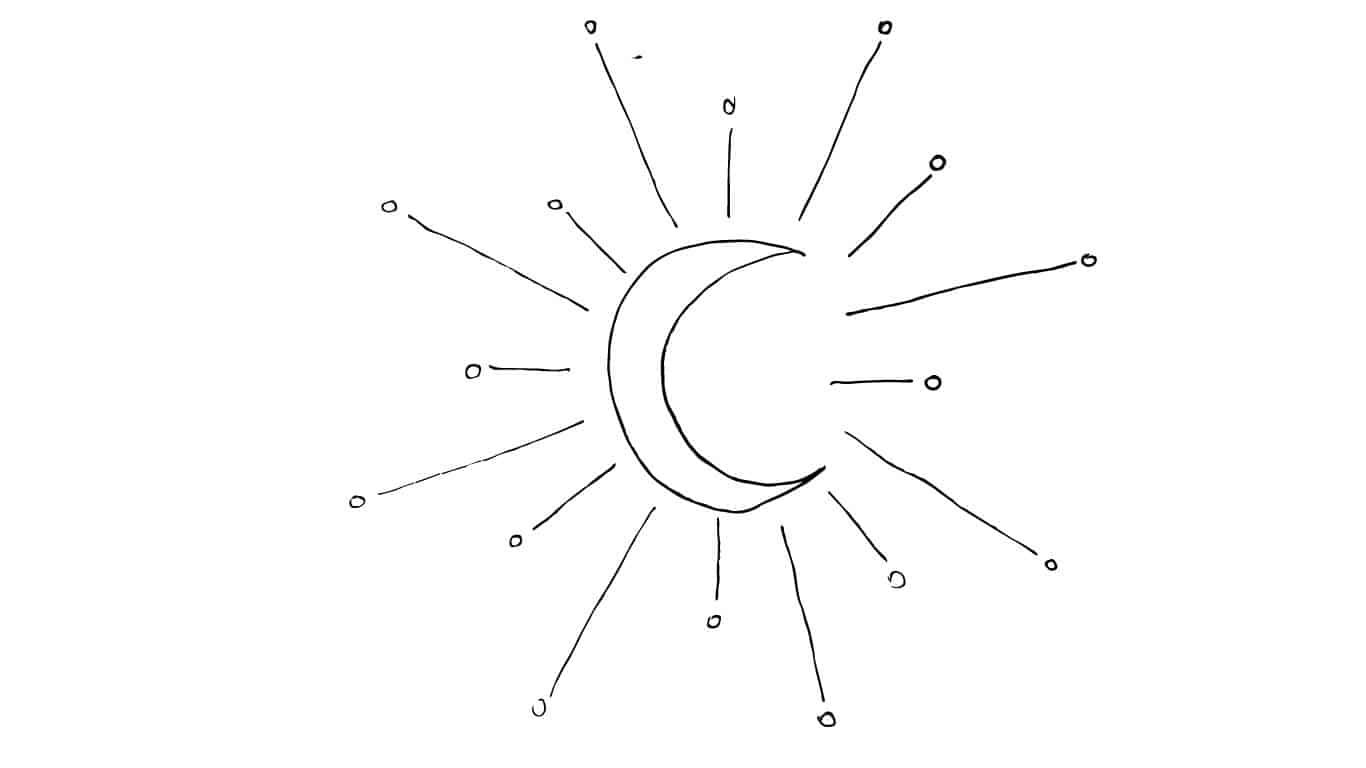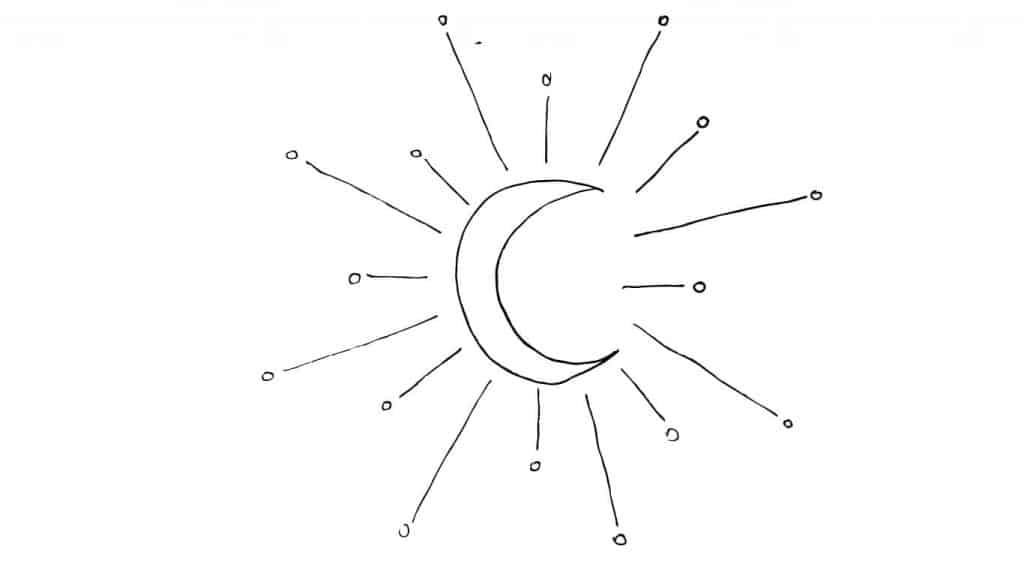 To add more interest, you can doodle inside the moon with some basic lines, circles, and triangles.
Constellations
Copy the existing constellations by looking at them on the Internet, or just have it your own way and doodle imaginary ones.
I love drawing stars and then connecting them with lines.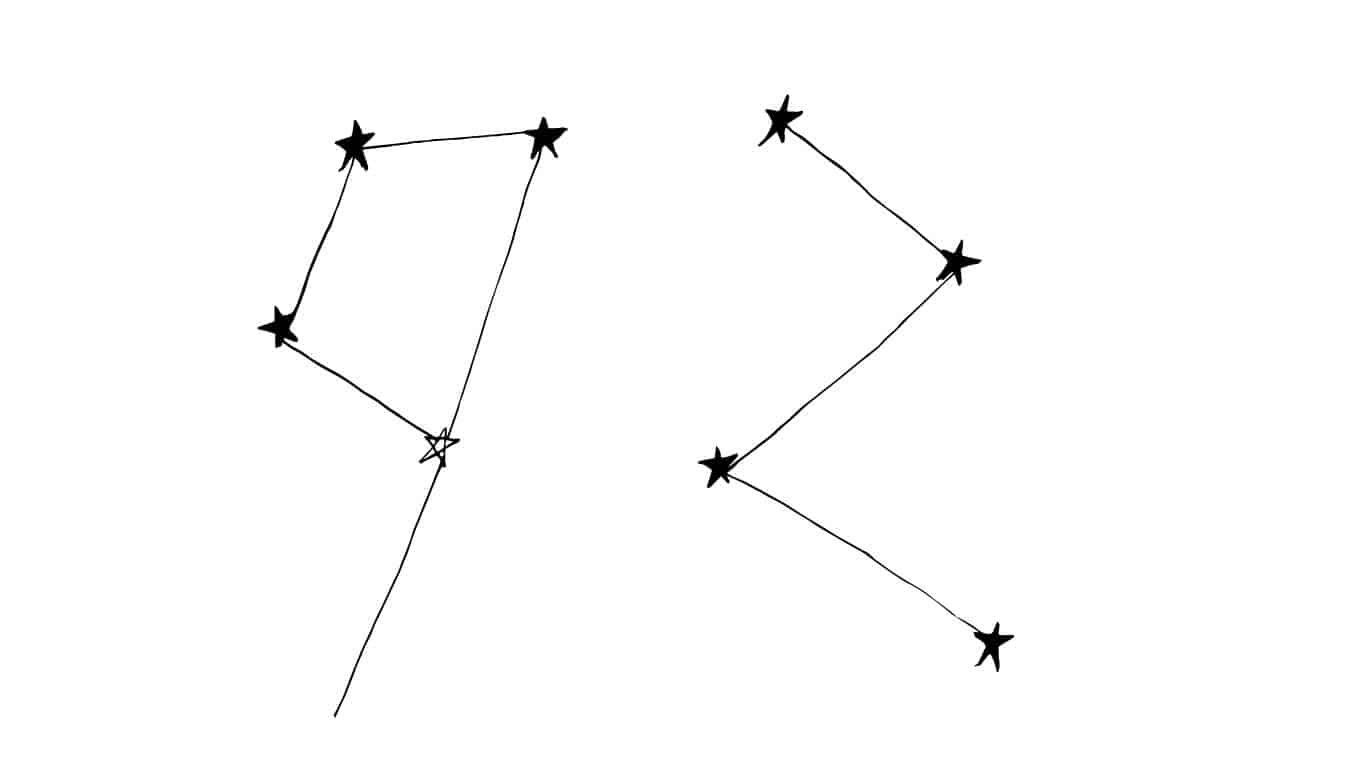 This is a great idea for darker backgrounds. What you do is paint the background black or dark, and when it's dry, use a white pen or marker to doodle the constellations. This effect is amazing.
Tip: I always use white Posca paint pens for this purpose because they're awesome. You can use them for writing or doodling, especially the white one on a black background. The ink in them is so opaque.
Clouds
Go back to cartoon clouds from your childhood. They are simple but still so cute.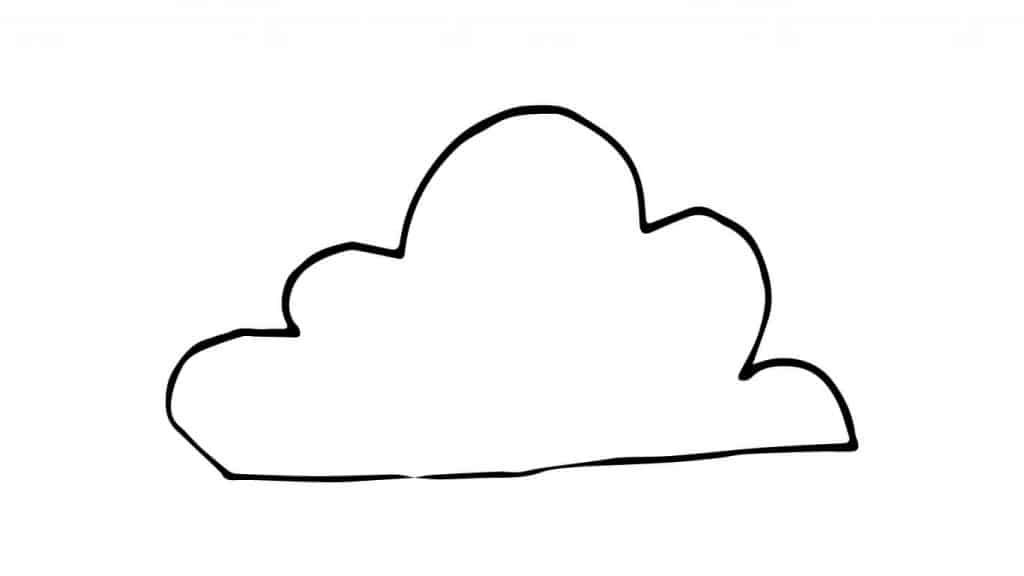 You can draw small raindrops under the clouds, connect two clouds with a rainbow, or go totally unrealistic and draw polka dots inside the clouds.
Other easy things to draw
A camera
How cute are those tiny little camera drawings? You can do this in less than a minute.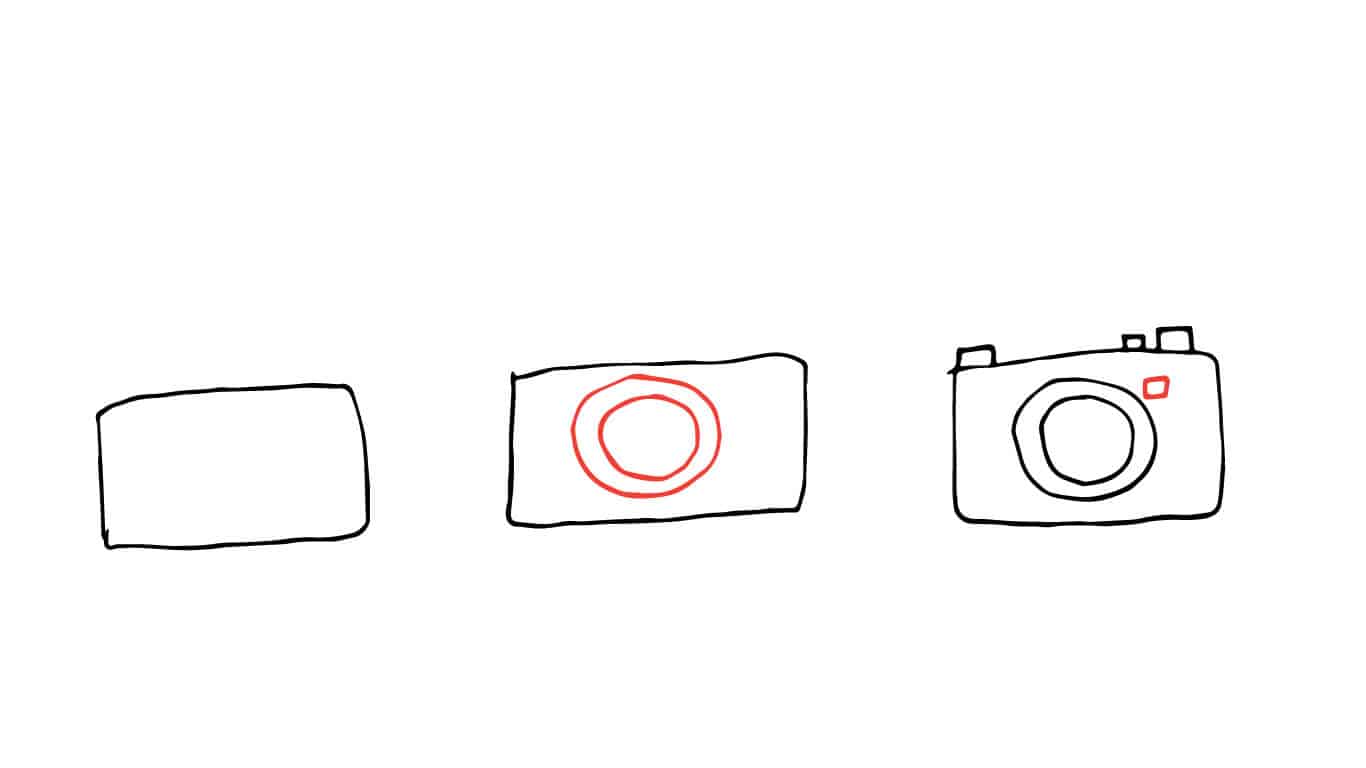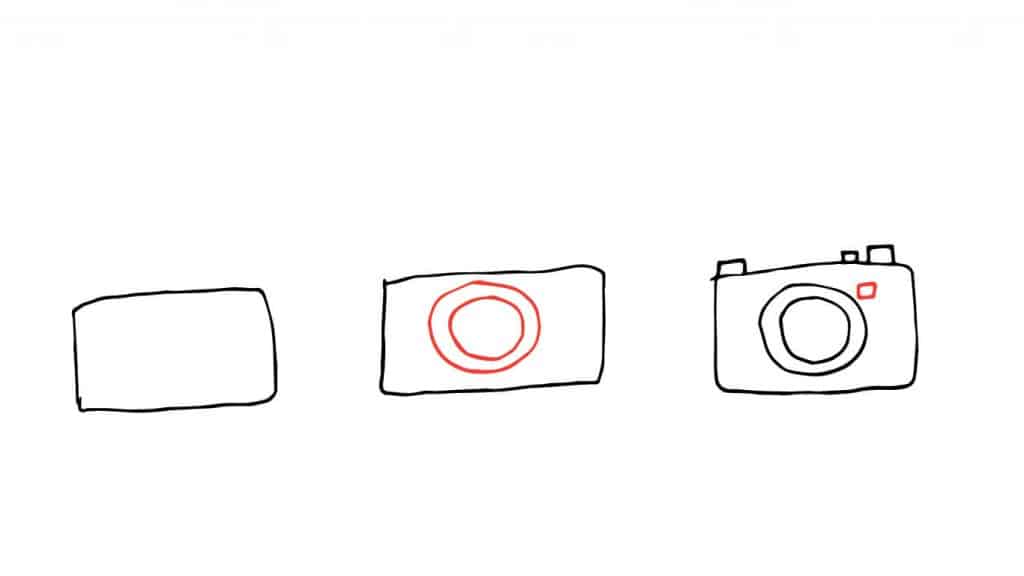 1. Draw a rectangle.
2. Draw two circles in the rectangle.
3. Draw 3 small rectangles on top and one next to the circle.
You can doodle inside the camera with lines or dots.
A small retro radio
It's similar to the camera drawing. Just use basic shapes like rectangles and circles.
A cat
I drew this cat for Halloween and I like its simple shape. See how it's all made of straight lines?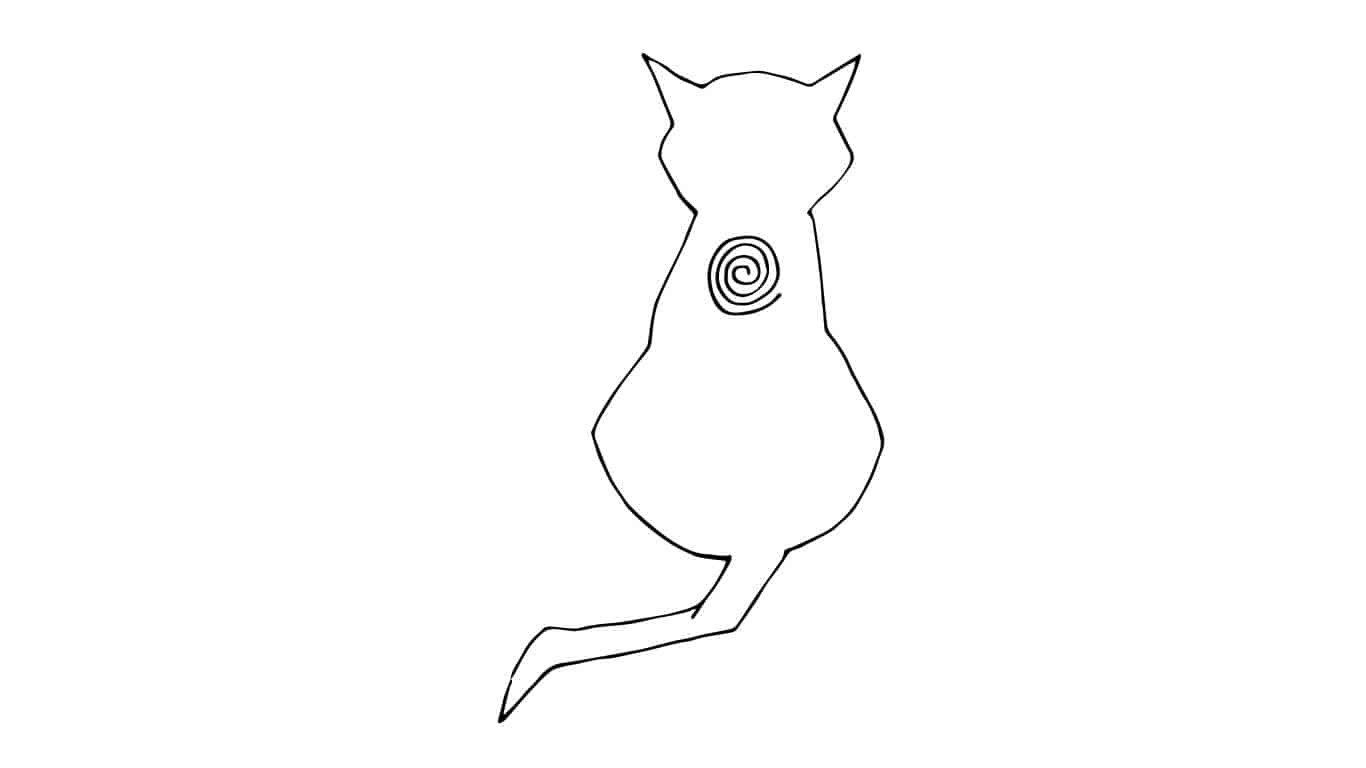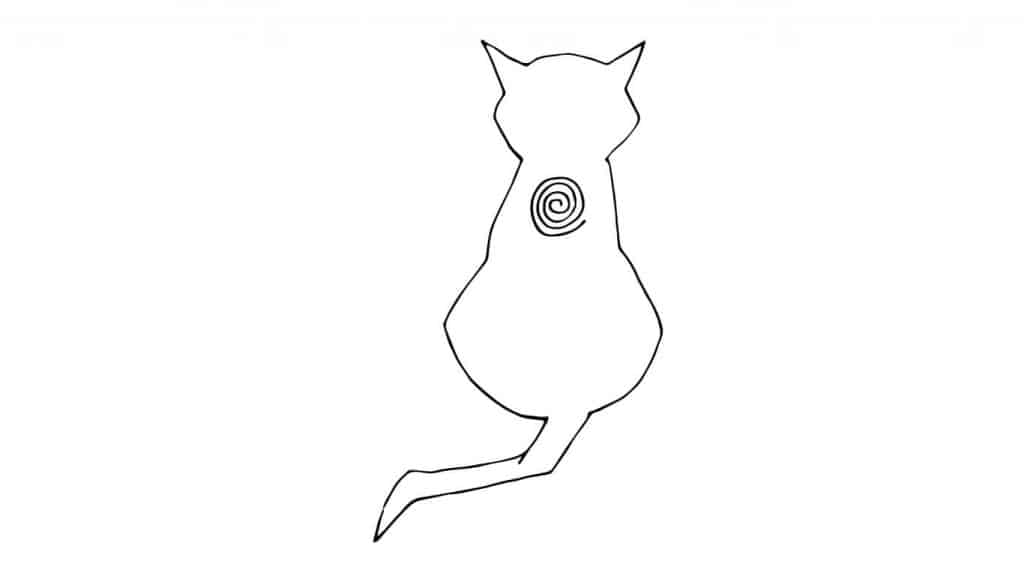 Easy things to draw – a reminder
I hope you found these ideas inspirational and simple for some carefree drawing time.
The simplicity of these drawings is what makes me believe I really can draw something in my art journal, and not feel pressured or overwhelmed.
Plus, they're a great drawing exercise to improve your drawing skills while having fun.
It's really up to you how simple these drawings can be. If you feel inspired, you can always add things to these drawings to make them more interesting.