Do Your Art Journal Pages Smear? Try These 5 Waterproof Art Supplies
I'm always in search of good waterproof art journal supplies because the frustration of a smeared page is intolerable.
Don't you hate when you're feeling so creative and enjoy making your art journal pages and then suddenly something smears and smudges on your page? The background music stops. And you just sit there thinking in disappointment: no, no, no, no, NO!
Why do your art journal pages smear or smudge?
Because not all inks, pens, or markers are waterproof and when you feed them liquid, they can't handle it.
I used to think that letting these things dry before I continued with liquid media would solve the problem. But, nuh-uh.
So, what can you do to stop your art journal pages from smearing?
Try waterproof art journal supplies. There are many to choose from, and I'm going to list some that I've tried over the years and that have served me really well.
Disclaimer: Some links in this post may be affiliate links. This means that if you purchase something through that link, I get a small commission, at no extra cost to you.
MY TOP 5 WATERPROOF ART JOURNAL SUPPLIES
These supplies are from my personal stash. I've used them for years and have been satisfied with them. They're great for art journaling and mixed media and I highly recommend them.
1. BLACK WATERPROOF PENS FOR ART JOURNALING
Pens are one of the most used and needed supplies when it comes to art journaling. Most of my pens are waterproof and I use them with ease knowing they will deliver and I won't have smeared pages.
FINE LINER BY MITSUBISHI PENCILS
The one pen I always use is the Uni Pin Fine Line by Mitsubishi Pencil. They contain pigment ink and are waterproof and fadeproof.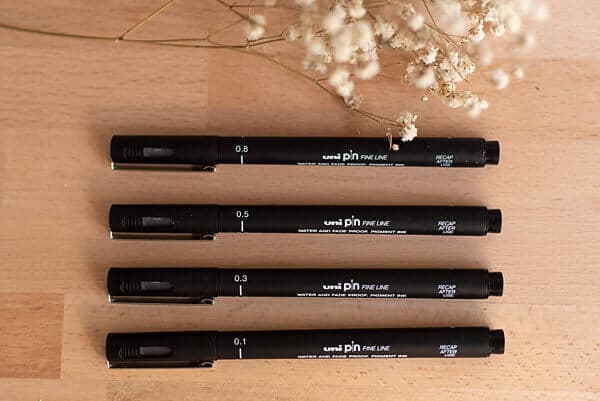 They come in many tip sizes. I mostly use sizes 0.1, 0.3, 0.5, and 0.8.
They are just perfect. Their fine tip lets you write perfectly, outline, draw, and doodle. Oh, they're great for doodling.
You can use them with watercolor and the results are wonderful. No smearing here.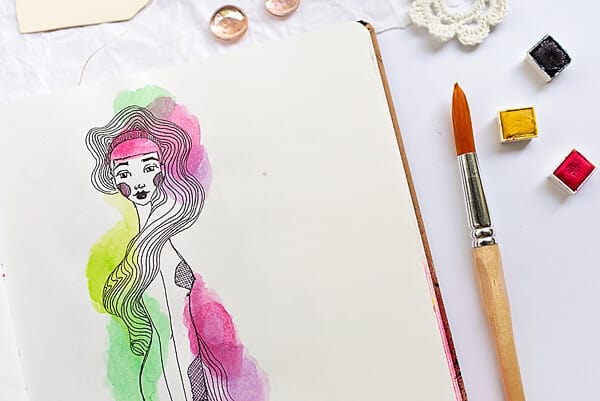 These pens are great for tracing your drawings, especially because pencils tend to smudge. So, if a pencil sketch is not my end goal, I'll first draw with a pencil and then trace the lines with these pens.
I've heard that Micron pen is waterproof and many artists love it. You can find additional info on their website here.
UNI-BALL EYE BY MITSUBISHI PENCILS
This Uni-Ball pen is also great for art journaling. It's also waterproof and fadeproof. I loved using it when I was teaching, and I love using it in my art journals.
However, they won't write over acrylic paint or textured backgrounds. Be careful with that. These fine tip pens clog almost immediately.
FABER CASTELL PITT ARTIST PENS
I have only two of these, as in the photo below.
Pitt Artist Pens are waterproof, odorless, and have permanent ink that won't bleed through paper.
I have two of them, the 1,5 mm bullet tip, and the one marked B which has a brush-like tip, so it's more like a marker than a pen.
They both work fine for drawing, doodling, or writing.
However, I wouldn't use them for textured backgrounds. The pen with the B mark can be used over acrylic paint, but not over a heavily textured page because the brush-like tip can be ruined.
TIP: You must remember to store them horizontally. This is very important and you can check on your other pens whether this is also the case.
RELATED: What Are The Best Pens And Markers For Art Journaling
2. PLATINUM CARBON INK FOUNTAIN PEN
Another of my recent discoveries is this Platinum waterproof fountain pen.
I use it as same as the other waterproof fine liners. But what I like most about it is that it's perfect for sketching. I just love the look of it on the paper.
It can also write over watercolor but I don't dare use it on acrylics. I don't want to ruin it.
3. BEST WATERPROOF STAMP INK
Since I love stamping and mixed media and watercolors, I must have a waterproof ink pad. I was frustrated with this until I found the one that really works.
ARCHIVAL INK BY RANGER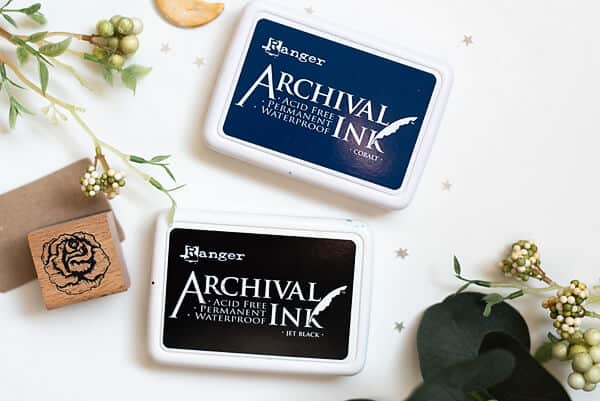 It's the Archival Ink by Ranger. The ink pads are acid-free, permanent, and waterproof. They come in different colors, but I'm loving the black one because it's versatile.
And you can't go wrong with black, right? It's the same as having that evergreen black dress in your closet.
It's reliable and you can put watercolor over it with no fear of smearing the stamped image. Here's an example of this combination: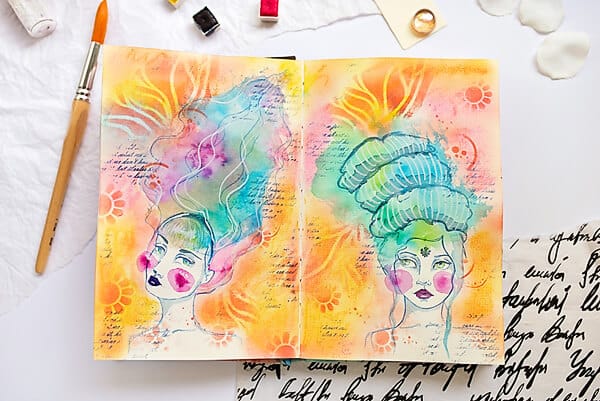 I used Jane Davenport's face stamps with the Archival Ink (Cobalt). I painted them with watercolor and no smudgin' here.
4. WATERPROOF MARABU MIXED MEDIA ART SPRAYS
The Marabu art sprays are great and come in a lot of colors. I usually use them with stencils or just spray over my page to mage "ink stains".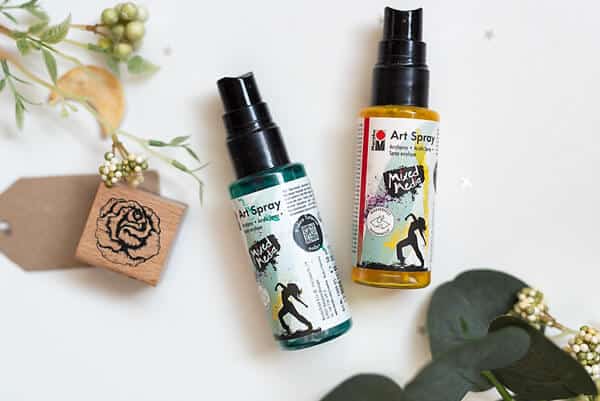 You can mix them with one another or blend them with water, but once they're dry, they don't react to water anymore. How great is that?
So, you can have many layers without smearing the layer beneath. That's why these art sprays are great for mixed media.
There's useful info on them on the official Marabu site here, so check them out if you're intrigued.
5. EDDING MARKERS
I love Edding markers because they tend to write really well on acrylic paint and textures surfaces.
Just a hint: I tried these markers with water on watercolor paper only, if you try them on glossy paper and put water on them, I'm not sure how that'll turn out. I don't like working on glossy paper because it is unpredictable and I prefer matte.
EDDING GOLD MARKER
The one that I use is the Edding 750 creative. It's a gold marker with a 2-4 mm point. It's a gloss paint marker that's weatherproof.
I wanted to know if it was waterproof on paper. And guess what? It is.
I wrote a word with it and painted it over with watercolor. The letters are perfect, with no smearing or smudging.
EDDING 400 PERMANENT MARKER
This is a black marker with a 1 mm point. On the marker, it says that it's water-resistant on virtually all materials.
But the question was: will it resist watercolor in my art journals? So, I tried it out with watercolor again. And voila! It doesn't smear.
WATERPROOF ART JOURNAL SUPPLIES ARE A MUST FOR MIXED MEDIA ART JOURNALING
Mixed media is great and fun but can be a nuisance if you only have art supplies that can't handle water. Without using waterproof supplies, you'll get disappointed and angry, and that's not the spirit of art journaling.
So, in order to keep your sanity and your art journal pages clean and the way you want them (hint: not smeared), you'll want to use at least one of many waterproof supplies.
What I'd recommend is getting a waterproof pen and a stamp ink pad. These are versatile and practical, and won't let you down. Stamp inks like the Archival Ink by Ranger last a long time, so you'll get your money's worth.
RELATED ART JOURNAL SUPPLIES ARTICLES
What Are The Best Pens And Markers For Art Journaling
Top 5 Art Supplies To Use In Your Art Journal
8 Essential Art Journal Supplies for Beginners