Top 5 Art Journal Supplies You Should Have In Your Stash
Do you need a whole craft store delivered to you in order to make art and express yourself? Do you need a bunch of art supplies to make your art journal pages?
No.
Although it would be fun to have all those supplies you see in the craft stores, the ones looking at you and seducing you with their color and awesomeness, you only need a small part of those supplies to create. And to be satisfied with what you make.
That's why I wanted to share the top 5 art journal supplies I always go back to. No matter how much stuff I buy, I always somehow have the top 5 or 6 that my hand wants to hold and work with.
If you still struggle with what you should use and rely on, here are my top 5 along with the tips for using them and some personal opinions on how amazing they are.
TOP 5 ART JOURNAL SUPPLIES YOU'LL LOVE
Over time, I've developed a preference for some supplies which I now call my basic to-go supplies. This means that when I just sit down to make some art, I don't overthink it and just grab one of these supplies. They're always there on my desk, ready to take off.
Having these supplies set and ready will make your art journaling process easier and faster. If you're sometimes impatient like me (I can be extremely impatient when I create, I'm not loving it always) and want to see the results faster, it would be neat to have these supplies ready on the table.
So, what are the top 5 art supplies I usually use?
1. Acrylic paint
2. Stamps
3. Ink pads
4. Paintbrush
5. A black waterproof pen
Below, you'll find a short explanation for each of these and the reasons why they're so handy and versatile. If you only have a few supplies like these, you can still make amazing art journal pages. I promise you that.
1. ACRYLIC PAINT
What can you do with acrylic paint?
How much time do you have? Because acrylic paint is so versatile and fun that I can't stress enough how much I love it. But here are some basic things I love about this medium.
Backgrounds
Acrylic paint is great for making backgrounds in your art journal. Make a single color background or use more colors to make it vivid and playful. Mix different colors to see what shade you get.
With acrylic paint, you can create really bold and saturated backgrounds.
Textures
I love doing backgrounds without any water, just a brush and acrylic paint. The paint is creamy and can also make interesting texture on the paper. You create texture with brush strokes or even the back tip of the brush. You just turn the brush upside-down and make marks on the wet acrylic paint.
Use them with stencils
You can use acrylic paint with a stencil. I'm sure you've done this already. A stencil, some paint, and a kitchen sponge. What more do you need for a great background?
Faces & Portraits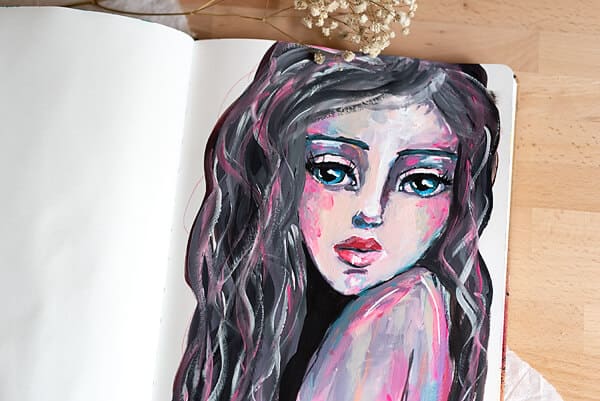 Also, what's really fun, is that you can paint faces with acrylics. The best thing about acrylic faces is the brush strokes. You leave visible strokes and this adds to a painterly look. Even if you think you can't paint faces, try something basic and see. If you don't try it, you'll never know if you're able to do it or not.
Why acrylic paint could be your favorite art journal supply
They come in an endless number of colors.
When I'm in a craft store, at the acrylic paint shelf, I lose it. I want all the colors, they look like milkshakes or ice-creams, so yummy. Their color range is amazing and you can really stop worrying about mixing colors because you have many already available.
It's creamy.
First of all, I must say that I mostly love its creaminess. It's a joy to watch when you paint with it. That's why I never add water to it.
It dries fast.
The other thing I like about it is that it dries fast. You don't have to wait for hours (unless you've put a crazy fat thick coat of paint at once). You'll be able to work on your projects without waiting for it to dry long.
Texture.
Acrylic paint can create interesting textures, depending on how you apply it and which tools you use. I've found that I can get great texture with acrylic paint and a kitchen sponge. You get the effect by dabbing the paint onto the paper, rather than painting in strokes.
But, you can still have the texture with only a paintbrush. This is when you explore with your brushes and paints and learn how specific strokes create specific textures.
It's cheap.
Also, acrylic paint is so inexpensive. You can buy it anywhere, from supermarkets to hobby stores. I even once found acrylic paint in a home/furniture/tools store.
However, just bear in mind that the more expensive the paints, the more quality you get. Logical, right? I don't buy expensive paints because I tend to use them a lot. A LOT.
It goes well with different tools.
You can use acrylic paint with many other tools for different effects. They go hand in hand with kitchen sponges, you can apply them with your fingers (yeah!), with baby wipes or a wet cloth.
I love to stamp with acrylic paint. For this, you can use regular stamps, but also other things like flowers, leaves, vegetables, anything that might leave a textured or interesting mark. Try cabbage (no, I'm not kidding).
2. STAMPS
What can you do with stamps?
I've used stamps since forever. They're non-negotiable, I must have stamps in my stash, whether they are acrylic stamps, wooden, or handmade. They are a great tool.
Backgrounds
As with acrylic paint, you can also create amazing backgrounds with stamping. You can stamp the whole page with flowers or letters, just to give you an example. Combining different stamps to create a background is also a neat idea.
Stamp and cut
Use your stamp on a separate piece of paper, color it in, and then cut your design. This way, you get lovely DIY cut-outs.
Make cute gifts
If you have a crafty friend or a young niece that loves to create, why not make a lovely gift bag? Here's what you can do. Take sheets of thicker paper. Stamp images with your favorite stamps, color them, and then cut them out. Store these designs in a DIY envelope or a small paper bag and give it as a present to somebody who is artistic and crafty.
Color the stamped image
You can stamp your image onto a page and then just color it in. I like doing this with watercolor because acrylic paint will just cover the entire design. Also, you can paint the image with colored pencils or markers.
A DIY wall hanging
If you like making DIY crafts for your home, I think you'll love this idea. Do you have a stamp that you really love? Maybe interesting flower designs, or abstract images that are appealing to you?
Stamp them on heavy cardstock, and cut them out in circles or squares, whatever feels good to you. Make an odd number of these, decorate them as you feel, and then put them on a string (glue the string on the back with washi tape).
Write some messages if you'd like. Hang them vertically or horizontally.
Why stamps could be your favorite art journal supply
Easy and quick to use
The easiest tools to use. You just put some ink on them and stamp. Just bear in mind that if you want the whole image to stamp correctly, you should stamp on an even surface and press down the whole image. That's all there is to it.
They come in many different designs
There are so many different stamp designs that there's something for everyone. I've seen stamps so interesting that I was amazed at how creative people can get with designing them.
If you're just building your stamp stash, start with basic and general designs like flowers, letters, or shapes. These are so versatile that you'll always want to use them.
You can make your own stamps
Making DIY stamps is always fun. Especially because you never know what you'll get until you get it. And then the moment when you try your handmade stamp and it really works is priceless.
After I made my own moon stamp and saw how nice it worked, I literally jumped out of my chair, danced the victory dance, and ran off to my boyfriend to show off. You're right, he didn't mind much about it.
3. INK PADS
What can you do with ink pads?
I still have my first ink pad. And to my surprise, after almost ten years, it still gives me ink to work with. If you're wondering which ink this is, it's Distress Ink by Ranger. I love their inks.
Use them with stamps
That's what they're made for. Stamps and inks are just a lovely couple that won't disappoint you.
Use ink with stencils
For this, you'll need an ink pad, a stencil, and a make-up sponge. Make-up sponges are great for getting a soft effect.
What you do is take the ink with the sponge, but really try to soak it with ink, until that part of the sponge is covered in ink. It takes a few good dabs on the ink pad.
Then, put your stencil on the page and just dab through it with the sponge. Try making circular motions to really fill in the stencil marks.
Distress the paper edges
I do this all the time, whether it's in my art journal or another paper project.
For this, I use a make-up sponge and pick up some ink, not much. Then I just go around the edges of my page to frame it or get a distressed look. This works perfectly when the paper is torn before inking.
Why ink pads could be your favorite art journal supply
They come in many colors
They come in a range of colors and shades so you can really use up that potential. There are a lot of manufacturers of these inks and they've come up with amazing formulas to deliver multiple color options for your art.
Some of them are waterproof
Not all of them are waterproof, but if you're into art journaling and mixed media, you'll need waterproof ink. Because of all the wet media. Then, you can be free to use it and not afraid it'll be ruined by your next step.
They blend nicely and give a soft look
Also, some inks are perfectly made for blending. Oh, how I love these. That's why I love Distress Inks by Ranger. They can be easily blended and give a soft look.
They can last for long
I'm not saying this for every ink pad that there is. There are really some crappy ones. But, I've tried Ranger inks, distress ink pads, oxide distress inks, and archival ones. And these inks last. I'm telling you, I've had their ink pad for almost 10 years and I can still use it.
4. PAINTBRUSHES
Well, you can't go wrong here. If you ever painted anything in your life, you needed a paintbrush. We all had those when we were in school. They are essential tools for every artist.
What can you do with paintbrushes?
Well, a lot of things actually.
With acrylic paint and watercolor
They're mostly used with acrylic paint and watercolor. There are different brushes you can use for each. Round ones are great for watercolors, and flat brushes can do a better job with acrylic paint.
For applying different media
Apart from paints, you can use them to apply any other wet media. For example, you can apply gesso or glue with them.
If you like calligraphy, you might find them handy for writing, in combination with ink.
You can make splatters of ink or acrylic paint.
They come in many sizes and shapes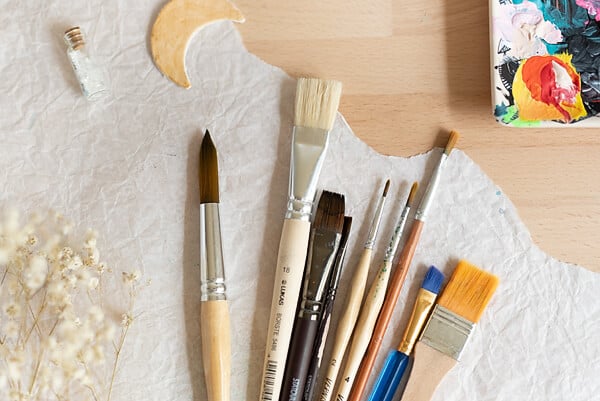 They also come in many different sizes and shapes. Someone really thought this through, how the bristle holds the paint, how other bristles hold water, etc. That's why you have plenty to choose from, depending on what you want to get with them.
Why paintbrushes could be your favorite art journal supply
They are versatile
It's simple. You can use them for different techniques and media. So, they are a very handy art supply.
They can be cheap and easy to get
Just like acrylic paint, you can find them anywhere. They aren't expensive and can be bought in packages.
They give an artistic vibe
Oh, I love this one. Why do I like paintbrushes? Well, they make me feel like an artist. It's just one of those images you dream about as a kid, you holding brushes and carefully painting on a canvas next to a big window, wearing overalls covered in paint, and you have your hair up in a curly mess.
The feeling I would get while imagining this as a kid is priceless, and today, while I paint with my paintbrushes, I'm living that dream, and holding the brushes elevates the whole situation. And I feel proud.
You can reuse old ones
There'll come a day when you'll ruin your brushes. Maybe because you're careless and left it soak in acrylic paint, or you didn't wash it after using it with glue. In either scenario, they're ruined.
But, don't throw them away. I have ruined brushes which I now use for different effects. For example, if I want a dry texture, I apply paint with an old brush and I get the dry, grungy effect.
Can you see how I ruined these lovely brushes? I forgot I left them with acrylic paint on. These things happen more often than you think. But, I use these brushes now for creating marks and texture on the acrylic paint.
Also, I mostly use these ruined brushes for applying the glue, when I do collages.
You can use them upside-down
What I mean is that you can use the top of the brush as a marking tool. It's fun to use it on acrylic paint while it's still wet to create texture.
5. BLACK WATERPROOF PEN
I must say that this is even in my top 3 art journal supplies. I have many tip sizes and brands, and I use every single of them They're just so practical and versatile. Here, I'm talking about fine tip pens.
What can you do with a black pen?
Doodling
They're perfect for doodling because their thin tips can be super precise. Because they come in different tip sizes, you can take your doodling on a new level by shifting between thin and thick lines.
Outlining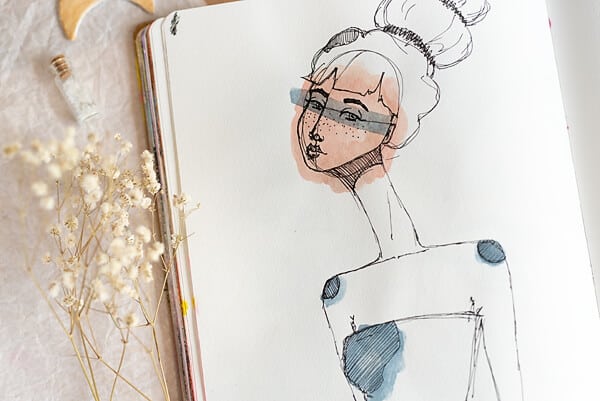 When you first draw something with a pencil, these black pens are perfect for outlining your work.
Also, try using them with stencils to trace the stencil designs.
Writing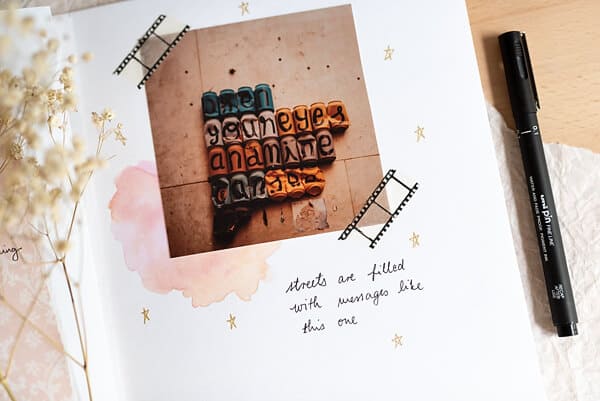 I mostly use these pens for writing in my art journals. They look great and don't smudge.
Faux calligraphy
Because they're so pigmented with black ink, you can do faux calligraphy with them. If you're not sure what this is, read about it here in an article with a faux calligraphy tutorial.
Why a black waterproof pen could be your favorite art journal supply
They're waterproof
This is the greatest thing about them. This means that they don't react to water, or anything wet, and they don't smudge.
So, use them freely with watercolor, you can erase pencil marks all over them after outlining, and the pen won't smudge. This makes them perfect for mixed media art journal pages. (Because mixed media mostly involves wetness and liquid.)
They look great with watercolor
The combination of this pen and watercolor is amazing. I use them together most of the time.
What I love doing is painting a watercolor background and then doodling with the pen. But, you should let the watercolor dry before you start writing on it.
Or vice versa, I'd doodle some shapes and then just add watercolor on top. This is where the magic happens. Right in front of your eyes.
IMPORTANT TIP: Although they work great with watercolor, please don't try writing with them on acrylic paint, unless they're specifically made for that. I've ruined so many nice pens this way. Well, what can I say, acrylic paint just doesn't love these fine tip pens.
WHAT ARE YOUR TOP 5 ART JOURNAL SUPPLIES?
If you still don't have this kind of ready-to-go stash, you'll develop it over time. You'll see what works for you, and what you enjoy using.
You can try these 5 supplies and see how you work with them. I love them because they're easy to get and use, they are versatile, which means you can do a lot of different projects and ideas and they'll serve you well.
Remember, you can create art even with just a few supplies. I challenge you to do it. And if you have a bunch of supplies already, challenge yourself to use only 3-5 per project. See how that works for you.
When your supplies are limited, then you get creative ideas on how to use the supplies in other ways. By doing this, you'll push yourself to explore more. Believe me, there's nothing more satisfying than discovering a new way of doing something that really works.