7 Cheap Art Journal Supplies That'll Boost Your Creativity And Save Bucks
Cheap art journal supplies – is that even possible? YES! You can do this by using DIY supplies you can find in your home.
I know you have all of them in your home at this very moment. You wash dishes, right? I bet you use toilet paper, too. (Silly to even mention, I know.)
If you went through your home now, I'm sure you would find some bubble wrap, cardboard, or cotton pads.
The great benefit of making art with these household items is that they barely cost anything. And you can use them in art journals to create amazing effects.
Here's the list of cheap art journal supplies:
Kitchen sponge
Make-up sponge
Toilet paper rolls
Bottle caps
Cardboard
Bubble wrap
Baby oil
Besides being cheap and available, what are the other amazing advantages of these supplies?
With them, you can experiment over and over again. Use them and I promise you'll have so much fun. It's like child play, you'll get all messy but the results will make you say wow!
There's no fear of ruining a tool or getting it right. No rights or wrongs here. Just have fun and experiment. That's what I love about art journaling. Let's create!
WANT TO START AN ART JOURNAL EVEN IF YOU DON'T FEEL LIKE A STRONG ARTIST?
Get your FREE Art Journal Starter Kit and start making pretty pages without wondering where to start or worrying about steps or supplies.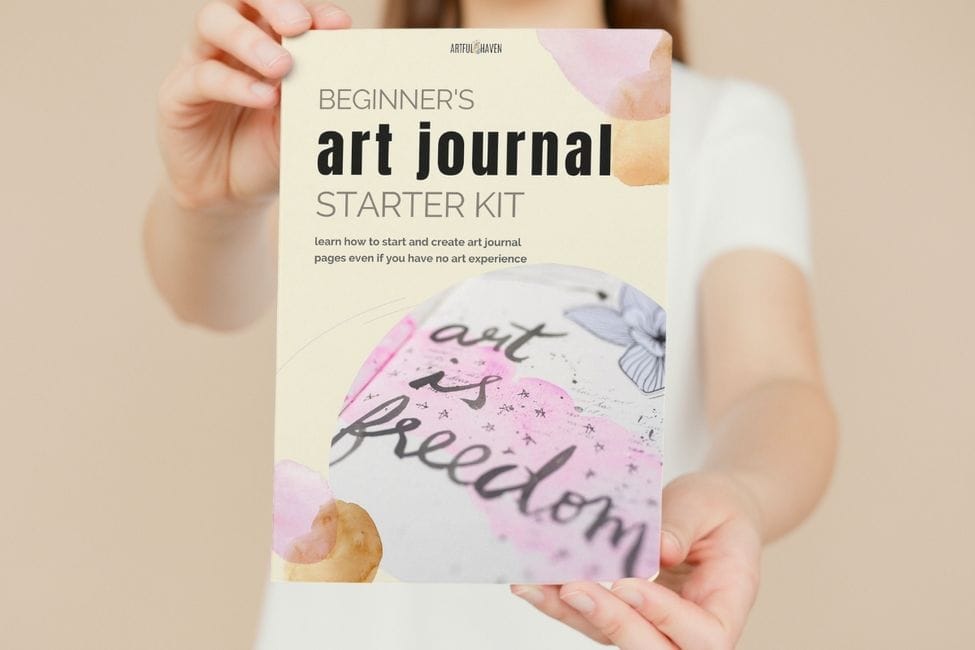 1. A kitchen sponge
A funny little thing this is. But also versatile and practical. And the good thing is, once you've used it, just wash it off, and store it for later.
What can you do with it?
It's a great tool for applying acrylic paint. You can cut the sponge into smaller pieces for smaller surfaces or leave it large if you need to cover more surface.
You can achieve different effects just by the way you press it onto your page.
If you dab it, you'll get amazing results. The texture from dabbing acrylic paint like this is perfect.
Try fine strokes on the paper and you'll get a brush effect.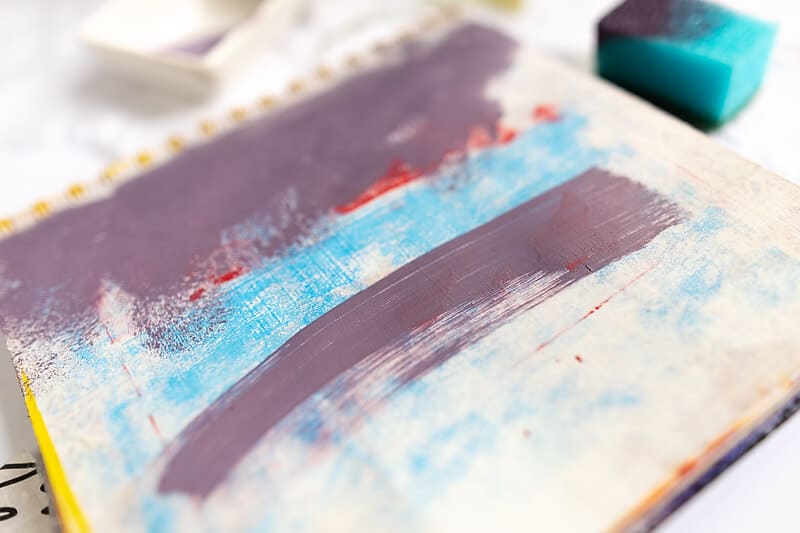 You can cut the sponge into different shapes, like circles, squares, hearts, etc. Then, dab acrylics onto the paper and you'll get messy beauty.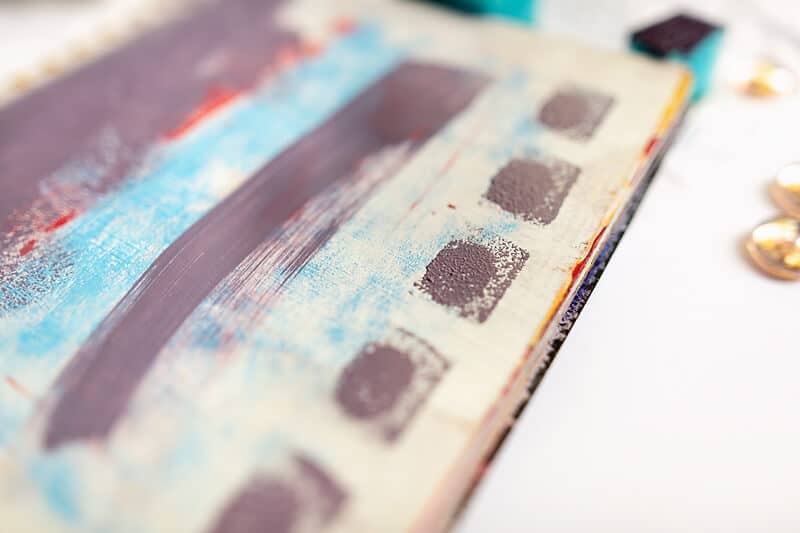 If you like using stencils, this sponge works perfectly with them. You still get the texture from dabbing, plus the wonderful shape of your stencil.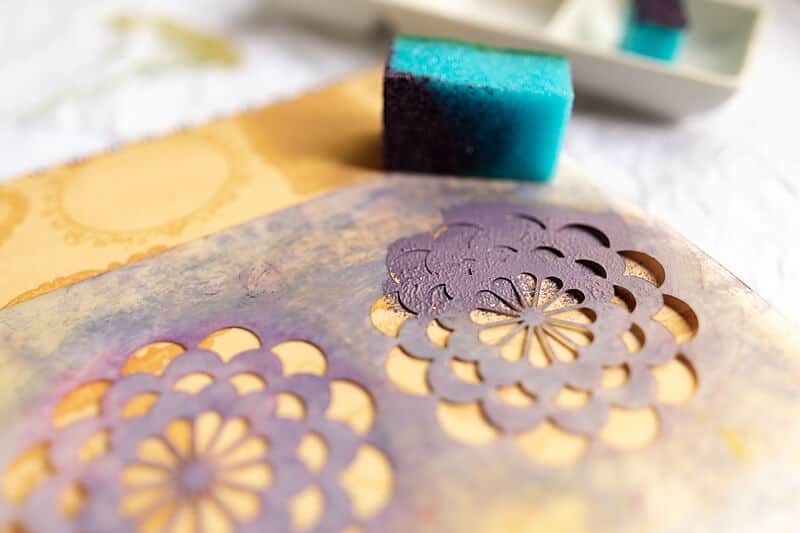 2. A make-up sponge
Ooooh, I love these! These sponges are so soft and that's why you get the creamy effect, too. They come in various sizes and you can buy them in packages. They really last for a long time, you don't have to replace them often, and they too can be washed.
What can you do with it?
I mostly use them to apply ink to the paper. The best ink I've used for these effects is the Distress Ink by Ranger. Ink is more gentle (well, just different) than acrylics, and you get a soft dreamy look with the make-up sponge and ink combo.
You can color the whole page like this, by gently making circles with the sponge until you like the effect. This technique is also great for coloring the margins of a page so your page is framed with beautiful color.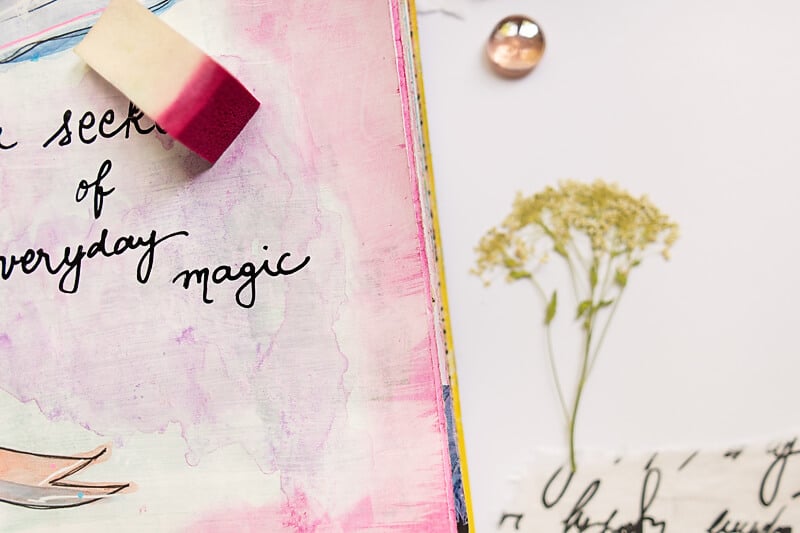 Combining this sponge, ink and a stencil works perfectly. Again, you get that dreamy look (I'm obsessed with this look). It gets even prettier if you combine two ink colors and mix them to get a gradient. That's just magic.
3. Toilet paper rolls
Well, tell your man not to throw them away. Although he doesn't, I know. Just when you need that fresh new roll, you realize he hasn't replaced the used one. I dig you, sister. Either way, just remind him to keep a few. For art's sake.
What can you do with them?
Use them to create beautiful distressed circles! Just dip the roll in acrylic paint and stamp away! You'll love the messy shapes. Or, cut the roll in half and make a U-shape. It's a great mark, too.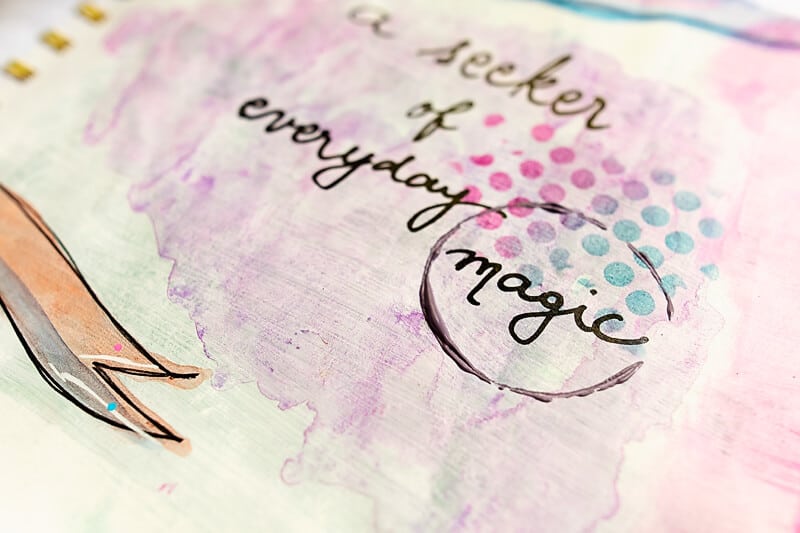 4. Bottle caps
Why not save some of these and try them out on your next page?
What can you do with them?
The purpose is similar to the one with the toilet paper rolls. Just dip the cap in acrylic paint and then stamp it onto the paper. You'll get different results depending on how much paint you picked with the cap. But, the messier, the better.
5. Cardboard
I'm sure you have some cardboard lying around your home. You might have an old shoebox or a notebook cover you no longer need.
What can you do with it?
You can use it to apply paint. Make straight thin lines with it by dabbing the paint onto the paper.
Or use it as a craft spatula and apply paint. While you move it across the paper, you'll see how the paint leaves great marks. It looks worn out. Like wall paint that's been peeled off. Isn't the texture artistic as hell?!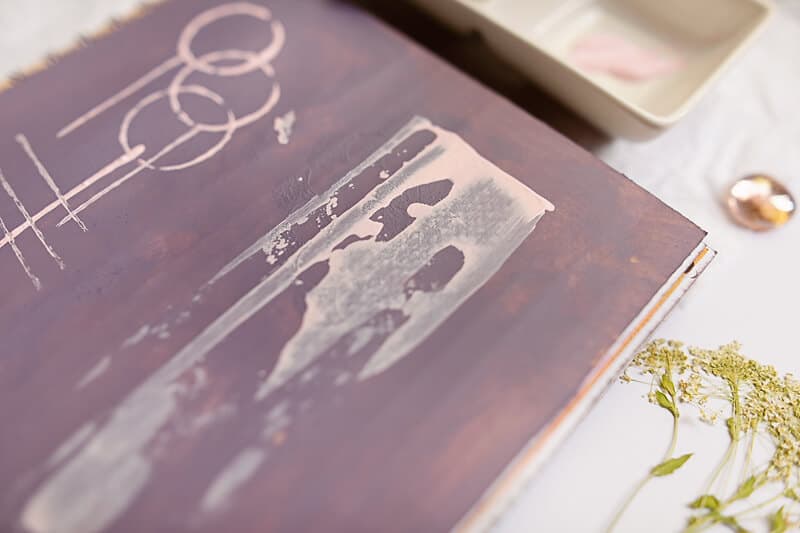 6. Bubble wrap
Definitely one of my favorites. It's fun to pop but way more to paint with.
What can you do with it?
Well, pop just a few to indulge your inner child, and paint the rest with acrylics. Then dab it onto the paper or just press it once like a stamp (just not as hard, you'll pop the bubbles and smash the paint. Oooh, what the hell, pop them!). You'll get a crazy texture that only bubble wrap can deliver. That's how good it is! It's a real art maker. Look: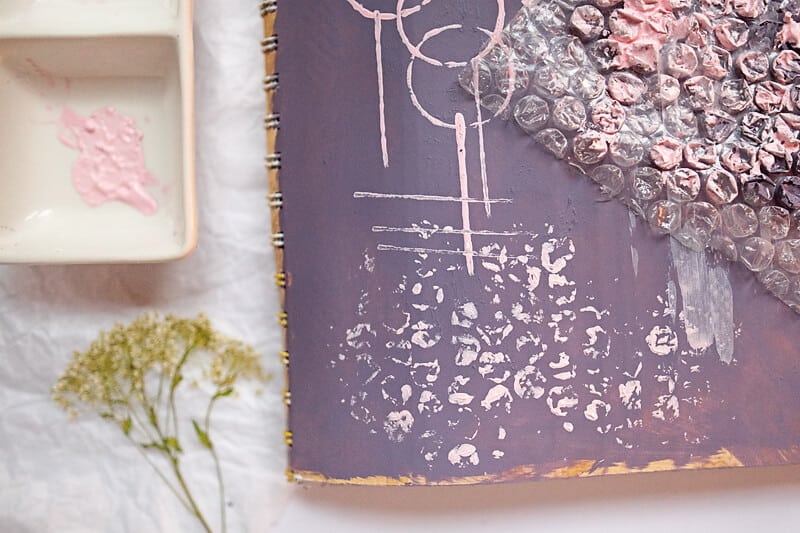 7. Baby oil + cotton pads
Can you imagine using baby oil in your journals? When I was a kid, I liked drawing a lot. Tracing images was a fun way to spend a rainy afternoon.
So, I don't know when exactly, but I figured out that I can use baby oil and plain printing paper to make the paper transparent!
What can you do with them?
You can use cotton pads and apply the oil gently to the paper until you've got it all covered. Let it dry and later use it as transparency. I love this effect! In the photo below, the right piece of paper is already dry and ready to use.
I tried stamping on it with archival ink and it works!. Also, I gave a black waterproof pen a try and it doesn't smudge either. Do you have any ideas for using this? Neat, right?
Here's a little tree stamp done in this way:
these cheap art journal supplies let you experiment & be creative
So, if you don't like cooking or cleaning like me, but still run into these everyday items in your home, use them for a more satisfying purpose. Create art with your household items, and you'll be surprised how unique your art journal pages can be.
You don't have to go to the craft shop today and spend money, just rob your own home, the home won't mind, and you'll end up with great journal pages and a sense of artistic achievement. And, yes, a few bucks saved in your wallet.
If you stumble upon something else you think might have a great artistic effect, go for it. Combine them with these supplies and you won't believe what you can create. Experiment. After that, experiment some more. And let me know how it went in the comments, or share this post on Pinterest!
WANT TO START AN ART JOURNAL EVEN IF YOU DON'T FEEL LIKE A STRONG ARTIST?
Get your FREE Art Journal Starter Kit and start making pretty pages without wondering where to start or worrying about steps or supplies.