Best Art Journals You'll Love Using For Different Art Styles And Techniques
There is a great number of art journals you can get in shops or online, and you might feel confused with all the choices out there. You might also be wondering what journals you could use with all that wet media you have around, or with all those art supplies that require thicker paper to work on.
First of all, I'm sharing the best art journals I've been using for a long time and why I love them. I hope this can help you decide which one to buy.
These art journals are great for mixed media lovers and for those of you who love painting in watercolor. Why? Because they have thicker paper that can handle water and we media well. I'll show you which one of these journals are great for mixed media and which ones for watercolor.
Also, I'm going to tell you where you can buy them, so you can start this art journaling adventure ASAP.
Finally, you'll learn which art journals are adored by artists like you and me. This info is a result of a survey where art journalists shared which art journals they love using and why. I'm so excited about this because this is what's important to us: to have somebody honestly tell us which journals are a great choice for us. So, stay tuned!
Disclaimer: Some links in this post may be affiliate links. This means that if you purchase something through that link, I get a small commission, at no extra cost to you.
The list of the best art journals
I've tried all these journals and that's why I'm recommending them to you: they have worked really well for me! I've been making mixed-media pages in them as well as using watercolor and they haven't let me down.
Jane Davenport Art Journal A5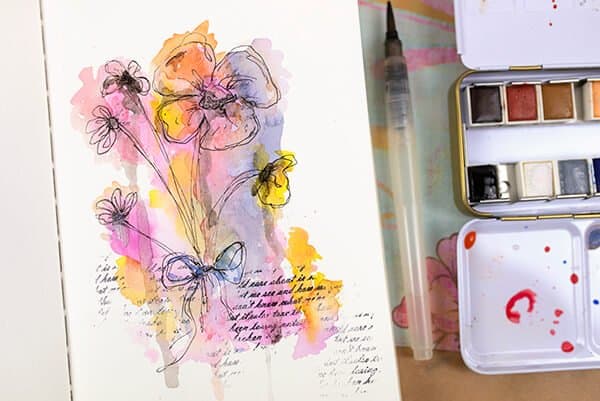 These are the art journals I'd always recommend. What I love the most about them is their paper. They have thick watercolor paper inside which is amazing if you want to use different wet techniques.
The thick paper lets you use different wet media like watercolors, acrylics, or spray inks, without worrying about pages bleeding. These can take so much water and still not bleed.
Watercolor paper is the best paper ever! I've tried painting with watercolor on different kinds of paper, but it's never as pretty as on watercolor paper. The thicker, the better.
I'm using the A5 size of these art journals, they are sturdy and easy to carry around.
Even more, you can get a journal with blank canvas covers so you can paint them in whatever way you like.
GOOD FOR
Watercolor
Mixed media
BAD FOR
Drawing without paint. If you try to erase the pencil, it often smudges on the paper. I've tried different pencils and erasers, and still see the smudging while trying to erase. But if you use paint over the pencil, those smudged marks won't be that visible.
Marabu Mixed Media Art Journal A5 & A4
These were the first art journals that I purchased and I've loved them since.
However, their pages are not as thick as in Jane Davenport's art journals.
They're still great for drawing and painting, but you have to be careful not to put too much water on them because the pages bleed. You can use watercolor but with limited water. Also, spray paint can also make the paper bleed, that's why I love this art journal for other mixed media, especially acrylic paint.
They are amazing for drawing, sketching, and painting with acrylic paint. I have these in two sizes: A4 and A5. They're both great, depends on how comfortable you are with bigger art journals. There's really a lot of real estate in the A4 size of this journal.
These art journals are super thick, they have 72 pages, and that lasts for a long time of art journaling.
GOOD FOR
Acrylic paint
Drawing
Sketching
Stamping
BAD FOR
Too much water
Too much watercolor
Spray paint
Liquid Ink
Check out this journal on Amazon
Marabu Ring Binder A4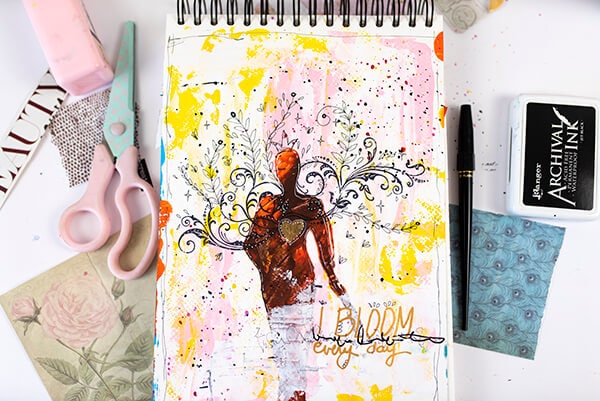 This is my recent discovery and I must say that I love the paper inside it. The Marabu journals I mentioned above have slightly thinner pages than this one.
This binder journal has very thick pages of 300g/m which means the paper is really thick. Marabu has created these art journals specifically for mixed media, and it says so on the cover. That said, I've tried all my media on this paper and I'm amazed at how much it can take.
So, if you're into mixed media, this is an excellent choice for you, especially because it's an A4 size, which is about 8,3×11,7 in, so you can knock yourself out and create endlessly in this huge real estate.
Another good thing about it is that you can rip out pages easily if you want to frame your artwork or something. The pages come out easily.
GOOD FOR
Mixed media
Acrylic paint
Spray paint
Liquid Ink
BAD FOR
Watercolor, although you can use it in this journal, the paper isn't watercolor paper so it won't look as beautiful as on watercolor paper. But the paper doesn't bleed if you use it.
Making connected pages (whole spreads) because of the spiral binding which is in the way.
Check out this journal on Amazon
Moleskine ART Collection Journals
These are some of the best art journals I've ever had. The paper inside is 200g/m, it's perfectly thick for different wet media, especially watercolor. Actually, the paper is designed specifically for painting with watercolor.
However, it can crumble just a little bit if you add much water, but I'd expect that from other journals, too, and from watercolor paper as well. But that doesn't hurt at all, I can paint with watercolor in it and my painting will look gorgeous on this paper.
The art journal comes in different sizes, some of them being A3, A4, large size, and pocket, and in different shapes.
You can explore these journals at their official site here.
GOOD FOR
Watercolor
Mixed media
Spray paint
Liquid ink
BAD FOR
As with any watercolor paper, erasing pencil marks is a bit of a challenge and can leave smeared marks. But, this might depend on the pencil and the kind of eraser.
Check out this journal on Amazon
Best art journals other artists recommend
The info I'm sharing here is the result of a survey I conducted among my readers. According to a hundred art journalists, here are the best art journals you can use.
Here's a visual of the survey results, you might be surprised!
DIY/Handmade art journals
As you can see, the most popular kind of art journal is the one artists make themselves. Here are the reasons they love making and using them so much.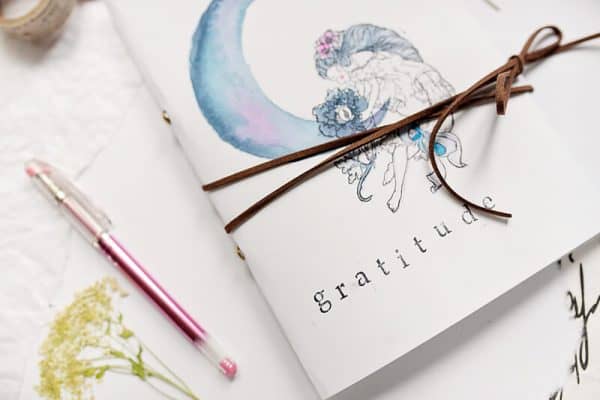 Aqsa makes her own journals with watercolor paper:
Since it's watercolor paper, it can be used for all or any media without the paper getting ruined and I can choose what size I want.
Vickie makes handmade journals to fit her needs and comfort:
Because each one can be different depending what I want to put in it and it gives me personal connection to my journal itself and not just what I put "in" it.
This is why Beth creates DIY art journals:
Each signature is a different type of paper (papers meant for: watercolor, canvas. acrylic, charcoal, ink, Yupo, etc…) which encourages me to use various types of media. The covers are made from recycled book covers and I collage them to make them interesting. I find watercolor paper to be my favorite.
I just love Stephanie's enthusiasm when she speaks of her handmade art journals:
What's not to love about a handmade art journal lol . . . I L❤️VE it all!!
Andrea says she can't buy art journals where she lives so she finds her way around:
I get a spiral bound book, which has lines and is also a problem. Then what I do is get plain white A4 card and glue one on each page which gives me my blank page I need and strengthens the book page also.
Isn't this creative and witty? There's an idea for all of you who can't find premade art journals.
Heather also found a way of making art journals that help her get rid of perfectionism. She uses a regular notebook. I just love her logic here, it's really inspirational:
The crumpled pages take away a lot of fear for those blocked and just starting out like me, because it is just a cheap notebook, the paper is already crumpled, so it reminds me that the purpose is all about the process, not about the appearance (though there's a time and a place for that too… but this is my go-to journal for when I'm wanting to create but feeling anxious or stuck). Coincidentally the crumpling does make for some nice texture for backgrounds when applying paint with a paint scraper or palette knife.
Other artists from the survey make DIY art journals because they can choose the paper, the binding, and the cover. One of them says that she enjoys the freedom of building such a journal because she gets to decide about everything so the art journal fits her needs perfectly.
Canson Art Journals/Paper/Notebooks
This one seems to be the favorite one to buy. Honestly, I've never tried this one, but here's what other art journalists have to say about it.
Tathy loves Canson's sketchbook because "The pages welcome all kids of pens and paint."
Yolanda loves Canson XL Mix Media 5.5×8.5 in. for these reasons:
It is the perfect size, good paper, good value, sturdy binding with great covers that can be painted, decoupaged or decorated as you like.
In addition, others love these Canson journals because they can take a wide variety of media without falling apart, or because they have heavy-duty chipboard cover; a spiral spine so you can tear out pages. Also, they can withstand mixed media (paints, watercolor), it's good for collages and has different sizes available.
In conclusion, the Canson papers and journals are great because of:
different sizes
excellent paper that takes wet media
heavy-duty cover
a reasonable price
sturdy, spiral binding, great for taking the pages out
You can buy these art journals on:
Strathmore Art Journals
It seems many art journalists love the Strathmore paper and journals. You can find their journals specifically for watercolor, mixed media, or sketching. So, here's what art journalists say about them and why they love using them.
Kath uses the Strathmore Mixed Media journal and she loves it for its:
Hardcover, great watercolor paper (cold press), holds lots of layers, and has sturdy binding, best I've tried.
Kristy says Strathmore makes wonderful journals and paper pads and she uses them because:
I love the quality of the paper, the binding of the pads and journals. I can get them on sale at Michael's, which is also nice.
Ahrabella loves the same Strathmore Mixed Media Journal in 11″x14″ size:
Though fairly expensive, it is such an excellent investment with good strong paper that can take a wide range of media without buckling It has a stitched spine. This journal is the perfect size, neither too small nor big. It's my go-to art journal.
Kerry uses Strathmore 400:
I love the paper and size. Also, it's hard-covered which I like.
Rachel also likes the Visual Journals by Strathmore. Here are her reasons:
The price is reasonable, and the paper is of great quality or mixed media. The paper is heavyweight and doesn't warp if loaded with wet media.
In conclusion, the Canson papers and journals are great because of:
the paper quality
the different sizes available
it can stand wet media
hard covers
the paper doesn't buckle
You can buy these art journals on:
Blick Art Materials (here, you'll find a long list of all of their journals and paper pads)
Dylusions Art Journals
I've seen Dyan Reaveley (the creator of these journals) work in them with sprays and water, and the pages still hold really well.
Also, they come in various sizes, colors, and shapes and have a chipboard cover that you can paint as you like.
It's been on my wishlist for quite some time and I can't wait to try it.
Here's why people love these art journals.
Maggie loves the creative Dylusions journal because:
I like the paper quality, the sturdy cover, the elastic closure, the way it opens out flat and the range of sizes that it comes in. My favourite is 8 5/8 by 8 5/8 inches. The weight paper takes a lot of wet media and allows for collage and layering. The price is reasonable.
Laura loves these art journals and here are her reasons:
It's good quality, the paper holds up to a lot of different media, the binding stays intact through all of the mixed media I put in it. And it's fairly priced.
This is what Franci says about these lovely journals:
Sturdy (binding, paper), 3 different sizes, also comes in black for awesome pages, price is good too (can use coupon at Michaels).
Allison loves it for its:
Hard back, pocket, super thick paper, range of sizes.
Yolanda uses Dylusions journal because:
Size is good and has lots of pages.
In conclusion, the Dylusions Art Journals are great because of:
the variety of sizes
hard cover
super thick paper for different media
the binding that holds all the wet media well
You can get the Dylusions art journals on:
Dina Wakley Mixed Media Journal
This art journal is specifically made for mixed media and I've seen Dina use it, as well as many other artists. They all seem to love the journal because of all the different papers inside. Among others, it even includes burlap, cotton, canvas pages, how fun is that?
Its size is 10×14,25 in and has 54 pages inside. I think this is the next art journal I'm going to try. Dina is an amazing artist and if she designed this journal, she knew what she was doing.
One art journalist explained it like this:
Opportunity to explore different substrates in one journal.
In conclusion, Dina Wakley art journals are great because of:
variety of papers inside including cotton watercolor paper and burlap
holds wet media well, but some pages might bleed, you might need to use gesso
You can find Dina's journals on:
Overall summary of the best art journals
All these art journals have amazing things about them. Choosing the right one for you depends on what you want to make in them, what size you're comfortable with, and of course, the price range.
These are the results of the survey, showing what things are most important to artists when it comes to their art journals.
It seems the quality of the paper is the most important factor. Why? Because we all want to use our supplies without worrying about the paper crumpling too much or bleeding. All of the journals I've mentioned above have good paper inside, some are for watercolor, some for mixed media. But what they have in common is the thick paper that holds wet medial well.
Next comes the size. It seems most artists prefer the A5 size because they can carry it everywhere and don't have to fear a large space to fill with paint.
Price is also important, and this really depends on your budget. If your budget is tight, then I suggest trying to make your own handmade art journal. You'll have fun doing it and learn a lot, I promise you that.
Finally, binding is important and also depends on your needs. If you want to take out the pages, a spiral-bound journal might be the perfect fit. Spiral binding is also great if you need your journal to lay flat open. However, sometimes when you want to make a spread, including both pages, the spiral binding gets in the way.
Here's a short recap of the best art journals I've mentioned above:
A handmade art journal

: the freedom to make it the way you want, and is the cheapest option, but requires more time
Canson art journals/paper pads: great for mixed media and watercolor, with thick papers and the price is affordable
Strathmore art journals: wide range of sizes and purposes, thick paper for mixed media, the price might seem expensive to some with a tight budget
Dylusions art journals: thick paper, sturdy cover, great for mixed media
Dina Wakley art journals: an amazing variety of papers inside, quality paper, with a higher price than others
Moleskine art collection: great for watercolor and mixed media, different sizes, sturdy covers, some can be a bit expensive
Jane Davenport art journals: excellent watercolor paper inside that takes wet media really well, higher price range, canvas covers
Marabu art journals: affordable price, great for mixed media, but they can't take too much water, except for the A4 Binder that has thicker pages
Do you like these ideas for the best art journals? Save them to your favorite Pinterest board!