Best Pens for Doodling: In-Depth Guide for Art Journalists
Do you love doodling and zentangles but have no idea what pens are good for doodling in your art journal?
Picking a pen for doodling is not easy, although it looks that way, you need to find the one that fits all your needs so your doodling is stress free (as it's supposed to be). I know smeared pen and ink on hands isn't the thing we're aiming for.
That's why I'm sharing the best pens for doodling I've used over the years. I'll show you the good and the bad sides of each of these pens and tell you where you can get them. After reading this article, you'll be able to pick the best pen that'll suit you and your doodling needs.
Disclaimer: Some links in this post may be affiliate links. This means that if you purchase something through that link, I get a small commission, at no extra cost to you.
In my experience, the best pens for doodling are:
1. Uni-pin fine liner by Mitsubishi (0,1 mm)
2. Micron Pens
4. Uni-ball eye micro by Mitsubishi
6. Faber-Castell PITT artist pens
Things to consider when buying a pen for doodling
You need your doodling pen to be amazing, right? Here's what you need to consider before buying them.
POINT. If a pen has a point that jams a lot, you don't want that unless you're going for a distressed look. I'm going to list the pros and cons of these 7 pens, and tell you which ones can jam often, but they still look amazing on paper.
Also, bear in mind that there are different point sizes. If you're into details, choose a very fine point like 0,1 mm. These points do an amazing job in doodling.
INK. Doodling enthusiasts know how frustrating it can be when the ink smudges while you're doodling. Even a little smudge can destroy your doodles. Honestly, I don't care much about this because I mostly doodle for pleasure and the serenity it gives me. But if I was to make a nice picture for my wall, I'd sure be annoyed with smeared ink. I know you understand me.
So, we'll see which pens smudge and which don't.
INK FLOW. If the ink stops flowing every now and again and you must repeat the lines, it really sucks. There's nothing I hate more in doodling than repeating the lines. That rarely looks nice and tidy. You need a pen whose ink flows continuously so you don't have to worry about broken lines.
Best paper for doodling
This is also important to discuss. You can have the perfect pen, but if your paper doesn't agree with it, you're in for a disappointment.
So, what paper to use for doodling?
In my experience, smooth, thicker paper works the best. Textured papers can stop pen ink from flowing, and I mentioned that ink flow is also important. If you still want to work on textured paper, you can use pens with bigger nibs, like the Faber-Castell pen I'm going to discuss below, or Posca paint pens with big nibs. In general, most markers will do fine on textured papers.
Also, doodling on very thin paper can cause the ink to bleed through paper, and most of them will do this. For example, photocopy paper is very thin for doodling and I don't like using it. On a few occasions, a very pointy nib of my pen just went through the paper. I didn't use hard pressure at all, and it still ripped.
The best pens for doodling
Uni pin liner is my favorite pen, not only for doodling but for all my writings or drawings. It comes in many sizes but the best one for doodling is with the 0,1 mm nib. It's thin and super pointy so it's perfect for details.
The ink flow is continuous and you don't have to worry about repeating the lines.
These pens come in various sizes, so you can experiment with which you like the best, or even combine different sizes in one particular doodle for an interesting effect.
PROS
super fine nib
continuous ink flow
waterproof ink
doesn't smudge
different sizes
CONS
you can become addicted to buying all the sizes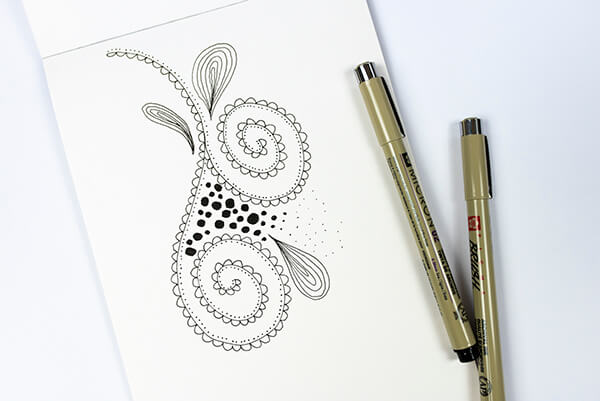 I've just recently tried Micron pens and I must say I love them. They come in various nib sizes, and they even have a brush pen. Also, they come in different colors, but for doodling, I prefer the black ones. The tiniest nib is 005, which is so thin you'll be able to do amazing details in your doodling.
The ink flows perfectly, and they can even write on acrylic paint, but the paint must be completely dry.
These pens are waterproof and fade-resistant so your doodles will survive all those catastrophes.
PROS
different nib sizes
continuous ink flow
waterproof
fade-resistant
different colors
These types of doodles were inspired by Mr. Otter Art Studio on YouTube.
Posca pens are amazing, all of them. I've tried different sizes and colors and man how they enchant you from the beginning.
The best pens for doodling in the Posca family are the ones with finer nibs. The one I used for this review is metallic red with the 0,7 mm nib. They come in different colors, so you can really choose the one you like the best.
The ink flows continuously and I didn't have to repeat any lines. However, it can smudge a bit if you accidentally go over it while it's still wet, unlike the Uni-pin fine liner.
More on the plus side, it just looks amazing. This metallic color is a feast for the eyes and I must say I really enjoyed doodling these abstract flowers you see in the photo.
PROS
ink flows continuously
looks amazing
easy to doodle with
CONS
it can smear if you're not careful
I've been using these pens forever, but only recently I started using them in my art journals. Doodling with them is just fine, they have a nice nib, although the Uni-pin fine liner is the better choice for me.
It's a good pen for doodling, the lines are thin, it is easy to hold in your hand.
The ink sometimes stops so you have to repeat the lines. Also, it can sometimes leave smudgy marks. It seems the pen releases more ink at some point, and you end up with a tiny blot that can smudge if you're not careful.
PROS
small nib
produces thin lines
waterproof
CONS
can smudge while it's still wet
sometimes leaves tiny ink blots
ink doesn't always flow continuously, nib jams
You'll love these Stabilo pens for doodling. Their nib is super tiny and the ink is amazing. Another great thing is that they come in beautiful colors, any color you can imagine. You can buy them individually in stores or in bulk. You won't regret it if you buy them in bulk and you'll want to use each color there is.
I tried the pink one here and it did an amazing job. The ink doesn't break and flows continuously. However, it's a bit small to hold in your hand but it's not that big of a deal.
Also, it doesn't smudge, so that's a big plus. The bad side of this pen is that most of the time, you can't doodle with it while holding it leaned on the side. It works the best if you use it at an almost 90 degrees angle.
PROS
small nib
doesn't smudge
comes in many colors
continuous ink flow
CONS
sometimes difficult to hold
So far, I've mentioned pens with small nibs. However, even the larger nibs can be great for doodling. That's why I love Faber-Castell's PITT Artist pens in size 1,5. If you look at the photo above, you'll see how the lines are bold and so black. Can they be blacker than this?
Because it has a bigger nib, you can doodle with it on textured paper and you'll still have a continuous line. In addition to that, the ink flows without breaks.
However, it needs some time to dry or it'll smudge under your hand, so take that into account.
These pens come in various colors, black, gold, and silver being my favorite.
PROS
bold lines
writes on textured paper
waterproof
continuous ink flow
various colors and nibs
Doodling with a white pen on black paper is the most amazing thing ever.
The Uni-ball Signo is an awesome pen for this purpose. I've been using it for a long time in many different projects.
It's very easy to hold because it has a rubber grip.
It has pigment ink and that's why it looks very bold on black paper. It's easy to doodle with but the ink sometimes breaks the flow so you end up with broken lines.
Also, the ink is pretty liquid and it needs time to dry, so be careful for smudges as they can easily happen. To avoid smudges, be careful not to go over it with your hand while doodling. Another thing to keep in mind is not to repeat lines too much in one place as the pen itself tends to pick the ink up if it's not dry.
All in all, I'm amazed how this ink is white and bold and I don't mind occasional breaks in the ink flow because that can create a distressed look, which I adore.
PROS
pigment ink for bold lines
easy to hold
can have a distressed effect
CONS
can smudge
ink flow can break, nib jams
I'm a big fan of white Posca pens. They're truly amazing pens for doodling, no matter what the nib size. They come in various colors but the white one has a special place in my heart. You can use it for many things. And doodling is one of them for sure.
The one I used here has the 0,7 mm nib which is thin enough for doodling. It's easy to hold because the pen is big enough.
The ink is opaque but sometimes you have to shake it in the middle of doodling to get the bold ink flow. The ink flow won't break but it can become less opaque. That's why I shake it when I start and every now and again when I doodle.
However, the same as the Signo pen, it can smudge, so be careful while doodling and wait a few seconds until it gets dry. This pen can doodle on textured paper, so that's another plus.
PROS
good grip
opaque white ink
small nib, good for details
can be used on textured paper
CONS
ink can become less opaque
needs shaking during doodling
can smudge
Final thoughts on the best pens for doodling
As you can see, every pen has its pros and cons, but all in all, they're all good pens. It just depends on what you need and what you're most comfortable with.
If I had to choose the best pen for doodling, it would be the Uni-pin fine liner or Micron pens. These pens have never let me down, and it's easy to work with.
The next in line would be the Posca pens. I might be subjective because I'm completely and utterly in love with these pens.
Before you decide which one you'll get, consider the nib size, ink flow, and whether it smudges or not. Which of these factors is the most important to you? That's where you should go.
Do you like these pens for doodling? Save them to your favorite Pinterest board!