Texture in Art For Beginners: What Is It And How To Achieve It
Texture is one of the elements of art that helps you create unique work and even convey an emotional message.
Texture isn't hard to achieve but there are some things you should learn in order to practice texture in art and create interesting work, whether on a canvas or in your art journal.
That's why, in this article, I'll walk you through the importance of texture, what it really is, how to achieve it, what tools to use, and how texture can evoke emotions.
Disclaimer: Some links in this post may be affiliate links. This means that if you purchase something through that link, I get a small commission, at no extra cost to you.
Texture as an element of art
As one of the seven elements of art, creating texture is an amazing way to make your art stand out, and be more visually appealing and interesting.
As you paint, you can experiment with various brush sizes and shapes to create a range of textures.
By using different tools, such as special knives, sponges, or even your fingers, you can achieve unique effects that make your work more dynamic and interesting.
Remember that the look and feel of a surface are also important to the overall texture of your art.
Also, the illusion of texture in two-dimensional pieces like paintings can be just as impactful as actual texture in three-dimensional works.
Combining texture with other art elements like line and shape can further make your art even better.
Even a basic understanding of elements of art, including texture, will enable you to create more mature work and designs.
Why is texture important in art?
Texture plays a crucial role in giving life and depth to your artwork. It helps in creating an interesting and engaging visual experience by adding a dimension to a two-dimensional surface.
By manipulating texture, you can evoke certain emotions, create illusions of depth, and make your piece seem more realistic.
When you incorporate texture into your artwork, it not only enhances the visual interest but also adds depth to the piece.
This can be achieved by using various techniques that alter the lighting and position of the artwork, ultimately creating a three-dimensional effect.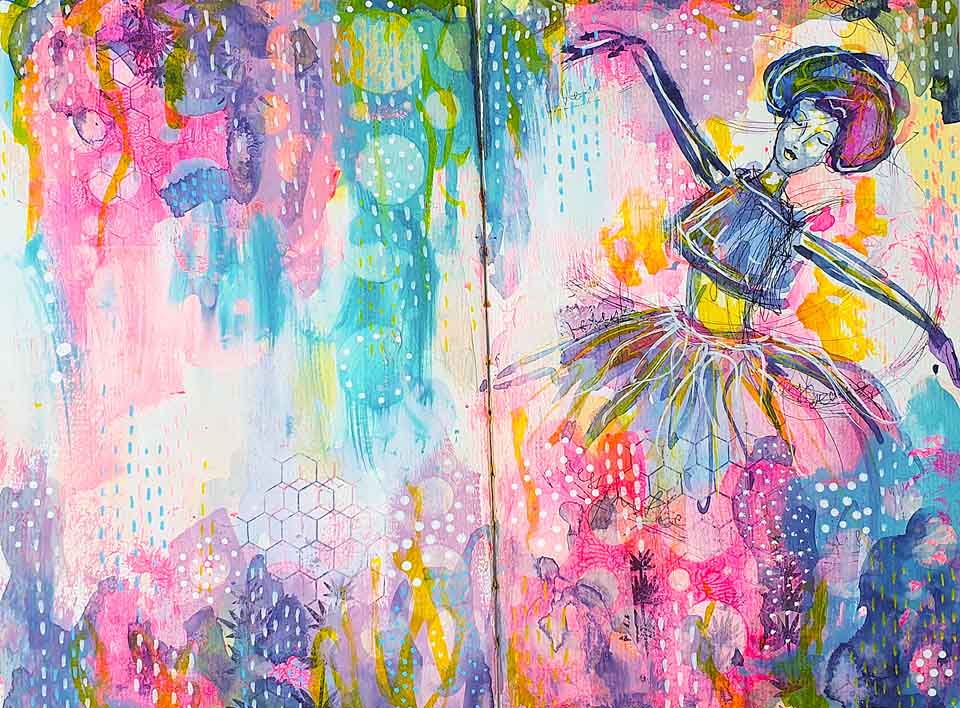 Another important aspect of texture is its ability to evoke emotions.
The various textures used in your artwork can appeal to your sense of touch, which can generate feelings of pleasure, discomfort, or familiarity.
This can lead to a stronger connection between you and people exploring your art, as it triggers emotional responses based on their individual experiences and memories.
In addition to its emotional impact, using texture in art helps establish a sense of balance and harmony within your composition.
It can emphasize specific areas or create a visual rhythm by alternating between smooth and rough textures.
Strategic use of texture can also generate movement and contrast, making your art more dynamic and appealing.
Types of texture in art
When it comes to understanding texture in art, it's important to be aware of the different types and how you can use them in your work.
In this section, we'll explore three main types of texture used in art: actual (physical) texture, visual texture, and implied texture.
By understanding these types of textures in art, you can create more dynamic and appealing art that captures a viewer's attention.
Experiment with actual, visual, and implied textures in your work to see what resonates with your style and artistic vision.
Actual texture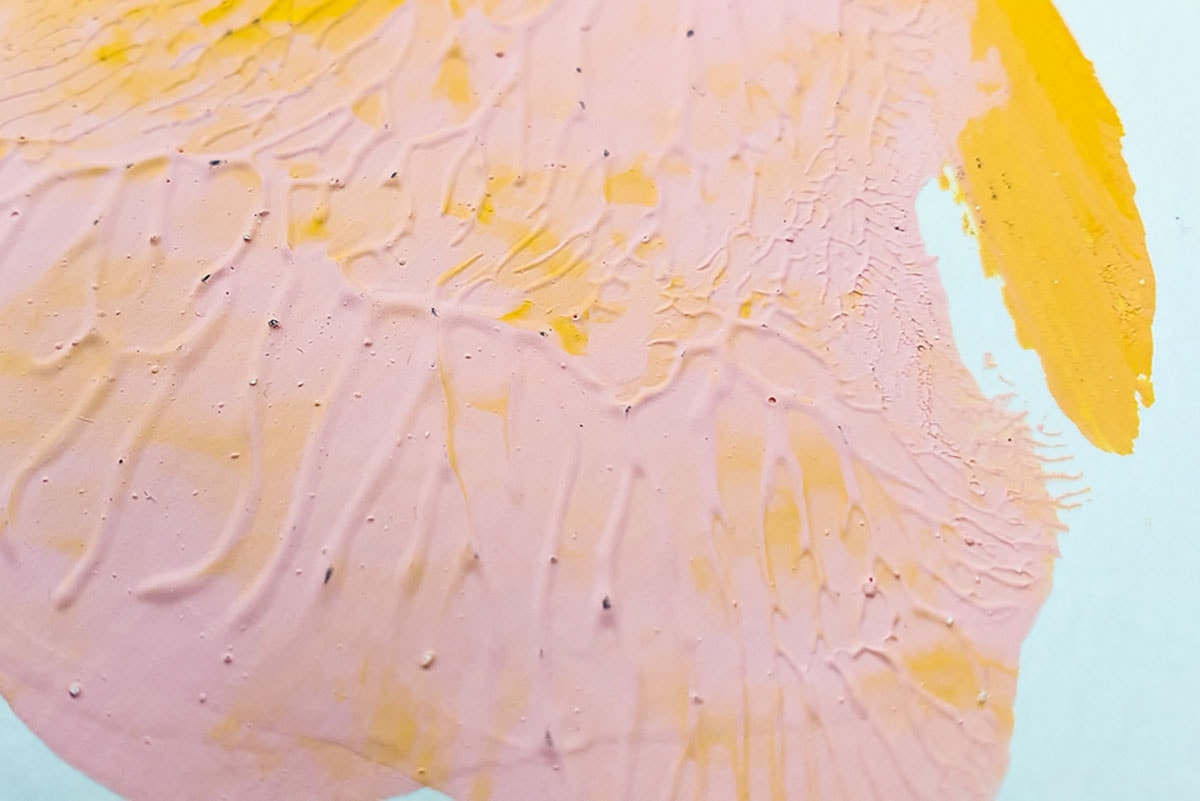 Actual texture, sometimes referred to as physical texture, is actually a texture that you can feel with your fingers.
This type of texture can be felt in both two- and three-dimensional artworks.
When you touch a piece of art with actual texture, you will experience its roughness, smoothness, or any other physical characteristics.
For instance, if you want to create physical texture, think about the surface of a mixed-media painting that includes paper, lace, small objects, or just a heavily textured painting.
You can also achieve actual texture by using a variety of tools and materials, such as brushes, sponges, knives, and even your fingers.
Visual texture
Visual texture, on the other hand, is about the appearance of a surface rather than its actual physical qualities.
This type of texture is represented on a two-dimensional surface, such as a painting or a photograph.
Artists can create visual texture by using different patterns, lines, and colors to create the illusion of texture.
For example, consider a painting in which an artist has effectively used light and shadow to make a flat surface appear as though it's covered in rough, bumpy rocks.
The viewer's eyes perceive texture, even though the surface of the artwork itself is smooth.
Implied texture
Lastly, there's implied texture, which is also referred to as simulated or illusionistic texture.
It's similar to visual texture on a two-dimensional surface, but it's intended to make the viewer imagine how the texture might feel.
Implied texture can be achieved through the use of artistic techniques such as shading, line work, or patterns.
For example, imagine a painting that uses detailed brushstrokes to depict the softness of a cat's fur or the roughness of a tree bark.
While you can't physically feel the texture, this technique makes it easy to imagine what the surface would feel like if you could touch it. Amazing, right?
How to create texture in art?
Here are some ways and techniques you can use to create texture in art, whether you work in an art journal or on a canvas.
To start, don't focus on all of them at once. Instead, pick the one that seems interesting and easy to you, and experiment with that for a while.
Painting techniques
Creating texture in your paintings can be achieved using various tools, materials, and painting techniques. Experiment with brushes, from small pointed brushes to wide flat ones, to create interesting brush strokes.
You can also explore unusual tools like palette knives, sponges, and even your fingers.
Painting with fingers is one of my favorite techniques because it gives you a lot of freedom to explore and have fun while creating texture.
Acrylics: To create thick textures, try using acrylic paints. You can build up layers with different tools like a palette knife or a kitchen sponge
Watercolor: To achieve textured effects with watercolor, explore techniques like wet-on-wet, dry brushing, and splattering.
Drawing techniques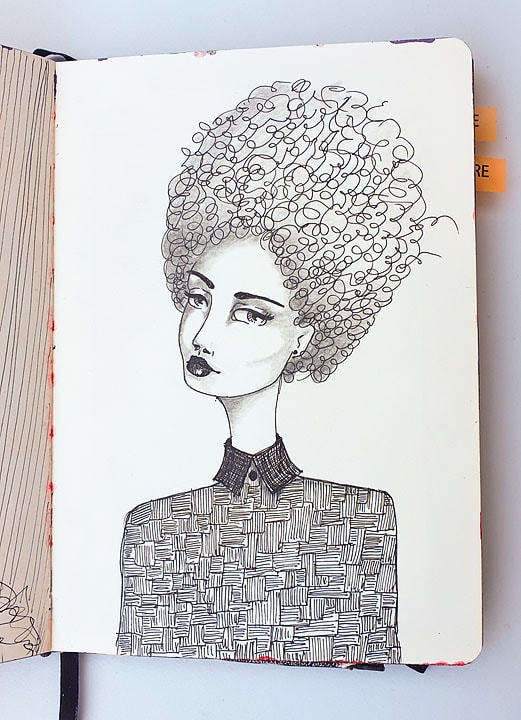 Textures in drawings can be created using various pen and pencil techniques. Explore the following drawing methods to add texture to your art:
Hatching: Create texture with parallel lines that vary in thickness, spacing, and direction.
Cross-hatching: Build on the hatching technique by adding a second set of lines that cross the first set at different angles.
Stippling: Use a series of small dots to create texture.
Mixed media techniques
Mixed media techniques are a great way to create a texture because mixed media gives you the opportunity to add almost anything to your artwork and combine different materials.
Here are some ways to create texture using mixed media techniques:
Collage: Use different types of paper to create texture in your collages. Layering, tearing, and folding materials can add interesting effects.
Add pieces of lace for texture and a vintage effect
Glue down beads, cardboard pieces, or anything small and 3D
Use different types of paintbrushes and different paints to achieve implied and actual texture by creating thick layers and not smudging the paint at all (no heavy blending)
Explore relief or texture paste. This is an excellent medium especially if used with stencils and a palette knife.
Draw patterns to create texture
When exploring texture in art, drawing patterns can be an effective way to create visual interest and depth. 
Start by selecting a subject, such as a natural element, an abstract shape, or even a design inspired by architecture.
Sketch out the basic form of your subject, taking note of any details to emphasize in later steps.
Remember, the subject is just a starting point – you can add as much creativity as you like.
Begin adding short, quick strokes in different directions with your pencil or pen. This creates a series of tiny lines that mimic the look of rough surfaces.
To enhance the texture, experiment with different line weights and lengths.
A good idea would be to draw various patterns based on one shape, such as circles. Here are some ideas to help you create compelling patterns with circles:
Play around with the location of the circles.
Use both big and small circles.
Draw small circles inside larger circles.
Use overlapping circles.
Additionally, using thicker drawing materials like oil pastels or acrylic paint can help enhance the texture of your artwork.
These tools will help you create raised effects, which is the actual texture.
Which medium can artists use to create texture?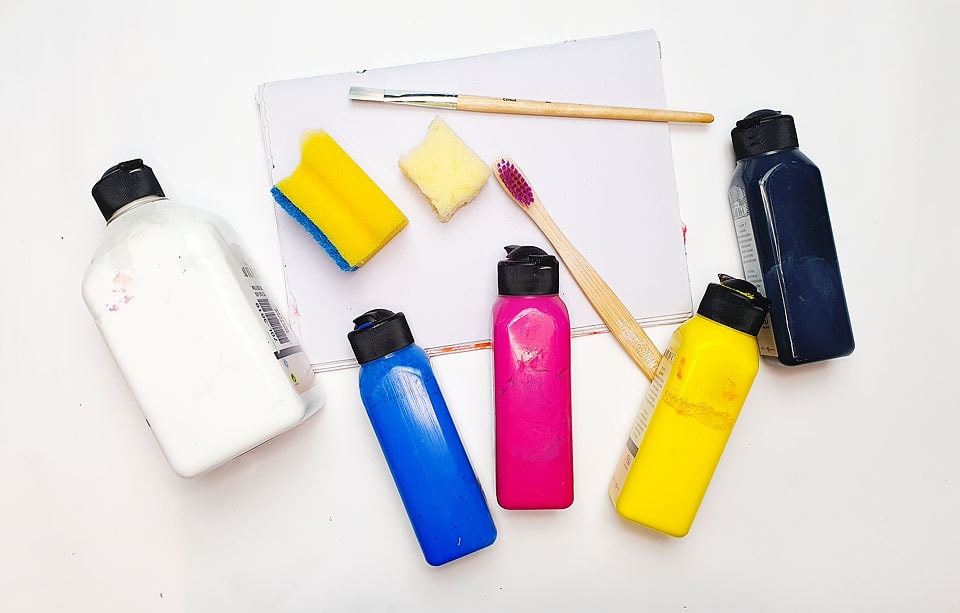 As an artist, there are plenty of mediums you can choose from to create various textures. Here are some ideas for you:
Oil and acrylic paints: You can achieve an interesting texture by using acrylic texture mediums. These things can help thicken the paint and allow it to hold its shape on the surface, creating raised textures.
Dry mediums: Adding dry mediums like sand or salt to your painting can also create fascinating textured surfaces.
Pencils: If drawing is something you often do and enjoy, consider using pencils to create a variety of textures.
By sharpening or blunting the edge of your pencil, you can produce different effects to achieve the desired depth and look in your piece.
Textured papers and canvases: The surface you choose to create your artwork on can significantly impact the texture.
Many artists are in love with textured papers and canvases that can add interesting visual elements and depth to their work.
Relief/texture paste: This is an amazing medium for creating texture on art. I love using it with stencils and applying it with a palette knife. I can't recommend this more.
Maybe it's the best thing for texture if you're into art journaling. Experimenting with relief paste will make your inner artist giggle. Trust me.
Salt: We all have it at home, right? You can use it with watercolor or acrylic paint. While the paint is wet, sprinkle some salt on it and let it dry.
It'll be easily removable off watercolor but it'll stick better on acrylic paint. similar things can be done with tiny specks of sand.
Embossing ink and powder: These mediums require a bit of trial and error before you completely understand the process but it's so worth trying.
Basically, you can create tangible textures using a stamp with embossing ink, and then adding the embossing powder to it and drying it with a heat gun.
This creates a raised effect and depending on the powder, it can be matte, glossy, and in any color possible.
Tools for creating texture in art
When creating texture, you can explore various tools to achieve the desired effects.
One of the best ways to add texture is by using found objects like twigs, leaves, or household items such as spoons or forks, bottle caps, bubble wrap, etc.
Experimenting with these tools can give you interesting and unique results. Here are several tools you can try:
Paintbrushes: Brushes with different bristle types and shapes allow you to make various strokes, lines, and patterns.
Remember to use stiff-bristled brushes for thick paint application and soft, flexible brushes for subtle effects.
That's why I recommend using only flat brushes for creating texture.
Palette knives: These versatile tools are great for spreading paint or gel mediums, creating thick impasto effects, or scraping layers of texture.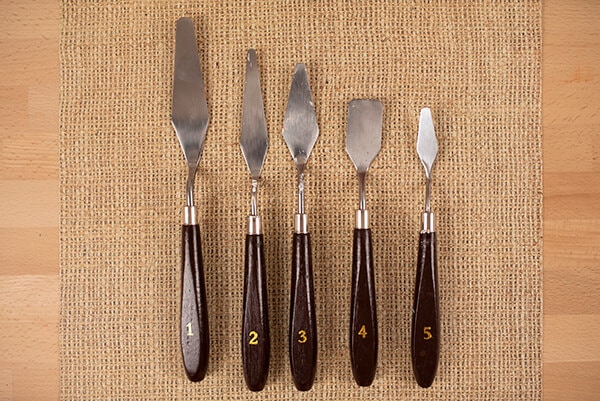 Stencils: Any stencil, hand-made or purchased, will definitely help you create more texture with interesting patterns and shapes.
You can even combine more stencils together and create whole new worlds of texture.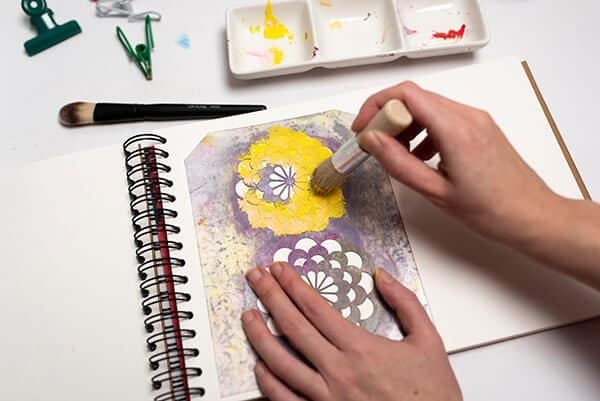 Sponges: Natural or synthetic sponges can produce interesting irregular patterns by dabbing or dragging them across the wet paint.
Kitchen sponges are the way to go if you're on a budget. They're excellent for dabbing and this technique creates both, actual and visual textures.
Household items: Here's where it gets interesting. Whatever you can find in your home, put some acrylic paint on it and stamp it to see if it'll create texture.
I've tried this with bubble wrap, bottle caps, toilet paper rolls, cardboard, old credit cards, jars, and cups, and they all work amazingly.
Washi tape: This is a great tool for creating texture in an easy way.
Washi tape is cheap, there are many different designs and you can use it to create actual and visual texture and even mask off some areas to create contrast.
Stamps: The best stamps for making texture are foam stamps I made myself. I create them from foam sheets and use them with acrylic paint. The textured effect is amazing!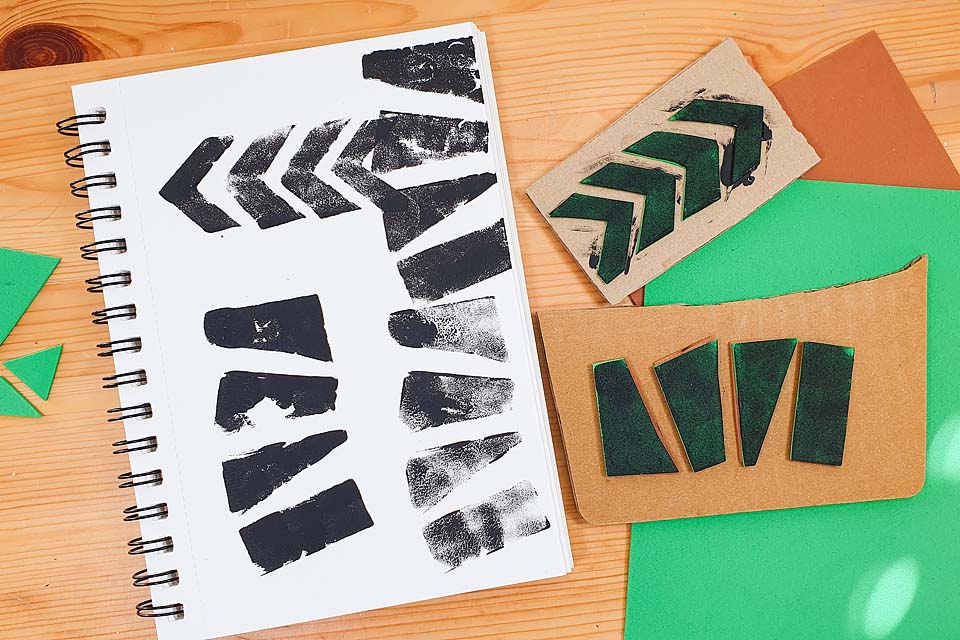 How do you practice texture in art?
To practice texture in art, start by understanding the two main types: physical texture and visual texture.
Physical texture refers to the actual feel of a piece, whereas visual texture is the illusion of texture created through various techniques.
Experiment with different tools and techniques
Using different tools can help you create a wide range of textures. Brushes, sponges, palette knives, and even your fingers can be used to make different textures.
Also, exploring various acrylic techniques, like dry brushing, stippling, patterns, stenciling stamping, etc., to build textures and create a sense of depth.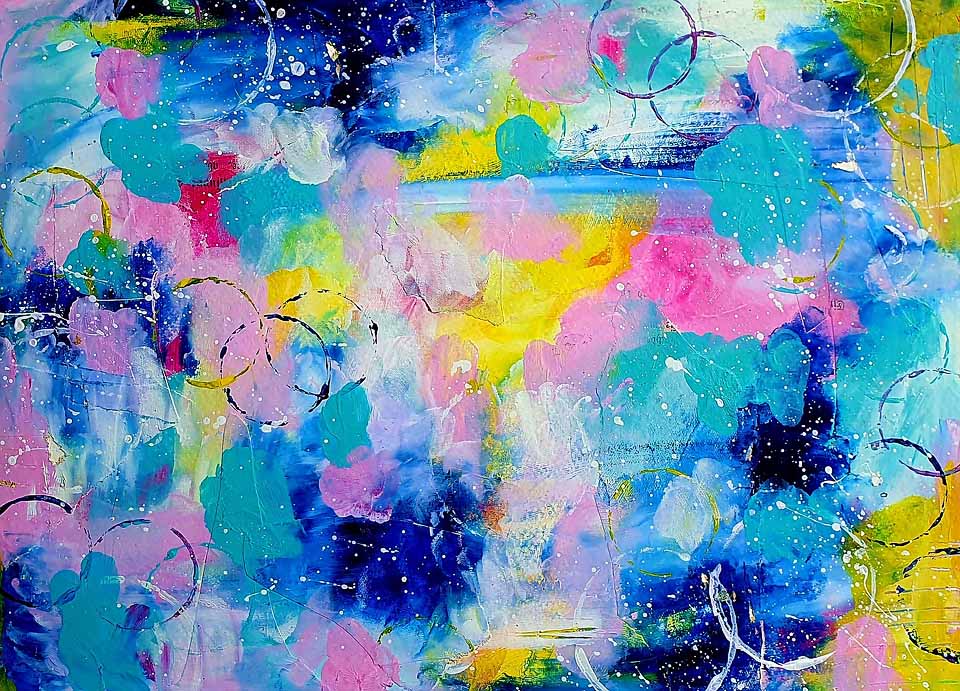 Observe and reproduce textures from real life
To practice texture in art, pay attention to the world around you. Observe different materials and surfaces, like bark, fabric, or rust.
For example, go into a park or the woods and touch the trees and think about how you can achieve that or a similar texture when you paint by using the tools and techniques you read above. 
Use materials with inherent texture
Some art mediums have innate textures that you can exploit for striking effects. Experiment with textured papers, pastels, charcoal, or thick paints like oils or acrylics.
Combine different materials to create interesting contrasts and explore the possibilities of layering textures.
Or use actual materials like artists do in mixed media. Gluing things down on paper or canvas instantly creates a physical texture that you just can't resist but touch.
Create your own little study of texture
Challenge yourself to create a texture study by drawing or painting a series of swatches exploring various textures.
You can use different materials or techniques to create each texture. This can be a valuable reference and help develop your understanding of how textures work in art.
Texture in art and composition
Emphasis
By using texture, you can emphasize the focal points in your art. When incorporating different textures, you can create a contrast that draws the viewer's attention to a specific area.
For instance, using both, rough and smooth textures, makes the rough areas stand out even more.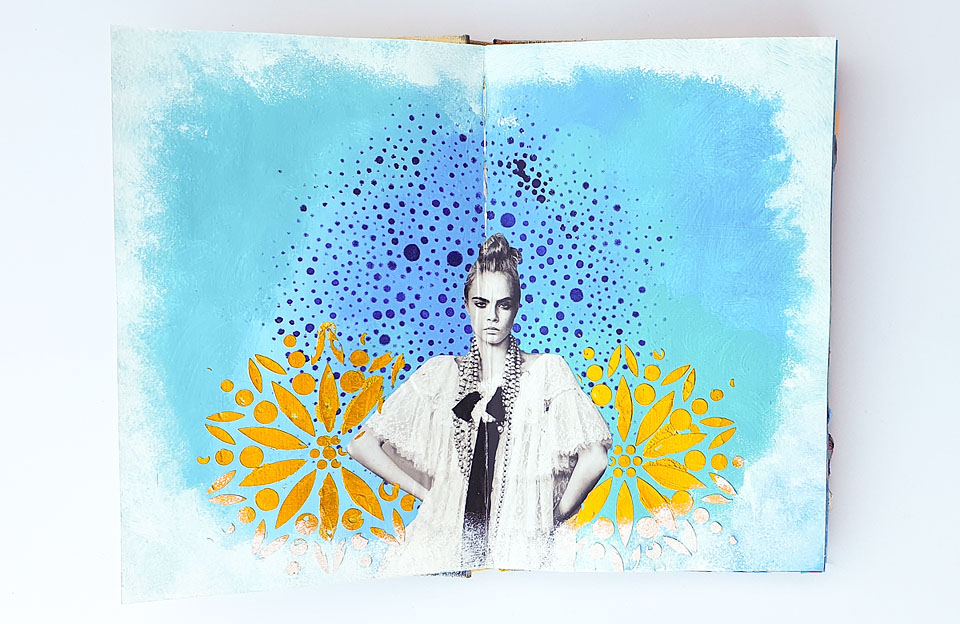 Unity
Texture is also important for the overall unity of your artwork. By using texture consistently across your composition, you establish a sense of harmony.
Create a unified visual theme by either repeating similar textures or using distinct textures that complement each other.
Rhythm
Adding texture to your composition helps create rhythm and movement. Various textures can guide the viewer's eye through your artwork, creating a sense of flow.
Experiment with textured patterns, like alternating rough and smooth areas, to establish a pleasing visual rhythm.
Repetition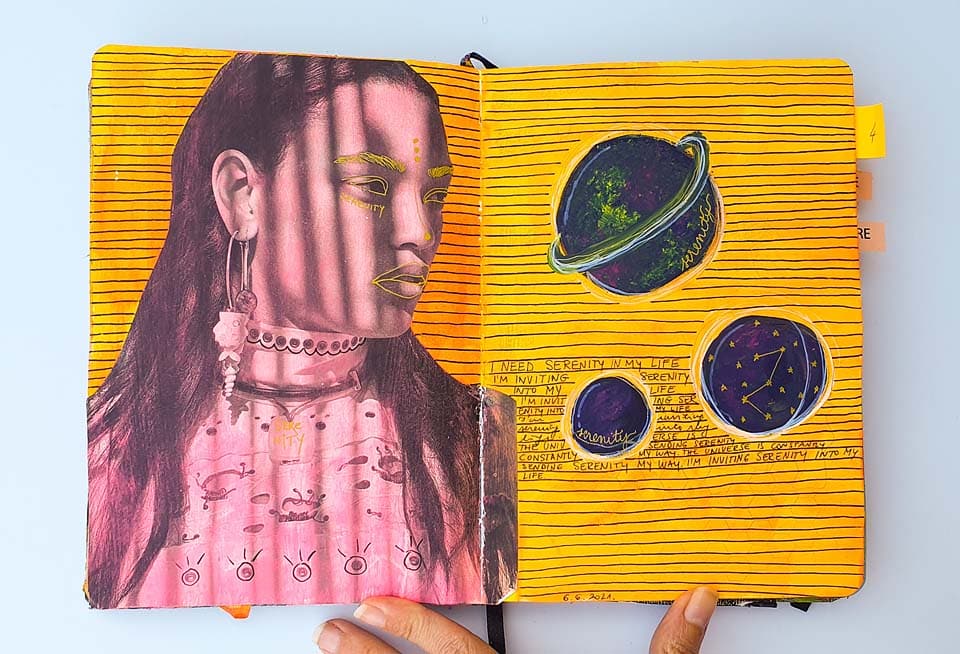 Repetition in texture can make the unity and rhythm of your composition even better and stronger.
Repeating textures, such as brushstrokes following the same direction or pattern, results in a sense of balance and harmony. 
Texture in art and feelings
Here are some textures you can make to express a feeling. If that's your goal and don't know how to do it, maybe these ideas can help you.
Smooth Texture
A smooth texture, like that of satin or glass, can evoke a sense of calm and sophistication.
This type of texture can be found in polished surfaces, such as mirrors or marble sculptures, and can create an illusion of cleanliness and refinement.
When it comes to painting, thin layers of paint plus flat shapes can achieve a smooth texture.
Rough Texture
On the other hand, rough textures often evoke feelings of raw, natural power.
I usually create rough texture when I'm really confident or maybe I want to express a strong feeling of anger or the screw-everything kind of mood. 
You can achieve rough texture by painting with a kitchen sponge, adding layers of paint with a palette knife, or just covering your paper with clear gesso.
Gesso creates a bit of texture you can feel under your fingers.
Polished Texture
A polished texture refers to surfaces that are smooth and reflective.
Commonly found in materials like metal, glass, or leather, a polished texture can create a sense of sleekness and professionalism. 
If you want to create this kind of modern and precise vibe with a texture, use acrylic paint, and don't make brush strokes visible.
For this, you can use the smoothest brush you have, the one without hard bristles.
Also, be careful not to add too much paint but rather play with flat shapes that have clean, hard, edges.
Examples of texture in art history
Renaissance
During the Renaissance period, the use of texture in art allowed artists to effectively represent the physical world with captivating details.
Artists like Leonardo da Vinci mastered the application of texture, bringing to life paintings such as "The Last Supper."
In this piece, the texture of the tablecloth, clothing, and surrounding architecture demonstrates da Vinci's ability to create a sense of depth and realism.
As you observe the artwork, notice how the texture enhances the overall visual experience.
Impressionism
Impressionist artists, like Claude Monet, were well-known for their skill in creating texture through their brushstrokes. Their approach to texture deviated from the detailed realism of the Renaissance.
In Monet's famous "Water Lilies" series, the texture of the water, plants, and even the reflections is created through small, broken strokes that produce a more dynamic result.
Abstract Expressionism
Abstract Expressionism aims to convey emotions and personal expressions through the use of bold textures, colors, and compositional elements.
One of the key players in this movement was Jackson Pollock, who developed a unique "drip-painting" technique that produced layers of overlapping paint drips on the canvas, creating a sense of depth and texture.
This artistic approach shifted the emphasis from the subject matter itself to the process of creating the artwork, highlighting the textures and visual energy that could be achieved through unconventional techniques.
Texture in art – wrap up
So, if you're a beginner and want to explore texture in art, start with simple things.
First, experiment with acrylic pain with tools such as brushes and sponges.
Then, introduce palette knives or an old credit card that creates a very similar effect.
Or, you can go wild with mixed media, forget all the rules, and just create something in your work that feels like texture when touched. Experiment with small objects or textiles.
For the best texture effect popular in art journaling, you can get some relief/texture paste and use it with stencils to create raised effects.
You'll have so much fun with this and will become addicted. I promise you that.
Playing with texture is so easy in an art journal.
Start one today for free and see how easy it can be to make art
even if you're a beginner.