The Best Pens and Markers for Art Journaling You'll Absolutely Love
Do you often struggle with finding the perfect pen for your art journaling ideas? The one that is waterproof, that doesn't smear or get ruined by the background you are working on?
Let me just tell you that there isn't one do-it-all pen for all the art journal projects you make. Some pens are better at one thing, while others do an amazing job in another area. There are different pens for different purposes. That's the bottom line.
In my experience, finding the best pens for art journaling sometimes felt more like a job than a fulfilling hobby. I spent hours and hours searching for that perfect pen, that could help me make art journal pages and not worry about some details like ruining a page, smearing the pen, or clogging it.
Today, I'll try to answer 9 burning questions about art journaling pens (and markers, too) based on my experience with different brands.
Disclaimer: Some links in this post may be affiliate links. This means that if you purchase something through that link, I get a small commission, at no extra cost to you.
THE LIST OF BEST PENS AND MARKERS I USE FOR ART JOURNALING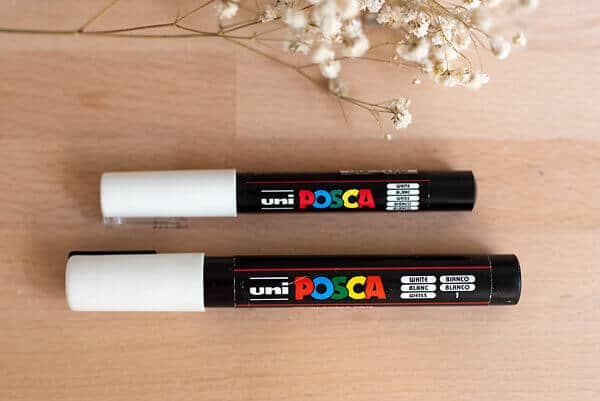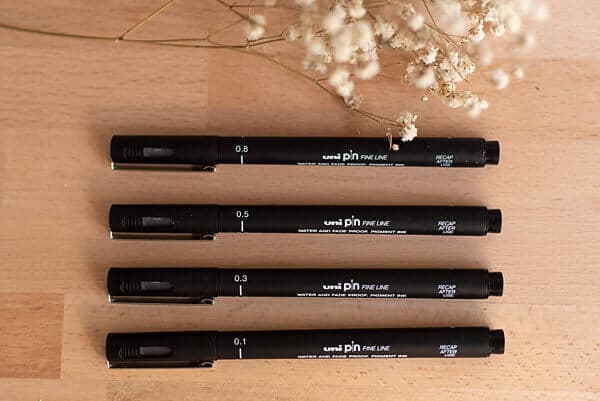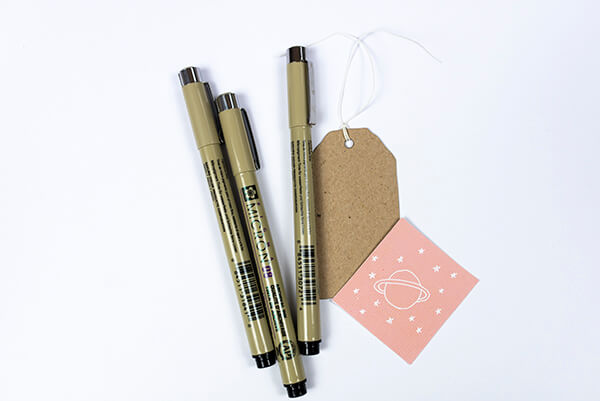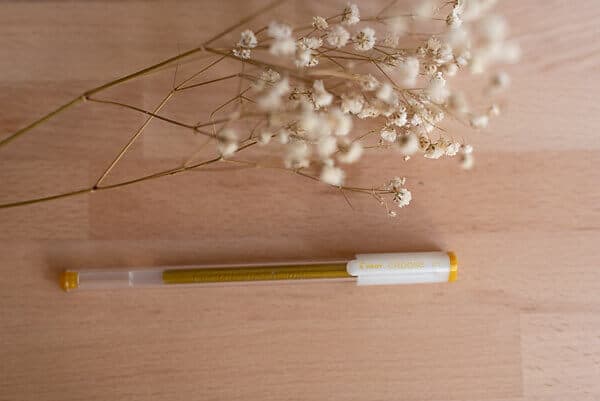 1. WHAT ARE THE BEST PENS AND MARKERS TO WRITE OVER MAGAZINE PAGES?
I'm a waterproof pens junkie. I like to be sure that my pens won't smear. So, I always ask myself before I choose a pen, whether it'll smudge or not. Most of my decisions on pens start with this question.
Take magazine paper, it's mostly glossy, right? And it's very thin. So, when I do art journal collage pages, I usually turn to my Uni Pin fine liners, white Posca paint pen, or Pilot Pintor markers.
You can use black fine liners to doodle on the magazine pages, outline facial features, or draw anything.
White Posca marker pens are amazing for doodling on magazine pages. I've tried this many times and love the results. It somehow makes the whole page pop.
Pilot Pintor markers are a recent discovery for me. They come in a range of colors and they are opaque. Except maybe for the white one, and that's why I love colored ones more.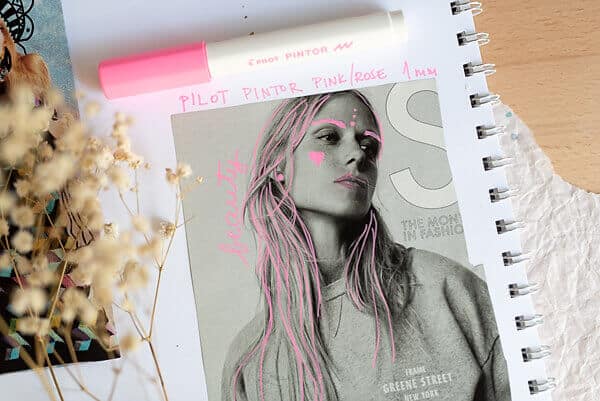 I've tried Edding markers, and they work just fine. I tried black and gold. The gold one is sticky when used on the magazine paper, so if you try to repeat the same lines, it'll refuse to work that well. Just wait for it to dry.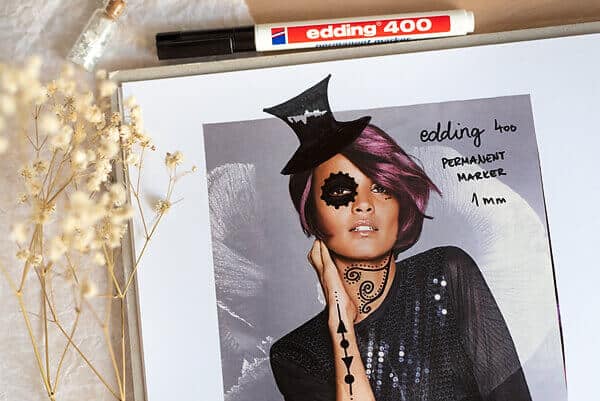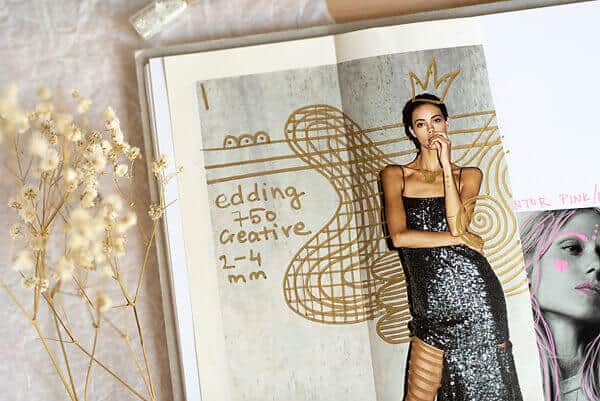 If the magazine photo is darker, you can definitely use a white Signo uni-ball pen. This one is marvelous.
Whichever pen you use on magazine paper, just leave it to dry longer than you would do for regular paper. And then wait a bit more.
2. WHAT ARE THE BEST WHITE AND BLACK PENS/MARKERS FOR OUTLINING THAT MAKE THINGS POP?
Here, I'd go with Posca white pens, a black marker, or fine liners.
Posca white pens are great for outlining art and letters. And they do make things pop! Especially if you doodle on darker paper.
If you combine the Posca pen and a fine liner, you can also get amazing results. I use fine liners to frame the whole page with lines.
Black markers are also a good choice, and I mostly use Edding markers for this.
3. WHAT ARE GOOD PENS OR MARKERS THAT WRITE REALLY WELL ON DARK ACRYLIC PAINT BACKGROUNDS?
I've tested a few and here are the results:
Again, I'd choose Posca white pens. I haven't tried other Posca colors, but the white one is so great for this purpose that you just can't resist but love it. It's opaque, and it flows smoothly on the acrylic paint.
I wouldn't use fine line tip pens on acrylic paint because they always seem to clog and stop working. I've ruined so many good pens this way, and I'm not making the same mistakes again.
For this purpose, I've found that the Signo uni-ball white pen works fine, too. The ink just flows, no pressure is needed.
White Pilot Pintor markers also work great on acrylic paint although they are not as opaque as Posca pens.
I also tried the gold Edding marker, and I have no problems with them on acrylic paint.
The last one is Pilot's Choose 07 gold pen. I love this one so much because it makes thin lines and it looks really nice and elegant.
4. WHAT ARE THE BEST PENS TO USE WITH WATERCOLOR?
My best answer would be Uni pin fine liner by Mitsubishi Pencil and Micron pens. These pens are waterproof, fade-proof, and have got pigment ink in them.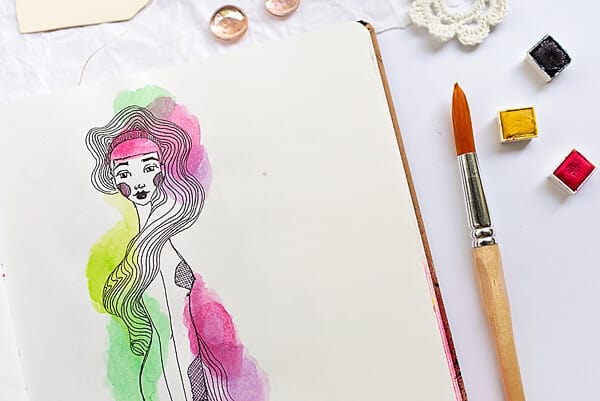 You can use them to draw before you start painting with watercolor, or use them after the watercolor is completely dry (but really dry).
Another choice would be the Platinum carbon ink fountain pen, It's also waterproof and it looks great with watercolor, similar to fine liners.
5. CAN FOUNTAIN PENS BE USED FOR DRAWING?
Definitely. They're great if you want to get a sketchy look. Also, you don't need a lot of pressure with them, so you can draw lightly.
I love the Platinum carbon ink fountain pen. You can use it with watercolor (because it's waterproof) and even acrylic paint if there's not too much texture on your page.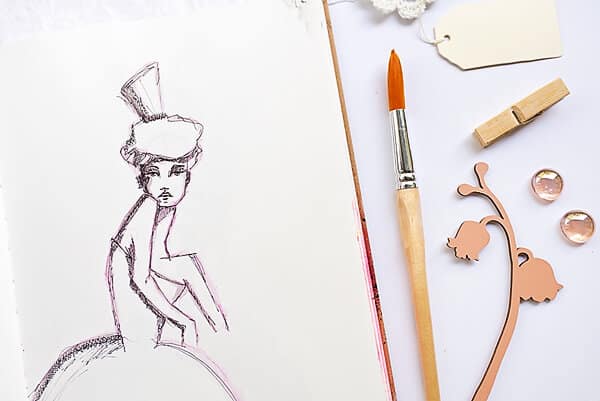 They are also lovely for writing with them. Especially because holding it in your hand makes drawing even more special. I love how some art supplies inspire us to make art and feel good about ourselves. (Or is it just me?)
7. WHAT ARE THE PENS THAT WORK WELL ON TEXTURED ACRYLIC BACKGROUNDS?
I've tried most of my pens and markers, and here's what they look like.
I chose a really textured background for this.
The only one I wouldn't use like this is the fine liner. Any fine liner. They might write well in the beginning, but they usually quit soon and then they won't write on regular paper either.
At least, that's what's happened to me many times so far.
But if you want fine, thin lines, you can use fountain pens, just figure out which ones work for you. This Platinum fountain pen is amazing. I highly recommend it. However, I'd be careful with textured backgrounds and the fountain pen's fine nibs. It can't work on all textured backgrounds, especially heavy textured ones.
Here, I used it on one layer of acrylic paint, and that's my limit for this pen. I wouldn't use it on more texture than this. I tried it, and it was obvious I was going to ruin the nib.
The Edding marker 780 creative is so good here! The marker is for glass, metal, and plastic but I use it where other pens can't deliver. It's so smooth and the ink flows perfectly.
Also, Posca paint pens work well on textured backgrounds, although I haven't tried them on this particular one. But, it works fine unless you press it too hard (but this rule goes for any pen, right)?
8. WHAT IS THE BEST PEN FOR DOODLE ART?
Definitely Uni-pin fine liners and Micron pens. The ones that are waterproof, pigment ink fine line pens. They're excellent for this purpose because they won't smudge while you work and have such thin tips that you can create even the tiny details.
9. WHAT'S THE BEST WHITE HIGHLIGHTER PEN FOR PAINTING FACES?
I paint women's faces a lot and when I need to add highlights to the hair, skin, or eyes, I use white Posca paint pens. I've never seen any other pen that works this well on all surfaces and really does a perfect job, especially with eyes.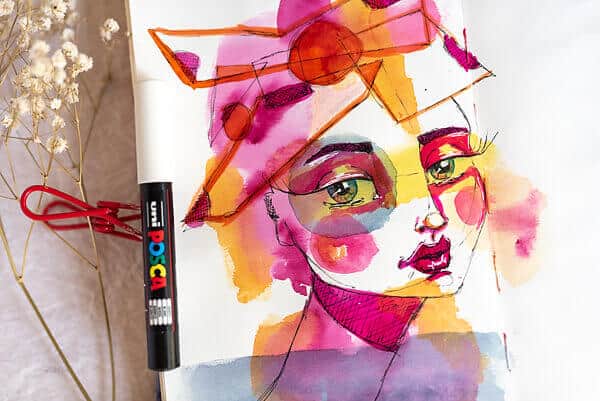 6. HOW DO YOU STORE PENS, MARKERS, AND PENCILS?
The only thing important here is whether you store them vertically or horizontally. You can check this on the pen itself. Some pens don't work well if you store them vertically when they must be stored horizontally. (I think it's an ink thing.)
If you have many pens and markers, put them in mugs, jars, or any pencil holder. I love using jars or mugs that I got as gifts or made myself. But you can store them in small baskets or plastic containers.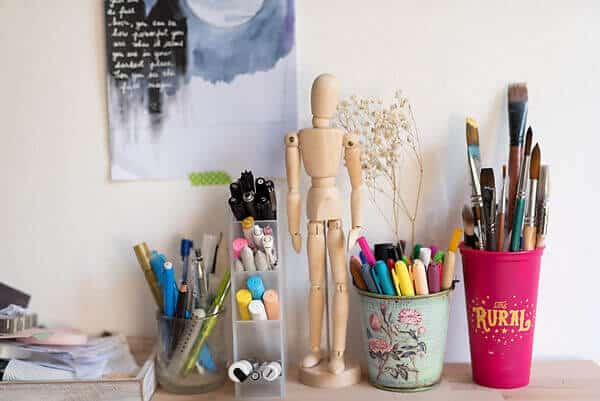 If you have different pens and markers, sort them all by color.
Also, if you want to make DIY pen holders, search for toilet paper pen holders on Youtube or Pinterest. You'll find many creative ideas for pen holders.
9 QUESTIONS ANSWERED ABOUT THE BEST ART JOURNALING PENS
My goal was to try to answer these questions for you as best as I could because I know that many artists struggle with finding the right pen.
I got frustrated many times over this and had many funerals for my ruined pens. But I love discovering new pens and markers and trying them out in my art journals. And by researching and experimenting, I've figured out which pens work for me and give me the best results.
If I had to pick one of these pens or markers and take it with my art journal on a deserted island, I'd definitely take the uni pin black fine liners. They're just awesome. With their fine points and thin lines, non-smudginess, and being waterproof, what's not to love there?
And finally, remember how the pen behaves also depends on the type of paper you're using, as well as on what kind of background you're working on. There's not one ultimate pen to use for all the things you want. Just do your research and experiment.
So, all of these suggestions or ideas I've presented come from my experience in art journaling. If you discover something new in the post, I'm happy to be a part of it. I encourage you to explore and experiment, and you'll soon have your own favorite stash.
RELATED ART JOURNAL SUPPLIES ARTICLES
8 Art journal supplies for beginners
Best Pens for Doodling: In-Depth Guide for Art Journalists
Best Places for Buying Art Supplies Online For Art Journaling
If you love these ideas for art journaling pens, pin this post to your favorite Pinterest board!