Top 17 Art Tools And Materials for Drawing And Painting And Their Functions
Choosing the right art tools and materials is like having a superpower in your artistic journey.
Whether you're drawing or painting, having the right stuff at your fingertips is key. It's all about finding what works best for you and your creative vision.
There's a whole bunch of art tools and materials out there, each with its own unique qualities and techniques. You've got graphite pencils, acrylic paints, watercolors, and so much more.
This article will give you the ultimate list of 17 top art tools and materials.
Check each one out and choose the ones you need for your unique art.
Disclaimer: Some links in this post may be affiliate links. This means that if you purchase something through that link, I get a small commission, at no extra cost to you.
What is the difference between art materials and art tools?
Art materials are things that can be used up, while art tools are instruments or devices used to create art.
Art tools can include paintbrushes, palettes, scissors, paint knives, and pencil sharpeners, while art materials can include paint, paper, clay, and other substances used to create art.
Art tools and materials for drawing and painting – best choice
To start drawing and painting, here are the two best options in my opinion.
For drawing: Staedtler Mars Lumograph pencils, set of 12.
These pencils are great. They come in 12 different softness/hardness levels. You can sketch with them as well as outline, shade, color in, etc.
For painting: Goya acrylic paint
This paint is amazing. It's better than the student-grade paints I used to buy. I'm amazed at their thickness, they're opaque, easy to apply, the colors are truly vibrant and they dry fast.
Drawing art tools and materials
1. Graphite pencils
A pencil is an important drawing tool, right? However, there are so many to choose from and this can be daunting, especially for beginners.
That's why I'm going to share useful tips for choosing the right pencil for you.
What you need to know about graphite pencils is that they come in different levels of hardness/softness and lightness/darkness. These levels are marked with letters and numbers.
More specifically, letters F, B, and H, and numbers starting with 1 and going forward. Combining letters and numbers, pencils are marked for different usages.
One thing that'll help you easily remember things is this:
The softer the pencil, the bolder mark it creates. For example, a pencil marked 8B is super soft and that's why it's easier to make bolder and darker lines.
On the contrary, a pencil marked 2H is really hard and it doesn't let us make bold but lighter and less visible lines.
This distinction helps us sketch, shade, or draw precisely.
If you look at the graph below, you'll see the range of pencils according to their softness and hardness.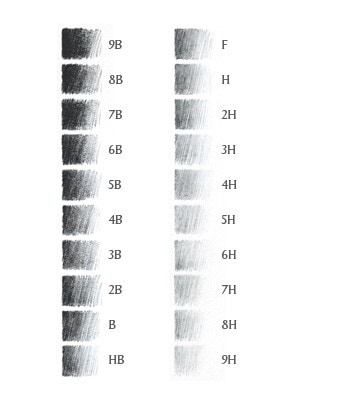 In the table below, you can see what pencils you can use for different purposes. However, if you don't care about the nitty-gritty details (like me), just draw with the one that feels good in your hand and is easy to erase (if that's important to you).
PENCIL USAGE
PENCIL MARKS
Soft/dark marks
HB, B, 2B, 3B, 4B,
5B, 6B, 7B, 8B, 9B, etc.
Hard/light marks
F, H, 2H, 3H, 4H,
5H, 6H, 7H, 8H, 9H, etc.
Sketching/Light drawing
F, H, 2H, 3H, 4H,
5H, 6H, 7H, 8H, 9H, etc.
Shading/Depth/Artistic drawing
HB, B, 2B, 3B, 4B,
5B, 6B, 7B, 8B, 9B, etc.
Writing
H, F, B, HB, 2B
Precise drawing
2H, 3H, 4H, 5H, 6H
When I draw faces or sketch something else, I just use an HB pencil or a mechanical pencil in my stash. Most pencils students use in schools are HB and I dare to say they're neutral.
This means you can buy a cheap pencil and try drawing and shading with it to see what it can give you. Then, move on to some other pencils and slowly experiment.
That being said, here's a set of pencils I always recommend. I've been using them for a long time and they offer a wide range of hard and soft pencils.
2. Colored pencils
Colored pencils are like magic wands for artists. They're versatile and can be used for a number of purposes. Whether you want to create stunning portraits, intricate illustrations, or vibrant landscapes, colored pencils are a great choice.
You can draw with them, layer them to build up colors and achieve rich tones, or use them for precise details and shading.
Now, when you consider high-quality colored pencils and your budget, I recommend getting a set that won't break the bank but still give you wonderful results.
Recently I purchased Faber-Castell Polychromos colored pencils which have excellent lightfastness and durability. And they're delicious on paper.
Plus, they're smudge-proof and water-resistant.
Not to mention that they come in a beautiful box, and there are 20 colors to choose from.
3. Charcoal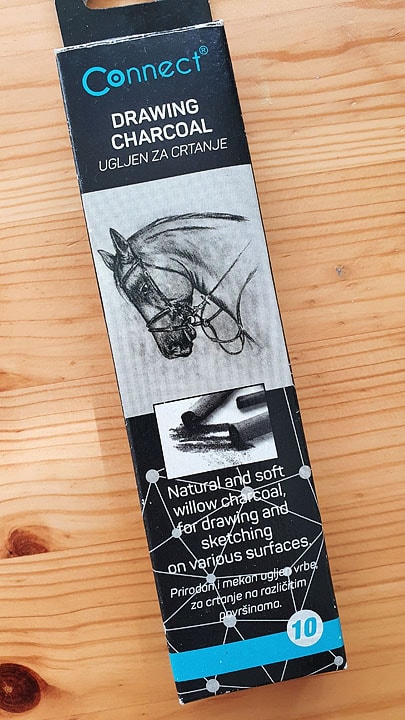 Charcoal is all about expressive and bold lines that make your drawings pop.
One of the unique qualities of charcoal is its rich, deep blackness. It creates a matte, dramatic effect and is perfect for creating dynamic and emotive drawings.
However, you can also use it for lighter marks, depending on the type of charcoal and the pressure you use.
Plus, it allows you to play with textures and shading, giving your drawings extra depth, dimension, or contrast.
Now, when it comes to choosing charcoal, there are a few recommendations and things to have in mind.
You can get charcoal in pencils, sticks, liquid, or in powder. With most of them, your hands will get dirty, but that's the fun perk of drawing.
My best tip for beginners is to get an affordable charcoal set that contains a pencil stick and some other tools, like an eraser or a blender.
4. Pens
Pens are just magical, if you ask me. They're perfect for creating crisp lines, and intricate patterns, and adding fine details to your drawings.
Whether you're sketching, outlining, doodling, or even adding some crosshatching, pens are your go-to drawing tool.
Plus, they come in different tip sizes, so you can experiment with various line weights and create stunning effects.
I can recommend two amazing brands that I've been using for ages. And they've never let me down.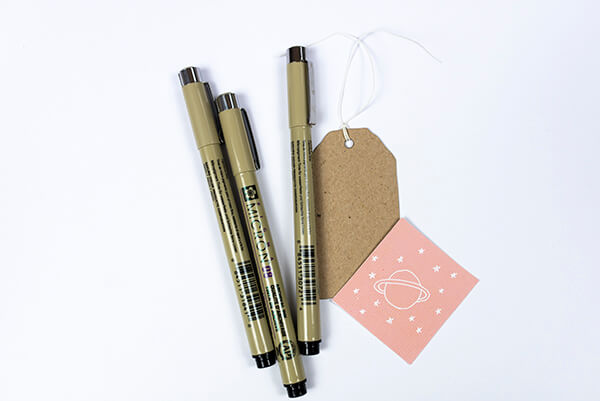 The first pens I'd always choose are the Sakura Pigma Micron pens. Here's why I love them so much:
they're waterproof and don't smudge
they come in different nib sizes and colors so you can draw extremely thin and very thick lines
they have fade-resistant, archival ink
they're not expensive
Another brand I love using is the Mitsubishi Unipin Fineliners. They're even frequently used by professionals such as architects and illustrators. That's how good they are.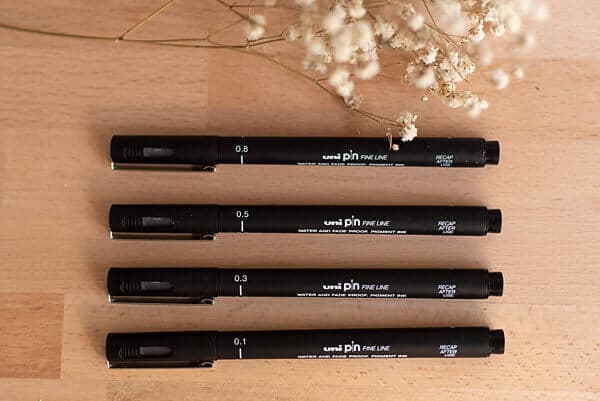 You should consider getting them because they:
are waterproof
come in a wide range of nib sizes and colors
are fade-resistant
are pretty affordable and you can buy them in sets.
Both, Sakura Micron pens and these Unipin fineliners are an excellent choice for every artist, a drawing one, and a painter.
5. Kneaded eraser
This eraser is a great art tool for anyone wanting to get into drawing.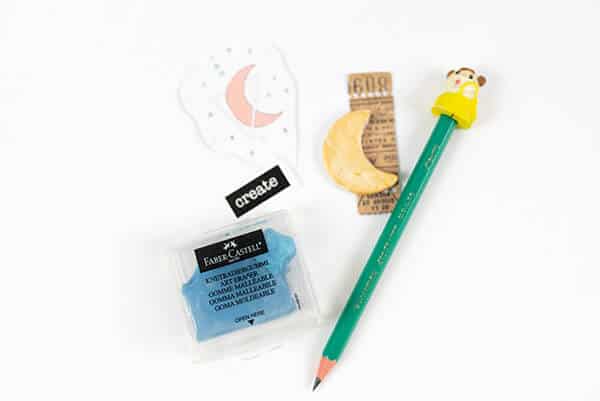 A kneaded eraser is something like a very sturdy gum that you can shape any way you like to erase even the smallest of details.
One of the best advantages of this eraser is that it leaves no erasing crumbs. How amazing is that?
When I sketch a face, for example, and don't want the pencil to be visible under watercolor, I just use this eraser.
Form it into a roller and roll it all over your drawing to lighten the pencil marks
Painting tools and materials
6. Acrylic paint
They're water-based paints that dry quickly, allowing you to work at your own pace.
Acrylics are known for their vibrant colors and versatility, which means you can use various acrylic painting techniques and create bold, opaque layers or thin them out for translucent washes.
The best part? They work on various surfaces like canvas, paper, and even wood. So whether you're a beginner or an experienced artist, acrylic paints are a fantastic choice.
Now, let's talk about some reputable acrylic paint brands to get you started on your painting journey.
The best and most affordable acrylic paint, in my experience, is the Goya acrylic paint and Blick Studio acrylic paint sets.
Golden and Liquitex are widely recognized for their high-quality acrylic paints and have some affordable options, too.
If you're on a tight budget, I suggest getting a Liquitex acrylic set because they're more affordable than Golden.
Another excellent option is Winsor & Newton, known for their artist-grade acrylics as well as student-grade ones, that deliver rich pigments and great coverage.
Also, there's a good acrylic paint set by Paul Rubens that can be a great choice for beginners, and it won't break the bank.
7. Oil paints
Oil paints have a unique quality that gives your artwork a luxurious and timeless feel. The pigments in oil paints are suspended in oil, typically linseed oil, which allows for smooth application and blending.
One of the remarkable qualities of oil paints is their slow drying time, which gives you more opportunity to work with the colors, layer them, and achieve stunning texture and depth in your paintings.
The richness and luminosity of oil paints create a visual feast for the eyes, making your artwork come to life with amazing vibrancy.
Now, let's talk about some oil paint brands. Winsor & Newton is a renowned name in the art world, known for their artist-grade as well as oil paints for beginners. Their range of colors is extensive, and their paints offer excellent consistency and pigment quality.
For those on a budget, Winton by Winsor & Newton is a great, affordable option. They offer quality paints at more affordable price points.
There's also a very affordable oil paint brand called Paul Rubens. I've tried their oil paints and they're great for beginners, really smooth, and fun to work with.
8. Watercolor
With watercolors, you can create beautiful washes, vibrant gradients, and stunning layering effects. The way the colors blend and flow together is simply magical.
They are translucent and always react to water, even after they're dry.
You just need to start exploring them to see how wonderful and magical they are, it's hard to express that in words.
So, if you want to try out some amazing watercolors, I recommend you get Jane Davenport's tiny sets. She has two great sets: neutrals and brights.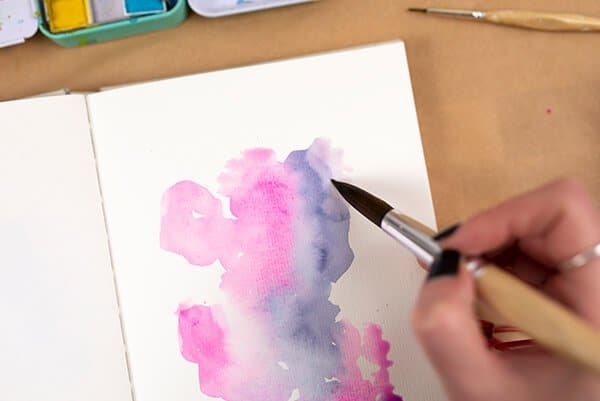 If you're just starting out, you don't need to spend a lot of money on professional paints.
Buy student-grade paints now, practice and develop your skills, and then invest in something more expensive and of greater quality.
This way, you'll feel more confident when you start using more artist-grade paints.
And even more, when starting with cheaper art tools and materials, you don't feel the pressure of making everything perfect and lose the fear of ruining expensive supplies.
9. Painting/drawing paper pads (or an art journal)
I use both. I buy paper pads or big sheets of watercolor paper and I cut them into the sizes I want.
Making an art journal with these paper pads is another idea, to have them in one place.
Also, if you want to draw and paint separately, for framing or scanning, you can use paper pads.
There are different kinds of paper you can use, depending on what you want to do on it.
The more wet media you want to use, the thicker paper you need.
You can choose from mixed media paper, watercolor paper, sketching paper, craft paper, and so many others.
As I said, I mostly use watercolor or mixed media paper because I use a lot of paint and other art supplies that just don't go well on thin, plain paper.
10. Brushes
If you want to paint, brushes are inevitable art tools as well.
Let me introduce you to a few basic brushes you might need for your paintings.
For painting with acrylic paint, I usually use flat brushes of different sizes.
However, with watercolor, I mostly use round brushes in different sizes as well.
You can use flat brushes with watercolor, too. Especially if you want to cover bigger areas on your page.
But I just love big round brushes for watercolor. They hold enough water and paint for numerous strokes.
Check the image below for easier reference when it comes to watercolor brushes.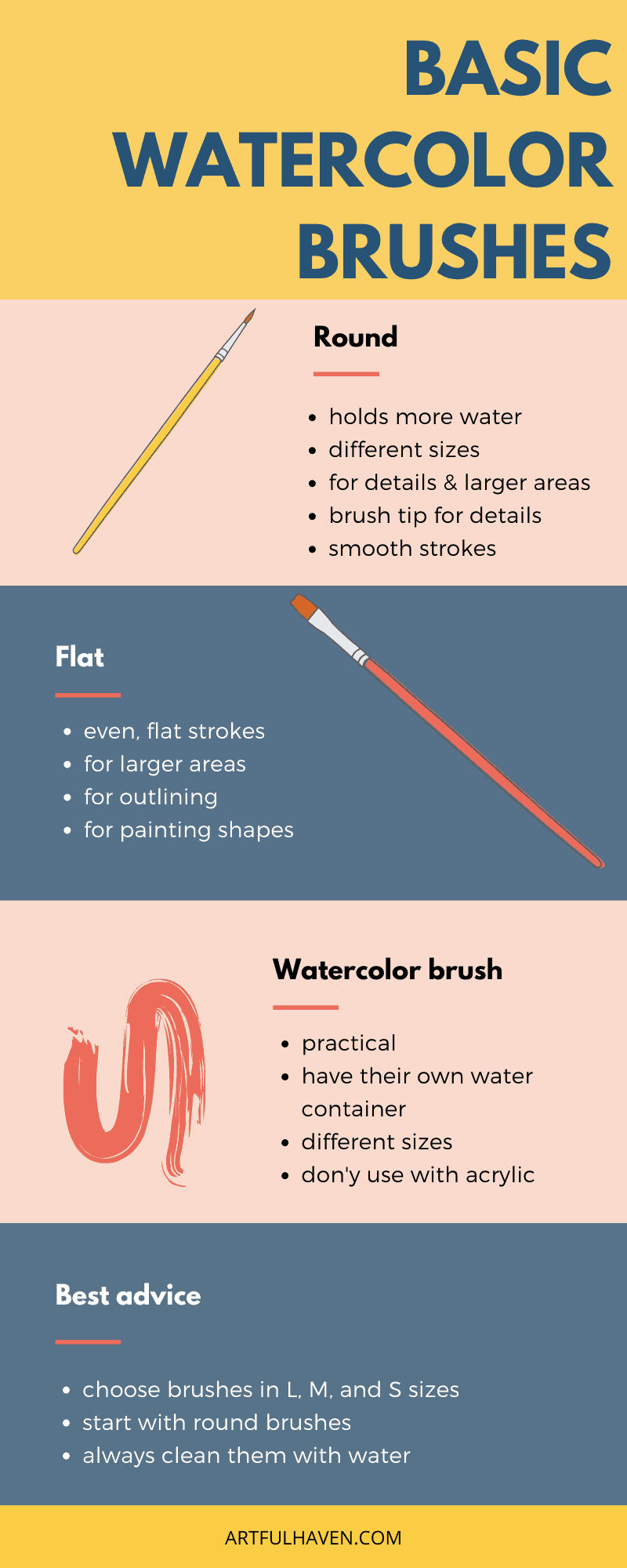 One brush that I find extremely useful and practical is the water brush. It's an amazing art tool because it has its own water container.
So, whenever you need more water, just squeeze the brush and that's it.
They come in different sizes, mostly in sets with S, M, and L sizes.
11. Painting knife or a palette knife
These two are different but can also be used for the same purposes.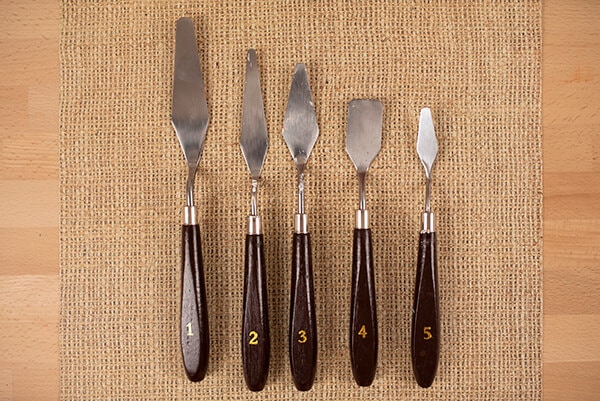 A palette knife is used to mix paint on the palette, whereas a painting knife is used for applying acrylic paint on paper or canvas.
This way, you create texture and can add interesting details like lines, or small chunks of color.
I have a set of painting knives that I mostly use for applying acrylic paint, and texture paste or using them as art tools for mixing my paint as well.
If you don't have these but want similar results, you can use a small piece of thick cardboard or an old credit or library card.
12. Painting palette
Before you run off and buy a specific painting palette, let me say that you can use anything to serve as your palette.
I've been using ceramic plates, jar caps, plastic palettes (like we did in school), cardboard pieces, pieces of glass, or even tiles.
Use anything that has enough space for you to put all the colors you'll use in one project. Also, count in the space for mixing colors.
Sometimes I advise cleaning your palettes, but in the end, it's much more work than when you just leave the paint to dry.
At least for me, because acrylic paint dries quickly and it's hard to clean easily.
And what is more, when it gets dry, you can put more paint on top without fearing that you'll pick up the paint underneath.
So, my palettes are now very messy, and colorful and I rarely clean them.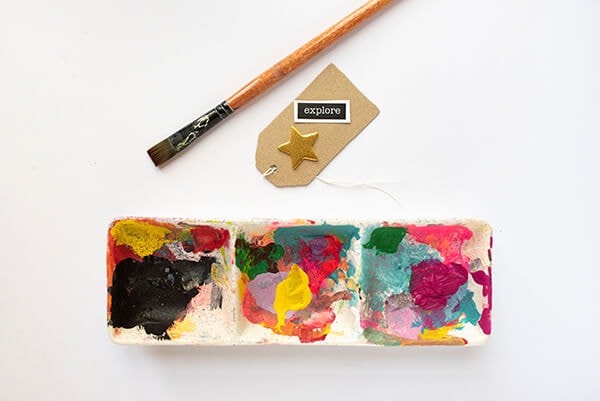 13. Masking tape
This tape isn't meant to stick forever when you glue it down. And that's why it's perfect.
You can use it to protect (isolate) a certain area on your painting paper.
This way, create frames around your painting that look amazing, especially in art journals.
Masking tape works great with watercolor when you frame your painting with it. This just looks stunning.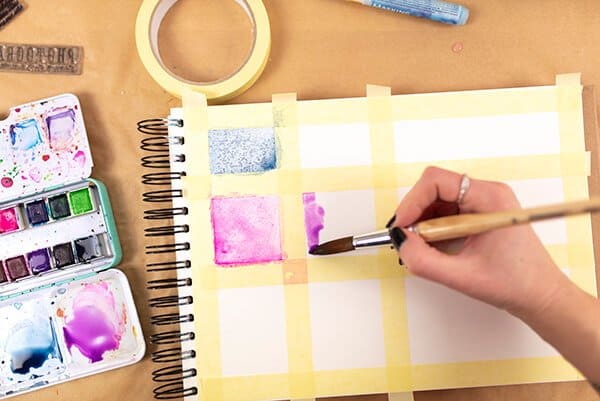 Also, you can use masking tape as a great art tool to isolate some areas, for example, for journaling.
First, put some masking tape on the paper, paint around it, and when the paint is dry, take it off.
You'll end up with untouched white space to journal on.
14. Sponges
You can buy painting sponges already fixed on some kind of a handle for easier use. But I love using kitchen sponges for applying acrylic paint.
They are cheap, easy to use and you can try them right away.
I mostly use it for dabbing acrylic paint onto the paper, but a neat idea is to cut the sponge into certain shapes and use them as stamps.
In this case, don't press the sponge too hard, you'll just get a big blob of paint without any shape at all.
15. Stencils
We all love stencils. They are versatile, come in a gazillion designs, and help us add something special to our art.
When you don't know what to do, turn to your stencils.
You can use them with acrylic paint, watercolor, inks, texture paste, pens, embossing ink, and so on.
I mostly use them for making backgrounds together with texture paste and/or acrylic paint.
If you want to buy a few stencils, perhaps think about getting more general ones like abstract shapes, letters, or flowers.
Then you'll have a stencil you can reuse over and over again, every time with a different and unique approach.
Why not have even more fun and make your own stencils? Make your own art tools you can reuse as many times as you want.
16. Brayer
And last, but not least, the magnificent brayer. Oh, how I love this art tool.
First of all, it's an amazing tool to work with.
If you love seeing how brushes leave marks and how the paint flows on the paper, you'll enjoy seeing the brayer in action.
It's basically a roller for painting and it comes in various sizes.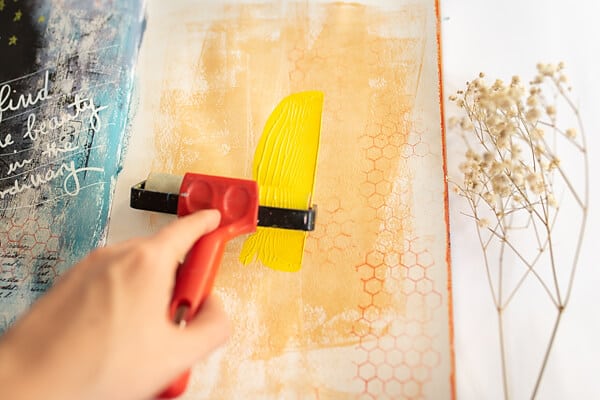 What I love the most about it is the texture it creates with paint. The brayer leaves grungy marks and strokes which I really, really love.
But it doesn't have to be that way. You can use it to cover the whole page or a paper with even strokes.
There's only one thing that bugs me with a brayer, and that's the cleaning part.
If you've ever talked to me, you'd hear me say that I'm lazy when it comes to cleaning my art tools. And the brayer is not helping at all.
It's sometimes difficult to clean it if you don't do it right away. I mean, right away. I often forget that and end up with dried paint on it.
But still, that's not that big of a deal. More mess just means more fun.
17. Canvas
The canvas offers a classic and textured surface that is perfect for acrylic and oil paintings.
It provides a sturdy base that can withstand the heavy application of paint and allows for texture and brushstrokes to shine through.
Canvases can be daunting and scary, so if you're starting out, I suggest getting an art journal and practicing techniques, and experimenting with art tools and materials first.
Then, you can paint similar things on a canvas without the initial overwhelm beginners often feel in front of a canvas.
When it comes to canvas, look for pre-stretched canvases that are primed and ready to use, ensuring a smooth painting surface.
Final tips about art tools and materials
What I want you to remember from this article is that you don't have to have all the art tools out there to make amazing art. Here are a few final tips:
Try the ones you already have, get one or two new ones to try out, and see what feels right in your hand.
If you have none of these tools, then I'd suggest getting some paint, paper, and brushes (I'm sure you have a pencil).
You'll use these three the most if you're into drawing and painting.
You can always upgrade, but take it slow at the beginning, and don't overwhelm yourself with a bunch of supplies that'll just collect dust.
Finally, choose the ones that really work for you, that you feel comfortable using now, or the ones that you're the most curious about.
Some other questions about art tools and materials you might be interested in:
How do I choose the right art tools and materials for my needs?
Choosing the right art tools and materials can feel overwhelming, but it doesn't have to be hard.
Start by considering the medium you enjoy working with and your artistic goals. Think about the level of detail, texture, or effects you want to achieve.
In this article, I've given you some options for beginners that you can start with. You can also research different brands and read reviews to find tools and materials that suit your needs and budget.
Most importantly, don't be afraid to experiment with art tools and find what works best for you.
What are some essential tools and materials every artist should have?
Every artist's toolkit will vary, but some essential tools and materials are a good starting point.
I believe every artist should have:
pencils of various grades
erasers
sketchbooks/paper
a set of brushes
paints in primary colors
Don't forget to include a palette knife for mixing colors and a water container for water-based mediums.
These basics will set you up for success and allow you to explore a wide range of artistic techniques.
What are the differences between various paint mediums?
Different paint mediums offer unique characteristics and effects.
Acrylic paints are versatile, quick-drying, and suitable for various surfaces.
Oil paints have a slow drying time, allowing for blending and layering.
Watercolors create translucent washes and magical blends.
Gouache offers opaque and vibrant colors.
Each medium has its own appeal, so try experimenting with different ones to discover your preferences and the effects that resonate with your artistic style.
How do I take care of my brushes and other art tools?
Taking care of your brushes and art tools is essential for their long and happy life.
After each use, clean your brushes thoroughly with water or the appropriate solvent, depending on the medium. Reshape the bristles and let them dry flat or hanging bristle-down to prevent damage. Store your brushes in a clean and dry place to maintain their shape.
If you use stencils or a brayer, it's best if you clean them right away, especially if you use them with acrylic paint. Once the acrylic is dry, cleaning it is a pain in the butt.
As for other tools, keep them clean and organized, avoiding exposure to extreme temperatures or moisture.
Are expensive art materials always better?
Expensive art materials may offer certain advantages in terms of quality or durability. However, that doesn't mean they are always better for everyone.
High-quality art supplies can make your artistic experience magical, but skill and creativity aren't dependent on the price tag. There are excellent affordable options that can help you get fantastic results.
Instead, focus on understanding your paints and tools, practicing techniques, and developing your artistic voice. The most important thing is to enjoy the process and let your creativity shine freely, regardless of the price of your materials.
I've made so much art that I love and like and I used cheap options most of the time. If you're going to sell your art, then you definitely should invest in high-quality and more expensive art tools and materials.