8 Essential Art Journal Supplies Every Beginner Should Start With
So, you have decided to take up art journaling but don't know where to start? Let me help you with these 8 essential art journal supplies for beginners.
The truth is, it doesn't take much to start, you can start if you only have some paper and a pencil.
So, at the beginning of your art journaling adventure, you can start with just the basic ones to begin experimenting, and develop your preferences and style later.
I know it can be overwhelming at the beginning because there are so many choices, but the art journaling process can be as simple as you make it.
That's why I want to share a list of basic art journal supplies to get you going and to spark that creativity of yours!
Start with simple art journal supplies
Let me just point something out. You will surely grow your art journal supplies over time. Everyone does that because, when you art journal, you experiment and explore, and that artistic curiosity is something beautiful and I think you should nurture it.
But for now, just to get you started, let's keep it simple. Especially because, now, you don't want to invest in supplies that you might not like for some reason in a month or two.
Experiment slowly and then figure out which supplies you like so you can file up your art stash. It's a process to enjoy and not overthink.
Disclaimer: Some links in this post may be affiliate links. This means that if you purchase something through that link, I get a small commission, at no extra cost to you.
START AN ART JOURNAL EVEN IF YOU'RE ONLY A BEGINNER
Get the FREE Art Journal Starter Kit and stop wondering where or how to start. Make wonderful pages today!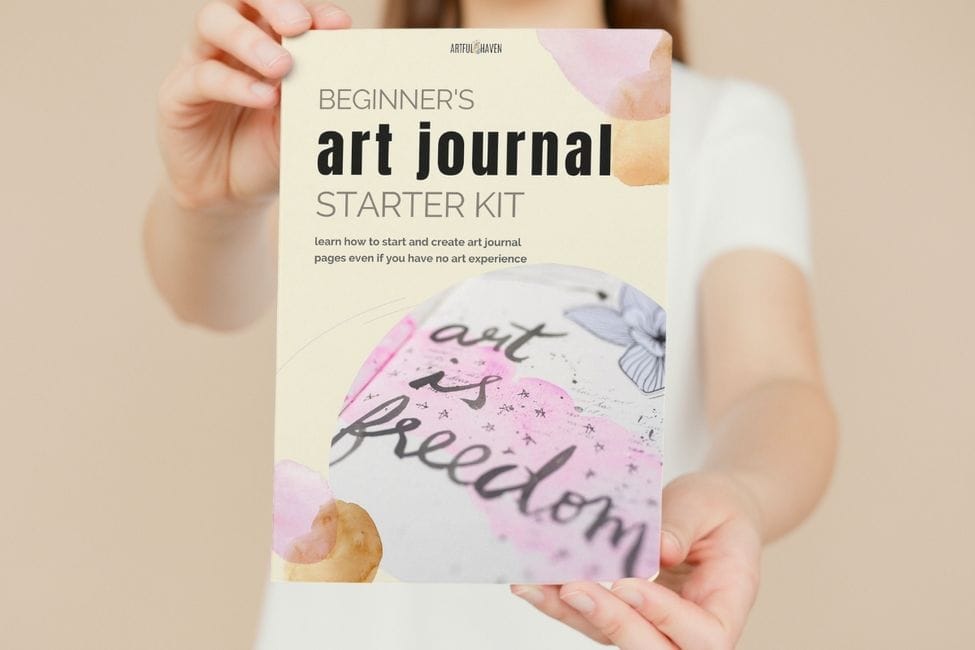 Art journal supplies for beginners
Here is a list of supplies I suggest you start with, and I will give you an explanation for each one individually.
An art journal
Gesso (it's optional)
Paint (acrylic or watercolor)
Brushes
Pens & Pencils
Paper
Stamps & Inks
Stencils
1. An art journal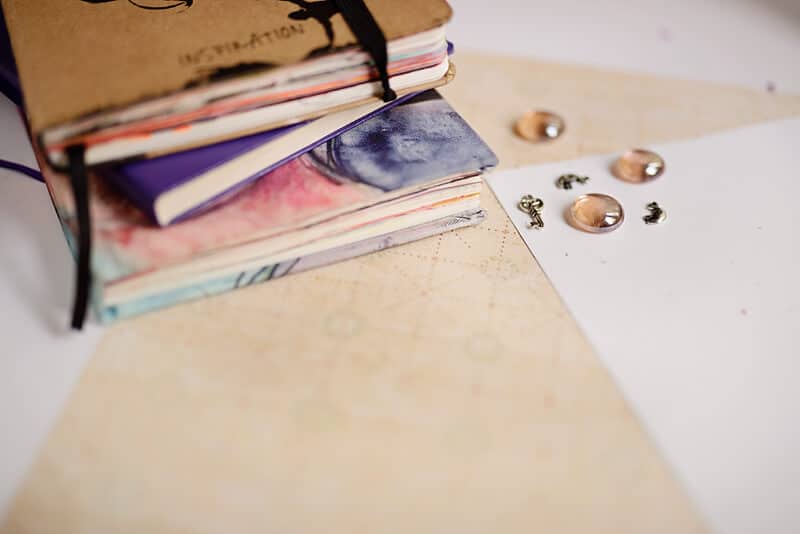 This is essential, of course. Your art journal could be anything. Anything at all. The one thing you should consider when deciding on your art journal is the quality of the paper in it.
It is not as fancy as it sounds, really. Just think about what you're going to put on that paper, what you're going to explore and experiment with.
If you're into doodling at the moment and just plain old journaling, then any kind of paper will be all right.
However, if you want to try acrylic paint or watercolors, you will need thicker paper to hold all that wetness. In this case, the watercolor paper works great. It can handle water really well.
A pre-made art journal
There are so many journals you can buy today. They can range from ordinary journals with thin pages to pre-made art journals with thicker and heavier paper.
I have bought some of those and I really like them. If you aren't ready to invest in one now (some of them can be really expensive), why not give it a shot and make your own? (It doubles the fun!)
DIY art journal
When I started art journaling, I just took some thicker printing papers or scrapbook papers, cut them into the size I wanted, and bound them.
Here is a photo of a journal I made, and I must tell you that somehow, these DIY journals turned out to be one of my favorites.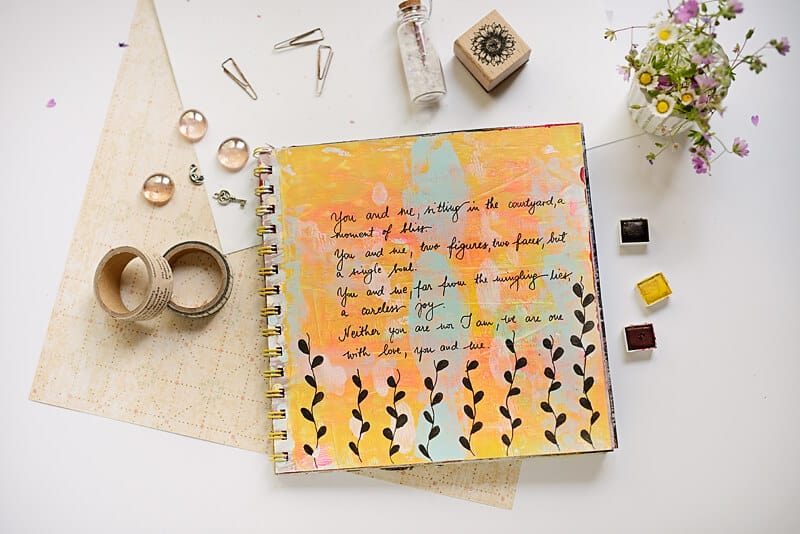 One idea, that I've seen a lot of artists do, is to reuse an old book. That is a great way to start an art journal. If you don't have a book you could use, try a store or a library that sells cheap used books, or ask a friend.
Again, one thing to bear in mind when creating your own art journal is the pages you are putting in. How thick is the paper? Is it going to handle all you want to put in it?
BUT, if you only have a thin paper to use now, it's not the end of the world, because you can prime your papers. By doing this, the pages of your journal will create a surface that can hold any medium.
Priming may sound like something fancy only great artists know and use. It is not really. And with this, we come to another of our basic supplies: the wonderful Gesso. You're going to love it!
If you want to make a simple but pretty art journal, with step-by-step guidance, read more here in a post on how to make a simple DIY art journal.
2. Gesso
First of all, I must tell you that having gesso isn't essential if you're beginning, but it's a great medium to have in your stash.
I remember my first date with Gesso. It was a moment of revelation and excitement.
Before that, I was struggling with papers and wet mediums. I love watercolors, but they seemed to appear pretty dull on the pages I was creating. And the water tore my pages.
Then I found out about Gesso. When I realized I could just put gesso on my page and could use anything on it, without ruining the paper, I was thrilled! I promise you will feel the same and it will become one of your main art supplies.
Essentially, gesso is used to prepare your page for different media such as watery paints (watercolors, spray paint, acrylics, etc.).
With gesso on it, your paper does not absorb liquids, so it doesn't tear. Another great thing about it is that it dries quickly, you don't have to wait for hours.
It can dry transparent, white or black, it's your preference which one to choose. I have always decided on the white one, because it can be used as white paint, too. And its texture is marvelous.
Also, if you don't like the page you have created, or maybe just a part of it doesn't fit your idea, use gesso to cover it up! It does a great job. You can cover the entire page and start over.
3. Paint
Acrylic paint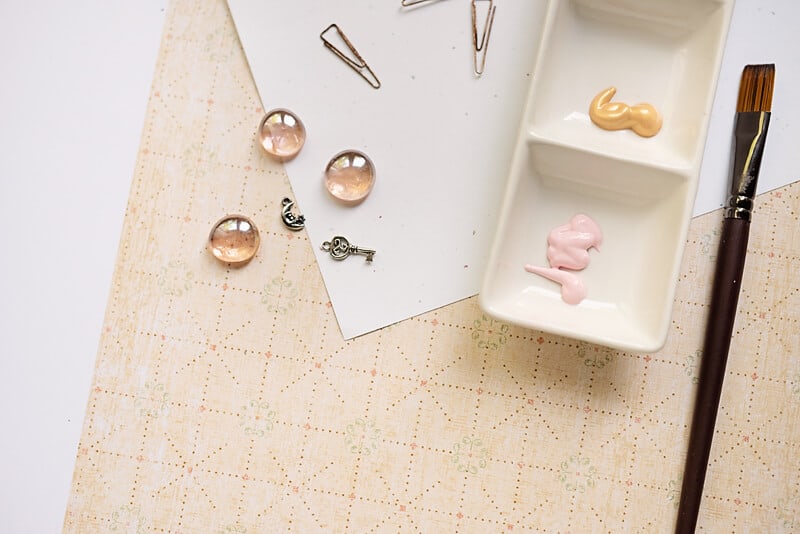 Acrylic paint is one of the first supplies I started with. Being used in every school, we get familiar with them quite early. Acrylics are so versatile and easy to use.
And they come in soooo many different colors that your choices and combinations can be endless with them.
What can you use them for?
They are great for backgrounds, and for covering the whole page. They mix well together and depending on the tool you use with them, they can give a lovely texture.
You can use them to paint anything you've drawn, they are thick and dry fast. I love their creaminess and the possibility to use them only with fingers. You can get interesting results with that technique while feeling like a child with your hands covered in paint.
Also, acrylic paint can also serve as glue. If you want to stick a piece of paper, they will do the job nicely.
Finally, a neat thing about them is that you can find them very cheap, so you don't have to spend a lot of money at the beginning.
They can be found in every craft store, office supplies store, and supermarket, too. Pick a few of your favorite colors and include them in your art journaling kit.
Watercolor
Watercolor is one of my favorite art journaling supplies. It is so soft and elegant on paper. Watercolor pages can have that dreamy look as if you paint your own imagination on paper. I love that effect.
But, they just won't work so beautifully on plain paper, for example, printing paper. They will look terrible. If you want to use watercolors, be sure to use thicker paper, preferably watercolor paper, because only then you will realize how splendid they are.
4. Brushes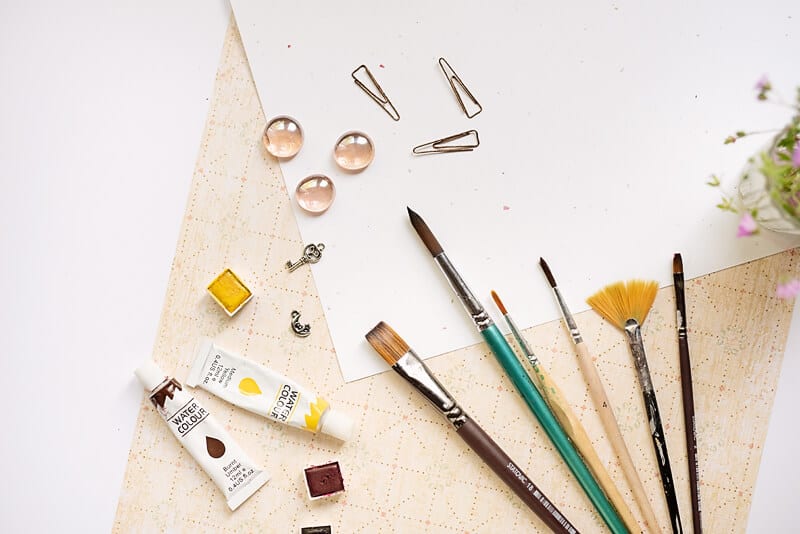 If you have paint, you are going to need brushes, as well. They are so easily found. Well, I bought my last set in a supermarket.
So, when you are just starting, pick a few cheap brushes in your local art store. Maybe a set that includes different sizes and tips.
You can also experiment with brushes and paints. I recommend you get a flat brush in a few sizes and a round one, too.
Quite recently, I came across water brushes. It is a great tool you will fall in love with. Why? Because it's so practical. It is basically a brush with a container for water.
So, instead of a jar of water to pick up with your brush, this one already has water inside of it. The water flows through the brush depending on how much pressure you give it.
They also come in different sizes, mostly S, M, and L, and are available at many stores.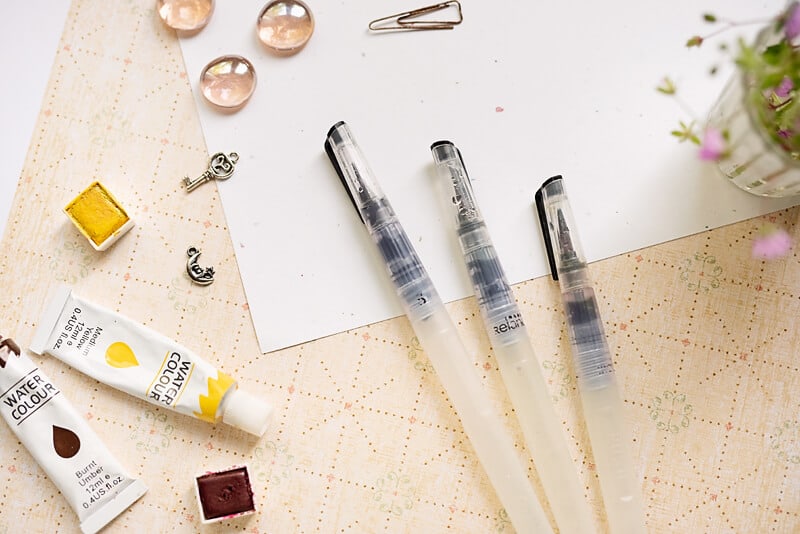 5. Pens and pencils
It wouldn't be called art JOURNALING without a pen, right? I'm sure you have plenty of these lying around somewhere. I would suggest that you invest in a pen that is waterproof.
If you are going to use any wet medium, the waterproof pen is a must. Then you don't have to be scared of your journaling being ruined.
A black waterproof pen is so pretty in art journaling. It can be used for plain journaling, outlining, drawing, doodling, you name it. Besides the black one, I also prefer the white gel pen. It looks awesome on black paper or black paint.
6. Paper
Paper is one of the easiest supplies to gather. Look at your desk now, and I'm sure you'll find some paper you could creatively use. You can use up old cards, or newspaper articles, magazine pictures, a piece of product packaging, online printable papers, scrapbook papers, paper napkins, and so on.
The possibilities with paper are endless. You can create outstanding backgrounds and cut-outs, and it is great for making collages.
Find some paper around your home today, you can search for interesting colors, textures, sizes, and whatever attracts your eye.
7. Stamps and inks
Do you remember playing with stamps at school? Or making your own from potatoes? We had so much fun with those as kids.
Stamps can also be found anywhere, they can be bought individually or as a kit of a similar design. Just to start, I suggest motifs like geometrical shapes, letters, and flowers.
These stamps are versatile and can be used on every page. With letter stamps, you can create words or even texts, and they look amazing on a page.
Flower and geometry stamps can serve as a border or you can frame your words with them. Or use them in any way and style you prefer. Play with them freely and see what happens.
Stamps are used with inks (mostly). If you want to invest in ink, I think you should buy permanent/archival ink. It doesn't fade and is waterproof. This is excellent because you can stamp an image and paint over it, and it won't smudge.
There are so many inks on the market today, but for now, you can get a black one, because black is evergreen, right?
8. Stencils
Stencils are a great tool. There is no limit to what shapes and sizes they come. I really love the alphabet stencils or the geometrical ones because they offer plenty of possibilities for creating a page.
Stencils can be used with acrylic paint, watercolors, gesso, relief paste, spray inks, and many others.
You can use a small piece of sponge with it, a kitchen or make-up sponge, to apply acrylics or ink onto your page. Playing with them is endless and they inspire so much creativity.
Gather your art journal supplies and start the amazing art journaling process
So, the art journal supplies you could start with are an art journal (of course), a waterproof pen, and some paints. You can start by doodling and move on to stamping and stenciling.
However, these are only suggestions that come from my experience. Of course, you can use whatever you want in your art journaling.
Eventually, you will find the tools and supplies you like the most, and research and experiment with them.
START AN ART JOURNAL EVEN IF YOU'RE ONLY A BEGINNER
Get the FREE Art Journal Starter Kit and stop wondering where or how to start. Make wonderful pages today!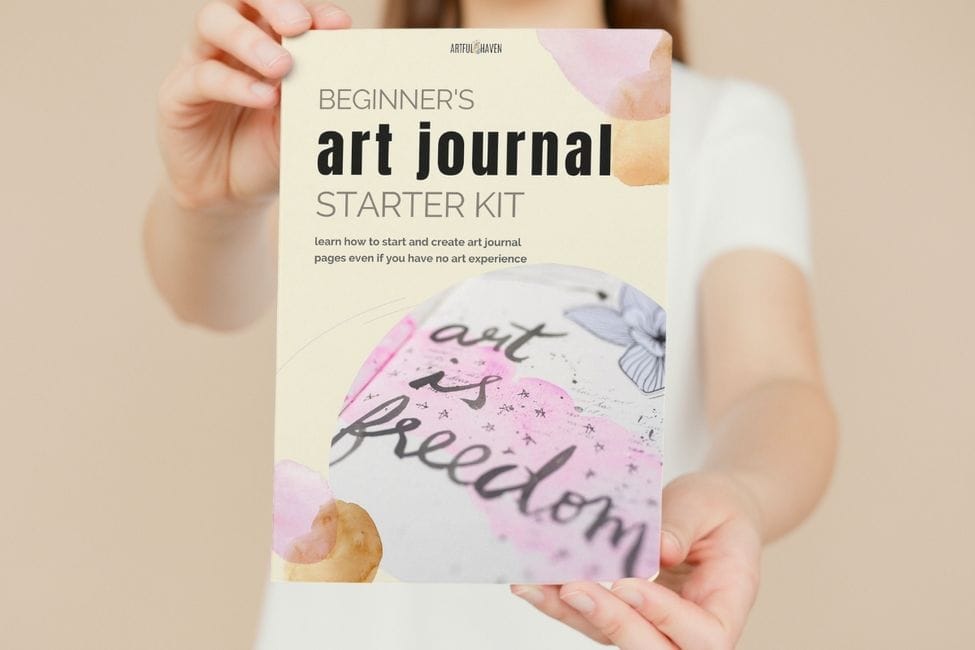 RELATED ART JOURNAL SUPPLIES ARTICLES
Best Places for Buying Art Supplies Online For Art Journaling
Top 11 Art Tools And Materials for Drawing and Painting in Your Art Journal
What Are The Best Pens and Markers for Art Journaling