Best Mixed Media Art Journal Supplies You'll Ever Need (Even for Beginners)
If you're looking for mixed media art journal supplies but don't know where to begin, this blog post will provide some great tips on how to get started by focusing on which supplies to use to make amazing art journal pages. Even if you're a beginner, you'll find mixed media supplies here that won't overwhelm you.
What is mixed media art journaling?
Mixed media art journaling is a creative way of making art using many different media and supplies. Mixed media artists use the materials they have on hand (like crayons, markers, paint) with other items such as paper scraps or found objects to create art that can be used for various purposes.
Just remember that there are no rules in this. Art journaling has no rules, and mixed media is such a wide subject that you really can't make a mistake by using something in the process.
Disclaimer: Some links in this post may be affiliate links. This means that if you purchase something through that link, I get a small commission, at no extra cost to you.
Mixed Media Tools
We'll start with mixed media art journal tools. Always keep them close by so you can quickly grab one if needed during a creative flow or moment of inspiration. I recommend keeping your mixed media art journaling tools in an old shoebox or another container that's easy to access.
Brushes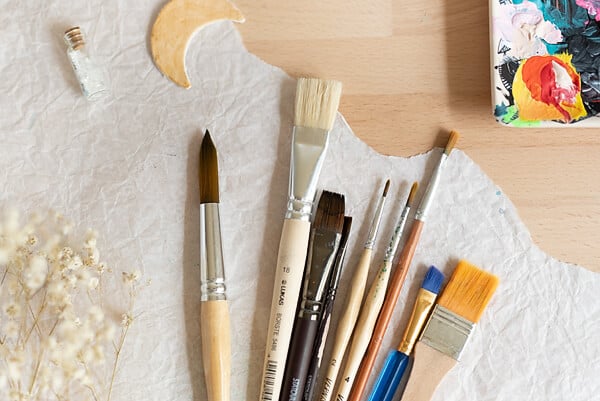 Brushes are inevitable tools when it comes to art journaling. You will find mixed media brushes come in a variety of shapes and sizes. You can use those that are small for details or larger to cover large areas quickly.
I recommend you use two types of brushes: flat and round ones. Flat brushes work well with acrylic paint and round ones with watercolors.
Again, don't feel pressured to buy them all, two or 4 is enough if you want to experiment with different sizes.
Kitchen sponge
A kitchen sponge is a great mixed media tool for beginners. It's cheap, versatile, and easy to use with many different mixed media techniques that include gesso or acrylic paint. Also, it creates texture when you use the dabbing technique with acrylic paint.
Kitchen sponge mixed media techniques:
dabbing with acrylic paint
making circular motions for a more blended effect
mixing different colors on the kitchen sponge for a more vibrant and textured effect
distressing paper edges with acrylic paint (tip: use only a tiny amount of paint here)
Palette knife
It is another great tool for mixed media art journaling, although you might not want to use it right away if you don't feel comfortable. But this tool gives a great texture and is easy to control.
You can use the palette knife with the paint directly on the paper and just spread the paint in all directions.
If you want to try out this technique but don't own the palette knife or don't want to buy it, you can use an old credit/gift card. The effect is quite the same. Just remember to clean both tools after you finish spreading the paint because acrylic paint is hard to clean after it's dry.
Brayer
A wonderful little tool that will bring joy to your mixed media art journals. It comes in different sizes and you can create lovely textures with it.
Use it alone or in combination with other tools. Just roll it over your pages (with some paint, of course) and see the magic happen.
Your fingers
Yes, you can use your fingers to spread the paint in mixed media art journal projects. It's even one of the best options if you ask me. It's a great way to have more control over the paint and you'll feel amazing with paint on your fingers. Embrace the mess :).
Pens and Pencils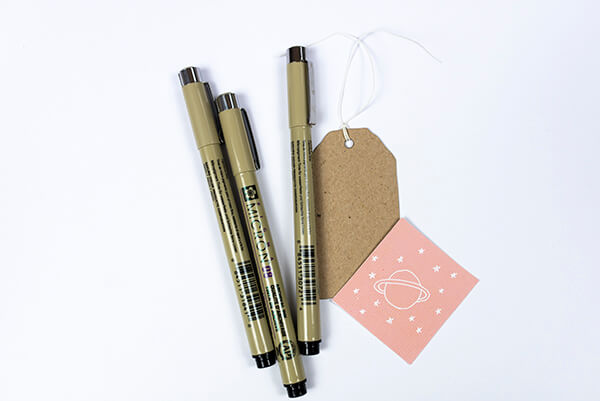 Pens and pencils are as important as brushes in mixed media. They can be used to add journaling, draw shapes, add lines, marks, and more.
These are the pens I recommend as a part of your mixed media art journal supplies:
Stencils and stamps
You can create great textures and patterns with these tools.
Both of these tools will be your perfect choice for making backgrounds in your art journal. There's no limit to what you can do with them. You can combine them in various ways. Also, you can use stencils with different tools for different effects (kitchen sponges, make-up sponges, brushes, palette knives/credit cards).
If you use a stencil with acrylic paint and an old credit card, you'll get a raised effect and, of course, texture.
You can use stamps with acrylic paint as well, but remember to clean them right away.
Stamps are a great tool for creating patterns on the backgrounds.
These are the ink pads I recommend for using with stamps in your mixed media projects:
Archival Ink by Ranger – they come in different colors and are waterproof, which is super important for mixed media pages. The black one is the best choice you'll make for your mixed media supplies.
Distress Ink by Ranger – these aren't waterproof but I love distressing paper with them after I've used all my watery paints. They just do the job great.
Scissors and glue
Always have scissors, this is so basic I should've mentioned it in the first paragraph, right? :D.
When it comes to mixed media, glue is one of the most important things. You want your things to stick, right? So what are the good glues for mixed media art journaling?
Things in your home you can add to your mixed media art journal supplies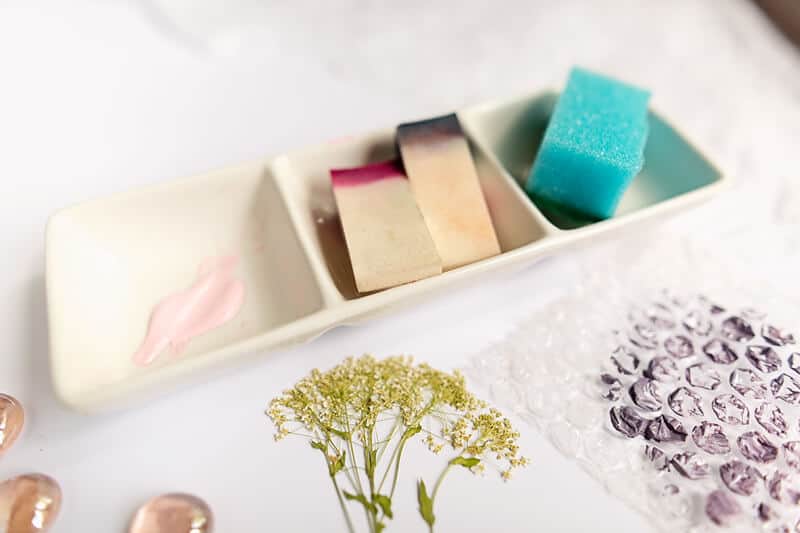 Your home is full of mixed media tools and ephemera. You just need to look carefully. I'm going to give you a few examples to inspire your creative search:
Toothbrush – you can use it to spray paint onto paper, creating little splashes of paint or a starry effect.
Toilet paper rolls – I'm sure you have these, tight? Use them for stamping with the round edges, or you can even put twine around it, dip it in paint and roll them on the paper. This should leave an interesting mark.
Straws – use straw ends to stamp small circles, or you can use them to blow paint around on your page. This works great with watercolors and ink, but not acrylic paint (because it's thick and not watery).
Bubble wrap – one of my favorites. Put some paint over it and stamp with it. This creates a wonderful texture and interest.
Baby wipes – a great tool for mixed media art. You can spread paint with them, clean your supplies, fix tiny mistakes, etc. However, try not to use them too much, it just creates big waste. What you can do after you've used them to clean paint is to save them and leave them to dry. They can be used in other mixed media projects when they're dry.
What paper to use for mixed media?
The paper is a key part of mixed media art journaling. You can use any type you like, but the best ones are:
Cardstock – this weight will have more texture than thinner papers or watercolor paper.
Watercolor Paper – to create subtle textures as well as vibrant colors and shades.
Mixed media paper – you can buy this paper in sets and make an art journal out of it with simple binding. Or, there are already mixed media art journals you can get that have this paper inside.
Here's some basic info on the kinds of watercolor paper and its uses:
What paper not to use for mixed media?
I wouldn't recommend these papers for mixed media because they can bleed or even tear. We use a lot of wet paint and water in mixed media, so using them on thin paper can give us headaches.
Notebook pages – the glue and paint will show through and create an ugly effect. This paper won't work well with water-based paints or markers.
Printer Paper – similar to notebook paper, this type of paper is very thin so it's not good for mixed media.
What if I only have thin paper?
Ok, I get that. You can try investing in Gesso. It's used to prime the paper before you put any paint on it. With gesso on the paper as the first layer, the paper shouldn't bleed.
However, for example, even gessoing printer paper will still wrinkle the paper because gesso is wet. You get where I'm going? Gesso can be wonderful, but I'd rather invest in a journal that has thicker pages.
But, I have one more piece of advice for you. If you still struggle and you don't have gesso or thick paper, a good idea is to glue more pages together. That will make your pages sturdier and won't bleed. The only downside can be that while gluing the paper, it may wrinkle and create those bubbles.
However, there's good news: this can be wonderful for texture. So, all in all, as you can see, mixed media allows everything and you can "get away" with anything. Pretty awesome, right?
Mixed media paints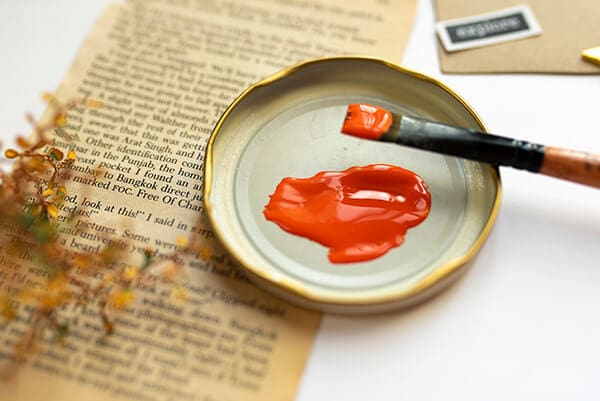 In mixed media, anything is possible. This means that you can use any paint you have on you. I mean..any kind of paint. But here are some favorites that are available almost anywhere:
Acrylic paint – it's thick, opaque, vibrant, and comes in many many different colors. I personally love to use them for backgrounds because they give such great coverage.
Watercolor paints – as opposed to acrylic paint, they're translucent and soft. You can create interesting layers with them because of their transparency.
Gouache paint – this is basically a thicker version of watercolor paint. It comes in vibrant colors, too.
There are many other choices. I'm going to list them here, just so you can see that there are no limits to mixed media:
Mixed media ephemera & embelishments
So, now that we've talked about tools and paints, I want to share the most enjoyable part of mixed media for some people: collecting embellishments and ephemera. Why is this so enjoyable? Well, it's fun to sort through old magazines or pull things from your home and think about how they might be used.
When you're choosing what to put in your journal, ask yourself if the material adds something positive – does it make me feel happy? Is there an element of personal history for me that I can bring into my work? If yes…just do it.
So, what are the most common things you can use to embellish your mixed media art journal pages? Spoiler: the list can go indefinitely :D.
old book pages
magazines
fabric scraps
scraps of paper and cardstock
buttons, ribbons, or lace trim – anything that's made to be decorative
doilies or tea bag paper
flowers, dried or fabric
postcards and photos
paper punches (gotta love those perforated edges!)
notebook pages
your kid's artwork or scribbles
wrapping paper
old maps
envelopes, mailers, and old letters
anything that has an interesting texture or color
stickers
popsicle sticks – they are great for poking into the paint to make texture or drawing lines
See how many of these you already have at home. You don't need to buy anything new until you're ready for a specific technique or are looking for something in particular.
Your home is a treasure chest, I promise you.
Where to buy mixed media art journal supplies
You can get them in craft stores or online. I'm going to share some stores that sell mixed media supplies online, as well as some retailers.
Retailers that sell mixed media supplies:
Hobby Lobby has a wide variety of tools, supplies, and art journals for reasonable prices.
The craft store Michael's also has an entire mixed media aisle with lots of wonderful things perfect for creatives.
Online websites with mixed media supplies:
Find out more: Best Online Places For Buying Art Journal Supplies
Mixed media art supplies for beginners
Many supplies are good for mixed-media pages but you only need some of them to create an amazing page with texture, shape, depth, and color. I've listed the ones I find easy to use for beginners, so you don't get overwhelmed or discouraged.
What mixed media tools can a beginner use?
You don't need a lot of things, but these will get you started and keep you going until your mixed media collection builds up.
Pencils and pens – Pens like Micron pens work well because they're waterproof.
Fingers – the perfect tool that's always available.
Gift/credit card – it's a great replacement for palette knives and lets you experiment without the overwhelm of a new tool.
Sponge – this is a great tool for mixed media and you already have it in your home. Easy-peasy.
Bubble wrap – just splash some paint on it and stamp, the messier…the more fun you'll get.
What paints are good for mixed media beginners?
Acrylic paint – easy to work with, dries fast, and you can cover large areas with it very easily.
Watercolors – although many beginners are scared of these paints, I say you can still use them for adding more color, creating a soft vibe on your page without the pressure of painting like an expert.
Crayons and colored pencils – easy to use, so why not try them?
Final tips on mixed media art supplies
Use a good paper for your mixed media art so you don't have any worries about ruining it with watery paint or inks.
The best way to use mixed media art journal supplies is to experiment with them, so have fun and try all sorts of different combinations. This is the key. If you don't like what you're doing, just switch to something else. You'll feel a lot better about your mixed media art if it's not perfect.
Place all of your supplies in a designated space so they are always ready for use and easy to find when the creative urge strikes.
Don't overthink things when choosing supplies – just go for it.
If you feel like you've made a mistake with your supplies, just learn from it and move on.
You can make a note of what tools and paint you like using together for future reference.
Use your supplies. Don't save them for later. If you're afraid of using them because you're not sure what to do, remember they'll just be a waste later. You'll figure it out and feel better about using the supplies if they're already open.
Don't put off starting because it's not perfect or doesn't seem like the right supplies are around.
Mix and match your material to create different textures on paper.
Use various combinations of materials to make interesting mixed media pieces that will stand out.
Mixed media tutorial on YouTube
I want to share some simple mixed media tutorials on YouTube, so you can see how easy it can be to make a mixed media page.
This video will show you how to create a spread with a magazine image and some of the mixed media art journal supplies I mentioned in this article.
It's a simple tutorial and you'll need the following supplies (there are also their alternatives):
watercolors (or acrylic paint)
a magazine image
glue
brush
stencil
texture paste (or acrylic paint)
a gift card/palette knife
pen or pencil for jorunaling and outlining