Paul Rubens New Acrylic Paint Set 2022 – A Review With Pros & Cons
Paul Rubens acrylic paint set is a new set launched in 2022 and the company kindly asked me to review it.
I'll share about the colors, what they look like when painting a face, why they're good for art journaling, and all the pros and cons.
Paul Rubens acrylic paint set – basic info
This set contains 24 different colors ranging from the brightest to the darkest colors. The colors are named according to the universal pigments used so you can compare them to other brands with the same pigments.
They come in small tubes of 20ml.
Here's the list of colors in this set:
Titanium white
Lemon yellow
Yellow mid
Yellow deep
Yellow ochre
Orange yellow
Vermilion
Scarlet
Crimson red
Magenta
Green light
Sap green
Viridian
Phthalocyanine green
Cerulean blue
Cobalt blue
Phthalo blue
Ultramarine blue
Deep purple
Burnt sienna
Burnt amber
Raw umber
Payne's grey
Lamp black
These pigments and names shouldn't worry you. If they sound too fancy, it doesn't mean you need to know all these things to use the paints.
Although the basic color theory is useful, when you paint, enjoy the process and experiment with colors rather than remember all the names and pigments. Who's got time for that, right?
Paul Rubens acrylic paint swatches
It's always a good idea to make swatches of the paints you have. That's a nice reference when you want to paint something and it's fun to make.
I swatched them in my art journal on a thicker paper with some texture, similar to watercolor paper. And I used a flat acrylic brush.
Also, I painted over the part of the name of the color written in black so you can see how much of the text shows through the paint.
So, in the video below, you'll see me swatch these acrylic paints to reveal what they actually look like on paper and how they behave.
Disclaimer: Some links in this post may be affiliate links. This means that if you purchase something through that link, I get a small commission, at no extra cost to you.
Paul Rubens acrylic paint for painting whimsical faces
Since I paint whimsical faces a lot, I tried these acrylic paints for that purpose.
I used the yellow and red range to create darker areas for the shadows and lighter colors for the rest of the face.
It's the same art journal I used for swatching, with thick, textured paper.
In the video below, watch what the process looked like.
The pros of Paul Rubens acrylic paint
Here's what I really like about these paints:
There's no binder separation which means the paint comes right out of the tube without any excess water or binder. Some acrylic paints in tubes first throw up some transparent liquid and then the paint. That can mess things up and it's annoying. But these tubes have no problem with that.
They come in a great range of colors so you don't have to mix a lot. You've got options for yellow, red, blue, green, brown, and purple range and that gives you a great array of colors to choose from.
They're creamy and vibrant, especially the yellow and the reds.
They dry really quickly which is great if you just want to start a project and finish it soon. for art journaling, this is a blessing.
They're water-based so very easy to clean.
They have no smell
The colors are semi-transparent so you can build layers nicely if you want most of them to be visible. here's an example with circles in my art journal:
The cons of Paul Rubens acrylic paint
The tubes are small, so they wouldn't be enough for a bigger project. I tried using them on a canvas and soon realized I'd use all the paint for one project. And I didn't want that, I wanted to enjoy them for a longer time. That's why they're perfect for art journaling.
Some of the colors, when dry, show clear brush strokes. This can be ok, not a big deal, but sometimes I want my work to be completely matte, and these brush strokes aren't pretty. The lighter the color, the more visible the strokes, except for the yellows, they're already too bright. This is why I wouldn't add water to these paints, at least not too much.
Two colors look the same: Viridian and Phthalocyanine green. They're supposed to be different, but on paper, they're the same. So, you get two tubes of one color, if you look on the positive side. However, if I could choose two tubes of the same color, I'd choose white because you can use it for making other colors lighter, and for that, you'll need more white.
Are these acrylic paints good for beginners?
Definitely. They won't give you trouble with getting them out of the tubes and also, and they are creamy and easy to apply. They don't seem to be student-grade paint and the price seems pretty affordable.
They will last if you stick to smaller projects in your art journal.
You can check it on Amazon here. I don't know if they're already available for purchase, since they just came out (Fall, 2022).
HOW DO THEY WORK ON GESSO?
I tried them on a canvas primed with gesso (Liquitex Basics Acrylic Gesso) and I didn't get nice results. It was so hard to move the paint around (I don't like adding water) and the brush strokes were so visible that I ended up painting over it again and creating something new.
It was like the paint got gummy-like. Maybe that's because of the gesso and all the texture from the canvas (it was also a cheap canvas, by the way).
bottom line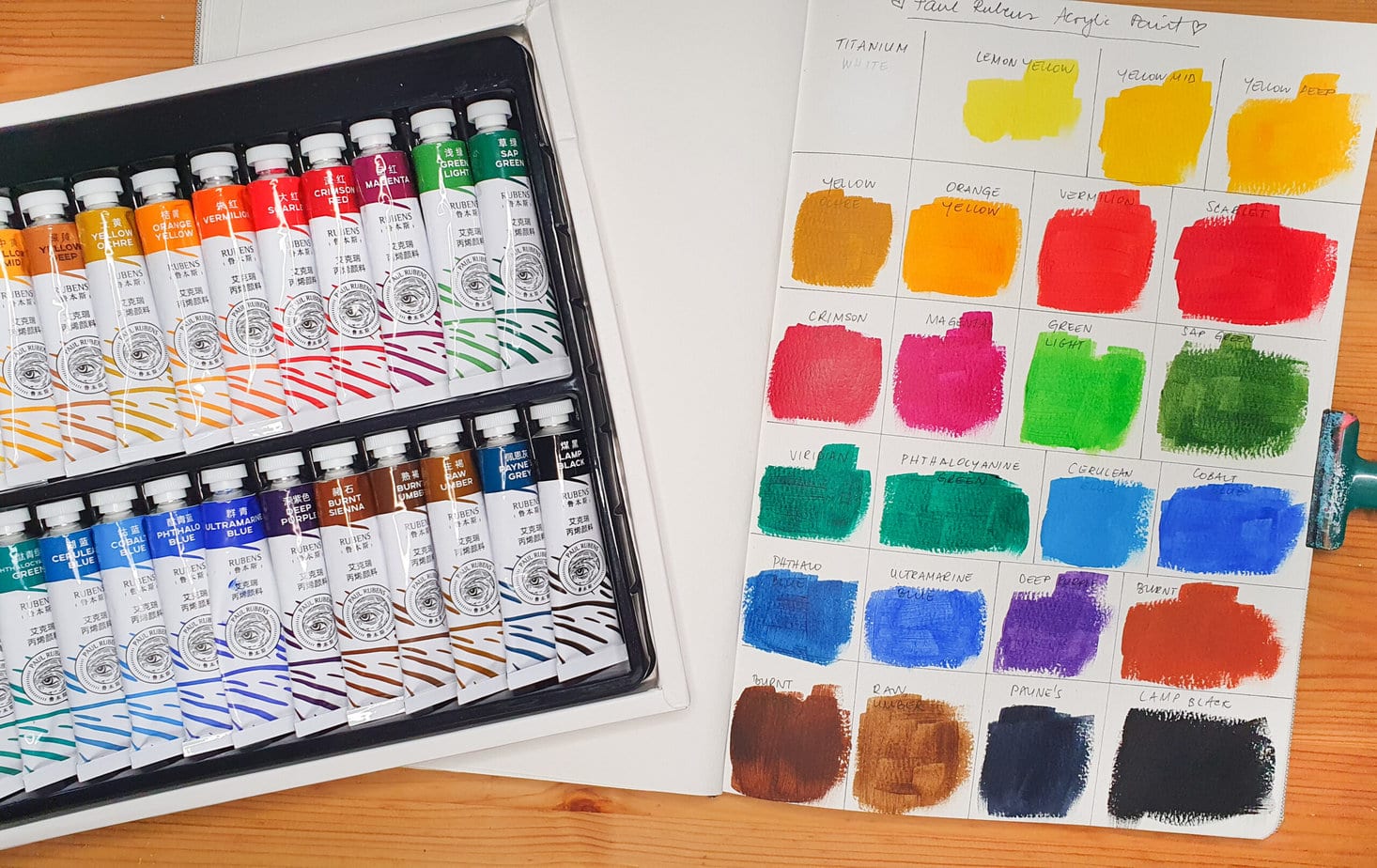 I've never used professional acrylic paint, only student-grade ones and they've worked great for me. These Paul Rubens acrylics are advertised as artist-grade and I must say they do feel different than my cheap ones.
The fact that they come easily out of the tube is amazing. I've had so much trouble with other paints where squeezing was an annoying chore. These paints won't do that.
All in all, they're a good set, especially for art journaling. I tried them on a canvas primed with gesso, and I didn't get nice results.
You get 24 colors, which is amazing
Keep the package box because it contains the names of the colors. Or, write them down in your art journal, and make a swatch with names.
These paints are easy to layer due to their semi-transparent characteristics
They dry fast which is good for fast art journal projects
If you usually do large paintings, you might use them a lot and still need more
Perfect for art journaling