Paul Rubens Oil Pastels Review 2023 – Why You'll Like Them
I was recently asked by Paul Rubens to review their new Haiya oil pastels (2023). They sent me their biggest set of 72 colors and I've been playing with them a bit.
So, I'm sharing my review including some basic features, color choices, and blending opportunities (oil pastels should blend well and give remarkable, dreamy results, let's see if Paul Rubens is up for that).
Paul Rubens brand is usually more affordable than others, and they claim they have high-quality pigments and pastels.
Since they're so affordable, I wanted to check out how they perform and if they're worth even this affordable price.
I've also made a video using these oil pastels so you can check that out, too, if you're not a reading type. Watch it below.
Disclaimer: Some links in this post may be affiliate links. This means that if you purchase something through that link, I get a small commission, at no extra cost to you.
Key features of Paul Rubens new oil pastels
Paul Rubens oil pastels come in different sets: 48, 50, 60, 72. I got the biggest set of 72 and I must say this is a great range of colors. They look like delicious popsicles.
I love the range of reds, blues, greens, and neutral and muted colors. These are such versatile choices that it even makes it hard to decide which to use.
However, these many colors give you the opportunity to try out each color and play.
The set I'm using is the new Haiya set. The Haiya oil pastels are Paul Rubens's second-generation oil pastels, with a new body shape design, more soft and creamy, smoother to use, and with less oil.
Ok, what does this mean?
The shape of the pastels is easy to use in your hands with the bullet shape, and that's really cool. Also, their smoothness…omg…I was surprised at how creamy and soft they are.
I can imagine making such dreamy and vibrant paintings and art journal pages with these pastels.
Pros of Paul Rubens new oil pastels
Here are some good things about these oil pastels that I really love.
Rich and vibrant colors
Yes! The colors are just splendid. When I first opened the box I was excited like a kid in a candy store. I almost didn't want to use them so I don't spoil this visual perfection.
As I already said, they come in 72 different colors. And that's just amazing. You get to play with so much variety that could take hours.
Once I put those colors on paper, they didn't disappoint.
The colors are so rich and vibrant that I could imagine what wonderful things I could paint with them, including whimsical faces. I yet get to try that.
Some of the colors, however, are less opaque than others. But that doesn't hurt their beauty on paper.
Smooth and creamy texture
Ok, this is their best feature.
I've never worked with anything so creamy. And creamy is good when it comes to oil pastels.
From their first contact with the paper, they smoothly leave a thick layer of paint that's so delicious. You'll love that if you're into blending.
Blending capabilities
Verdict: perfect blending.
I've used many soft media like Gelatos and Marabu Art Crayons which are really smooth. But Paul Rubens oil pastels have a kind of thicker smoothness if that makes sense.
It takes solid pressure to leave a thick amount of pastel on the paper whereas with Gelatos and Marabu crayons, they leave a thin layer.
The common knowledge is that pastels don't blend on textured paper as they do on smooth paper.
However, I've tried Paul Rubens pastels on both types of paper: smooth and watercolor paper.
And they worked well on both.
I used my fingers to smooth them out and blend them and they work wonderfully. Even on textured watercolor paper.
I could easily blend them with my fingers and they still looked beautiful, creamy, and smooth.
Blending them on textured paper left texture marks and it looks kind of painterly. I liked that effect.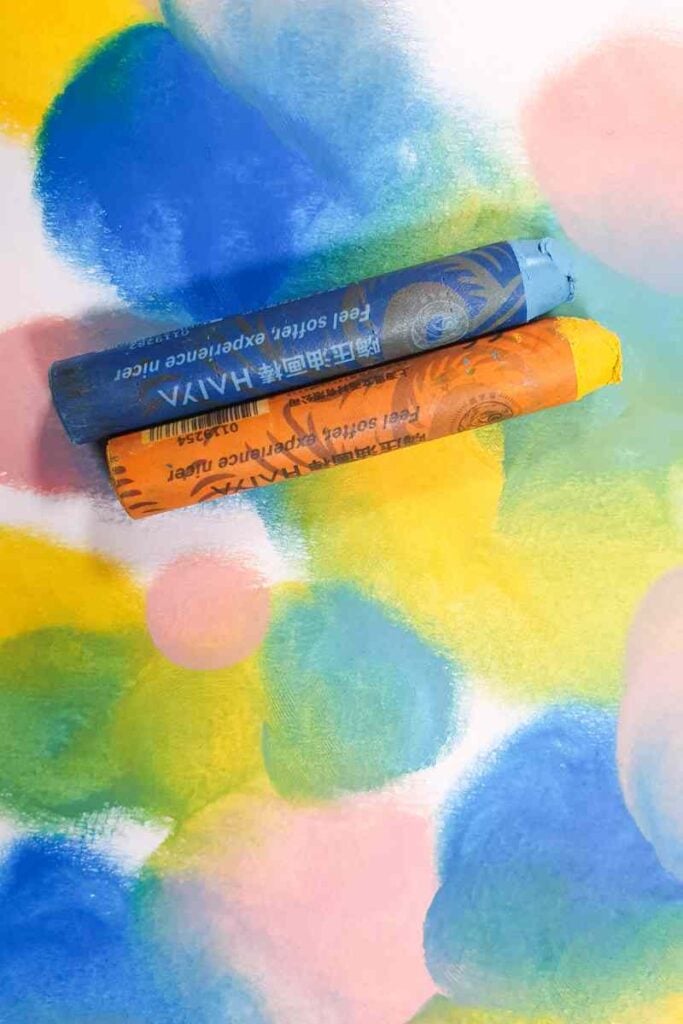 Extra details
And one tiny detail that I love and hate at the same time. All the sticks have the name of the color and its number on the paper sleeve. This part I love.
However, this is so hard to read, not enough contrast in the print and the sticks get dirty with paint easily (due to their softness).
Another tiny detail that impressed me is that the box contains a swatch sheet so you can easily swatch them right away and then use this sheet as a reference when painting.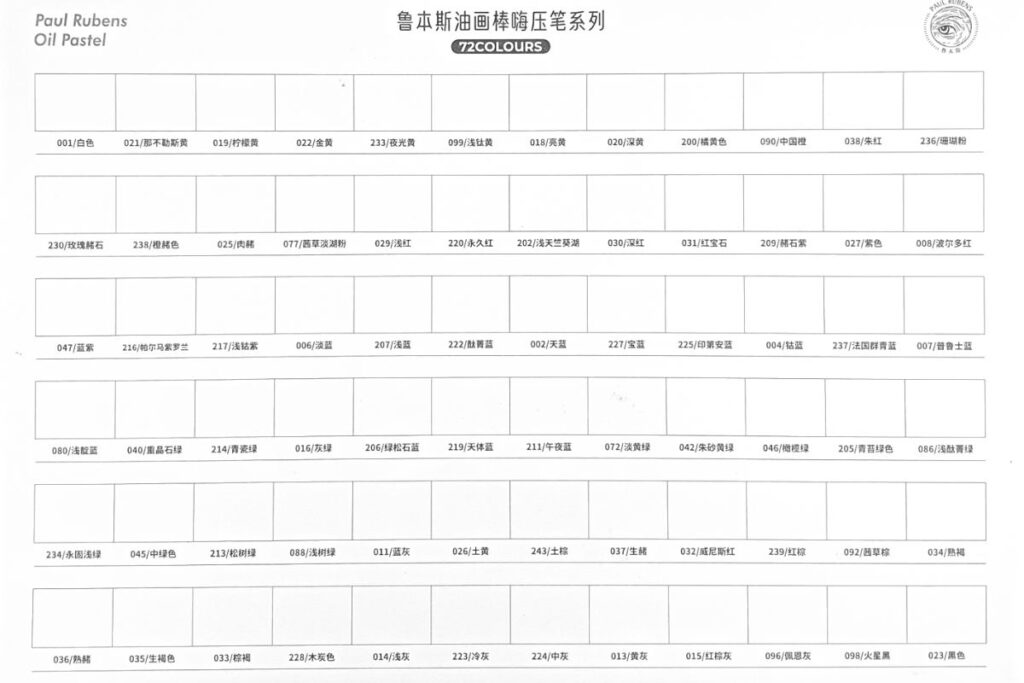 Cons of Paul Rubens Haiya oil pastels
There are a few cons but that's not something that'll stop me from using them.
For example, they come in a plastic container neatly arranged but taking them out of the box is really hard. This is because they're extra soft and you could easily damage them with your nails or their top would slightly break while you try to take them out.

It's extremely hot where I live right now and that might be the cause.

However, my solution to this is to take them all out and put them in another container for easier grasp. This isn't a perfect solution because their softness could cause rubbing one color onto another. You just need to be a bit careful.

Or, just be careful when you take them out of their original box. No biggie.
Another con that I've noticed is that some sticks have oil residue on the paper sleeve. I don't know why this is so, maybe the heat again. I'm no expert.

However, this didn't affect the performance of those sticks. It's just a bit of oil on your fingers that you can easily clean.
Finally, another possible con is that some sticks in the set aren't as opaque and can leave streaky marks, especially with lighter colors.

But this didn't bother me at all. There are so many colors to choose from and you can blend them with your fingers and you'll lose the streaky marks.

However, if you try to blend them on top of each other, after adding a few layers, the top layer will scrape off the bottom one. But mind you, I really pushed the limits here and pressed hard with the stick.
Comparison with other oil pastel brands
Honestly, I've only used something similar to them like Gelatos and Marabu Art Crayons.
Marabu crayons are also extra smooth and soft, but Paul Rubens pastels are a bit creamier and make thicker layers of paint and I looove that!
I usually painted my whimsical faces with Marabu art crayons or Gelatos, but now I'm going o play with Paul Rubens set because it promises beautiful, creamy results. And whimsy faces are all about that.
Price and value for money
But what I want to point out is the price and affordability.
I've seen many professional oil pastels online and their price can go up to $200. This is crazy for hobby artists and art journalists. I can't afford to spend that much on professional oil pastels.
For example, a very popular brand Sennelier has a set of 72 oil pastels at a cost of more than $100.
Another popular brand is Holbein, having a set of 25 for around $100.
However, Paul Rubens oil pastels, the set of 72, come at a price of around $50. You can even get them for less if you choose a smaller set.
And the relation between the price and quality is great.
I know that professional oil pastels, as with any other paint and medium, are expensive.
But if you're a beginner, and just want to play and learn, you don't need to spend so much on professional paints. This has been my philosophy since the beginning of my blog.
You can make wonderful art with more affordable supplies. And that's what these Paul R. oil pastels offer.
Paul Rubens oil pastels review – Final verdict
Yes, you'll love them because they're super creamy and blendable.
Yes, they're affordable.
They're a great start for beginners due to their cost and ease of use.
These oil pastels look wonderful on paper, they blend well and you can easily do that with only your fingers.
Plus, they blend well on smooth and texture paper (like watercolor paper).
Finally, they're affordable and won't break the bank like the professional, expensive ones.
I hope you found this info useful so you can make an informed decision based on this article and your personal needs and preferences.
I know I'll give up watercolors and acrylic paint for a while and use these oil pastels for my whimsical faces. I'm so excited to do that. When I do, I'll definitely update this article with the new info.
Here are some links where you can check out these oil pastel sets and find out more about the company and their products.