30 Art Journal Prompts For Inspiration When You Feel Uncreative
Art journal prompts are an amazing way to kick that creative block in the butt! Whatever we do, we face these moments of total and irritating periods of a blank mind.
I know that when you have the need to create something, you can't accept the fact that you are stuck. It makes you angry and you want to change the situation.
Well, I believe that this creative block is healthy and that our brain needs some time off, once in a while. So, I let it go. But not for too long. Just for a while.
I know it's not as easy as a push of a button. But, having some art journal prompts to inspire you is a great way to start doing something.
Disclaimer: Some links in this post may be affiliate links. This means that if you purchase something through that link, I get a small commission, at no extra cost to you.
ART JOURNAL PROMPTS FOR INSPIRATION
I've prepared these art journal prompts to help you get started in your art journal. They've helped me many times and they can kick-start your creative process.
Some of the prompts are just about a technique, but some of them can help you on a deeper mindful level.
These mindful prompts include thinking about yourself, what you're grateful for, about things that make you happy.
Above all, mindful art journal prompts are here to help you become more self-aware while you create art.
Self-awareness is something you need to nurture in order to love and respect yourself more.
Art journaling can help you with that, and you'd be surprised at how powerful the art journaling process can be.
So, here goes the list. Enjoy creating!
THE LIST OF ART JOURNAL PROMPTS
1. What's your favorite word?
Is there a word that has a special meaning for you? Or maybe you just like how it sounds? Write it down and make art around it.
Experiment with fonts, and the size of the letters, or draw some doodles around.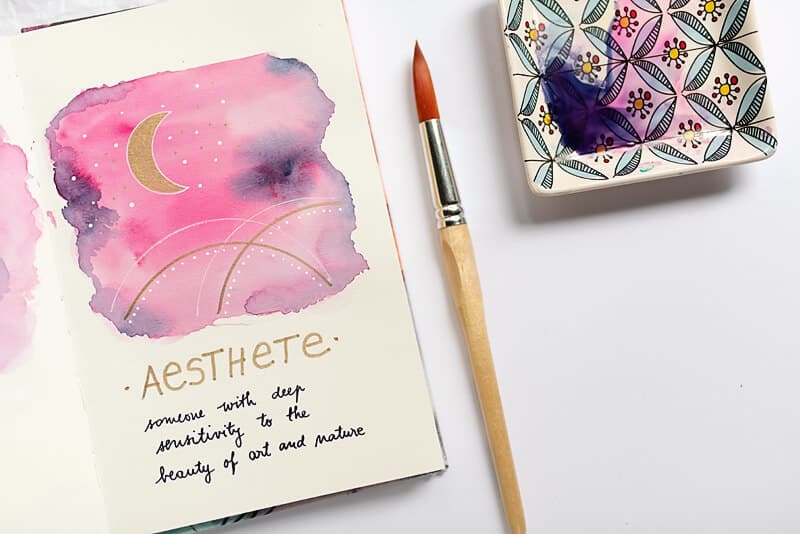 2. What's your favorite song/lyrics?
I'm sure there are lyrics that move you or have deep meaning that you relate to. Color your page with acrylic and write down the lyrics with a black pen.
Next, doodle around it, or jot down how you feel about these lyrics or why they trigger your emotions.
Why not make a lyrics art journal to record all the inspirational songs you like?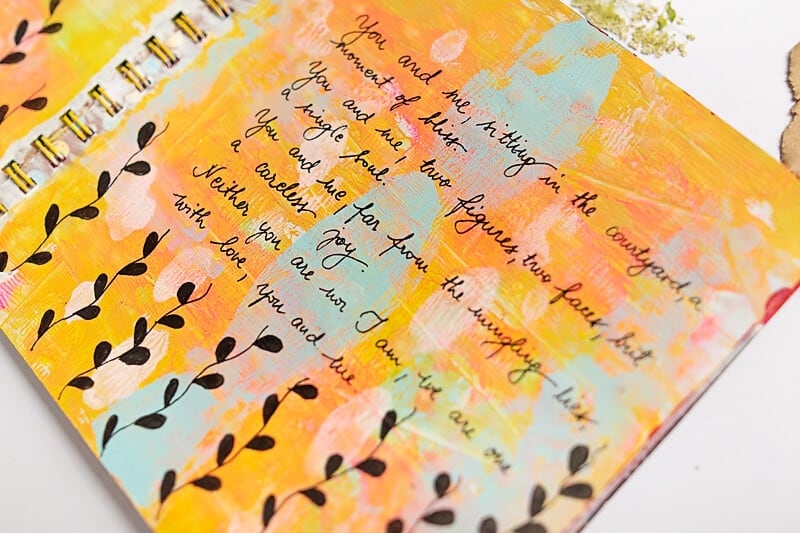 3. Think about your bucket list.
Is there anything in this world you'd like to do that would feel like you were on cloud nine? Sure there is!
Maybe it's something you want to do, but perhaps it's a place you have always wanted to visit.
Now, make an art journal page just for that one big craving of yours. You can use your words to describe what you want.
Also, you could use photos of a place you want to go to. Collect them and make a collage with them. Imagine you're already there. How do you feel? Write that down, too.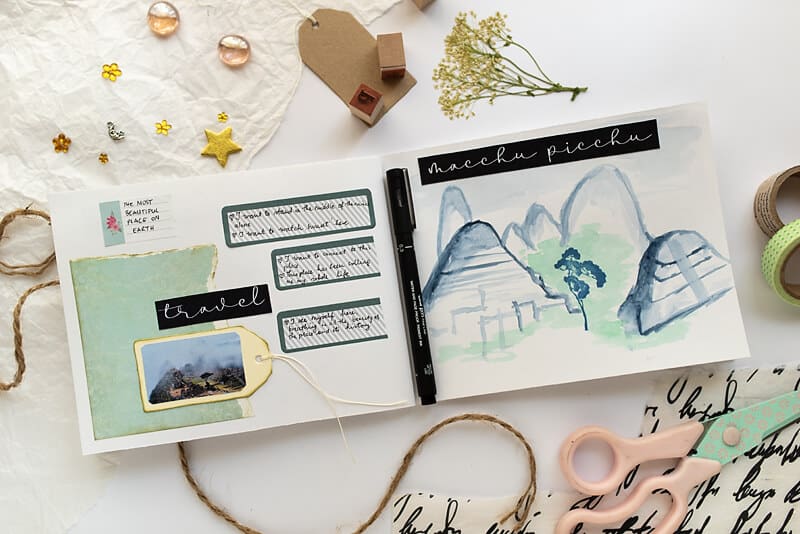 4. Use geometry.
You can't go wrong with geometrical shapes. Try triangles or circles.
Also, you can use your rulers to really nail it.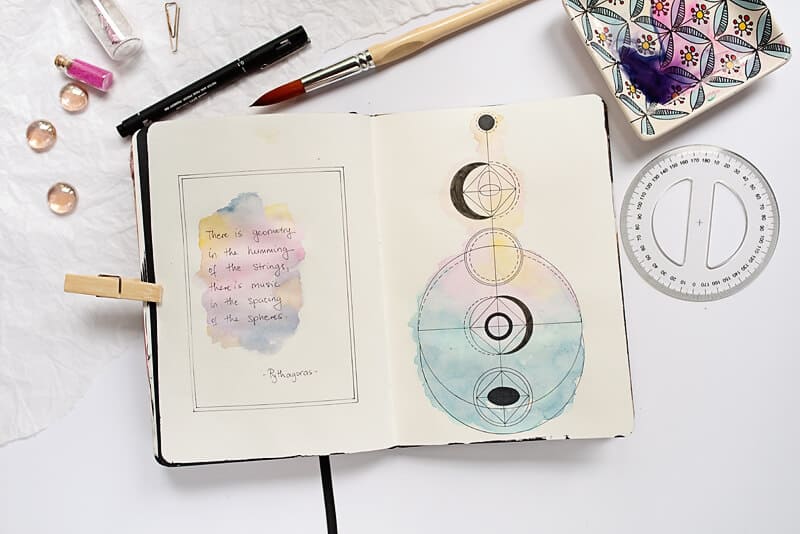 5. Draw a mandala.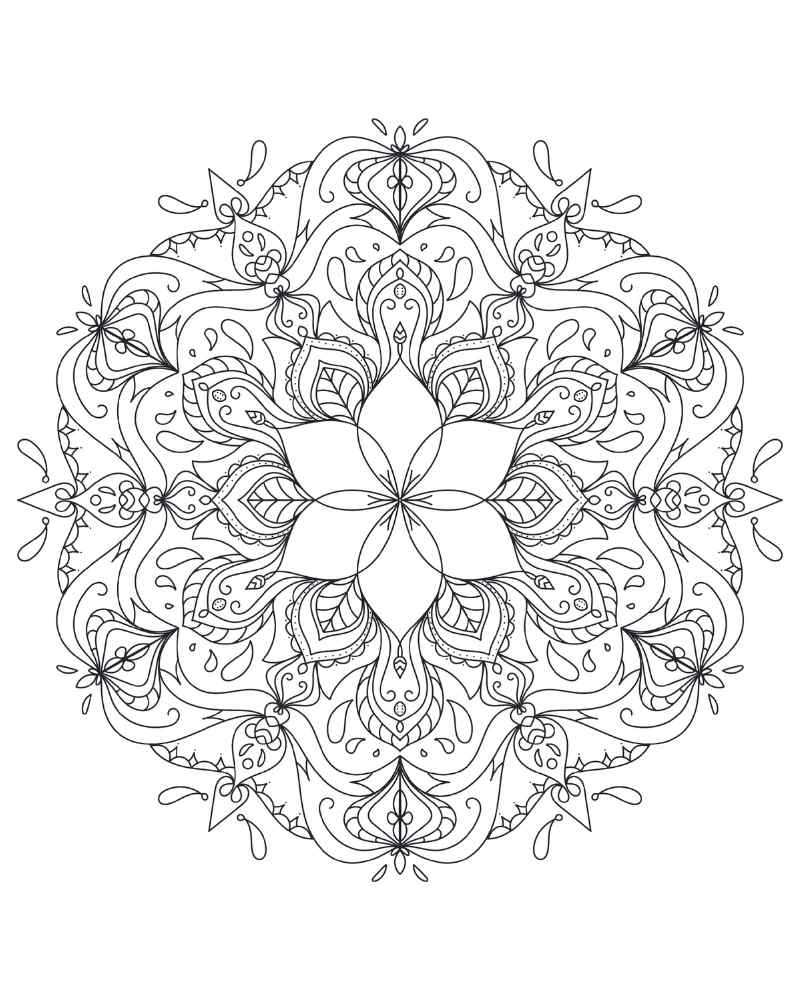 A mandala is basically a symmetrical circle-shaped doodling.
When you draw a mandala, you concentrate on small details and symmetry so you get completely engaged in the process.
It's great for relaxing and calming your mind from all the noise we get from the world.
6. Do you have a favorite flower?
Sure you do. Find out how to draw it. And then practice until you like it.
Again, don't seek perfection. But if you do some drawing exercises, your hand muscles will remember the process and you'll be able to draw it anytime you want.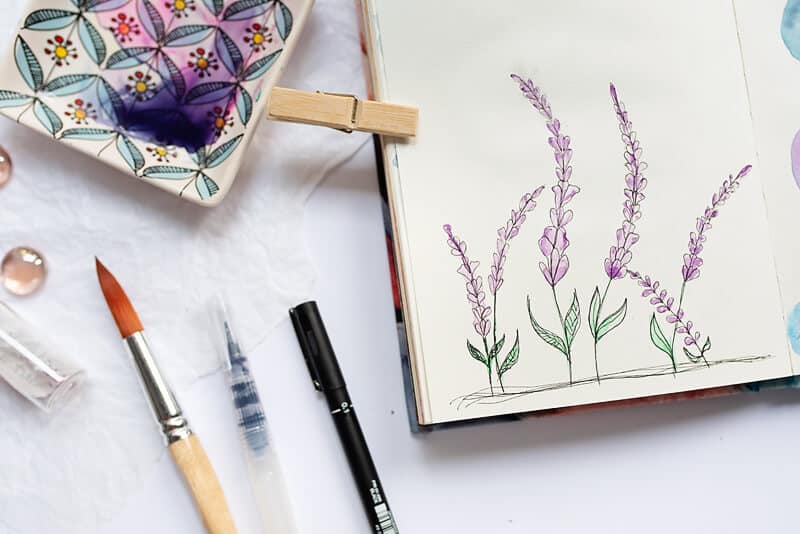 7. Doodle faces.
Faces are my favorite thing in art journaling. You can make this any way you want.
Drawing faces can be as simple as drawing a few lines, or more complex if you use shading and the right proportions.
So, there are no rules, just experiment and see where it takes you.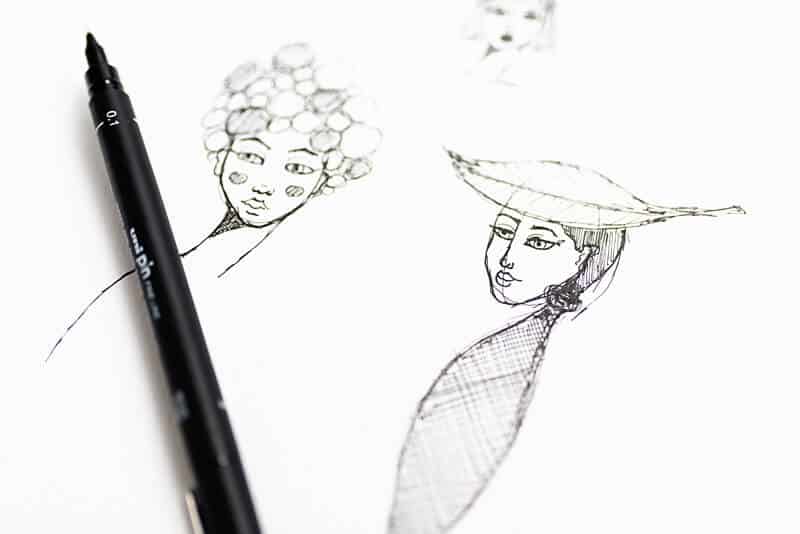 8. Do you have a favorite quote?
Quotes can be inspiring and they can move us deeply.
Choose one that's special for you and make art with it. Play with fonts, and doodle around it.
Also, you can make a watercolor background and write your quote on it.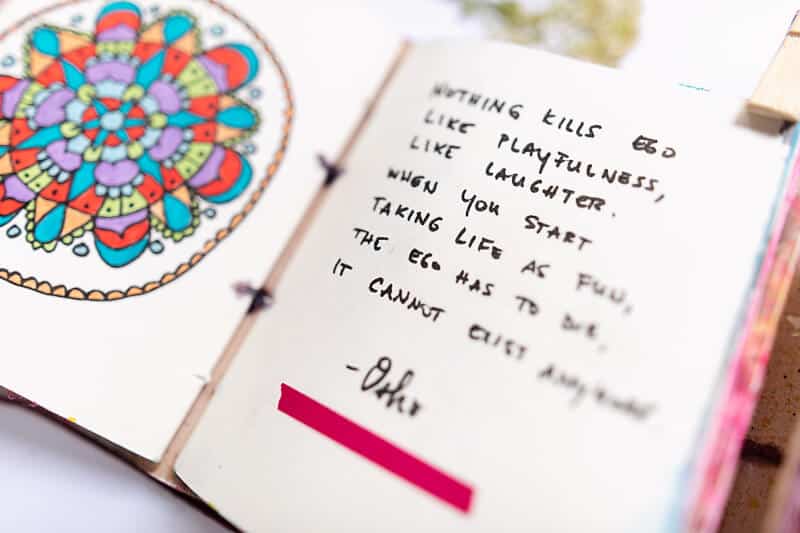 9. Use positive affirmations.
They're a great way to make an art journal page and practice self-awareness.
Positive affirmations are sentences that utilize a positive statement focusing on one area in your life, or a specific situation.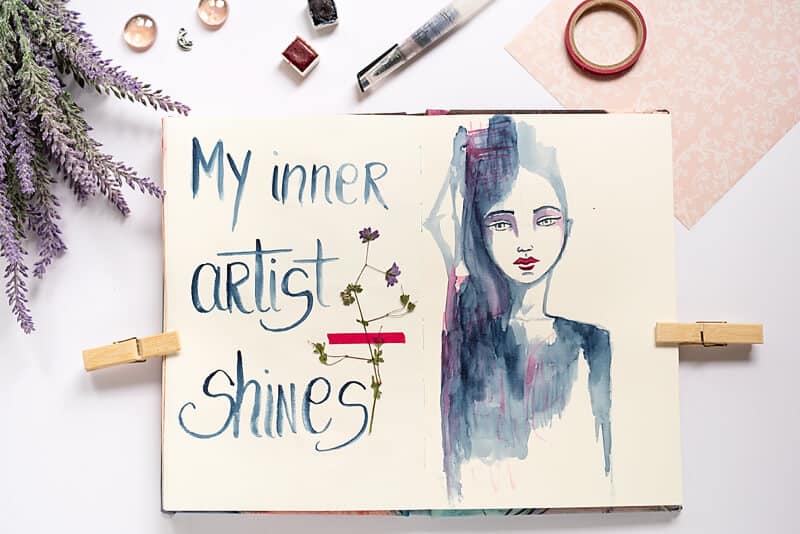 10. Use a photo that you love.
Make a nice watercolor or acrylic background, glue your dearest photo, and write something about it.
11. What are you thankful for?
Write down your greatest blessings in life. Or even better, make a whole art journal dedicated to gratitude.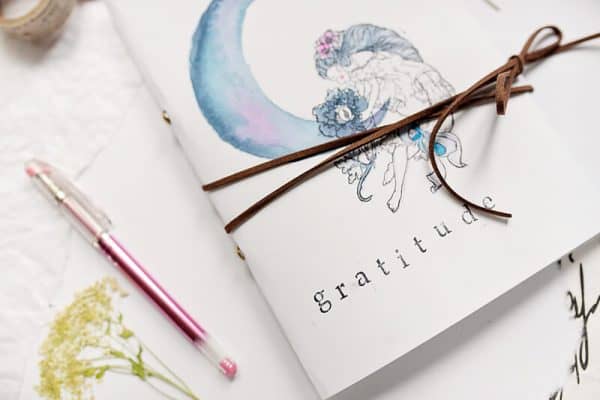 12. Make swatches.
Oh, this is a great prompt. Use your watercolors, acrylics, pens, colored pencils, or markers.
Try them out on different kinds of paper. Write down the type and color you use, so you have it for future reference.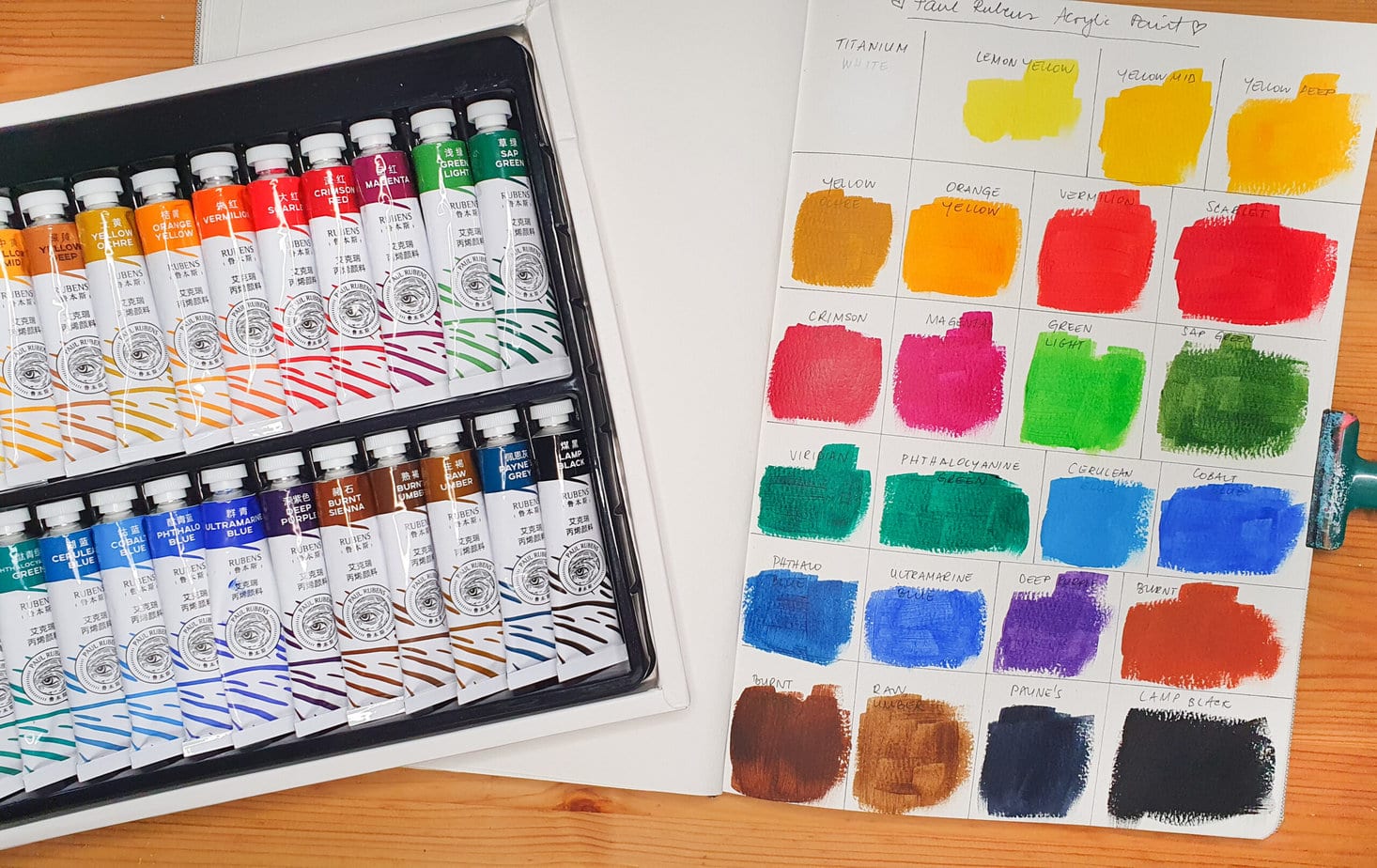 13. Make swatches by mixing colors.
Mix different watercolor or acrylic colors to see what you'll get. And write down all the info so you have it later.
14. Use magazine photos.
Pick some photos from a magazine and make a collage.
You can draw on the photos, especially of human faces and bodies. Also, use a magazine photo of a body and just draw a head for it. Mix and match and have fun.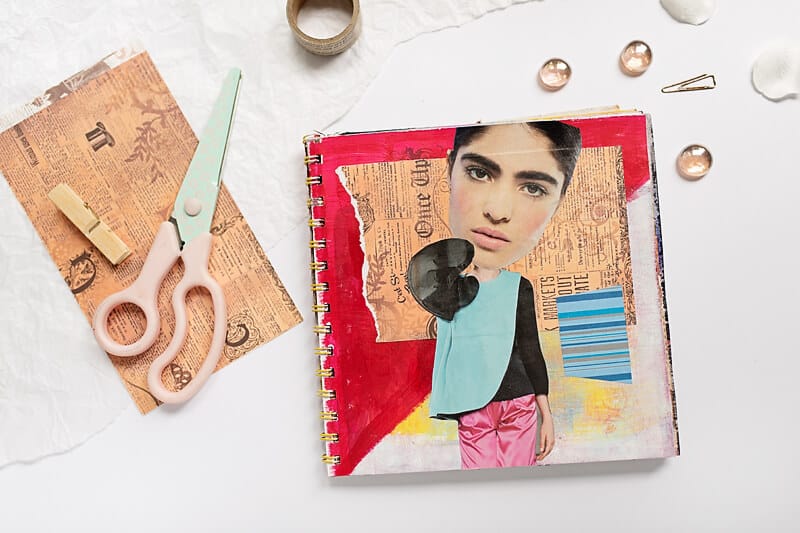 And I must tell you about a collage artist I really admire. Her name is Amanda and her art is mesmerizing, and the amount of effort and patience she invests in her collages is inspirational. Check her work on Instagram, I promise you'll be inspired.
15. Use paper scraps to make a collage.
We all have paper scraps around. It doesn't have to be scrapbook paper.
Collect anything like tickets, receipts, tags, and similar.
Next, make a collage with them. Also, you can paint over them so you can have a textured background. The possibilities are endless!
16. Practice calligraphy.
There are a lot of YouTube videos on faux calligraphy that you can practice with just an ordinary pen.
The more you practice, the more your hand muscles remember how to do this, and you won't get enough of it.
17. Doodle on black paper with a white pen or marker.
This is a whole new story! It changes the whole perspective of drawing and doodling. You must try it.
For me, this combo is magical. I usually use Posca Paint Pens for this purpose.
18. How do you feel today?
Write about how you feel and then paint or doodle around it. Glue a picture, or draw shapes.
As long as you are mindful of how you feel, it's a time well spent.
19. Finger painting.
Is this childish? Oh, yes! Let it be, that's the whole point. Dip your fingers in acrylic paint and make marks on the paper.
Also, experiment with the amount of paint and pressure. I'm sure you're gonna love this.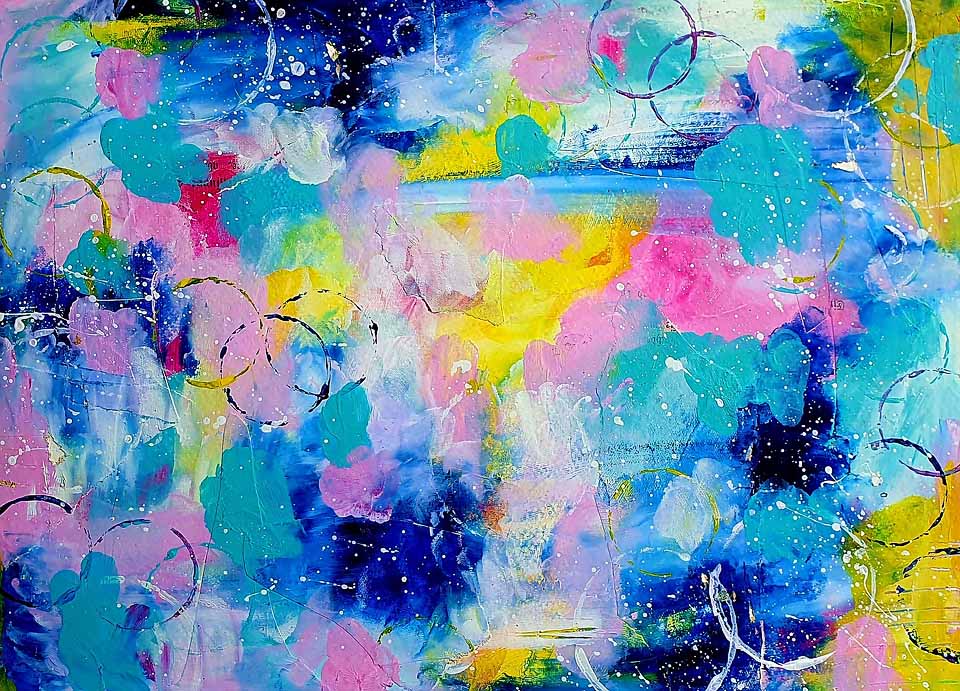 20. What would you do if money was no concern?
Wow! This is a great question because it makes you think about your deepest desires.
Without money in the way, what's that thing that makes your heart sing? Let your imagination flow and make art.
21. Constellations.
Find out what your constellation looks like. Then use it on your art journal page.
You can paint the page black and add the constellation with a white pen or marker.
Also, try painting a watercolor circle and then add the constellation. This looks magical.
You can also make a great gift out of this, for a friend who's crazy about stars.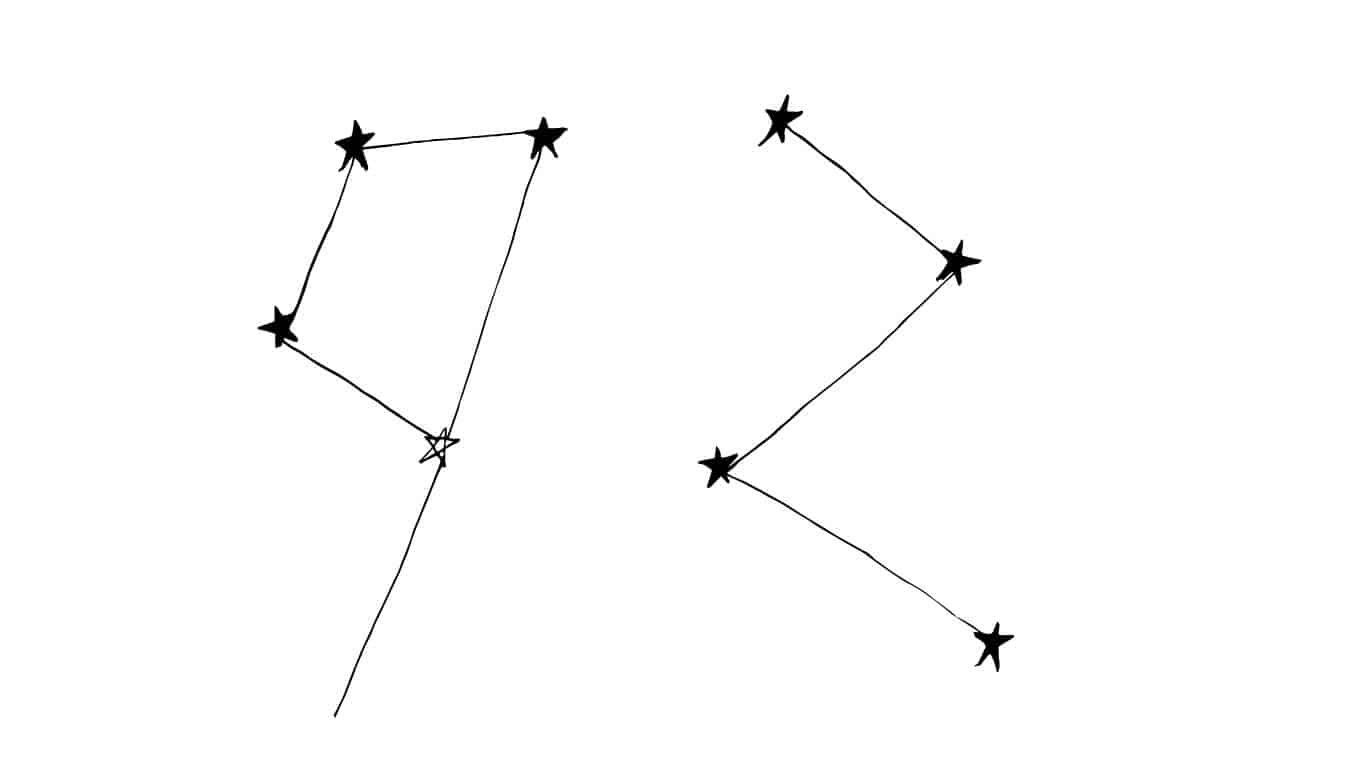 22. The advice you'd give to your younger self.
It makes you think, right? It doesn't have to be deep, anything will do.
If you're feeling really inspired, write a whole letter to your younger self.
23. A Greek goddess.
People love stories, we connect with them and understand them. The Greeks were aware of that. They created wonderful gods and goddesses and stories around them.
So, choose a goddess you find interesting or fascinating.
Find a picture of her if you like, glue it down, and write anything you find inspiring about the goddess.
24. What's the weather like today?
Is it rainy or sunny? Maybe it's freezing cold or the temperatures are scorching?
Are you in any way affected by the weather? I know I get more grateful during the beautiful spring days and tend to be more nostalgic if it's raining.
Use the weather to reflect on how you feel and create art in your art journal.
25. What's the season?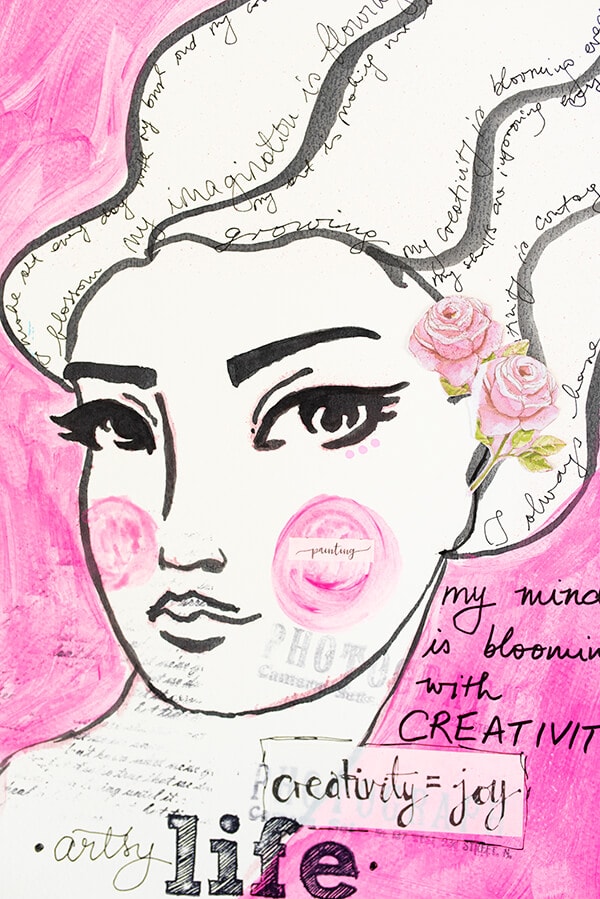 Is it spring or winter? Make some art related to the season at the moment.
What can you see outside? What colors are there around you?
Draw and paint what inspires you in this season.
26. The Universe.
The universe is an endless inspiration for ideas. Why not use it? Try drawing the Moon and the stars, or paint a galaxy with acrylic paint.
27. Watercolor circles.
Paint circles with watercolor. Also, try mixing the colors to get a nice color overflow or shading.
Next, you can write your favorite words in the circles.
28. Your favorite poem.
What's that one poem that you think is the most inspiring or beyond this world because it's so beautiful and moving?
Make a nice background with watercolor, and write down the poem.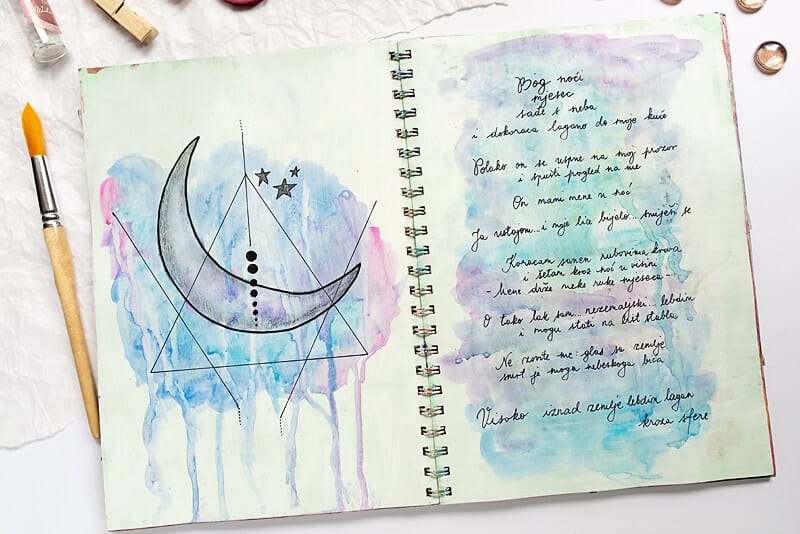 29. Your favorite prayer or mantra.
These are the words that you use to talk to the universe, pray, or say gratitude.
They are personal and strong. So, write them down and make special art with them.
Words are powerful and by being aware of what words you choose and using them mindfully, you achieve wonders.
30. A song from your childhood.
I remember listening to a local band when I was about 7 years old. Their lyrics and music were pretty gloomy and perhaps sad.
By listening to these songs now, I realize how I felt when I was 7. Above all, I understand myself better today by becoming aware of what I felt like a 7-year-old.
Try making an art journal page with this kind of song and you'll see how much it will reveal.
NEVER WORRY ABOUT HOW TO START AGAIN WITH THESE MONTHLY ART JOURNAL PROMPTS
You'll get a pdf with a list of prompts for the whole year so that you can create anytime, without figuring out where to start.