Spring Art Journal Prompts to Inspire Meaningful Art
I'm happy to share spring art journal prompts with you, so you can make amazing pages.
"It is spring again. The earth is like a child that knows poems by heart."

― Rainer Maria Rilke
Let's use spring and all its freshness and make art that's meaningful and inspiring.
Disclaimer: Some links in this post may be affiliate links. This means that if you purchase something through that link, I get a small commission, at no extra cost to you.
Art journal prompts for spring
I must tell you that these spring art journal prompts aren't just words to follow. I tried most of these prompts and I share step by step process with you. This way, you can see how a page develops from the beginning to the end.
It didn't take me a lot of time to make these and I enjoyed every bit of it.
Also, I'll list all the supplies I used for these prompts, so they can inspire you more.
Many of the supplies I used can be replaced with something else. Just remember that. You don't have to own these exact supplies to go through the prompts.
1. New beginnings
One of the first things that pops into my mind is the concept of new beginnings. Spring is like that.
It brings hope, changes for the better, growth, warmth, colors, smells, and many more inspiring things.
Is there anything you'd like to start over and want the opportunity for that?
Or there's maybe a change you feel is coming, and you want to embrace it fully?
Focus on this and make your art journal page.
If the new beginning or change can have a visual representation, what would it be?
Paint this, draw it or doodle it.
Then, journal about why this is important to you, how will you feel when the change arrives and gives you the wanted transformation?
Write about the transformation in the present tense so it turns into a positive affirmation.
If you're wondering how to do this, here's a blog post about how to make and use positive affirmations in your art journal.
2. A mini vision board for spring
I love making vision boards in my art journals. It's always fun and I learn new things about myself.
But if I had to choose, I'd say that the best part is the imagination and daydreaming. You do just that with making a vision board.
If you're not sure what this is and how to make one, learn about making a vision board in your art journal here.
For this spring art journal prompt, I'd like you to focus on what your immediate goals are. Think about the oncoming spring, and what you want to accomplish, feel, how you want things to be in certain areas of your life.
Then, collect images from magazines or print them. Use images that visually describe all these things you want during the spring.
For example, I have a huge balcony, and during the winter I always imagine how I'll decorate it with flowers, take my comfy chairs out, drink lemonades, read a good book or even make art there.
It's going to be my spring haven.
Another thing I plan for the spring is eating more healthily.
Among other things, I collected images for my visions as well as other art supplies I'll use.
First, I painted the background to make it more interesting. Choose whichever color you want and feel is right. I didn't give this too much thought, I just picked two colors that my hand reached for: yellow and pink. Later, I just toned them down with a bit of white. I used a palette knife for this. Do you like the effect?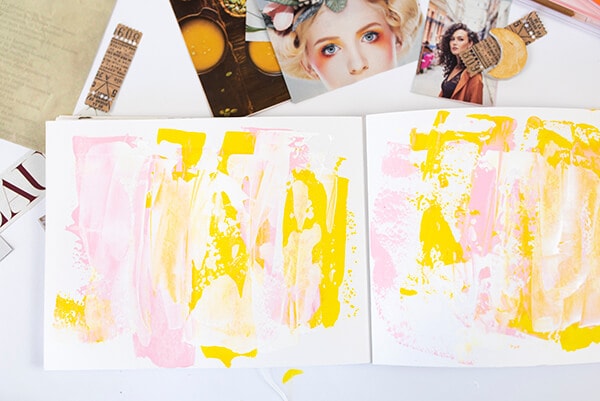 Then I did some stamping with my favorite text stamp and black ink and arranged the images on the page.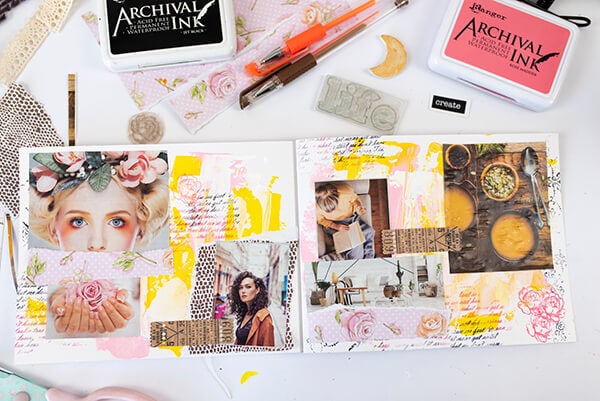 Finally, I glued down the images and some scrap papers, added washi tape, journaling, and spring doodles.
Here's how it looks.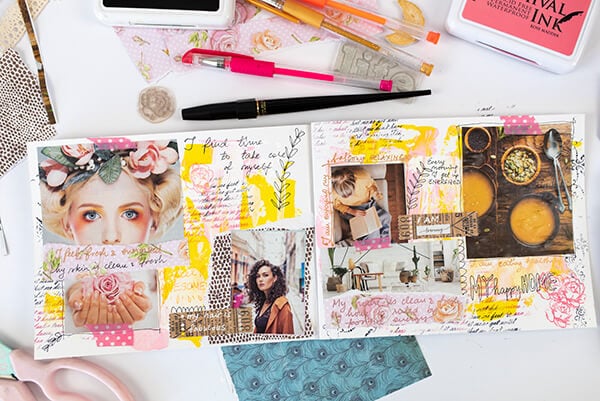 Supplies I used for this prompt:
Waterproof Archival Ink Pad: Black and Pink for stamping
Waterproof Black Fineliner for journaling
White Pen for journaling
DOWNLOAD THE FREE MONTHLY ART JOURNAL PROMPTS
You'll have a whole year of inspirational prompts and won't worry about finding inspiration.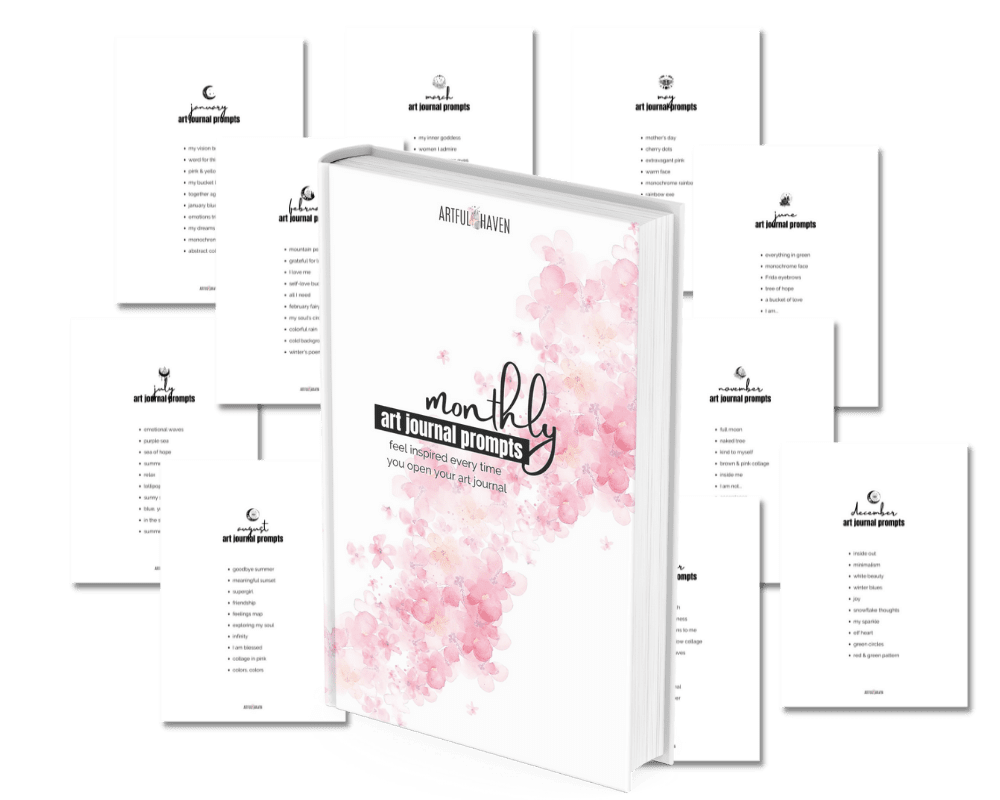 3. Favorite spring word – Bloom
What's your favorite word connected to spring?
One of my favorite is bloom. That's why many of these art journal prompts are related to blooming.
Now, you think about which spring word inspires you. To help you, I've listed some words below.
Bloom
Transformation
Butterfly
Flower
Freshness
Airy
Blissful
Flourishing
Warmth
Change
Growth
Blossom
Beginnings
Light
Breeze
Awakening
Energetic
Rejuvenating
4. A flower crown
How beautiful are flower crowns?
GORGEOUS!
For this spring art journal prompt, I used a magazine image of a woman and painted her a crown of flowers.
These flowers represent the positive things I want in my life this spring.
First, make a background, any way you like.
I used a stencil and spray ink and toned it down with gesso.
Then, I glued down the face image.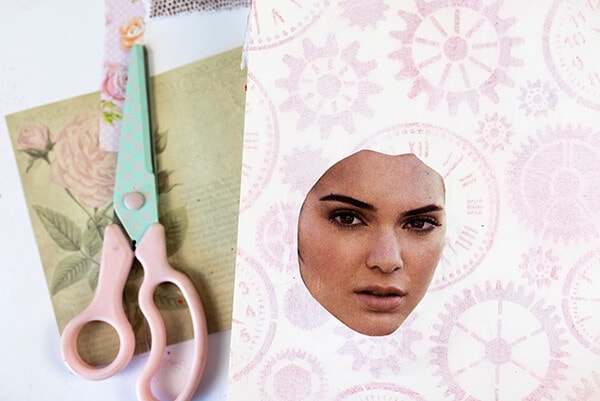 And here comes the fun part. Paint flowers on her head using colors you love at the moment.
Again, I chose pink and yellow. If you have trouble with drawing flowers, I have a simple tutorial for doodling flowers, so check that out.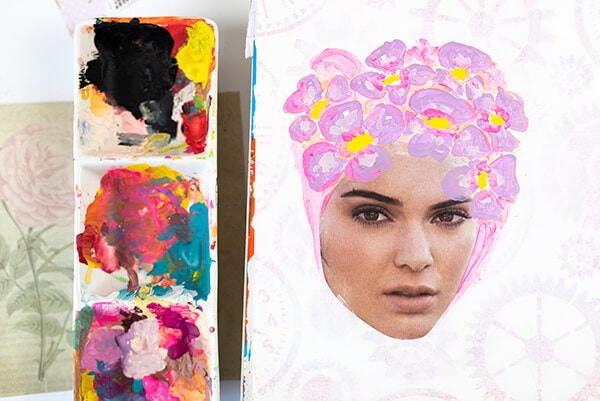 When the paint is dry, take a black pen or marker and doodle the flowers to make them pop more.
Then, do some journaling on the petals. For me, creativity is important and I nurture it every day (at least I try), so I wrote positive affirmations to boost my creativity this spring.
Also, I used my background stamps to add more interest and balance to the page, and finally a bit of watercolor over the stamp image, to add more color.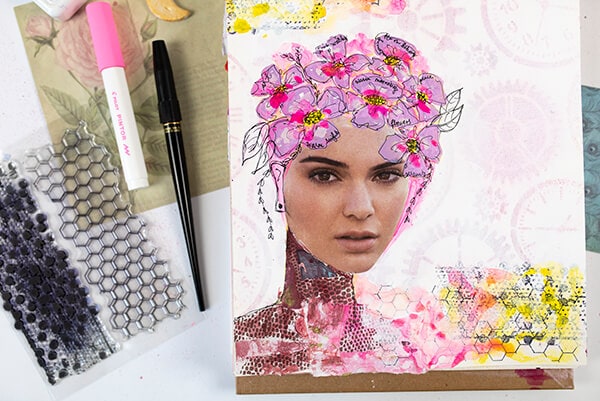 Supplied I used for this prompt:
Distress Spray Stain: Victorian Velvet for the background
Waterproof Fountain Pen for journaling and doodling
Black Waterproof Ink Pad for stamping
Watercolor Bright Set by Jane Davenport
5. Blooming heart
We talked about new beginnings and the change they can bring.
That's why I think it's a great idea to connect these changes and your inner self. In other words, let's paint a picture to visualize your heart blooming with positivity.
First, make a background. I used a palette knife for the background because I love the texture it makes.
When that is dry, I used my stencil to draw a human figure.
You can just draw a heart, or a circle, or any other shape that can represent your heart.
But if you want to try out these stencils, I'd be happy to share. Just fill out the form below and you'll get the printable stencils for free.
Again, I used a palette knife to add paint through the stencil. I mixed two different colors to add dimension to the figure.
Then I drew a heart on the figure with my gold marker.
After that, I used flower stamps to grow from the heart. Also, I added my own flower doodles with a fountain pen.
To give the image more interest, I sprinkled pink, yellow and black paint over the page, but not all over it. I left some spaces blank.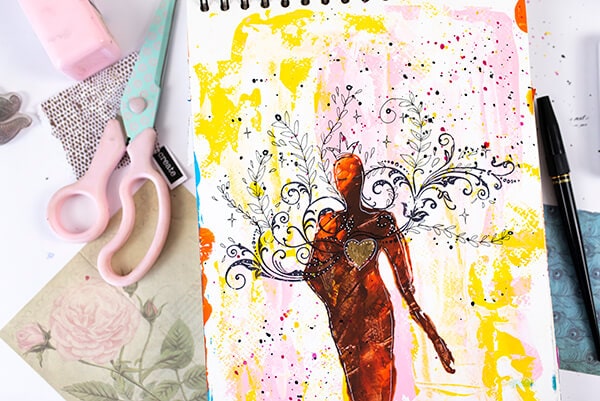 Finally, I added an affirmation: I bloom every day.
You can use your own affirmation, or just a quote you think fits here.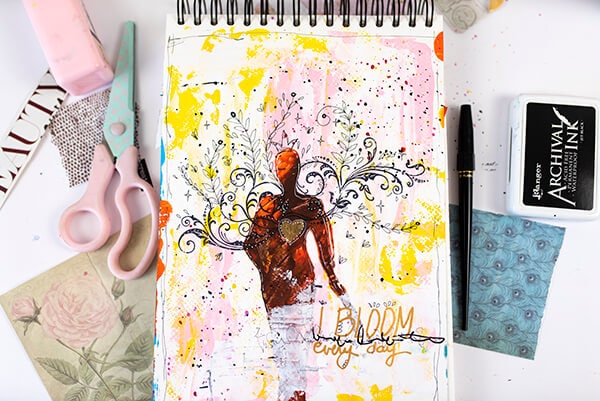 Supplies I used for this prompt:
Black Archival Ink Pad for stamping
Black Waterproof Fountain Pen for journaling and doodling
Faber Castell's Gold Pitt Pen for journaling
6. Mother's Day – A letter to my mum
In May, we celebrate Mother's Day. Why not use this as inspiration for your art journal page?
This can be a sensitive subject to some people, maybe your mum isn't with us anymore, or you don't have a good relationship with her. I get that.
However, I'm sure you have feelings when it comes to your mum, whether they're positive or negative. Whatever you feel, express it on your page.
Write a letter to her and say the things that are heavy on your heart, or the things that make you smile when you think of your mum.
You can doodle on the page, glue photos of the two of you, or anything else that feels inspiring at the moment.
7. Blooming mind
Blooming heart was great. Now, let's do a blooming mind.
The idea behind it is simple: you write about all the things you want for yourself this spring focusing on creativity and positive ideas.
I did this prompt with an image of a girl and her floating hair.
First, I painted a girl face using Jane Davenport's face stencil and Distress Spray Stain.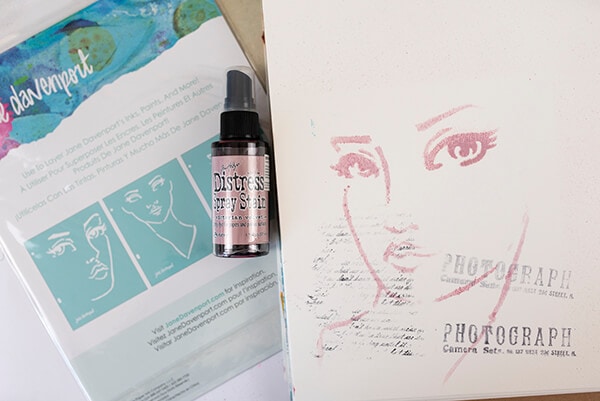 Then I used Marabu Art Spray with a brush, traced the stencil lines and added hair with few basic curvy lines. I imagined these lines for my journaling.
I wanted to keep this one simple, so I just painted the background pink, added her cheeks, and two paper roses I just cut out from a scrapbook paper.
Thinking about the opportunities for this spring, I journaled on her hair with positive affirmations.
To finish, I added a few Jane Davenport stickers and some more journaling.
You can always do the same things with a magazine image or draw your own whimsical face. It doesn't have to be perfect, the idea behind it is more important. And I promise you this process is meaningful and fun.
Supplies I used for this prompt:
Marabu Acrylic Spray: Black for the face and hair
Distress Spray Stain: Victorian Velvet for the background
Black Fountain Pen for journaling
Black Faber Castell Pitt Pen for journaling
8. Mother Earth
I often think about our planet and how we keep on destroying it. It breaks my heart. I'm sure you understand.
That's why you can make a page for Mother Earth.
Being thankful for everything the planet provides is important and we should all cherish that.
I began my page by stamping some trees at the bottom. Then, I used my human figure mask and drew this shape above the trees. It's like the shape is rising from the trees. For me, the shape represents Mother Earth.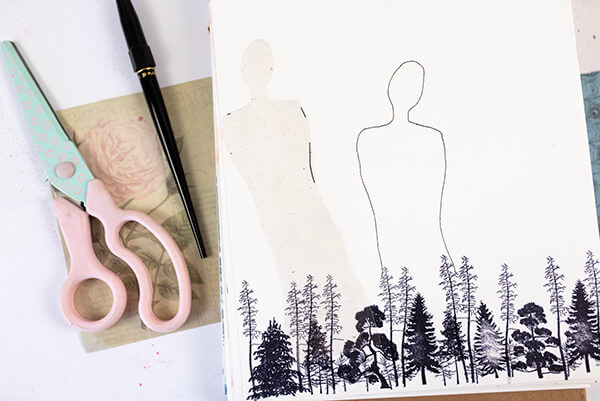 Then I used sprays: inks and acrylics. Leaving the mask in place will leave the shape white while I spray all over the page. I used 3 colors: green at the bottom, a bit of pink, and purple on top. This represents the ground (green) and the universe (purple) that are united here.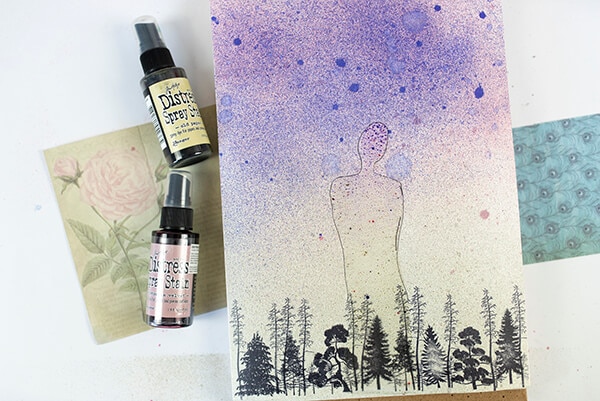 And when I lift the mask I get this: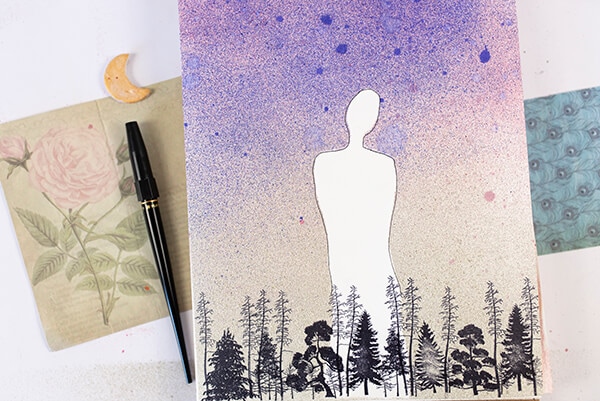 Finally, I took my DIY moon stencil and dabbed some white and glitter blue paint above the human figure. I added journaling in the figure and splashed the page with black and white ink.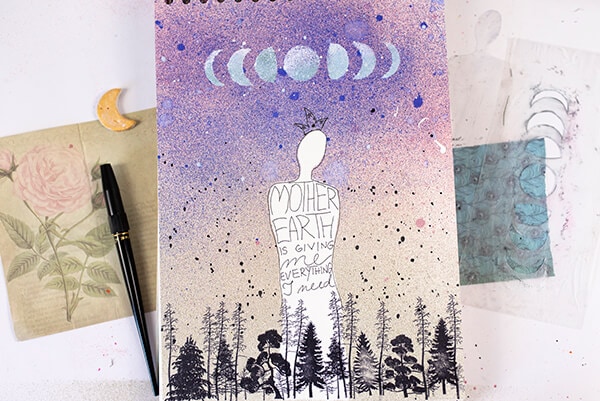 If you don't have sprays, you can just paint with your brush or a kitchen sponge. You can always draw trees, or just tree shapes without many details. Let your imagination flow.
What's important to you about our planet Earth?
Supplies I used for this prompt:
Black Waterproof Ink Pad for stamping
Black Fountain Pen for journaling and doodling
Distress Spray Stain: Green and Pink for the background
Black Marabu Acrylic Spray for adding splashes of paint
DIY stencils: Human Figures and the Moon Phases
You can get these printable stencils for free, and use them however you like. Just fill out the form below and start creating. Once you sign up, you'll get instant access to my free resource library filled with printables for your art journal.
9. Human tree
You can draw or paint a tree with visible roots and branches.
The roots represent your connection to the Earth and the ground, while the branches represent your connection to all the things around you in this universe.
The bottom line is that we're all one, right?
Also, journaling on the branches can be interesting and cute.
Think about positive things and draw them deeply rooted in your symbolical tree.
10. Garden of joy
This one is all about the flowers.
Make a whole page with flowers you love, or imaginary flowers. Draw them, paint them or doodle them.
Use petals for journaling or just leave them as they are.
Another idea is to go outside and take photos of flowers that you want to draw or paint later. Reference photos can be an amazing way to draw things.
The magic of spring and art journal prompts
Spring offers so much inspiration and it's all around us. You can use it to create meaningful and mindful art and get into the moment of creating.
You can celebrate things around you, make art hoping for better things in the near future, and believe in new beginnings.
Everything around you now can be an inspiration: flowers, the sky, smells, colors, kids' laughter in the parks, pink blossoms all around, the list is endless.
Check out this article on why spring is the most delightful season, I'm sure you'll agree.
I hope you'll go out and get inspired by all this freshness, blooming, and positive energy.
GET YOUR FREE MONTHLY ART JOURNAL PROMPTS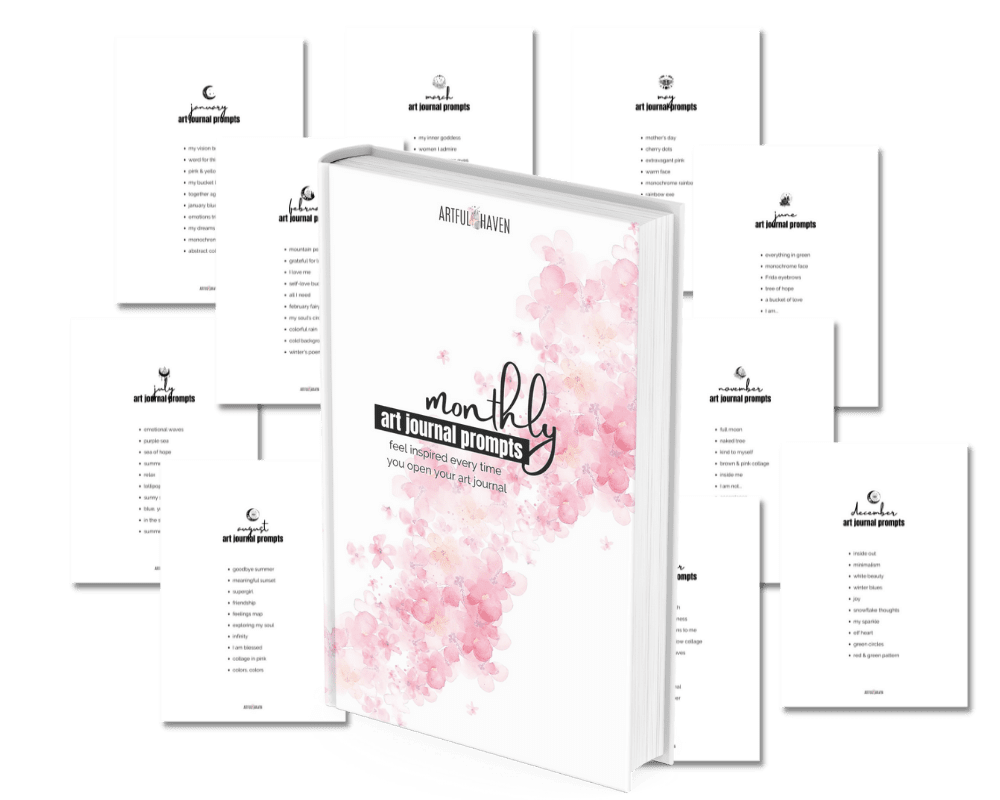 RELATED ARTICLES ABOUT ART JOURNAL PROMPTS
30 Art Journal Prompts for Inspiration When You Feel Uncreative
Gratitude Journal Prompts: Art Journaling With Mindfulness
How to Make a Vision Board Art Journal in 7 Steps