Beginner's Guide: How to Draw Flowers Step-by-Step with Pictures
Do you want to finally know how to draw flowers and need a step-by-step guide with pictures?
This article goes over the steps for drawing flowers in general plus the instructions for drawing various flowers such as a simple rose, tulip, daisy, dandelion, etc.
Disclaimer: Some links in this post may be affiliate links. This means that if you purchase something through that link, I get a small commission, at no extra cost to you.
Supplies you'll need for drawing flowers
Art journal/Paper/Notebook
I remember how I started drawing. In ancient times, when we had home phones and you could only use them in one place in the house, I would sit there and talk to my friends. It was awesome.
And I was doodling all the time. I would listen to my bestie talking about the guy she liked, and I drew all kinds of simple things on a scrap piece of paper.
Now, I have my art journals and I use them for this purpose.
But, any kind of paper or notebook will serve you well here.
Pencil
Sometimes I draw some things with a pencil first, so I feel more confident.
Later, I trace the lines with a pen.
You can use a pencil for shading your flowers, which is awesome.
Black waterproof pen with fine tips
I love black pens because black is neutral but also bold enough to stand out. It creates a wonderful contrast on white paper.
Why waterproof?
Because waterproof pens don't usually smudge. This is great for drawing because you move your hand a lot on the paper and don't want to smear the ink.
Also, if you want to paint your flower doodles later, the pen will not smudge when you add paint. For me, this is priceless.
Another thing to consider is the fine tip of the pen. In my experience, fine-tip pens are excellent for drawing because their lines are thin, and can draw the tiniest details.
I've been using this black fine-liner pen for ages and it's never let me down. It comes in different nib sizes to fit any dawing need. It's also waterproof. I can't recommend it enough.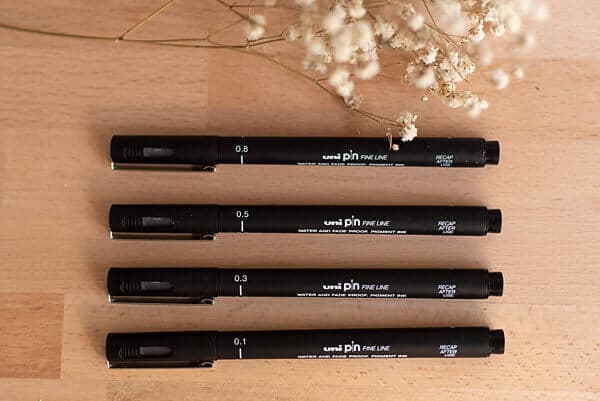 How to draw flowers step-by-step
Here are a few things I'd like you to consider when drawing simple flowers. They're just tiny tips and ideas that can make a huge difference in your drawings.
Think about the pistil
I used to draw the pistil as a plain circle and that was it. Not that there's anything wrong with that, but they needed something more.
Now, I mostly draw pistils as a group of small circles or dots. This way, you add dimension to the flower.
Look at these. Which has more interest?


Another thing about the pistil. It's not a perfect circle. It's always crooked a bit. That's what gives the flower dimension and interest.
So, forget about perfect symmetry or rules here. The less symmetrical, the more interesting it is.

How to draw petals
Aren't these the most beautiful parts of flowers?
And there are so many different ones that your drawings have no limits.
You can draw big round ones or thin long petals, include only a few, or layer a bunch of petals.
In order to add dimension, try drawing petals that overlap each other, rather than stick them next to each other. Layer them by drawing the ones on top, and add the ones below.
This means that some petals will be completely visible while others will only be partially visible. Isn't that how we mostly see flowers?
How to draw the stem
The stem is the easiest to draw. It's just a line or two.
However, one thing I'd like you to have in mind is to use curvy lines.
Curvy lines are more interesting and dimensional than straight lines.
Look at the drawing below. Which one is more interesting?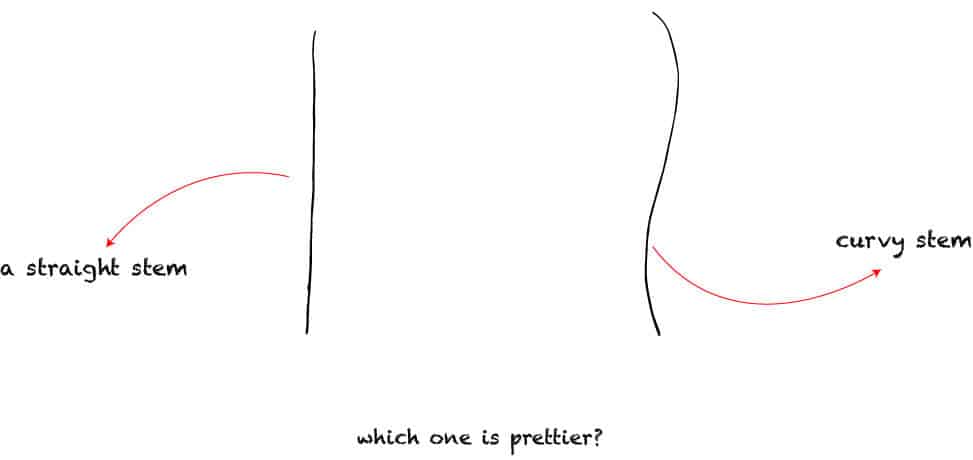 You can draw the stem with one line only, but you could also draw it thicker if you want smaller stems growing from it.
Experiment with leaves
Leaves are also interesting to doodle. You can really be imaginative here.
They can be small or big, you can add lines or dots. No limits!
They can rest on the stem or just be behind the flower petals, hugging them from below or on the sides.
A great way to draw leaves is by drawing floral wreaths. Drawing wreaths gives you limitless possibilities for using leaves and flowers. Just from your imagination. And it's very easy to do. I explain how to draw these later in the post.
Add dimension to your flower drawings
You can add dimension to your flower drawings in different ways.
First of all, as I already mentioned, use curvy lines. Straight, stuck-up lines are not that interesting to the eye.
Imagine some flowers that you love, are they all straight lines? I doubt it.
Next time when you draw flowers have this in mind. Draw curvy petals, stems, and leaves.
Another thing that adds dimension is drawing thin, short lines on the petals and leaves.
When you draw a petal, don't leave it blank. Add some tiny lines here and there to make it more interesting.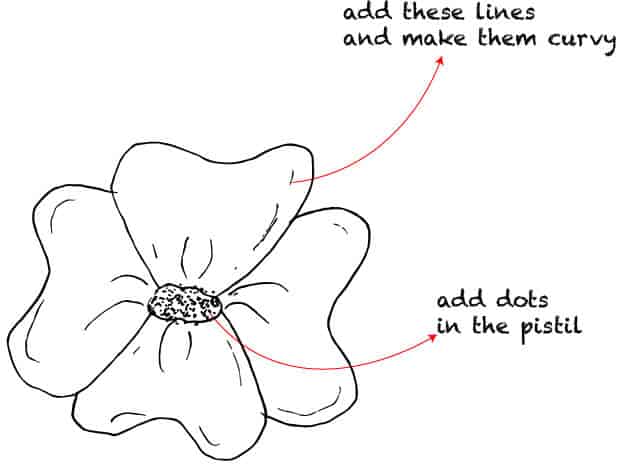 Draw a circle/round shape first
An easy hack when drawing flowers is to first draw a round shape to outline the space for the pistil and the petals. It helps you stay in lines and the flower gets more dimension this way.
Here are some examples: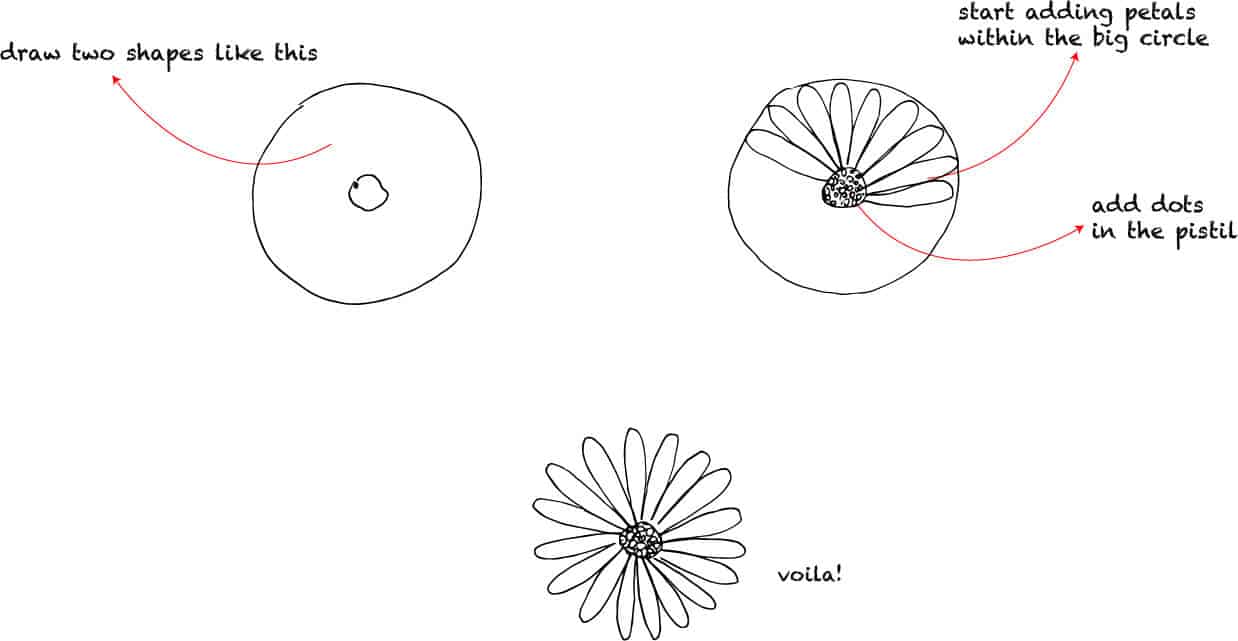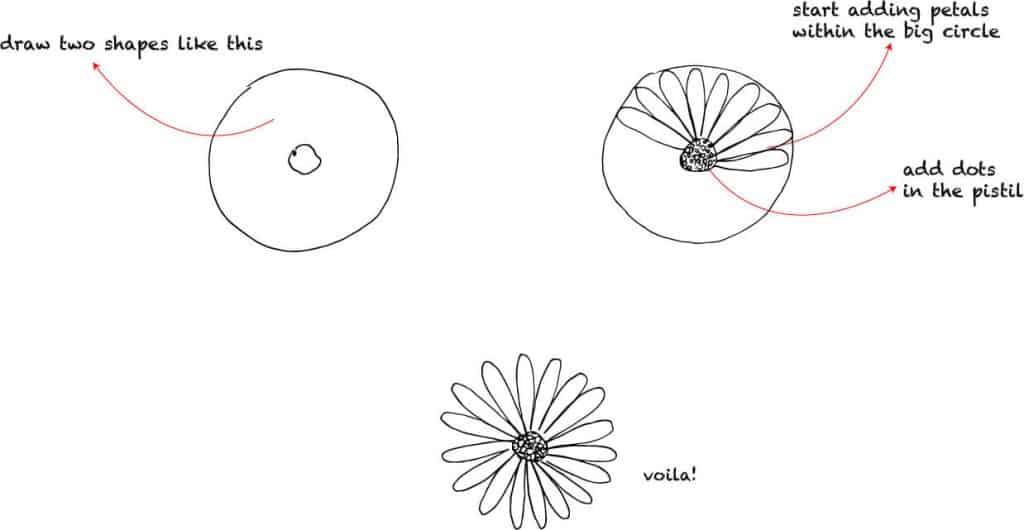 Or what about drawing it this way: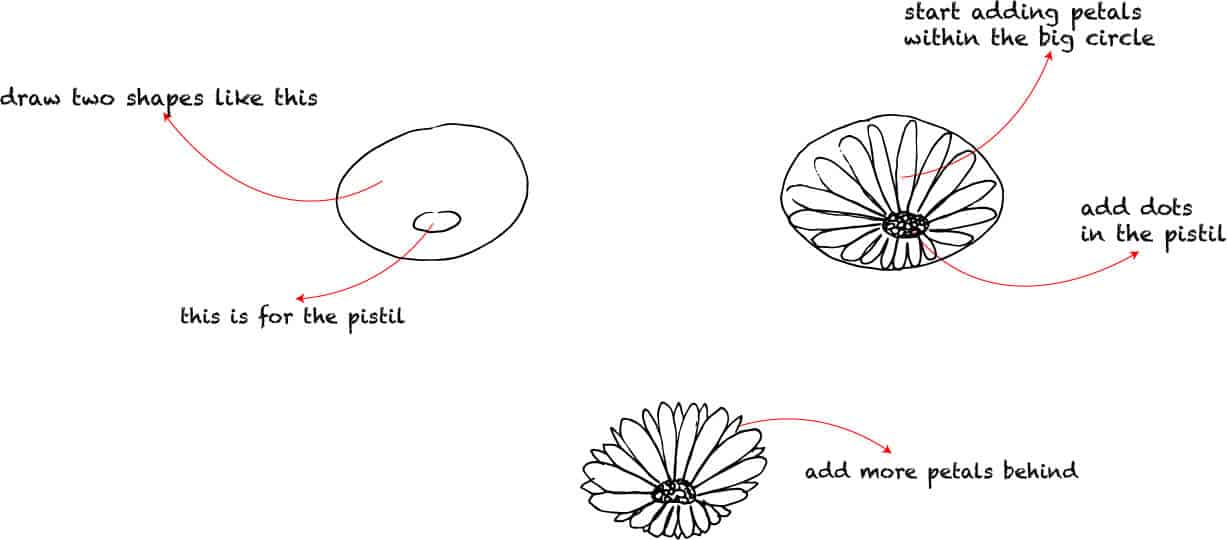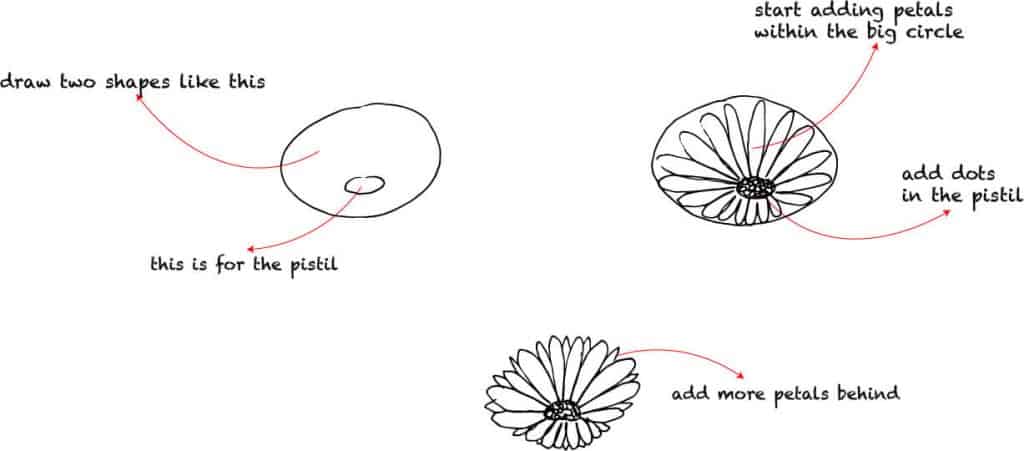 How to draw flowers – step by step
Now that we have covered some basic things, let's dive into drawing those lovely flowers for your art journal.
I'll share how to draw real flowers but also more abstract ones from your imagination. These are my favorite.
How to draw a simple rose
Roses are fantastic for drawing and doodling. And believe me, they're easy to draw.
Step 1. Draw a circle.
Step 2. Start adding lines towards the center. Look at the picture below.
Step 3. Finally, add some leaves for more interest.
How to draw a tulip
Drawing tulips is also just using a few lines.
Step 1. Draw an oval shape.
Step 2. Draw curvy lines on each side of the shape, and meet them at the bottom. This will be the petals.
Step 3. Add the top of the petals on each side and the one in the middle.
Step 4. Finally, add a curvy stem.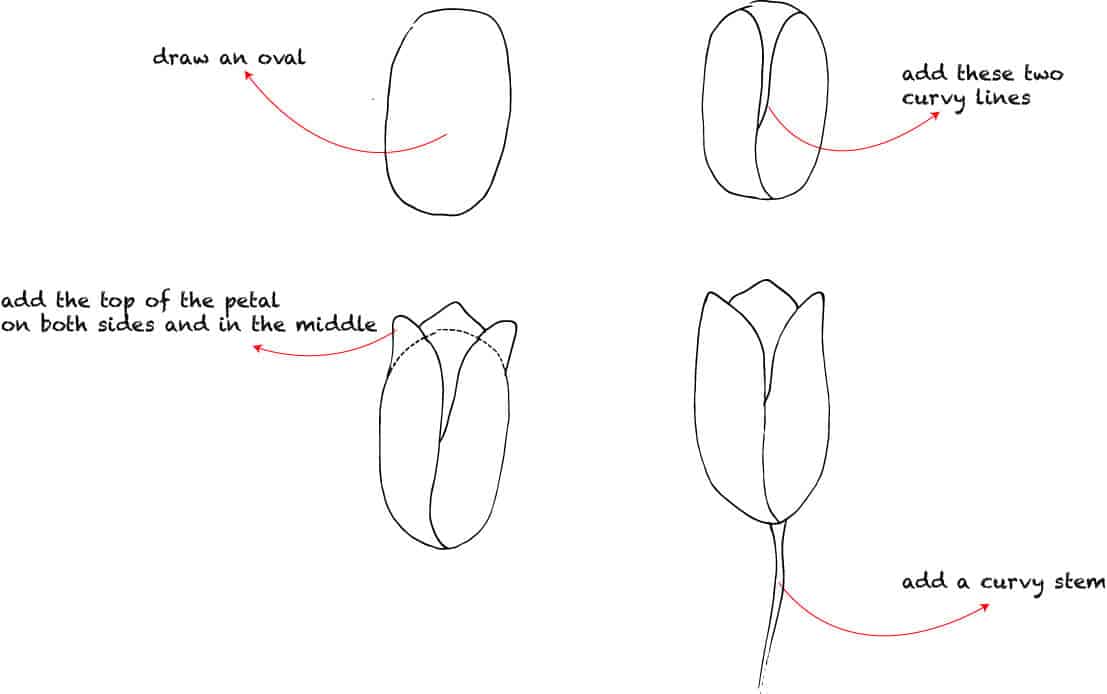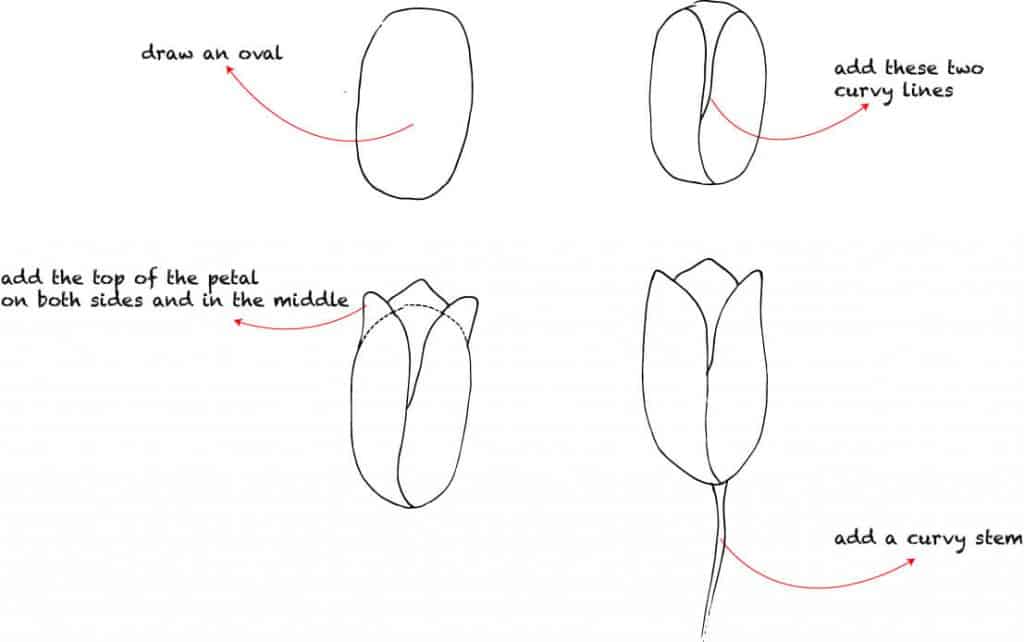 How to draw a daisy
I love daisies. Especially because they're so easy to draw. Also, they look cute in a bouquet.
Step 1. Draw two circles, one for the pistil, and a bigger one for the petals.
Step 2. Draw small circles within the pistil, to give it dimension. Remember how we talked about adding dimension to this?
Step 3. Start adding petals within the bigger circle. Try to hide the last two petals on each side of the daisy, so they look like they're behind. To make it even more dimensional, add more petals on the back as in the drawing below.
Step 4. Finally, draw a curvy stem.
How to draw a lavender
They smell nice and they look lovely, too! Here's how to draw one easily.
Step 1. Draw a curvy stem.
Step 2. Start adding flowers, and try to be loose here. It's just doodling, remember?
Step 3. Add some leaves at the bottom.
How to draw a cactus
I love succulents. There's something cute to them that I can't even explain.
Step 1. Draw a pot. Any kind of pot will work. It can be just a rectangle shape.
Step 2. Draw the cactus shape. Make it a bit thinner at the bottom.
Step 3. Add the cactus "hand", or two, it's up to you.
Step 4. To give it more dimension, add horizontal loose lines and some thorns. A thorn can be a simple letter V.
Step 5. And finally, add a flower on top of the cactus.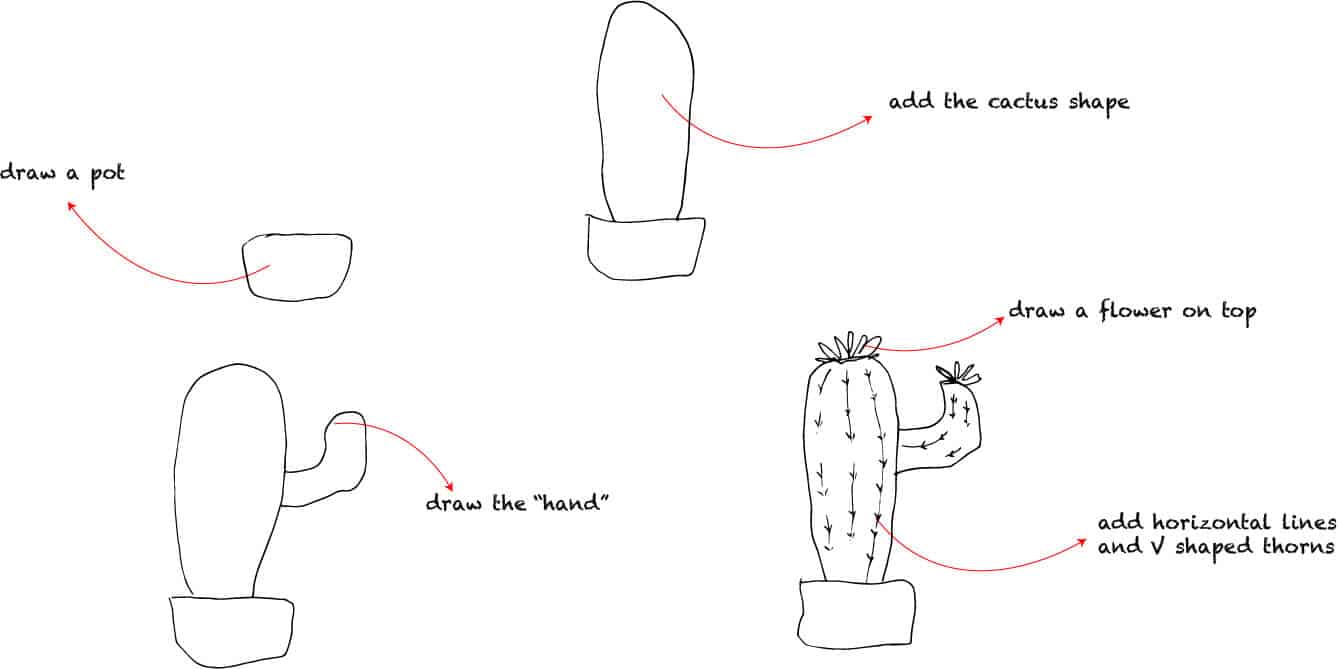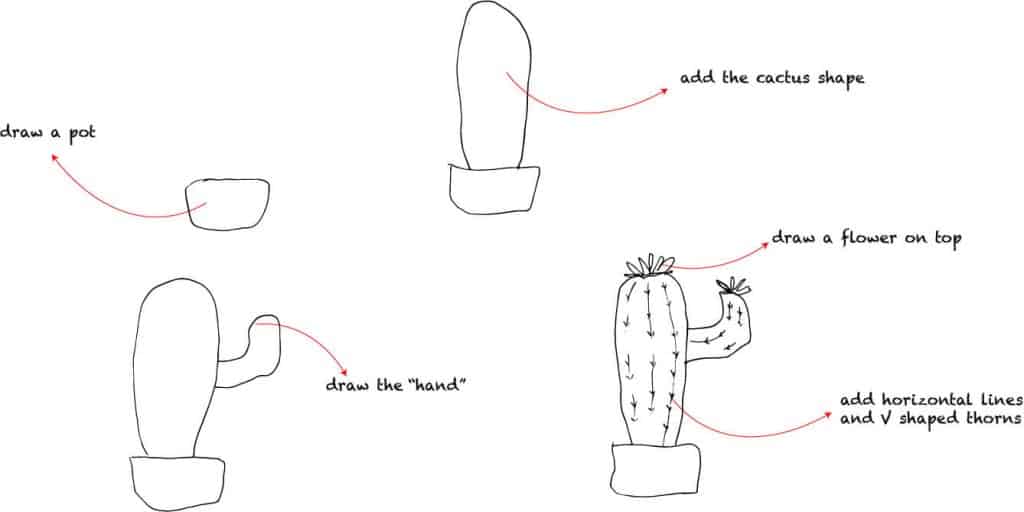 If you want to paint your cactus in watercolor, be sure to check this easy tutorial.
How to draw a dandelion
We've all blown these a thousand times. Is it just me or do they look amazingly romantic during a sunset? Here's how to draw a simple dandelion:
Step 1. Draw two circles, one for the pistil and the other for the petals.
Step 2. Draw lines from the pistil to the outer circle line, but don't make them all the same size.
Step 3. Add the U-shaped thingies with small circles on them. It kind of reminds me of a fork.
Step 4. Draw a curvy stem.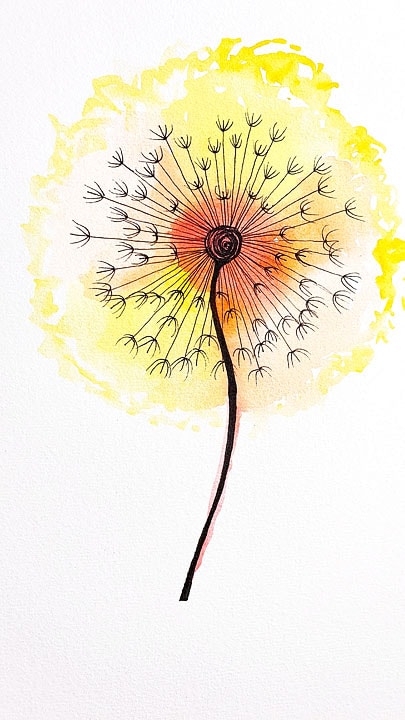 How to draw flowers from your imagination
This is where it all becomes even more interesting and creative.
I love drawing flowers just from my imagination. Sometimes my petals will be stars, or I'll decorate the leaves with more doodles.
Here are some examples that I like to draw, and I hope you'll try them and come up with your own ideas, too.
How to draw flower wreaths
These are so fun to draw! And when you become more confident, you can draw them larger and even paint them with watercolor.
Step 1. Draw a circle.
Step 2. Draw a rose in the middle. Now, you can draw a rose. (Check the tutorial above).
Step 3. Start adding small leaves. Imagine the leaves being small hearts. Start from the rose on both sides until you finish at the top.
Step 4. Add small dots around the wreath for more interest.
You can add more roses and other leaves. Experiment and have fun.

How to draw a simple flower bouquet
Bouquets are so darn cute. Especially with wildflowers. Here's how I draw them.
Step 1. Draw a bunch of lines and meet them at the bottom.
Step 2. Add a simple bow where the lines meet.
Step 3. Start adding daisies (check the tutorial above) and leaves, or even small berries.
Step 4. I like adding small dots all around the bouquet to make it more whimsical.
How to draw flowers in a vase
You can really make a flower pop by drawing it alone in a simple vase.
Step 1. Draw a simple, tall vase.
Step 2. Draw a long flower and let it hang a bit to the side of the vase.
Step 3. To give it more dimension, add lines for the water and the bottom of the vase.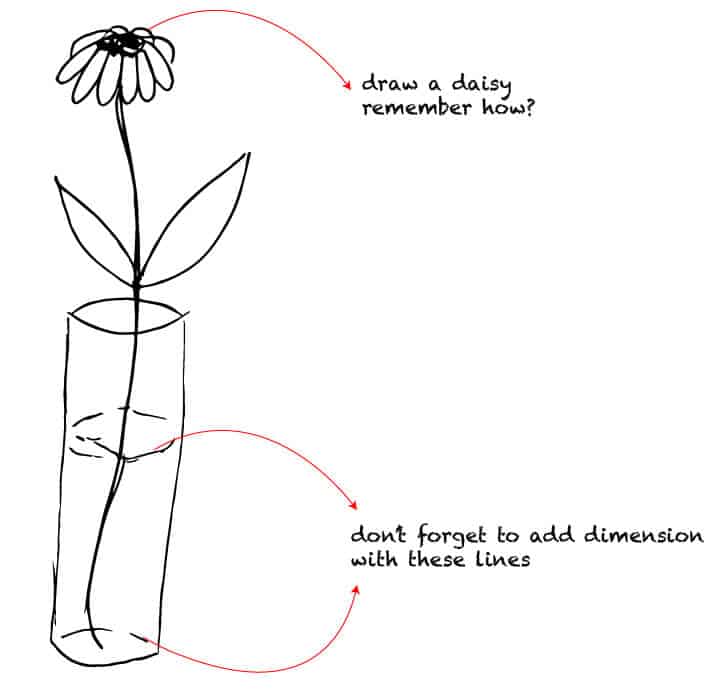 How to draw the simplest flower ever
I love the simplicity of this one and I often doodle it around my journaling, or I even make it a hair embellishment in my female portraits.
Step 1. Draw a curvy stem.
Step 2. Add "heart" shaped leaves.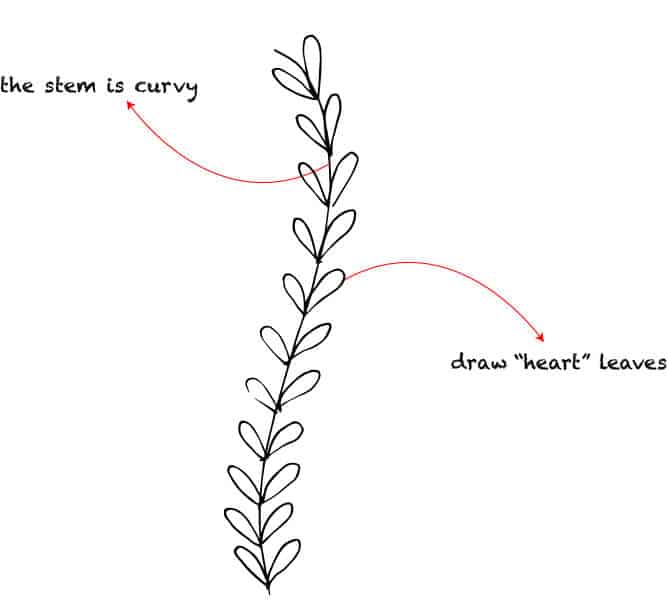 A simple stem with leaves and flowers
The flower drawing above is very simple, but if you just add some more details, you'll get more interest and dimension.
Step 1. Draw a curvy stem.
Step 2. Add leaves and flowers. Make their stems also curvy.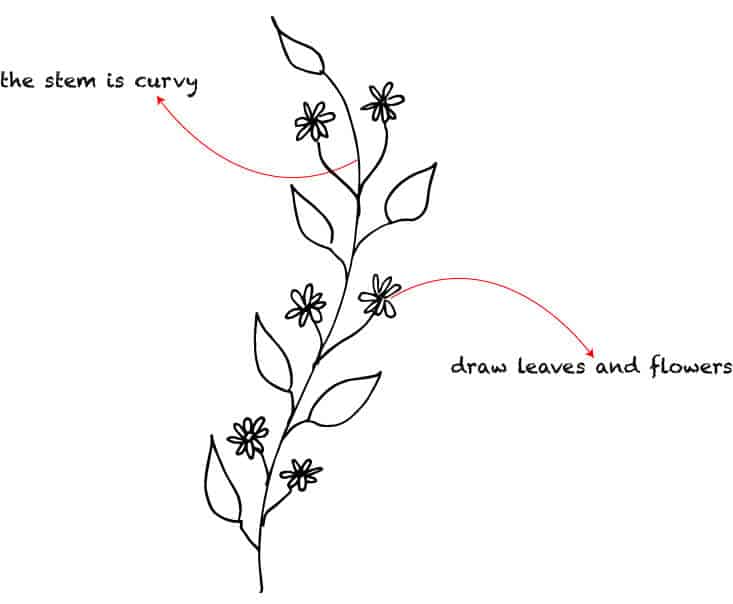 How to draw whimsical flowers
Remember, there are no limits here! Just draw and doodle whatever you want. Make your flowers square if you want to. Challenge the rules and common knowledge.
Here's a simple idea for something whimsical.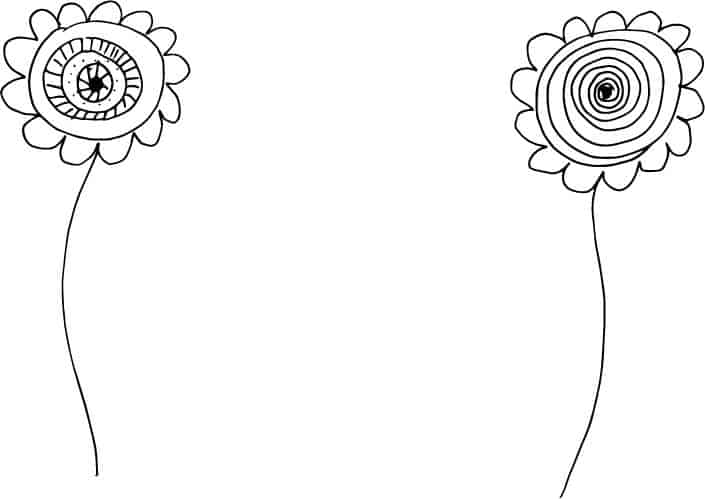 How to draw a small berry tree
This is easy-peasy and if you add color to it later, you'll have a cute little doodle in your art journal.
Step 1. Draw branches, make some curvy, some straight.
Step 2. Add berries. And that's it!
Add some leaves if you want to.
How to draw flowers wrap-up
Did you see how easy it is to draw flowers?
The key is not to put pressure on yourself and just enjoy your time with lines, shapes, and dots.
What you should remember is to:
draw curvy lines to add more interest and dimension
add lines to the petals to make them dimensional
draw oval pistils and add dots to them
draw circles as frames for your flowers
And lastly, experiment with your imagination, and don't set any limits to what you can draw or doodle. I'm sure you can do this!
Practice drawing flowers in an art journal. This will help you get over perfectionism and create artsy stuff without any overwhelm or great expectations.
START AN ART JOURNAL TODAY WITH A FREE STARTER KIT
Hit the orange button to get your free Art Journal Starter Kit and start making art without staring at the blank page and without the fear of ruining everything. (Spoiler alert: you can't ruin anything in art journaling).