19 Creative Washi Tape Ideas For Making Interesting Art Journal Pages
If you're looking for new, creative ways to decorate your art journal pages, I'm sharing amazing washi tape ideas that you can easily use, and get cute and interesting results.
I'll also show you where you can get washi tape and share some interesting tips and tricks on how to get the most out of it.
First, here are some questions and answers about the washi tape I believe you'd be interested in.
Disclaimer: Some links in this post may be affiliate links. This means that if you purchase something through that link, I get a small commission, at no extra cost to you.
How do you keep washi tape from peeling
Some washi tape doesn't adhere well, this happens. If your washi tape is peeling off, you can use an ordinary glue stick to reinforce it.
Can you seal washi tape?
Sure you can. I usually use collage glue or paint over it with clear gesso and it stays in place.
Is washi tape as strong as duct tape?
No, it's not. Washi tape, most of it, doesn't adhere as well as ordinary duct tape. It's mostly used to decorate your artwork but you can reinforce it with a glue stick.
Can you write on washi tape?
Yes, most washi tapes allow you to write on them because they have a matte surface (they're made of paper). Try using paint parkers or waterproof black pens.
Where to get washi tape
You can get washi tape in almost any type of store:
ROCK YOUR ART JOURNAL PAGES EVEN IF
THE BLANK PAGE TERRIFIES YOU
Hit the orange button to join my free Art Journal Starter Course and start making art without staring at the blank page and without the fear of ruining everything. (Spoiler alert: you can't ruin anything in art journaling).
Washi tape ideas for your art journal
1. Create texture for backgrounds
Use washi tape to create texture on your backgrounds. You can glue it in patches and get texture by not gluing it perfectly.
You can also glue one piece of washi tape over another to get straight-line textures.
Tip: don't cut it with scissors but tear it. It will create more texture and it's easy to tear.
2. Washi tape backgrounds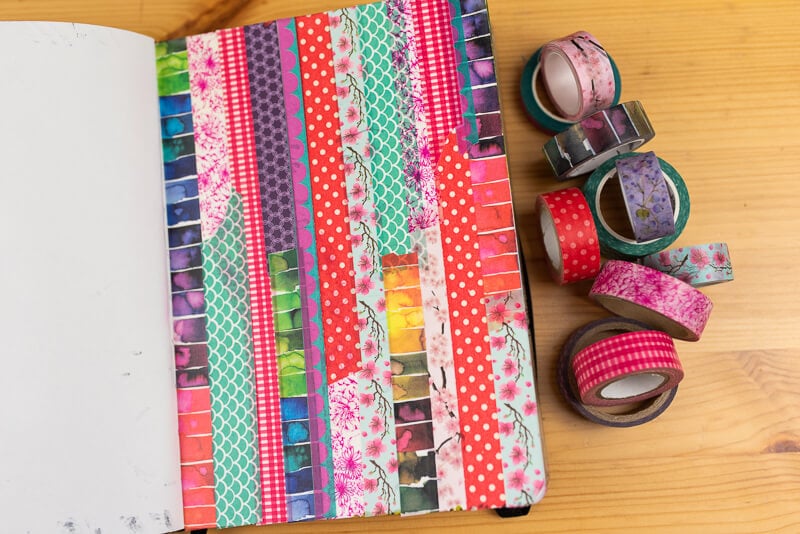 Use washi tape to create backgrounds. Play with the design to create images, or just put it down in random patches to create a colorful background.
Then, after gluing it down, you can go over it with gesso or a glue sealer to make a new surface to work on and protect the washi tape layer.
4. Washi tape borders
Washi tape can make amazing effects if you use it as a border on your pages. Take a strip of washi tape and frame your page while covering the next page as well. This way, you can decorate two pages at once. Play with the thickness of the border or designs.
5. Create a frame for photos/images
If you use images, photos, etc on your page, you can use washi to create frames for them. The easiest way would be to create square or rectangular frames. You can have a lot of creative fun with different designs.
Tip: match the colors of the image and washi tape: same colors or contrasting colors. If you do this, the same colors will blend nicely with the image while contrasting ones will make the image pop even more.
6. Code your pages
If you don't like being lost in your pages, color code them for easier flip through. To do this, use small bits of washi to mark pages on the top or bottom or the whole side of the page.
7. Cover up mistakes
If you misspelled something, or you made a tiny mistake you don't like, cover it with an interesting patch of washi. Then add the same patch to other areas of your page to get a sense of balance and unity.
8. Use it as ordinary tape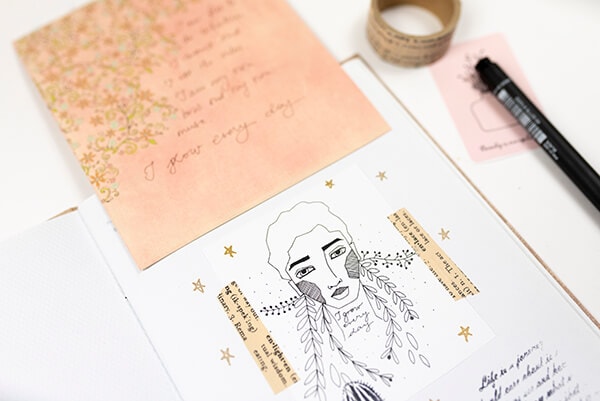 Since washi sticks down as well as ordinary tape, you can use it as tape to glue down images or other scraps of paper.
9. Make journaling lines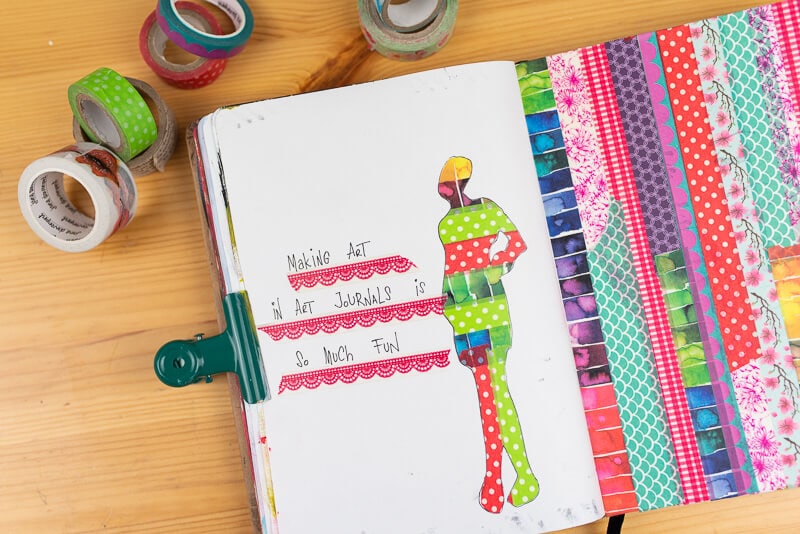 For the journaling part, you can use washi to make lines for writing. Here are some ideas:
Create lines and write on the washi
Put a few rows of washi down, then paint around it. When the paint is dry, peel the washi off, and use the empty space for writing
Put the washi lines down, leaving space between them. Later, write between the washi tape patches
10. Journal on washi tape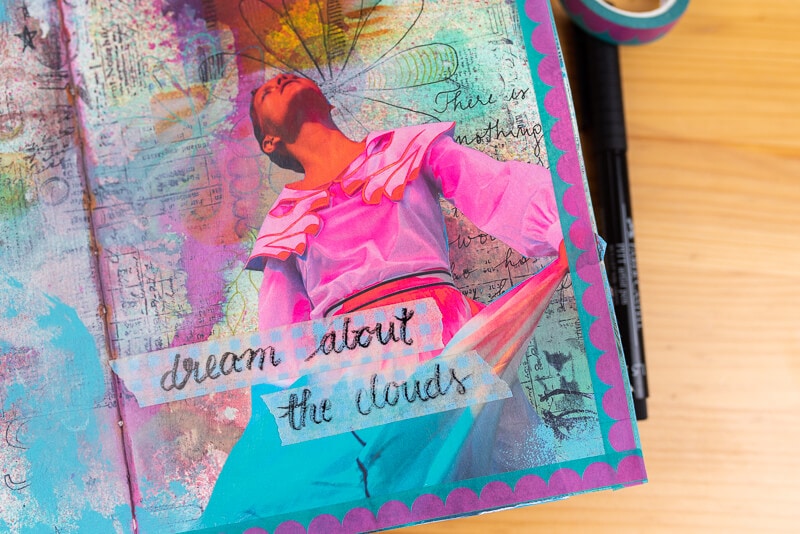 It's as simple as that. Use washi tape as your journaling space. Some washi won't let you write on it, so be sure to check that before you glue it down. For this purpose, choose a matte finish washi with a faded or minimal design.
11. Create stickers from washi tape
If you have wider washi tape, you can cut out the design from it and use the cut-outs as stickers.
Also, you can adhere washi tape on a piece of thin paper, create your design, and then use a shape puncher to create beautiful stickers or cut-outs.
12. Reinforce journal pages
Test your washi, and if you have one that has a strong adhesive hold, you can use it to reinforce the binding. Additionally, get a little help from a glue stick or a collage medium to make it stick better.
13. Fill in shapes
Draw a shape on a piece of paper and transfer it to a non-stick paper like baking paper. Then, glue some washi over it and later cut out the shape. Since washi peels off easily off this paper, peel it off and glue your shape onto the paper.
After you glue down your shape, you can outline it with a black pen or a marker. Decorate whatever way you want.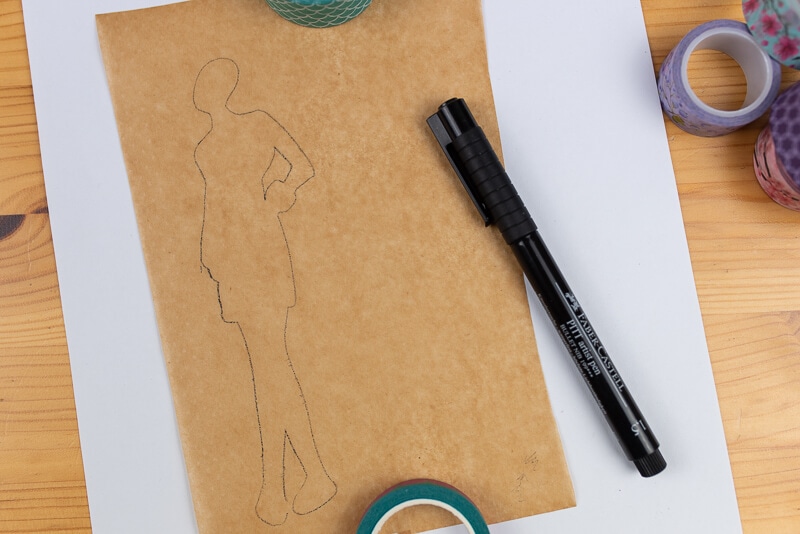 14. Decorate the covers
You can use washi to decorate the whole cover of your art journal. Play with colors, designs, shapes, and texture. However, just remember that for this idea, depending on jour art journal size, you'll need a lot of washi tape.
15. Mask the borders for painting
When you want to have a clear frame on your page, whether you use watercolor or acrylics, mask the border with washi and after you've done painting and the paint is dry, peel it off.
You can also use this technique to create smaller shapes on your page, draw or paint in them, and then peel off the washi to reveal those shapes.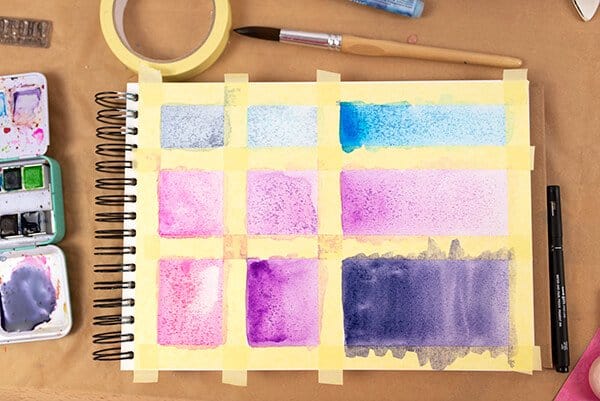 16. Write with washi tape
This can be a great idea if you think your handwriting is bad. Cut out the washi in letters (for wider washi) or use a thin one to assemble letters. It may get messy, but it's worth trying it.
17. Create flowers or trees with it
Again, you can cut out washi to assemble flowers with it. Cut out oval petals and arrange them in any flower shape.
18. Create arrows
Since arrows have straight lines, it is easy to create them with washi. You can use the whole washi or cut it out into lines of preferred thickness.
19. Washi tape ideas for creating faces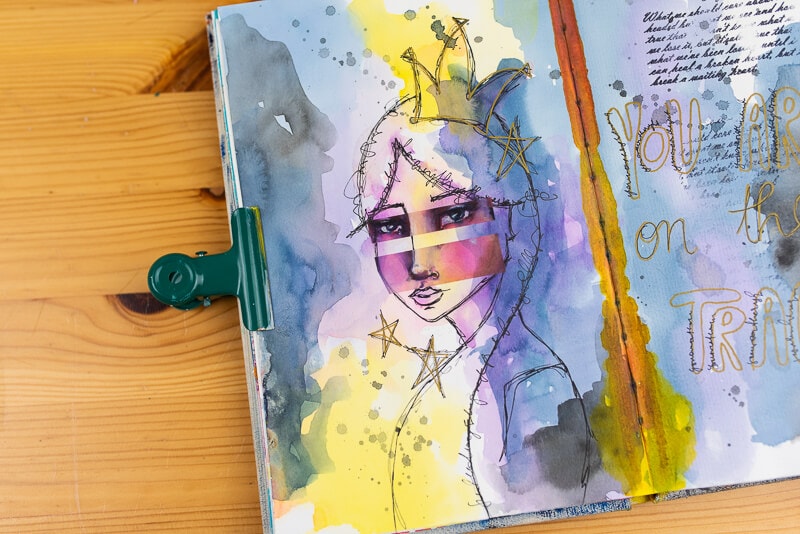 When you draw or paint a face and your eyes, for example, turn out ugly, just cover them with washi, adds an odd element but it's aesthetic and unusual, striking, it sends a message.
Moreover, you can even create whole faces with washi tape. I've been using Jane Davenport's face washi tapes and they are sooo amazing. The face features come in separate washi designs and you can combine them to create interesting or wonky faces.
Sometimes, when I'm not in the mood for drawing eyes, I just glue my washi tape eyes and a brand new face shines through. I think that's pretty amazing.
Also, if I've drawn a face and I don't like the lips or the eyes, I just cover them with his washi. They definitely save the day.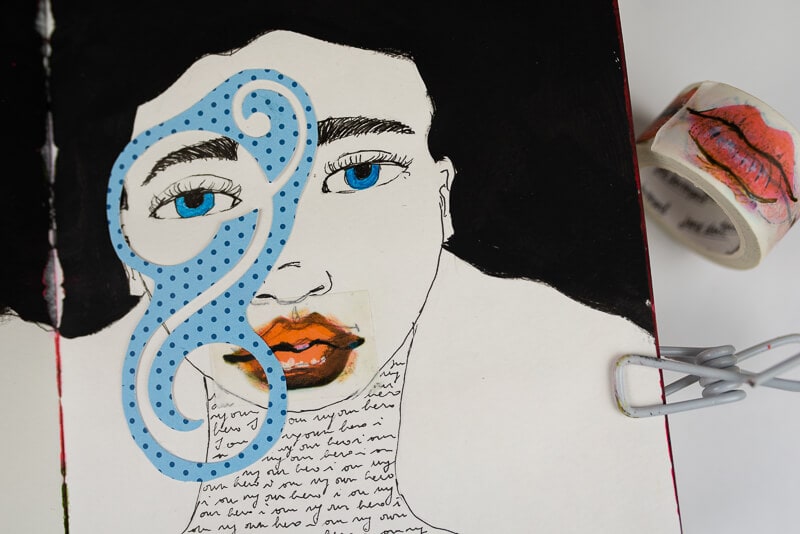 ROCK YOUR ART JOURNAL PAGES EVEN IF
THE BLANK PAGE TERRIFIES YOU
Hit the orange button to join my free Art Journal Starter Course and start making art without staring at the blank page and without the fear of ruining everything. (Spoiler alert: you can't ruin anything in art journaling).