Gouache vs Acrylic: What Makes Them Different and How to Use Them Effectively
You're wondering about the differences between gouache vs acrylic paint and want to know which is more affordable and beginner-friendly?
This article will give you in-depth information about the two painting mediums, their key differences and similarities, what you can do with them, where to buy them, etc.
I'm basing this article on using acrylic and gouache on paper, not other surfaces.
Disclaimer: Some links in this post may be affiliate links. This means that if you purchase something through that link, I get a small commission, at no extra cost to you.
Gouache vs acrylic: basic characteristics
Composition
Both of these paints are water-based, but the basic difference between acrylic paint and gouache is in the fact that gouache is made with gum arabic as the binder, while acrylic paint uses an acrylic polymer emulsion.
This difference in binders is the basis for distinguishing their other characteristics.
Binders and Pigments
Gouache paint
Binder: Gum arabic
Pigments: Natural or synthetic
Gouache paint generally uses gum arabic as the binder which, combined with the pigments, creates a smooth, matte finish when you work with gouache.
Its pigments can be natural or synthetic and are less concentrated than in acrylic paint, which has a velvety matte finish.
FUN FACT: "It's regarded that gouache came about in the 16th century after artists applied oil paint over tempera to achieve a matt finish. It was also used in the 18th century for adding details to pastel paintings. In the 19th Century it was produced industrially and Chinese white tubes were added to watercolour boxes." Source
Acrylic paint
Binder: Acrylic polymer emulsion, a type of plastic (that's why when it's dry, you can't rework it with water anymore)
Pigments: Synthetic
When it comes to acrylic paint, the binder is an acrylic polymer emulsion that gives acrylic paint fast-drying, glossy, and water-resistant finish. Also, these synthetic pigments produce vibrant and long-lasting colors.
Gouache vs acrylic: Opacity
Whether you like your paint finish to be totally opaque or slightly opaque will determine which of these paints to choose.
Gouache: High opacity and matte finish
Acrylic: Varies depending on the thickness of the application, brand, and quality of paint
Due to its high pigment concentration and gum arabic binder, gouache paint is highly opaque, with a flat and soft look when dry.
On the other hand, acrylic paint can range from transparent to opaque depending on how thickly you apply it, while still maintaining a glossy, water-resistant finish.
Furthermore, acrylics can display different levels of translucency and texture when dried.
This is also dependent on the brand you're using. Some acrylic paints I have dry to be completely opaque and some are more transparent and the brush strokes are more visible.
Try your paints in an art journal and see how easy it can be to create art without overwhelm
Join my FREE art journal starter course to learn how to be creative consistently, without fear, with amazing ideas and create amazing art you'll love
Key differences between gouache and acrylic
Texture and Consistency
Gouache has a runny, smooth, and creamy texture, and it's similar to watercolors when you add water.
In contrast, the texture of acrylic paint varies depending on the type you choose. Heavy-body acrylic, for example, is thick like oil paint.
However, student-grade acrylics often produce a semi-transparent look so the brush strokes are visible and this adds more texture.
Finish and Appearance
As I already mentioned above, the finishes of gouache and acrylic paints are quite different.
Gouache has a flat and soft, matte finish, which can give your artwork an interesting, unusual look. This flat-like appearance is what helps you recognize gouache paintings easily.
On the other hand, acrylic paint dries to a glossy appearance, and you can create a vibrant look easily. However, there are some brands whose paint has a matte finish, too.
There are so many options for you out there, and my best advice is to try some basic colors and see what you like and don't like about these paints.
Drying Time and Permanence
When it comes to drying time, gouache dries relatively quickly compared to oil paints (like everything else for that matter), but acrylic drying time is even shorter. This characteristic allows you to experiment with layering techniques in a shorter amount of time.
A significant difference between these two paints is their permanence. Once you apply acrylic paint and it's dry, it's permanent. This means that you can't activate it with water.
On the contrary, gouache remains water-soluble when dry. This means that you can reactivate gouache with water to continue working. This can give you more flexibility while you paint.
Also, this factor may require additional protective measures for gouache paintings, such as adding a fixative or sealant.
In summary, while both gouache and acrylic paints have unique characteristics, choose them according to what works for you: maybe you want paint that's vibrant and dries quickly – then choose acrylic paint.
If you want your artwork to be fixable (reactive to water) and have a matte finish, then why not explore gouache?
Painting with gouache and acrylic
Painting surfaces and preparation
Both paints can be applied to many different surfaces, such as paper, canvas, wood, metal, glass, and plastic.
All these tips and info here are actually based on painting on paper.
Acrylic paint + canvas: prime your canvas with gesso to make colors more vibrant and create a more receptive surface.
Acrylic paint + paper: you can use gesso for priming if you want more vibrant colors and don't want the paint to bleed on the back. Gesso will prevent that. Also, use thicker paper, 100gsm, and thicker.
Gouache + paper: when painting with gouache, watercolor paper is a great choice because gouache behaves similarly to watercolors.
Tools and Techniques
When you paint with either acrylic paint or gouache there are some basic tools you can use:
Paintbrushes – flat or round brushes. But use only synthetic brushes because soft, natural-hair brushes can be destroyed by these thick paints
Sponge – a great tool for acrylic paint. And an ordinary kitchen sponge will do.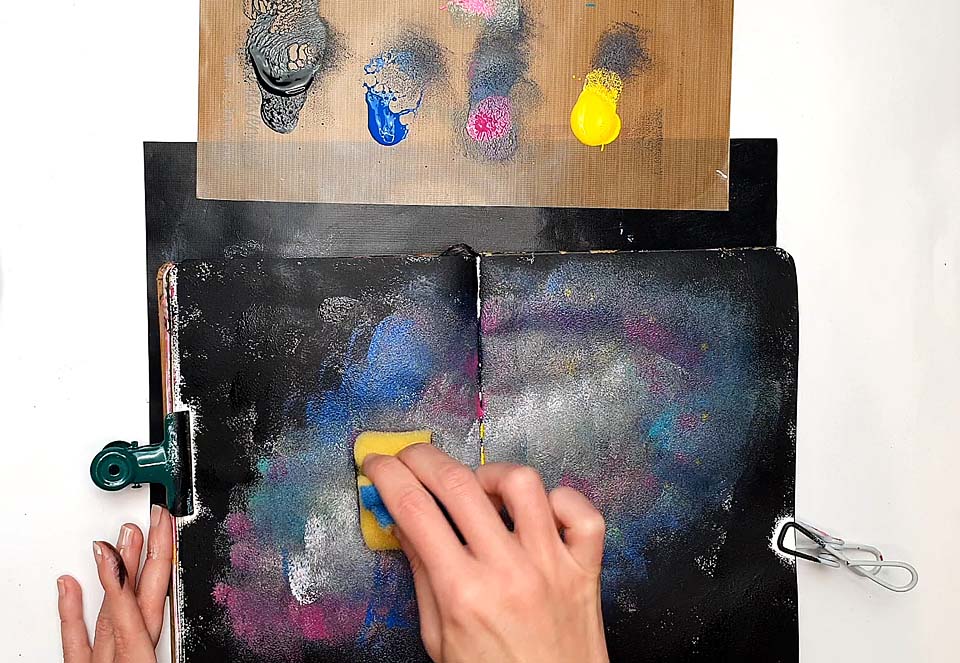 Brayer – an excellent tool for acrylic paint. It creates texture, you can paint large surfaces with it but it doesn't give you 100% control because it's big and sometimes it just behaves on its own will.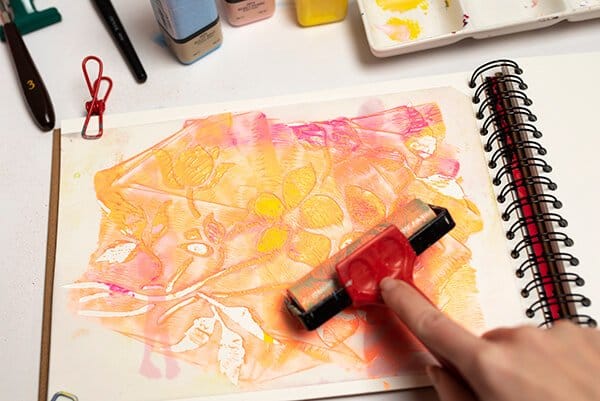 Palette knife – this is a great tool to experiment with, especially with heavy-body acrylic paint. It's thick and a palette knife will create a wonderful texture.
The techniques done with palette knives are not something a beginner should start with but definitely should explore after using paintbrushes.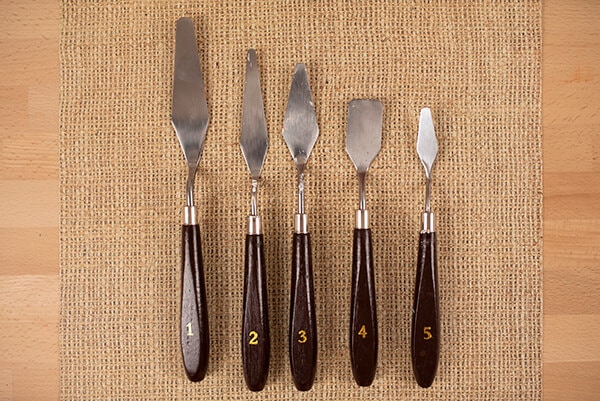 When it comes to techniques, keep in mind that gouache and acrylic are mediums that can be used in many different styles.
Gouache, often called opaque watercolor, allows you to create a dense, matte finish with a watercolor feel to it. So, try out some watercolor techniques with it.
Acrylic paint, on the other hand, has more flexibility and can achieve both watercolor-like and oil-like results, depending on how it's applied, how thick the paint is, how much paint you use, and if you add water or not.
Yes, you can also use water with acrylics, although I don't like that – it just waters it down and I lose the density, and brush strokes become washed out and more visible.
Blending and Mixing
One of the best things about gouache and acrylic paints is that you can blend them and mix them. This is an amazing thing because, for example, you can have only three colors of acrylic paint – blue, yellow, and red – and mix those to get maaaaaany other colors.
This is also great for blending but you can risk creating muddy colors that you don't want. That's why it's important to learn the basics of color mixing, ie. the colors you can and can't mix (depending on what you want to accomplish).
You can mix both, acrylics and gouache, with water or other painting mediums to achieve different effects. However, be careful not to over-dilute gouache, because you can have streaky results (visible brush strokes that you might not want).
When blending colors, remember that with acrylic paint, blend the colors while the paint is wet. In contrast, gouache allows for blending both while wet and after it has dried, because it can be reactivated with water.
You can't activate dry acrylic paint with water. So, blend them while they're still wet. Drying time for acrylic paint is generally fast, so if you want to work on them longer, you'll need to use painting mediums.
Layering and Reworking
Layering is something all artists do and need to learn, at least some basics. Both gouache and acrylic paints are great for building up thick or thin layers depending on your desired outcome.
Acrylic paint dries quickly, which makes it easy to layer and create opaque results. However, keep in mind that once acrylic paint has dried, it becomes water-resistant and cannot be reactivated with water.
In contrast, gouache stays water-soluble even after drying, so you can re-work it by adding water to adjust the color or opacity. Because of this, you can be more flexible and can experiment more.
Also, remember to be patient when layering, allow each layer to dry before adding the next one to avoid lifting the previous layer or creating muddy results.
Acrylic gouache and traditional gouache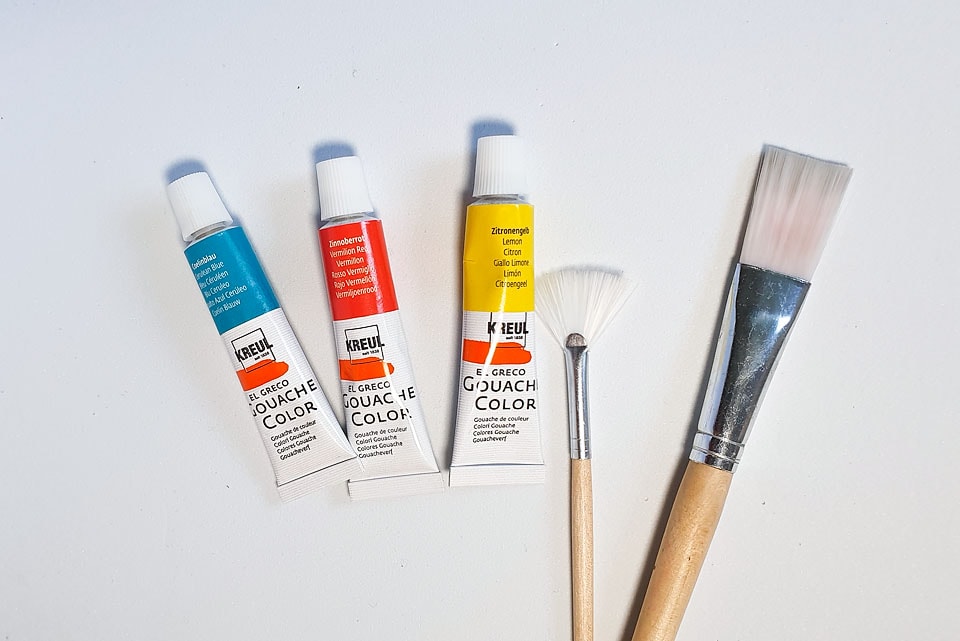 Traditional gouache uses gum arabic as its binder and is often referred to as an opaque watercolor because it uses water in the same way as watercolor but when dry, it's opaque, unlike translucent watercolor.
On the other hand, acrylic gouache has an emulsion-based binder and is more similar to acrylic paints, when it comes to permanence and drying time.
Both gouache and acrylic gouache are water-based paints and are typically used on paper or other suitable surfaces.
Their advantages and uses
There are several great things about traditional and acrylic gouache, too. Here are some advantages of both of them:
Traditional Gouache: you can reactivate it with water and make changes or adjustments even after it has dried. Its composition makes it ideal for creating flat, matte finishes.

Acrylic Gouache: This paint dries permanently and cannot be reworked once dry. Its similarities to acrylics make it more durable and long-lasting on surfaces. Additionally, you can layer with acrylic gouache without worrying about smudging previous layers (if they're completely dry, of course).
Disadvantages of acrylic and traditional gouache
Traditional Gouache: because of its water-soluble nature, it can be less durable over time, and light and moisture can be damaging to them. Furthermore, layering can also be a challenge, because if you're not letting the previous layers dry, adding more paint may reactivate them

Acrylic Gouache: Since it dries permanently, it's hard to work long on blending or even fix mistakes. It may also dry with texture and some translucency, unlike traditional gouache's consistently flat and matte finish.
Acrylic vs gouache – which to choose?
When choosing between gouache and acrylic, consider your artistic style and use.
Gouache, a creamy and opaque paint, works amazingly for illustrations because of its matte finish and opaqueness.
Acrylics are versatile and suitable for a variety of techniques like blending and detailing. They can produce both glossy and matte finishes, which is amazing, but also brand dependent. 
Pros and cons of gouache and acrylic
I must tell you that these pros and cons really depend on the brand, the thickness of the paint you apply, the surface you're using, etc. But here are some general pros and cons so you can have a quick glance.
However, some cons may actually be an advantage for you depending on what you want to create and what kind of finish you like.
| CHARACTERISTICS | ACRYLIC | GOUACHE |
| --- | --- | --- |
| FINISH | glossy, matte, vibrant | matte, soft, flat |
| EASE OF USE | easy | a bit of a learning curve |
| PRICE | mostly budget-friendly | affordable & expensive |
| DRYING TIME | fast | slower |
| PERMANENCE | permanent when dry | can be reactivated with water |
| OPACITY | opaque or semi-translucent | opaque |
| BLENDING | easy but must be quick | allows more time for blending |
| TEXTURE | can easily create texture | thick layers can crack, flat |
| DURABILITY | durable | less durable |
| FIXING | not easy to fix mistakes | easy because it reacts to water |
Gouache
Pros:

Matte finish
Great for illustrations
Forgiving, easier to make changes
It comes in different sizes making them available to all budgets

Cons:

Not as water-resistant as acrylic
Less permanence, it may fade more easily
Expensive compared to acrylics
You often have to apply a varnish to protect it
Acrylic
Pros:

Versatile, can achieve various effects with many different tools
Water-resistant when dry
Dries quickly, retaining color consistency
Budget-friendly
Great coverage
You can achieve different effects by using other materials with it like sand

Cons:

Less flexible, can be more difficult to blend
Shiny or glossy finish, depending on the paint
You need to clean the tools immediately
Which is cheaper, acrylic paint or gouache?
In terms of cost, acrylic paints tend to be more affordable than gouache. However, professional artist-grade paints, whether gouache or acrylic, tend to be more expensive.
If you're a beginner, start with student-grade paint and explore which ones you love and can work with. Later, you can upgrade to more quality paints, once you've nailed some basic things and techniques.
Is gouache or acrylic better for beginners?
In my opinion, acrylic paint is better for beginners. Gouache often acts like watercolors and they're harder to learn than using acrylic paint.
Also, not to mention that acrylic paint is cheaper than gouache and more versatile for beginners to explore.
However, both of these paints can be used by beginners, especially student-grade paints.
Tips for maintaining and storing your paints
In this section, read about a few tips when it comes to caring about your tools.
Care for painting tools
Keeping your paint and tools clean is important, especially when it comes to acrylic and gouache. Here are a few tips on how to care for your paints and tools:
Always clean your brushes thoroughly after use. For gouache, you can easily rinse them in water, while acrylic paints might require brush soap.
You don't have to wash them the moment you finish one part of the painting. Instead, put them in a water jar, especially if you'll still use them for the same project. But don't leave them in the water for too long. As soon as you're finished with your painting, wash them.

Be mindful when using a palette; for gouache, a porcelain or enamel palette is a good choice as it won't stain or absorb moisture. With acrylics, you can use glass, plastic, ceramics, and even paper.

Prevent paint drying on your palette by spritzing it with a mist of water, especially when using acrylics, as they can dry quickly.

Limit the amount of dust on your painting surface by covering your project when you aren't working on it. This is particularly important for acrylics, which are more durable than gouache but can still attract dust, or sandwich crumbles, as often happens to me.
How to store your paints?
Proper storage is necessary to preserve the quality of your paints, whether they're gouache, acrylic, or even oil-based. Here are some tips:
Store your paints in a cool, dry place away from direct sunlight, as light can affect their lightfast properties over time.
Ensure your water-based paint caps are sealed tightly to prevent paint from drying out or becoming contaminated.
Can you mix gouache and acrylics?
Both of these paints are water-based, which allows you to mix them together.
Their mixing and blending also depend on the brand and the consistency, opaqueness, etc.
But the best thing here is to experiment and see what you can get from both of them.
Just bear in mind that acrylic paint dries faster so mixing it with gouache can result in different drying times.
Try your paints in an art journal and see how easy it can be to create art without overwhelm
Join my FREE art journal starter course to learn how to be creative consistently, without fear, with amazing ideas and create amazing art you'll love