How to Make an Inspiration Board in Your Art Journal
Inspiration is everywhere.
Artists all around the world agree that you should collect parts of that inspiration and put them all in one place (a very laic explanation indeed). That's why most artists, whether they are painters or designers, make inspiration boards. They're also called mood boards.
When it comes to making art, inspiration is crucial to create and to feel satisfied with your own work. You just need to lure it in and make use of it.
Today, I wanted to share my ideas on making an inspiration board in your art journal. Also, I'll show you how I made mine, and give you a few tips and ideas so you can create your own.
To make this more fun, I've made a free printable for you. Just fill out the form below and enjoy creating.
What is an inspiration/mood board?
It's practically a collection of things that you find inspiring. For example, you can collect magazine images, tickets, flyers, fabric pieces, paper clips, anything that inspires you at that moment so you can use it for later.
After you've gathered all these inspirational thingies, you arrange them together in a collage.
People usually do this on a board, but I love doing it in my art journal because I can make more than one or even make it into sections with different topics (which I'm going to show you later in the post).
Why do you need an inspiration board as an artist?
1. First of all, it's fun to make. I rest my case.
2. Secondly, it really helps you see some relations between colors or objects that you might have never noticed before. I've found some neat color combinations I never used before that are amazing together.
3. Even more, you'll discover how easy it is to start an art journal page when you already have inspiring things sitting right there on the previous page. In other words, the board makes you find inspiration quickly and easily.
For instance, do these ring a bell:
What am I going to draw?
How am I going to paint this girl I've drawn? What color should her hair be? What about her skin color?
Does this pink go well with brown? No? Maybe?
Will my page just feel too much if I add more patterns?
We all face these questions when we're creating in our art journals. And sometimes it seems these questions never end.
However, if you have an inspiration board in your art journal, you can easily check what you combined before by experiencing the world around you.
So, if you had an inspiration board, you could easily find answers to the questions above:
| | |
| --- | --- |
| YOU ASK | THE BOARD ANSWERS |
| What am I going to draw? | Look at your inspiration board page. Any illustrations or photos you can draw? |
| How am I going to paint this girl I've drawn? What color should her hair be? What about her skin color? | Look at the color combos on your mood board. Which colors go well together? |
| Does this pink go well with brown? No? Maybe? | Just check your board, what have you already combined that looks perfect together? |
| Will my page just feel too much if I add more patterns? | Again, ask your mood board, she knows. Oh, she's really into design and can teach you a lot. |
Where to find things for your art journal inspiration board?
Magazines
These are great sources for lovely and inspiring images you can use for your inspiration board. I've mostly used fashion magazines because they're the only ones available to me now. But if you find different kinds of magazines you'll be able to get inspiration for a gazillion inspiration boards.
Photos
Do you have any photos you've taken that you really love? Or you could find some online and glue them on your board.
Another great idea is to take photos when you go out. I'm sure you already notice things around you that catch your eye and that you think are amazing and inspirational. Snap some photos and include them on your board.
Postcards
You can find these everywhere. Let's bet you already have some from your interesting trips. Collect postcards that have interesting color combinations or images that you'd like to paint yourself.
Paper
By paper, I mean scrapbook paper, patterned paper, or any other kind that you find inspiring. It can be just some wrapping paper. Collect these paper scraps and arrange them on your inspiration board.
You can sort them by color, pattern, or motif. Combine them with other elements so they create an inspiring path for your art.
Flyers
Some flyers are so creatively designed that they can easily help you figure out some design elements. Cut out the parts that are interesting and inspirational.
The Internet
Oh, yes, the never-ending inspiration well. It can replace all other options because there's so much you can find online.
For example, there's a website called coolors.co where you can generate color palettes. It has many fun options and is easy to use. I recommend it if you need some help with making the color palettes. At least it can guide you to your perfect choice.
Here's one I created for myself:
You can search the web for photos, illustrations, free printables and use them as well. There are some sites like Freepik or Unsplash that offer free image download for personal use.
Topics that inspire you
For me, it's the Moon and the universe, myths and geometry. I often use these themes in my art journals because I can always find inspiration there. Find photos or words that remind you of the topics you love.
Inspirational quotes and words
You can find them online, especially on Pinterest, or you can type them on the computer and print them out.
Other artists and their work
If you can find photos of artwork/artists in magazines or online, use them on your inspirational board. I love the image of Frida Kahlo, and I often use the color combinations of her crazy, wild-colored clothes. Or, if I'm painting a girl, I'll sometimes give her Frida's eyebrows because they're just amazing.
That's why I have this girl on my inspiration board.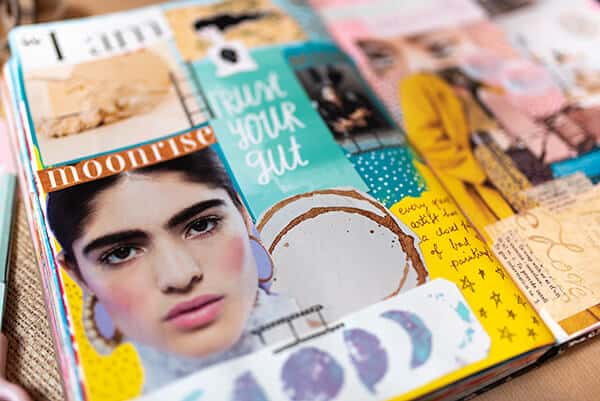 What to look for when collecting inspirational items?
Here, I focus on each type of item individually to help you look for inspiring elements in them.
Color palettes
The best place to start is to imagine you need 3 or 4 different shades of one color. This way, you'll notice that one color can offer so many others. Use the coolors.co for this or make your own.
What I did was go to my acrylic paint stash and picked all the shades of pink I had. Then I took masking tape, made three rectangular shapes, and colored them in. Look: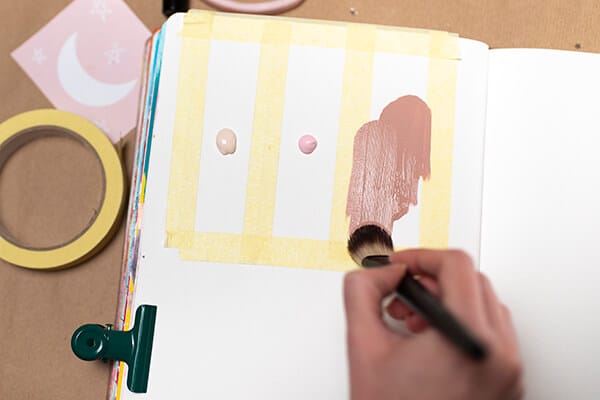 Then I went on exploring a little further and found some scrapbook paper that would be great if I wanted this set of colors. I cut the papers into three strips and glued them just beneath the color palette.
Now I have a great reference for paint and paper that I can use together on my art journal projects.
There's also another neat idea to make your own color palettes.
First, find a magazine picture or a photo, postcard, or anything similar, cut it out neatly, and glue it on your art journal page.
Inspect it. Admire it. What colors inspire you? Then use these colors to make your own color palette.
Let me show you my example of this. I took a magazine photo that I really loved because of the color combination. Then I tried to produce these shades with my acrylic paint. Again, I made rectangular shapes with masking tape and repeated the same process as above. Here's the result:
I just love this color combo! I'm definitely using it on my next project.
How to use photos as inspiration
I've been in love with photography forever. What I really enjoy doing is taking photos with my eyes. This means that I constantly look for images around me even when I don't have my camera with me. I imagine the composition, the colors, and the mood.
You can do the same when searching for inspiration.
When searching for inspiring photos, try to pay attention to the colors you see. Are they bold or soft? Do they contradict each other or are they a match made in heaven? What can you use from these colors?
Next, think about the composition. How are the objects arranged in the photo? Is the focus in the center or way off to the side? Is that inspirational?
Are objects layered behind one another? Could you do something similar with your drawings?
Is there anything geometrical about the photo? You could use that geometry in your own art projects.
How to use magazine images for inspiration?
It goes the same as with photos.
Most images from magazines that I find inspirational are interior design images or pictures of photo models in different outfits.
Interior design photos can offer so much when it comes to inspiration. The setting in these photos is usually done with much care including design elements. So, you can learn a lot from these images and use that for your inspiration board.
Pictures of photo models are also fabulous for this purpose. Especially the ones wearing unique and crazy outfits. Pay attention to the colors of their clothes, and the backgrounds. Do you notice anything that looks awesome and gives you an idea of what to create in a similar way?
For example, I love painting women, and by looking at these magazine photos I can use their outfits for my girls. Or you can just use the color combo of the clothes or patterns on them. These patterns can be a great inspiration for mark-making.
Let's make an inspiration board in your art journal
Gather all the things you've collected. Do some more cutting if necessary to get rid of the extra paper you don't need.
Also, prepare a glue stick, washi tape, acrylic paint, and fun pens or markers (I suggest Posca paint pens because they're just awesome for writing and doodling).
Prepare the background for your inspiration board
If you want to add more interest to your inspiration board, use the whole background as inspiration.
For example, I painted mine with acrylic paint that I find inspirational, especially the combination of colors.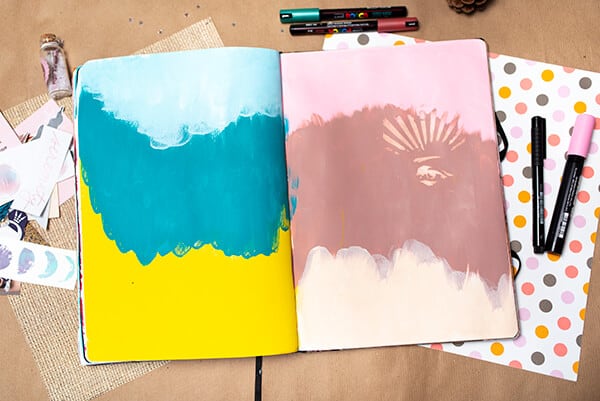 I just applied the paint with a paintbrush making two different color combinations (well, actually it's a make-up brush which has been my recent discovery and it's super fun to use).
You don't have to paint it like this, perhaps you'll find more inspiration in painting geometrical shapes, blubs of paint, or even make some paint stains with a toilet paper roll.
Besides acrylic paint, think about the stamps that inspire you and use them as well. Just keep in mind that you're gonna glue things on the page, so if you want the stamp to be visible, plan ahead and leave that space only for the stamp.
Another idea is to stamp the image on a separate piece of paper and then cut it out and glue down just like all the other scraps.
Decide where to glue things
Don't hesitate now, I know you might be thinking that you have no idea where to place your items. And that's fine, but just remember this is supposed to be fun, it's not rocket science. You just do it your way, listening to your gut.
I just have a few tips to get you going.
You can arrange the items geometrically in vertical or zig-zag lines so that each item has its own place and doesn't touch other items. With this, you aim for a neat and tidy look, if that's your thing.
However, you can just make a collage in layers, so that all the items are mostly visible but there's no order in arranging them. I love it this way because it's carefree and lets me play a lot.
Also, if you're detail-oriented and love the coherent look of the whole spread, you can prepare square paper pads as tiny backgrounds for your items. This way, you glue the inspirational items on the paper squares and then arrange the squares on the spread in a neat way.
Next, think about what items you want to put together. For example, I painted the left and right pages in different color combinations. So, on the right, I glued things that look so nice with these colors. I did the same for the left page.
Finally, ask yourself which elements are connected by color, style, or purpose, and then put them in separate groups. From there, you'll easily decide where to put them on the page.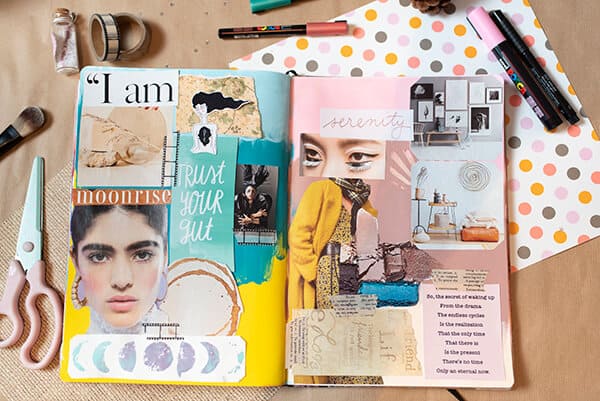 Should I worry these are the correct combinations? Nope. I like them this way because they inspire me. Listen to your inner artist and just go with the flow. Don't think you have to follow the rules of design. What, rules?! Not in art journaling.
See how I glued things on top of each other? I didn't worry about that as long as most of the image is showing and I can use it as inspiration.
Fill in empty spaces with words or doodles
When you finally glue all the things down, you'll have empty spaces between the elements.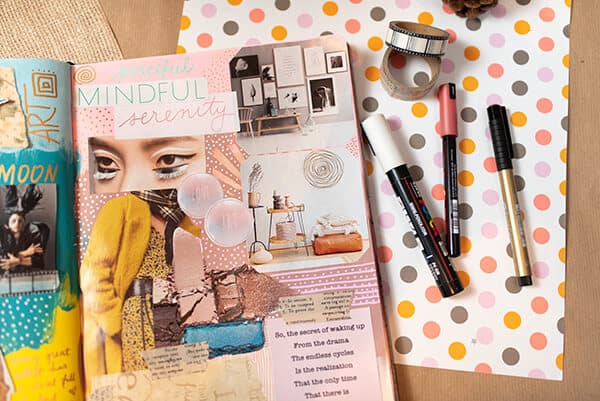 I used Posca pens to doodle inside those spaces. I included an inspirational quote, some stars, dots, lines, whatever felt right at the moment.
The benefits of making an inspiration board in your art journal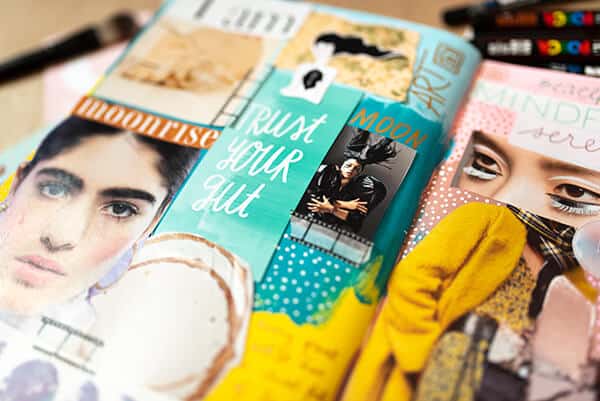 If you're still on the verge, here's what you'll gain by having an inspiration board in your art journal:
1. You'll have so much fun creating it because you get to explore different images, flip through magazines, cut and glue things down, use paints and colors. A big fun party, right?
2. You'll have your inspiration board right there when you start creating art journal pages. It's just a flip of a page away and ready to inspire you.
3. You can make more than one inspiration board in your art journal. Make as many as you want and mark those pages with a paper clip so you can easily find them.
4. By making more than one inspiration board, you can explore different things separately and get into more details. For example, you can have one board for color palettes, another one for inspiring photos, the third one for plants that inspire you, and so many more.
5. While making inspirational boards in your art journal, you start making art even before you get to your drawing or painting project. The board itself is an artistic expression. Would you agree?
Now you have all the facts you need, all you need to do is go and play with your inspiration board and art journal. Enjoy!