6 Easy Ways To Make Paper Look Old Quickly And Without Much Hassle
We all love using old paper in our art journals and in this article, you'll learn how to make paper look old in easy and non-overwhelming ways.
Paper ages over time and turns to brownish or yellow color. However, it takes ages for this, so if you want to make paper old by yourself, and you don't have much time, you're in the right place.
You won't need a bunch of supplies for this, only a few things you already have. So, these are perfect for beginners who want to experiment and make wonderful old paper scraps.
What colors make a paper look old?
The simplest answer is: brown. And all its variants.
However, I love using the lightest brown possible instead making my paper totally dark.
You can lighten your browns with water if you're painting with acrylics, watercolor, and even an ink pad (must be water-soluble).
Also, you can sometimes add some yellow to the brown. This results in an interesting vintage vibe.
How do you make paper look old without an oven?
All of the techniques I'm sharing here don't include the oven. It's just tiring to use it, at least for me. I like making things simple and these tutorials are as simple as they can get.
Disclaimer: Some links in this post may be affiliate links. This means that if you purchase something through that link, I get a small commission, at no extra cost to you.
Supplies you'll need to make paper look old
Here's what you'll need to try all these techniques for aging paper:
Plain stationery paper or old mail papers you don't need. If there's some text on it, it'll look even better
A round brush
Tool for applying the ink: make-up sponges work fine, or if you have an inking/blending tool, even better
Brown watercolor
Brown acrylic paint
A tea bag
Water
A lighter or matches
All the ways you can make paper look old
Here are the 6 easiest ways to make paper look old and create a vintage look for your art journals.
How to make paper look old with distress ink
Distress inks are fabulous for creating this old paper effect. And they come in many colors so you can really experiment with them.
Tim Holtz Distress Inks in vintage colors are perfect for making paper look old.
Crumple the paper but be careful not to tear it.
Use a blending tool or a make-up sponge and apply the ink with light pressure all over the paper. The crumples will be visible and this creates a lovely texture on the paper.
Finally, ink the edges. In other words, distress them to get an even better look.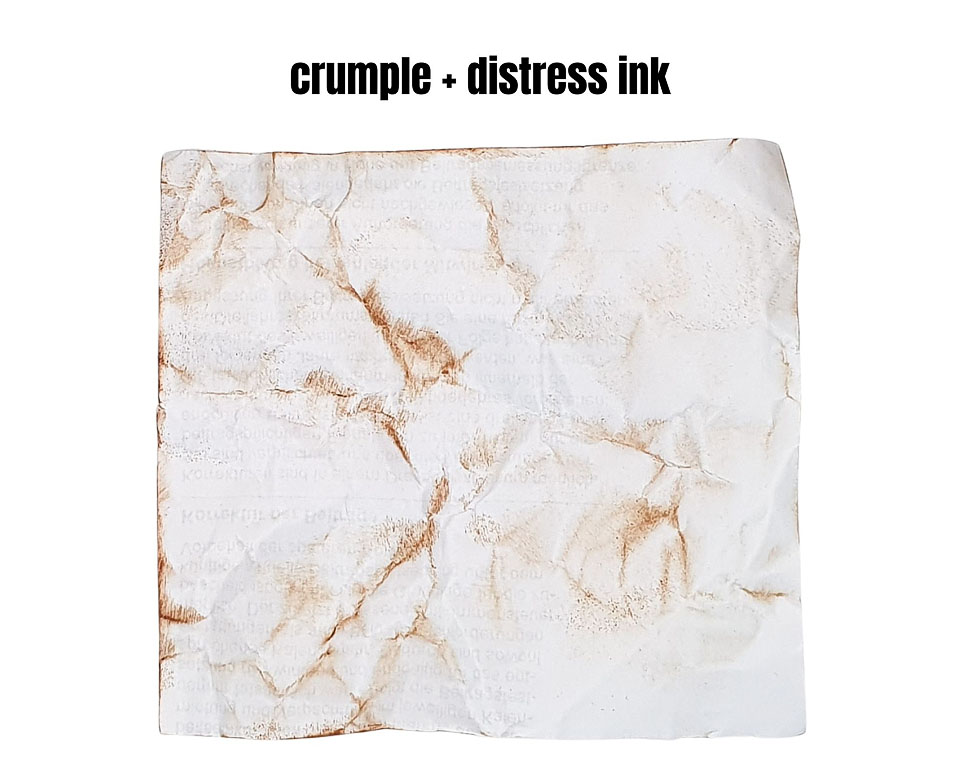 How to make paper old with distress ink and water
Now that you've tried the first technique with ink, you repeat the process and then take a round brush and add water to the paper.
This will smear the ink a bit and create an interesting effect.
You need to be careful not to add too much water if you're using thin paper. It might tear.
Then leave it to dry completely before using it on your page.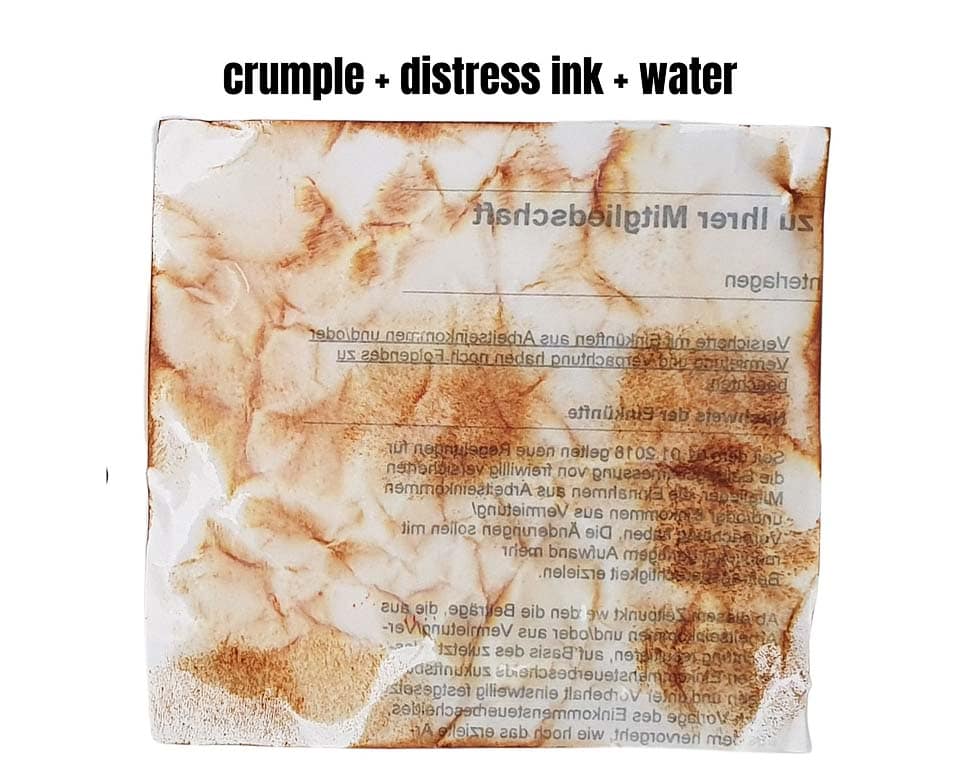 How to age paper with acrylic paint
If you have brown acrylic paint, you're good to go.
However, if you don't, you can make it by mixing red and green, or blue and orange.
Then, add a lot of water to the mix to make the color as light as you can.
Crumple the paper. When you do that, apply the watered-down paint on the paper slowly while being careful not to tear the paper with too much water.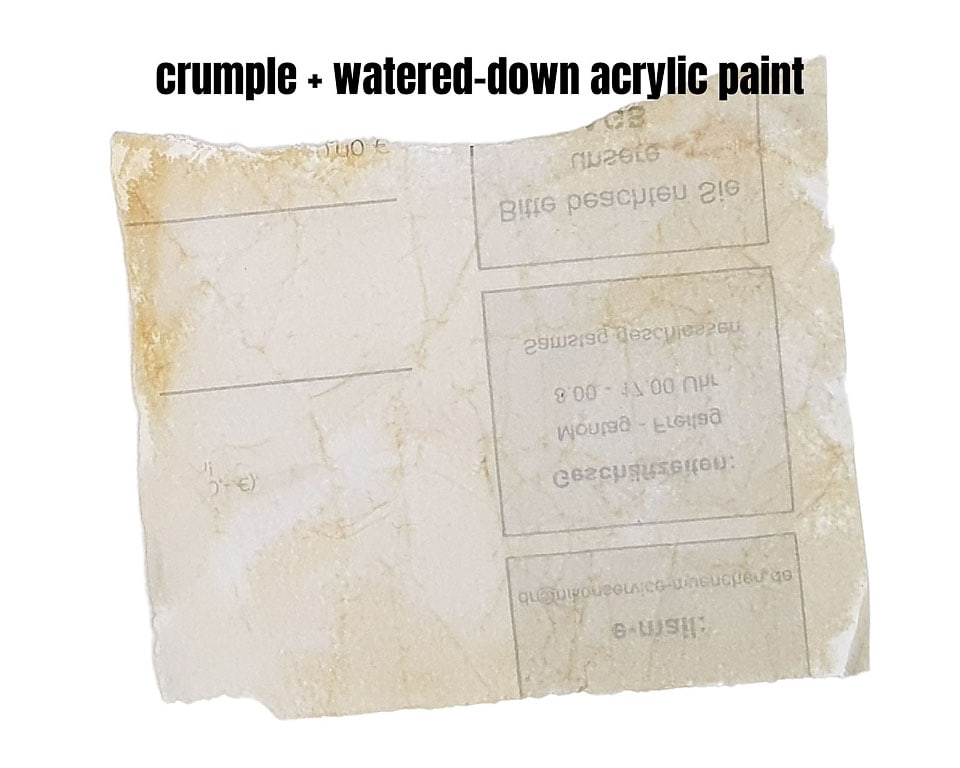 How to age paper with watercolor
This technique is really easy, especially if you already have a lighter brown watercolor. If not, you can mix blue and orange or red and green until you get a brownish color.
Crumple your paper and start painting it. Again, be careful with the amount of water.
If the paint is too dark, add more water to the mix until it becomes a really light brown.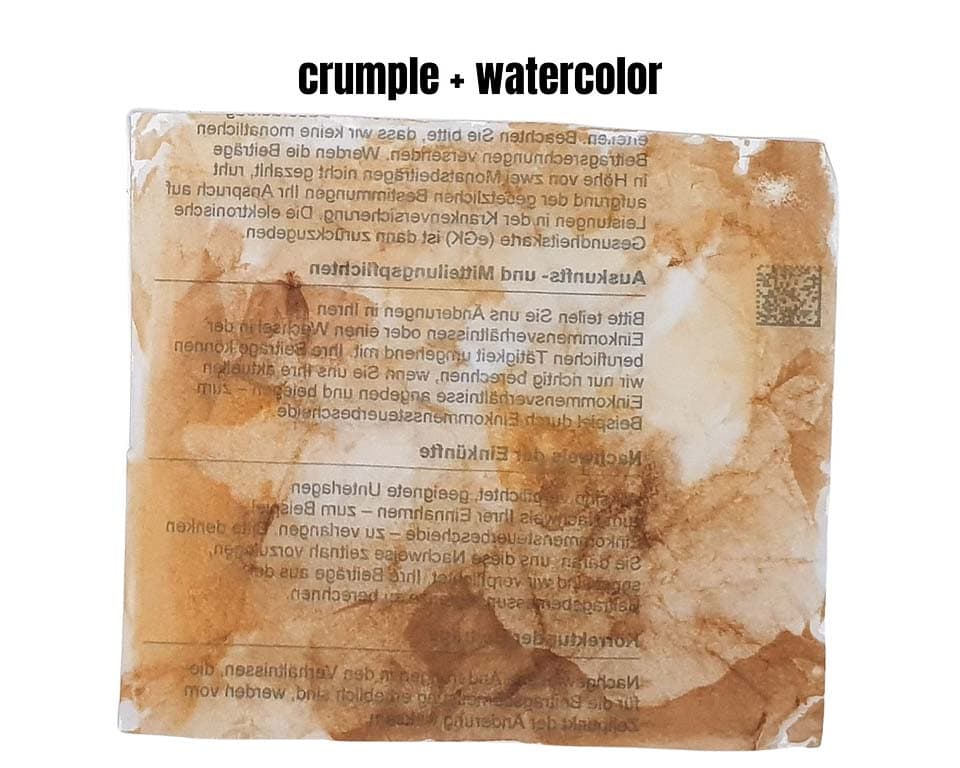 How to make paper old with a lighter
First of all, I want to warn you that using a lighter or matches must be safe. Ok? 
Prepare a jar of water in case things get out of control.
Then take a lighter and slowly burn the paper by moving the lighter all the time. This should take a few seconds. The moment the paper starts to burn, blow into it to put the fire out.
Repeat this in the areas you want to burn. Edges are the easiest to burn so start there. If you burn the paper inside the edges, you'll just create holes.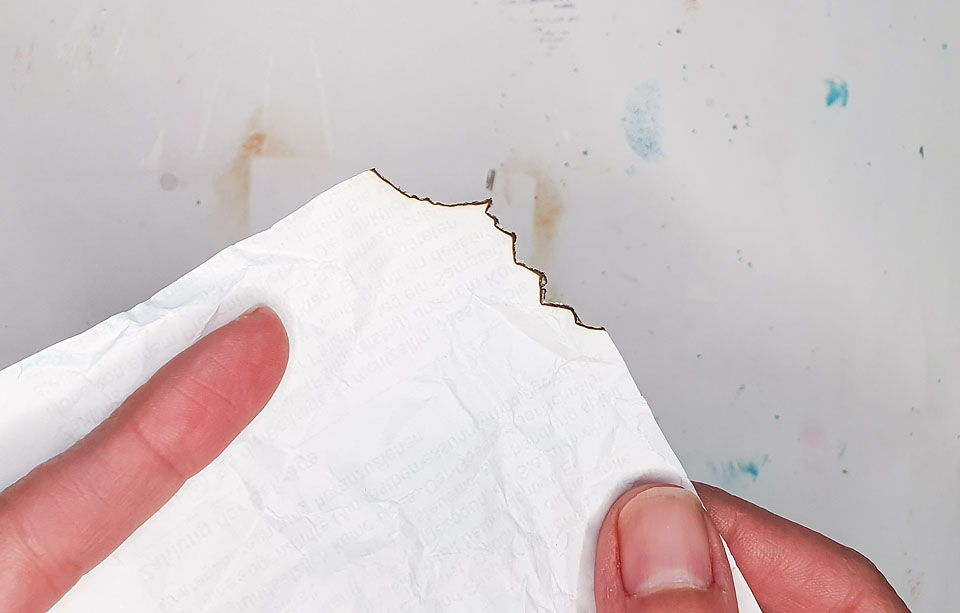 How to create old paper with tea
I've seen people do this using the oven or big dishes and stuff. I'm too lazy for that and often don't have time.
First, crumple the paper heavily.
So, what I do is make a cup of tea and after a few minutes use the tea bag to slightly go over the paper. I also dab it on the paper so it can release some of its color.
This way, your paper will look slightly damaged and everything is subtle. I love that.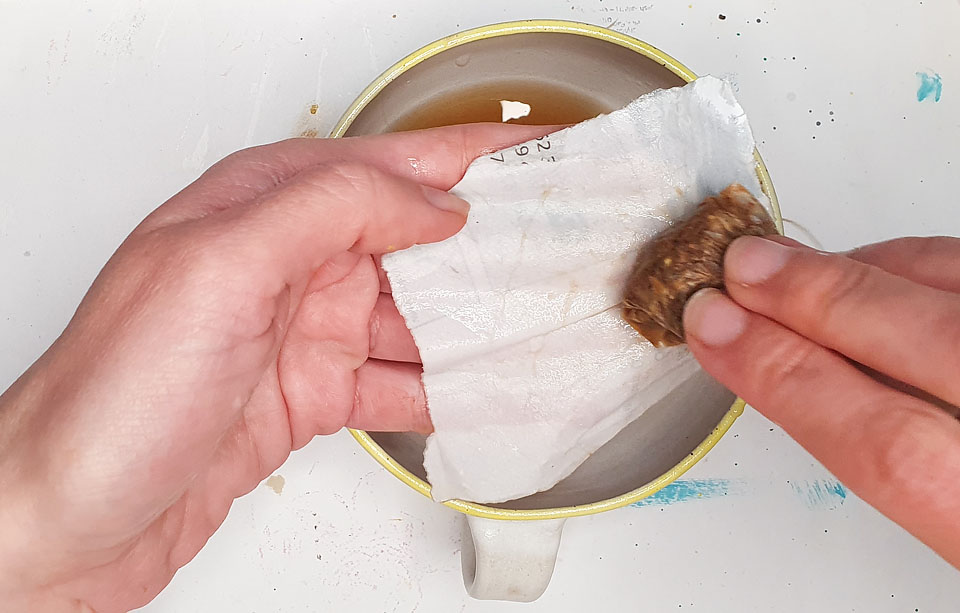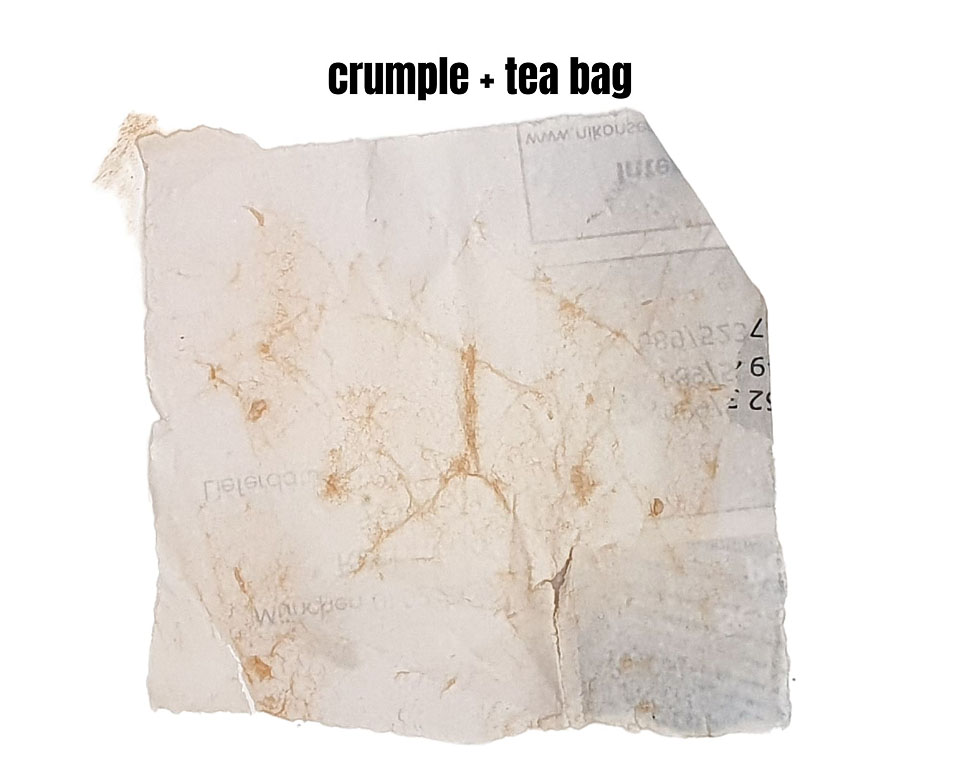 How do you age an edge of paper
This is pretty easy. You can do this in two simple ways.
Use a brown ink pad and go over the edges lightly. You can do this directly with the pad or dip a make-up sponge with ink and then go around the edges. Work lightly and add more ink here and there.
Use brown acrylic paint and a kitchen sponge. Take very little brown with the sponge. This is important. Then go over the edges lightly while holding the paper in the air. Just scrub the sponge on the edges and it'll leave a fine, brownish mark.
Tips for creating old paper
Always crumple the paper before using anything else because it'll create a great effect and make it look even older
Don't use too much water on thin paper so you don't tear it
Let the paper dry completely before using it for art projects
Use brown colors whether it's watercolor, acrylics, or inks
If you're making smaller paper scraps, don't cut them with scissors but tear them. It adds to the old paper look
Distress the edges of the paper to make it more interesting. You can do this with an ink pad, or even with a small amount of brown acrylic and a kitchen sponge.
If you don't have time to wait for the paper to dry, use a heat gun to dry it quickly
Combine two or more techniques for aging paper. For example, you can paint it with watercolor and then burn the edges r distress the edges.
When you age paper with a lighter, set it on low, just to be safe
What can you do with all the aged paper?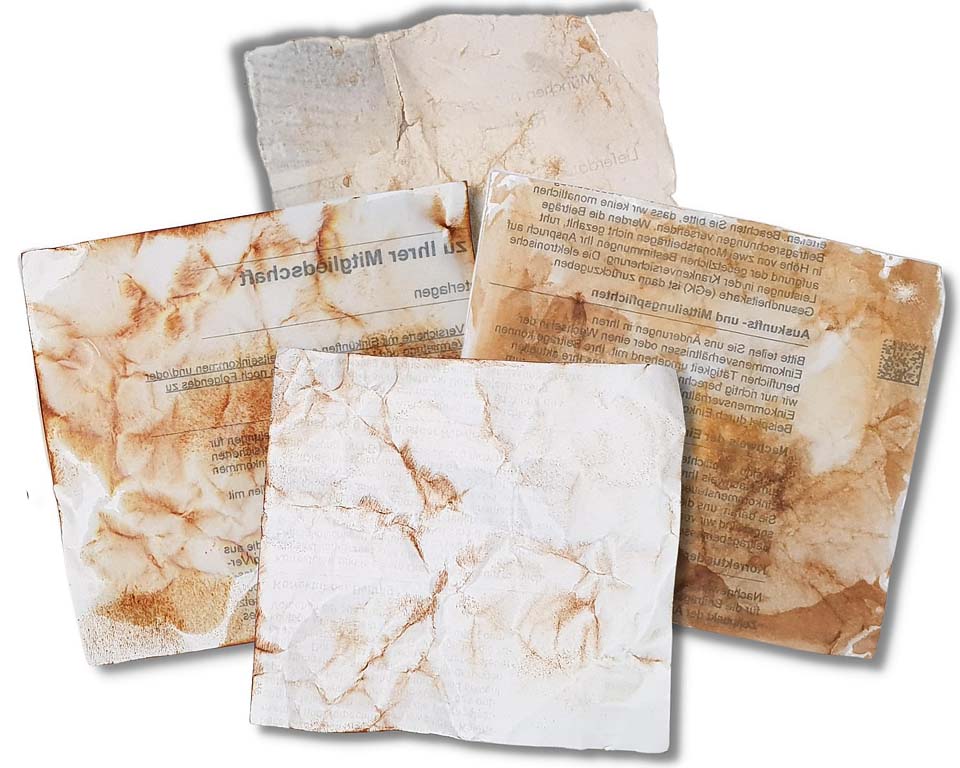 Oh, the possibilities are endless. But here are some ideas you can use:
Tear it to paper scraps and use them to collage a background
Use it as a background itself
Layer it below other images or elements
Tear them into very small pieces and create big letters with them
Journal on them with a nice pen or ink and put that on your page
When they're dry, stamp on them
Doodle on your old paper with a black pen and then use it on your page
Write poems on it and use it in a project or frame it
11 Creative Ways To Redo Bad Art Journal Pages And Fix Mistakes