Easy Acrylic Painting Ideas for Your Art Journal Using Stencils
What about some acrylic painting ideas for beginners?
We never stop learning with acrylic paint, especially because it's a great medium to experiment with.
That's why I want to share these simple acrylic painting ideas that you can use in your art journal.
I've learned these techniques by experimenting a lot and of course, having so much fun. If you're not having fun…why do it anyway?
Acrylic painting ideas with stencils
Stencils are pretty awesome, right? They are versatile, easy to use (although not easy to clean, and I hate cleaning them, but what can you do), and offer endless possibilities to make amazing designs.
Also, I want to encourage you to experiment on your own. I promise you'll love what you learn, and you'll enjoy every second of it.
I tried to make these as simple as I could so you can easily follow the process and not be overwhelmed by art supplies or many steps.
So, here are some of the ideas I've prepared for this post, I hope you'll find them fun and useful.
1. Acrylic paint + stencil + sponge
A sponge is a great tool to use with acrylic paint. Besides paintbrushes, I think the sponge-acrylic relationship is natural. Like when you combine fish and chips, or cookies and milk. They just go well together.
I think it's because the sponge has the ability to soak up the acrylic paint and use all the paint it's soaked. When I start dabbing the paint with a sponge, the paint just goes on and on. It's like a never-ending source of acrylic paint coming from the sponge.
So, how to do this? Easy-peasy. School-level stenciling, but still so fun.
Just place your stencil where you want it, maybe secure it with some paper clips. Put acrylic paint in the middle of the stencil and start dabbing it with a sponge.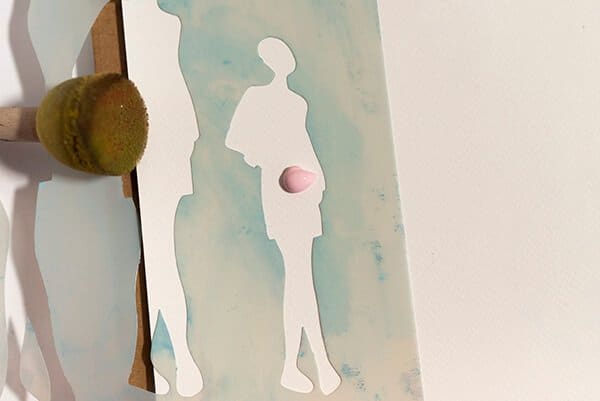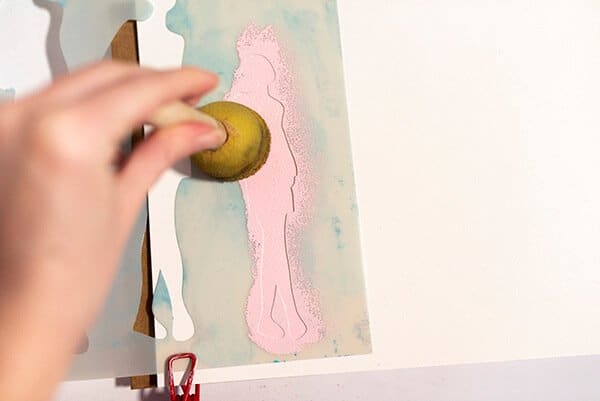 I also did another one in yellow and it bled a little on the side. If this happens, don't freak out. When you think about it, does it really matter? No.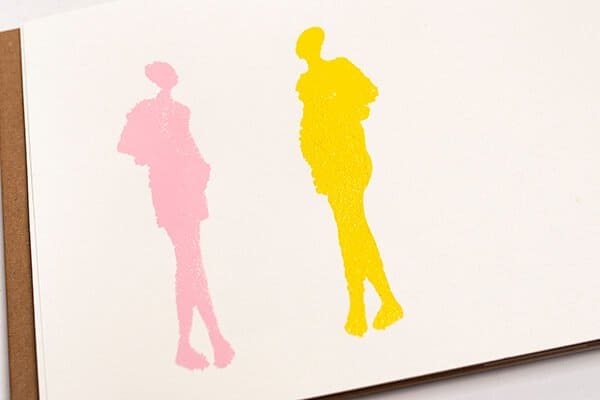 FUN TIP: When you're done, clean the stencil in a quick-witted way. Take a piece of paper or open another art journal page, put the used stencil onto the paper, and clean it with a wet cloth by pushing the paint inside the stencil. This way, you'll get another stencil design by using leftover paint.
2. Use a stencil brush
A stencil brush can also be a great tool for this purpose. It's a bit different from the sponge, but it also creates a bit of texture.
Just place the stencil down and apply acrylic paint with the brush by dabbing. I love this dabbing technique and I use it a lot.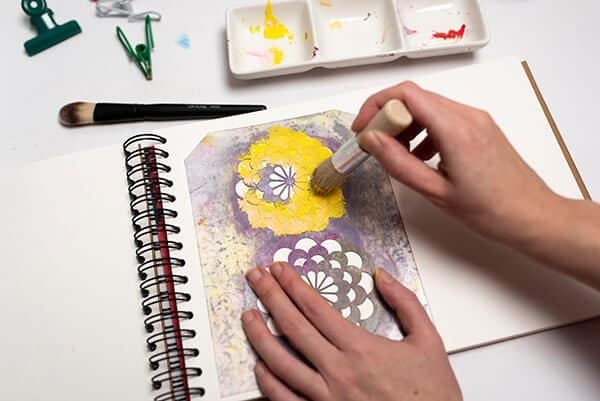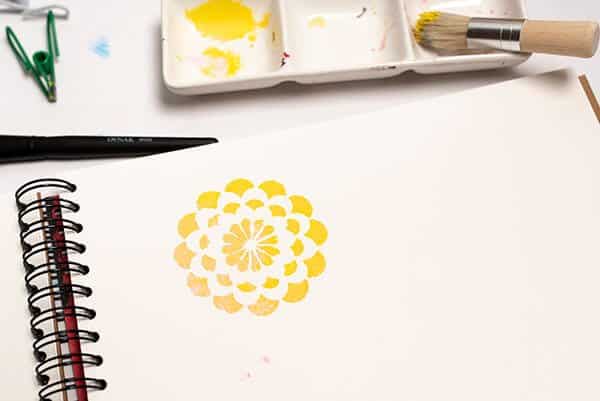 You can make this more fun if you mix two or three colors and apply them at the same time with one stencil. I thought of this after I already did the flower, but you experiment with it. Get messy!
3. Acrylic painting idea using a palette knife
I think this is my favorite tool to apply acrylic paint with a stencil.
In this example, I used my own DIY human figure stencil template that I can use for different projects in my art journals.
I'd love to share the stencil template with you, so if you want to try it, here it is below.
How to use a palette knife to make these gorgeous shapes?
Place the stencil on the page and secure it with paper clips. You'll need the clips because the stencils tend to move, especially if you work them with a palette knife. They become restless, so to say.
Put three or four different paints inside the stencil frame and let the party begin.
After that, use a palette knife and slowly work the paint around. Try to enjoy watching how the colors interact, how the paint flows under the palette knife, and be careful to work slowly so you don't move the stencil or accidentally put a lot of paint so it bleeds.
I looove this process because it's meditative and relaxing, and on top of it all: you never know how it'll turn out. That's what makes it so fun.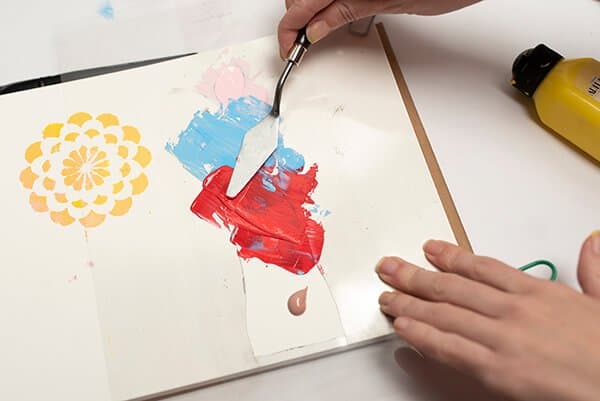 Isn't it amazing?! It looks like acrylic paint flows on the page. I also think that the reason why it looks so good is because of the stencil. The stencil has a lot of space to move the paint around, so this effect works best with these kinds of stencils.
4. Layering with stencils and acrylic paint
When layering with paint, just be careful to leave the first layer to dry before you add the second one.
Remember that flower in the photo above? I used it as a crown or hair for my next human on that page.
I layered the stencil so the flower fits right above the head.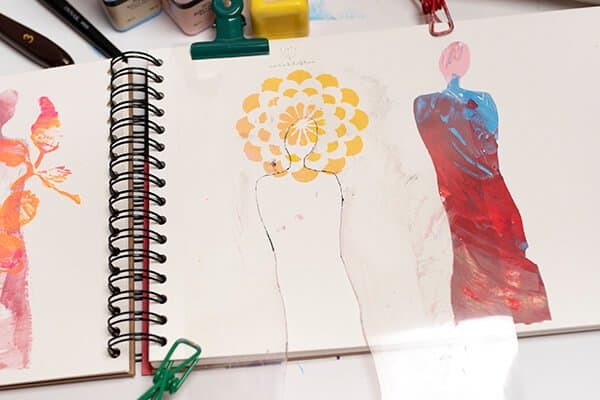 Next, I applied acrylic paint with the palette knife again. Here's the result.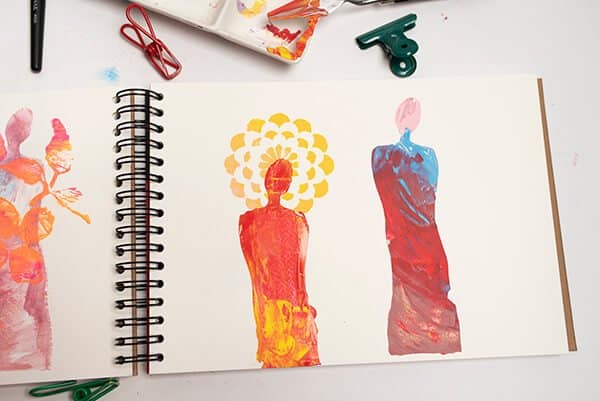 I'm loving these girls, humans, figures, whatever you call them. They remind me of African women in colorful tribal outfits.
TIP: If you want to try this technique, just be sure to leave the paint to dry for longer than usual. Using a palette knife leaves a thick layer of paint so it needs more drying time.
5. Stamping with acrylic paint + stencils
Again, I used my DIY stencil, a stamp, black acrylic paint, and a brayer.
If you don't have a brayer, you could use a brush or a sponge to apply the paint on the stamp, but do it very lightly. Even more lightly than you're thinking now.
I placed the stencil where I wanted it, put some acrylic paint on the stamp, and just stamped through the stencil.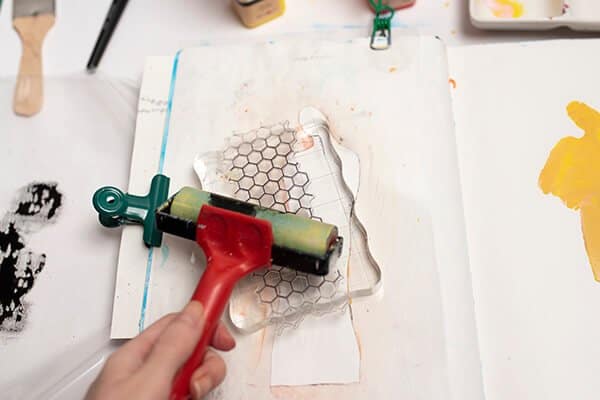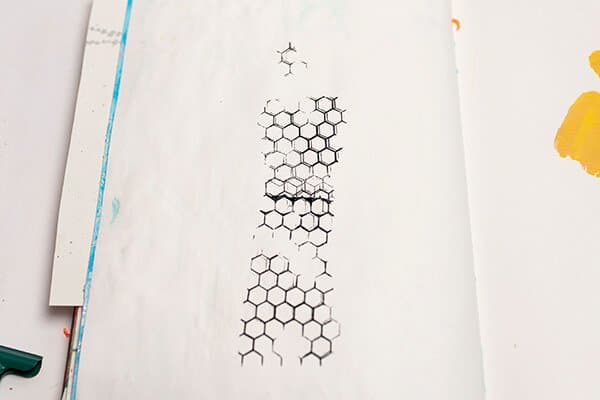 After lifting the stencil, my figure wasn't really clear, so I used a waterproof pen and just sketched the figure around the stamped image. Also, I added simple facial features and some crazy-looking hair.
Finally, I painted the whole background with black acrylic paint. Do you love the simplicity of the page?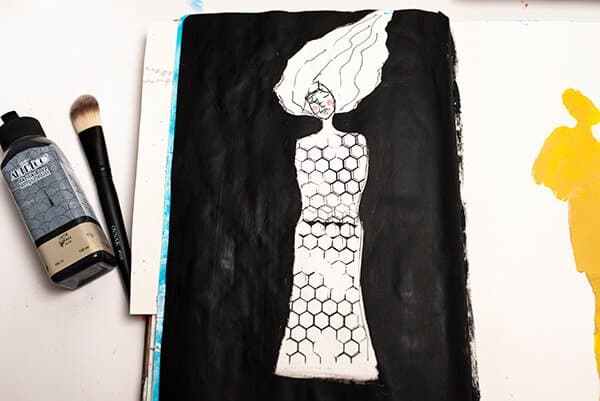 I think I'll write something on the black background with my white Posca pen when the paint is completely dry and when I feel inspired to add words.
6. Acrylic paint + stencil + brayer
This can get messy but bring it on. I've never heard of neat and tidy art. Have you?
For this, I used my flower stencil and two colors of paint.
Again, secure the stencil with clips so it doesn't go wild, put some paint on the stencil and brayer all over it. Brayer the hell out of it (laughs).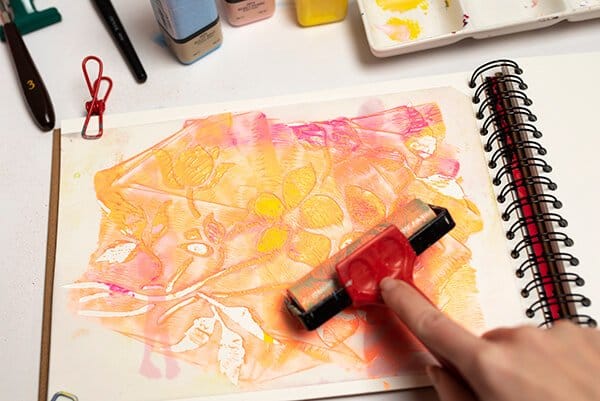 The paint will be stubborn at the beginning and won't go into the stencil right away, but just work it around and add some more paint if necessary.
Didn't I tell you it would be messy? However, you can use this technique for a messy or loose look, even a grungy look if you use darker colors.
What about using the technique on black paper or black acrylic backgrounds? Try it. Experiment whenever you get the chance, use one color or mix three or more. The possibilities are endless.
7. Acrylic painting idea with a stencil and a wet cloth
Here's an abstract acrylic painting idea.
For this technique, you can use one or two layers of paint. I used only one layer for this tutorial.
The point is to use the stencil and a wet cloth to lift some paint and leave a mark.
Here's the process:
Paint the background with acrylic paint.
While the paint is still wet, put a stencil on the page, and using a wet cloth, lift up the paint through the stencil.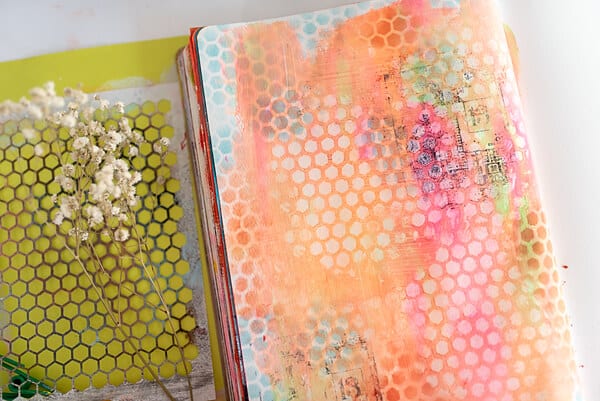 The bottom layer will appear through the stencil design, or if you chose just one layer, you'll see the white paper underneath.
If you want to use two layers, wait for the first layer to dry, then paint the second layer and while this is wet, lift the paint with the cloth.
TIP: You can also use baby wipes for this technique, although I try to reduce them to a minimum because it's a lot of waste. However, if you decide to use baby wipes, don't throw them away. Let them dry, and later you can use them in mixed media projects, cut them and glue them on your pages.
Final thoughts on these simple acrylic paintings
I hope you've been inspired by these easy acrylic painting ideas. I tried to make them as simple as possible but still, give you enough value so that you can continue creating and experimenting with this medium.
Experimenting is the key when it comes to art journaling. The more you try out things and ideas, the more you'll learn and become more confident in using different art supplies and media.
Acrylic paint is a great way to start experimenting and coming up with your own ideas. Don't be afraid to use it and play with it.
RELATED ACRYLIC PAINTING IDEAS ARTICLES
Art Journal Acrylic Backgrounds: Easy Ideas For Beginners
Top 5 Art Supplies To Use In Your Art Journal
Fast And Easy Mixed Media Background Tutorials For Your Art Journal