9 Creative Ways to Find Art Journal Inspiration When You Get Stuck
If you're struggling with finding ideas and starting your art journal pages, here is a list of ways to find art journal inspiration:
Let it go
Go out and about
Use quotes
Use music
Explore the topic that fascinates you
In your home
Get social
Meditation
Experimenting with art supplies
Do your own magic with these ideas I'm going to show you about finding inspiration. They have always worked for me. I let my mojo go when it wants, I don't push it. (What's the point of that?)
But I slowly lure it back in by doing something productive and inspirational that my mojo's definitely gonna love.
NEED INSPIRATION ON HOW TO START YOUR PAGES?
Get your FREE art journal starter kit for beginners and get loads of ideas for starting, develop your own process for making pages, and express your creativity freely and without any overwhelm.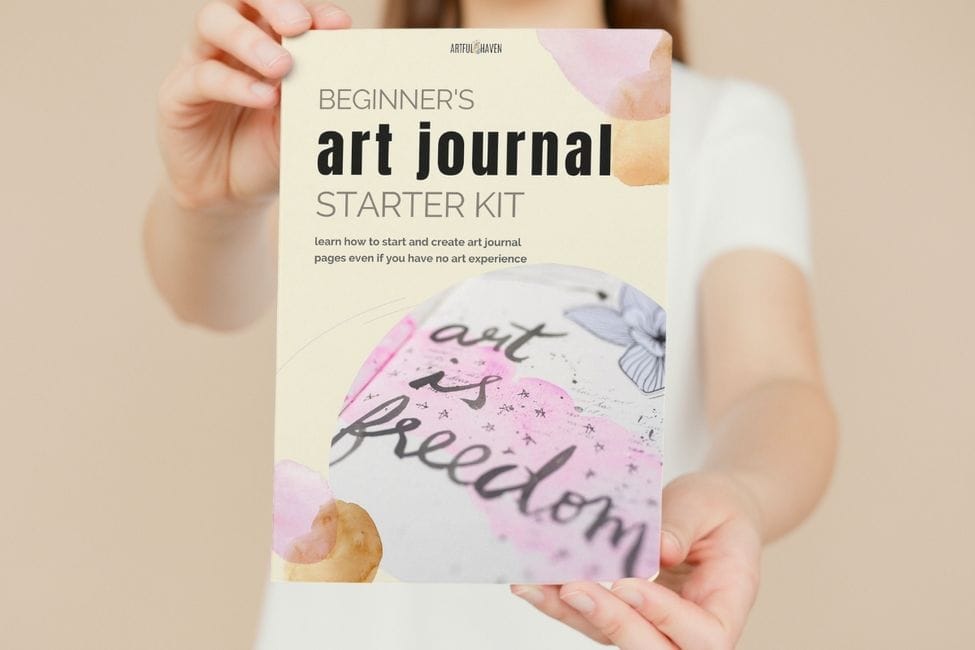 1. Let it go
Letting go of your mojo and embracing the creative block is the first step. The block is there. It's fine. Have a cup of coffee with it. Make friends. Enjoy the ice cream on the balcony, it's just a period that'll pass. What you can gain is a time of no stress and overthinking.
Take a day or two, don't come near your craft area or supplies. Instead, hang out with friends more, a few laughs with your close friend is better than being low-spirited about your creativity.
Just let it go for now. You'll feel fresh. I promise you.
2. Go out and about
If you have the opportunity to visit nature, do it every time you can get. You can find inspiration for art journaling in the natural surroundings. Even a city park can serve this purpose.
A walk around the city can be full of inspirational surroundings. Beautiful architecture, trees, old neighborhoods, interesting shops, and sunsets are all magical and offer artistic takeaways.
Bring your art journal, and when you're out, draw markings you see in nature or in the city.
A shape of a leaf or a flower, the geometry of the city's architecture, the different shapes of windows or gates, the list is endless.
The last time I went on a picnic by the river, I picked some flowers, dried them, and now they are ready to be used in my art journals.
During your walk, put earphones on and play your favorite music. Then, you become the sole observer of the world around you.
You become aware of all the beauty in the everyday and simple things. Use those. Mark them in your art journal.
You can also take photos of the interesting things you see around you. When your mojo comes back, you can use these photos to create wonderful pages in your art journal. And revisit them for some more inspiration whenever you need to.
3. How to find inspiration with quotes
We all have our favorite authors, artists, musicians, aaaand the list goes on. Collect various quotes by the people that inspire you. Choose your favorite ones and write them down in your art journal.
Instantly, you'll feel a desire to make these words beautiful. Doodle around them, put a few bits of paint here and there. Play.
Think about why this quote inspires you. Why did it touch you? What is the emotional response you have to it? Jot it down, too. List all the magical words that you think of because of that quote. Wow, that's already a whole page in your journal, right?
Oh, mojo, your resistance is futile.
You'll love this so much that you'll want to create an art journal reserved only for quotes. I've done it. It's a very special kind of journal. I handle it with care. It holds my deepest inspiration for art and life.
If you get inspired in your daily life, the inspiration for your art journal is not that far away!
4. How to find art journal inspiration with music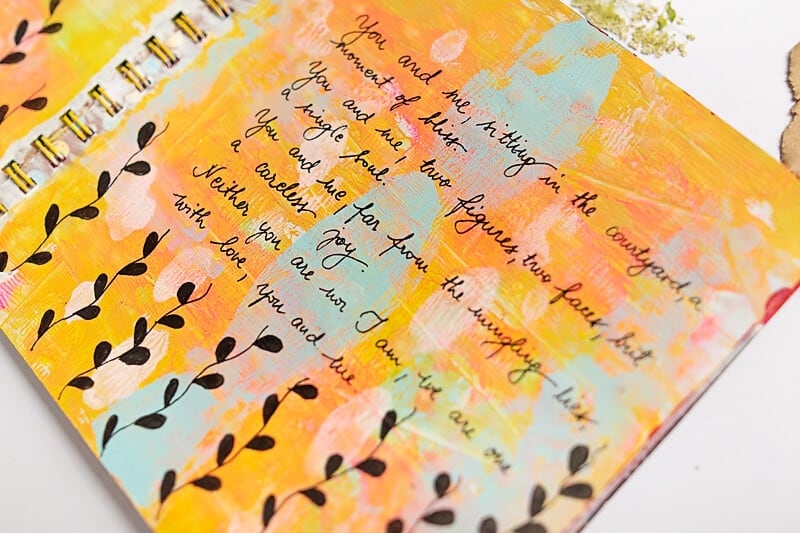 I can say so much about music and creating art that this could be a separate post on its own. Music is art! The melody, transitions, oooh, and words. They can move a person. Like really, really get to you.
Just like you did with quotes, think about the song lyrics that move you deeply. It could be a verse or a line. Write it down. Get creative with fonts.
Experiment with brushes, paint, or ink, use a pen or a marker in different colors. These words deserve some attention because they evoke emotions.
Play your favorite song and write down feelings that the song evokes while listening. Do you feel any of those now? What color is that feeling? Paint it on paper. Use your finger and put some paint on your words. Doodle while listening to that music.
5. Research on the subject that fascinates you
I can't explain in words how much I'm in love with the idea of the universe, the Moon, the stars, and the galaxies. Stargazing, meteor showers, full Moons…you name it.
These things mesmerize me and remind me of daydreaming and magic. Because the universe is magical! This is where I can always find inspiration for art.
What's your fascination?
Be engrossed in it. Research on those topics and make notes of the most wonderful things there that give you goosebumps. Soon you'll be creating a piece of art you won't believe came from you. That's how good it'll be!
6. How to find art journal inspiration in your home
Your home is your sanctuary and the representation of you. If you haven't already, make it inspirational so you can draw ideas from it every day.
Your craft space
Even if it's just a tiny table in the corner, make it artistic to the core. Put inspirational quotes on the wall. Pick out photos of places or memorable events from your life.
Besides them, add other artwork that inspires you. I have a picture of the Moon phases (the universe, remember?) because it's dreamy and makes me think of magical things.
You can also hang an object that's of a material or color that resonates your style and boosts your imagination.
The rest of your home
Your home can also be inviting and inspirational. What about a shelf that can light your creative spark in a matter of seconds because it tells a story about you and your creativity?
Use your wardrobe! You open it every day. Give it one more purpose. On the inside, glue a quote or artwork that inspires you. Just to set you in the creative mood right from the morning.
It'll be like the smell of fresh morning coffee to your artistic mojo. Irresistible.
7. Get social
Hang out in a circle of people who understand you and can help you with your creative blocks. Use the Internet! There are many art groups on Facebook visited by wonderful people and artists. Connect with them.
Drool over Pinterest or Instagram and find art journal inspiration in other artists' works. BUT, please don't compare yourself to anyone.
There'll always be artists you admire and wish you could be creative and artistic like them, however, don't create a self-pity atmosphere. Self-pity and undermining your worth do you no good. You're smarter than that.
8. Find art journal inspiration with meditation
Meditation changes your mindset. It calms you down and stops you from overthinking. A great way to silence the inner critic. (Oh, we all have that tiresome nagging voice in our head).
Here's a link to read more about ignoring his dreadful majesty and find inspiration for your art.
Use positive affirmations for your creativity to lift up your spirits. Say them aloud when you have relaxed in your bed before sleep (or in silence, it works either way). Repeat as many times as you feel the need.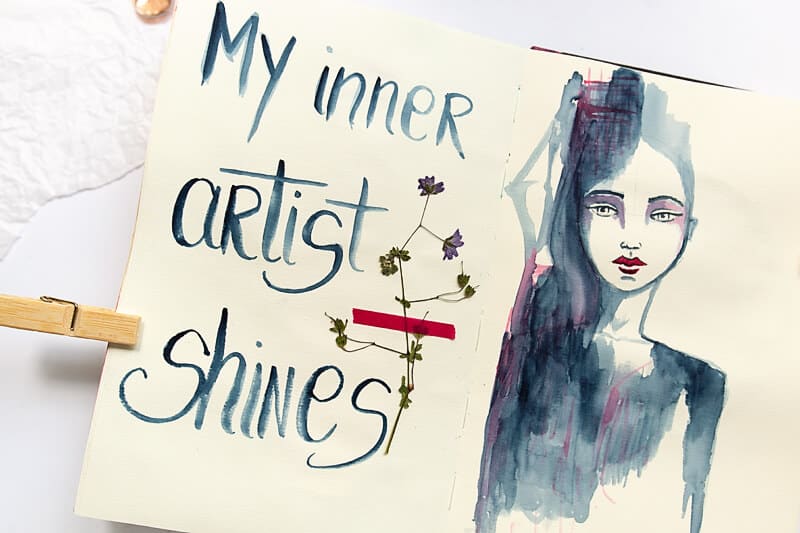 I usually repeat it being completely aware of the words until I can feel a wide smile on my face and a serenity cloud around me.
Do this every day and somehow, you'll start believing them soon (you influence your subconsciousness this way). Then you've changed your mindset and that's when the magic happens.
9. Just create a tiny bit of art by experimenting
Experiment with your supplies with no goal of creating anything. Have you tried all your acrylics so far? What about that yellow standing in the back? Try the supplies you've rarely or never used. See how they behave. Make swatches.
Try out different pens for lettering and for doodling. See which you like for its thickness, smoothness or color. Just do some lines to figure this out.
Combine supplies that you usually don't use together. For example, use acrylic paint with stamps instead of an ink pad. See how that works.
I guarantee that you'll create something gorgeous just by experimenting with your supplies. You'll be all like: Where has this come from?
Artistic Mojo back home yet?
Happy to see you two reunited!
Refresh and change your mindset by becoming an observer of your surroundings, and turn the things you see into your art. Even a tiny little thing like a leaf can inspire you with its shape, color, and texture.
Create an atmosphere for yourself every day that elevates your artistic spirit, whether it's a quote or some alone time for music or meditation.
Believe me, your artistic mojo never leaves for good. No way. Leave it be. Give yourselves some time to miss each other, then, when reunited, magical stuff happens. Both of you are fresh and ready to create awesome pieces of art.
NEED INSPIRATION ON HOW TO START YOUR PAGES?
Get your FREE art journal starter kit for beginners and get loads of ideas for starting, develop your own process for making pages, and express your creativity freely and without any overwhelm.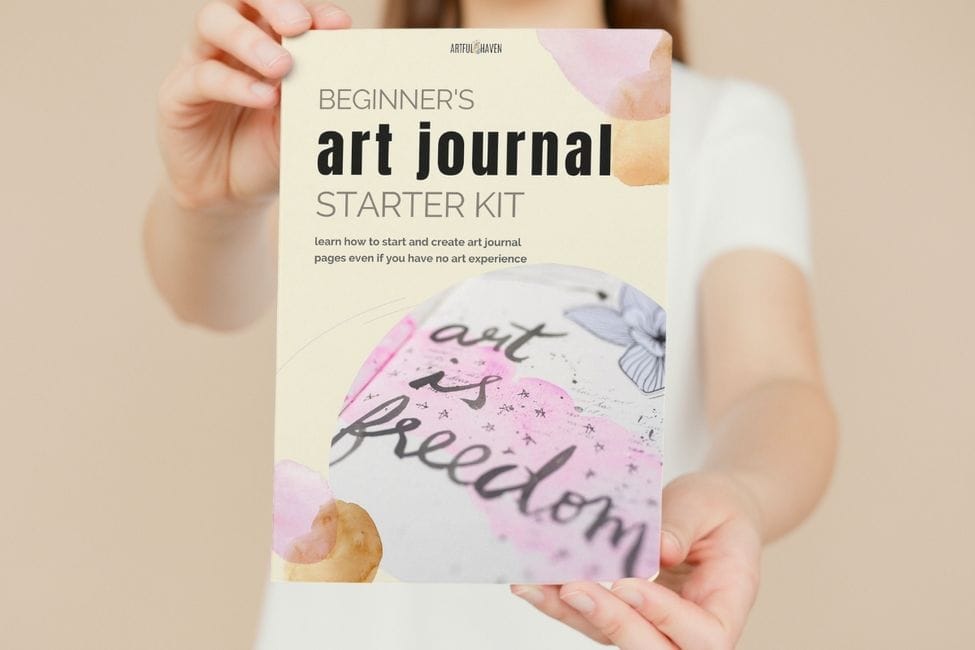 If you like these ideas on how to find art journal inspiration, pin this post to your favorite Pinterest board!