Art Journal Prompts: Winter and Holiday Art Journal Pages
Today, I'm sharing 23 winter art journal prompts to help you start your art journal pages during cold winter days.
The winter season is also the holiday season, so everybody is already talking about Christmas and New Year (a bit too early if you ask me). Having this in mind, I prepared a few Christimissy art journal prompts that I hope will inspire you to create something amazing, simple but unique.
Disclaimer: Some links in this post may be affiliate links. This means that if you purchase something through that link, I get a small commission, at no extra cost to you.
WINTER ART JOURNAL PROMPTS
Here's the list of winter art journal prompts I'm sharing with you. I tried some and enjoyed making them. For the ones I've done, there's a photo of the page included, so you can see how it turned out.
1. BLACK ACRYLIC PAINT + WHITE PEN
Color the page with black acrylic paint (or use black paper) and doodle a Christmas tree with a white pen. You can use a gel pen or a Posca pen for this. Add details as you like.
2. OLD BOOK PAGES
Find an old book you don't feel sorry for recycling and take out some pages. Tear the pages in small strips, from the longest to the shortest. Next, make a background in your art journal, just paint it a bit if you want. Now, align the strips so you can make a Christmas tree.
You can use as many strips as you like. Even just three will be effective although minimal and simple. On the top, draw a star or cut out a star from paper. On each strip, write what you're most thankful for.
3. TRIANGLE TREES
Take different papers, plain or patterned (I like patterned for this), and cut out tall triangles. Each triangle is going to be a tree. Make as many as you want, play around. Just bear in mind that odd numbers often work better, especially the number three. It's just like that. In any type of art.
4. A WISH LIST FOR SANTA
Pretend you're a child and go wild with wishes for Santa. You know you won't get all of them and that's not the point. The point is to let your imagination free and have some fun time. Try writing your wishes in different letter styles and colors. Decorate as you like.
5. ANGEL + A PRAYER
Paint an angel. Write your prayer in the angel.
6. WINTER TREE + SNOW
First, make a darker background with blue paint. The background will serve to make the snow pop and be more visible. Draw a tree with some branches. Take q-tips, put 5-6 together, dip them in white paint, and dab all over the branches. It'll look fluffy and wintery.
7. NEW YEAR
Write about your New Year's resolutions. You can choose only one that's very important to you, write it down and make art around it. Remind yourself to look at it often throughout the year.
8. CHRISTMAS LIGHTS
Doodle Christmas lights all over your page. Make it as colorful as you want.
9. COLLAGE
Make a fun collage on your page using paper scraps. Then, use a paper the size of your page or smaller. In the middle, cut out the triangle shape – this is going to be your tree. Glue the paper on the collaged page. You should see the collage through the triangle-shaped tree.
10. WINTER FAIRY
Paint a whimsical winter fairy. You can make her any way you like. Maybe with rosy cheeks, or curly hair, give her a big hat, or a lovely dress.
I've also made a whole art journal spread with this winter fairy printable, so if you want to check out that mixed media tutorial you can hop over to the post here.
Here's what it looks like: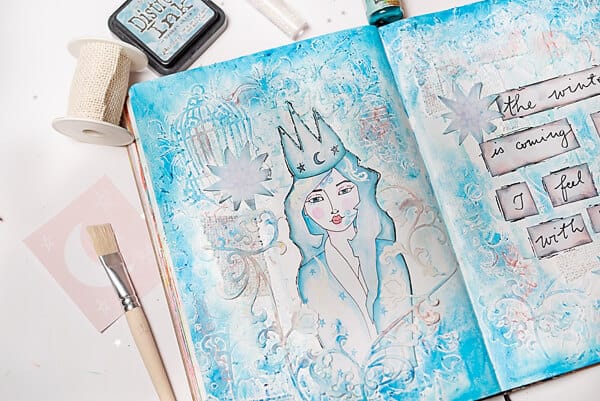 11. LIGHT BULBS + WISHES
Make light bulbs hanging from the top of your page. In each bulb, write something, things you're thankful for, or things you want to achieve next year.
12. WINTER FEEL
How does winter make you feel? Write about that and decorate your words.
13. DOODLE TREES
Paint black trees, like silhouettes. Then, add white dots to them. Instead of dots, you can doodle stars. Before you paint trees, you can make a colorful background so the trees stand out more.
14. DOODLE SNOWFLAKES
Try doodling snowflakes. Search the internet for all those beautiful snowflakes out there and their shapes. Copy some of those, or let your imagination flow and doodle your own. You can make this really effective if you doodle with a white pen on a dark background.
For this page, I used Posca pens/markers (in the photo) and I must say that they are excellent for doodling, especially on acrylic backgrounds that have a bit of texture. Regular pens can't handle texture and they clog, but Posca does an amazing job here.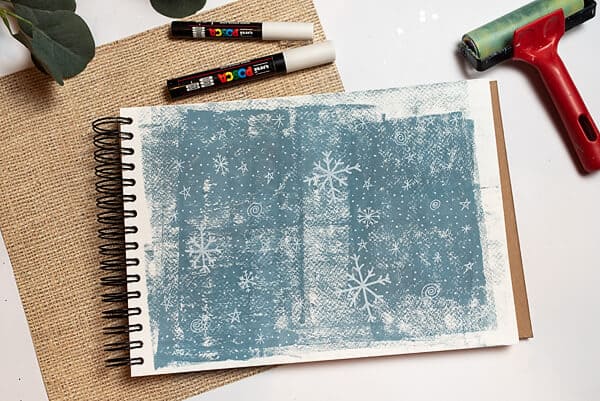 15. DOODLE WITH MASKING PEN
Or if you have a masking pen, doodle snowflakes, then paint watercolor all over it. Once it's dry, peel the mask off, and you'll get amazing results. Neat, right?
16. PAPER SNOWFLAKES
Make snowflakes out of paper, you know how we did that back in the school days? Cut out a circle, fold it 3 times, then cut at certain places, and once you unfold it, you get a geometrically correct and beautiful snowflake. Glue this on your art journal page. This can be fun if you cut snowflakes from patterned papers.
Also, you can use these stars as stencils or masks. Just explore and enjoy it.
17. WHIMSICAL ANIMAL
Draw a cute whimsical animal and give it a warm scarf and a hat. Also, you can give it big eyelashes and add some snow to them.
It doesn't have to be perfect or realistic, invent an animal if you like.
18. WINTER LIKES & DON'T LIKES
Make two pages. On the left write about what you don't love about the winter or the holidays, and on the right, write about your favorite things about this season. Decorate any way you like.
19. DOODLE WHITE TREES
On a dark background, draw white trees, very thin ones. Make snow dots all around them in the background.
20. DOODLE WINTER TREES
Doodle winter trees. Draw the trees with a black pen, and doodle inside them. Draw lines or shapes.
I tried this on a darker background. Now, you might think: but these don't even look like trees!. And you'd absolutely be right (lol), but the thing is, I don't really care. As long as I'm having fun doing this, the result doesn't bother me at all.
21. STARS AND CIRCLES
Cut stars and circles out of different papers and write your wishes on them, or what you're grateful for, or just some winter words you like, for instance: fireplace, blanket, snuggle, hot chocolate, tea, candles, etc.
22. WINTER COLOR PALETTE
Just play with a winter color palette, like blues and whites. Paint shapes or just play with finger painting. Explore different shades of blue on the paper.
23. MOUNTAIN TOPS
Draw a minimalistic page with mountain tops. Make it very child-like and simple. Later, if you want to, you can add some color to it, or anything else. I added a stamped girl, a few stickers, and some doodles.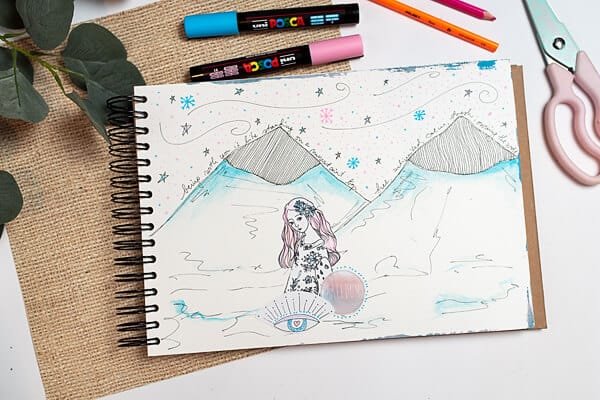 FINAL THOUGHTS ON WINTER ART JOURNAL PROMPTS
Having prompts for your art journal pages is a great way to start making something and overcome that blank page obstacle.
These prompts are just some starting ideas you can follow to just begin creating, but later, you can add more stuff on there, write sentiments, doodle whatever feels right at that moment.
As I always say, don't overthink it, just start something and you'll enjoy the process. And that's the most important thing in art journaling.
Stop worrying about the result.
Make some tea, hot cocoa, or a fresh smoothie, pick up your art journal and try some of these winter art journal prompts.
RELATED ARTICLES ON ART JOURNAL PROMPTS
30 Art Journal Prompts for Inspiration When You Feel Uncreative
How To Start An Art Journal Page: 7 Ideas You Can Do Right Now
Halloween Art Journal Prompts: 13 Ideas For Mindful Spookiness