Choosing Ink and Pens for Watercolor: Guide For Beginners
Have you been wondering about choosing the right ink for watercolor? Using ink and watercolor together can create amazing effects. The black outlines give a strong structure to the watercolor and you can use it to make beautiful illustrations and comics.
But what kind of ink pen do you need for watercolor? How do you avoid bleeding and smudging?
We're going to go through exactly what makes for a great pen to use with watercolor, and then I'm going to review the top ten best ink pens to use with watercolor and the five best inks.
This is a guest post by Katie Mehra who has long experience in using pens and inks with watercolor.
Disclaimer: Some links in this post may be affiliate links. This means that if you purchase something through that link, I get a small commission, at no extra cost to you.
The Basics: What Makes a Pen Good for Watercolor?
What determines whether an ink pen and bottle of ink are good for watercolor? There are several factors that you should consider.
Waterproof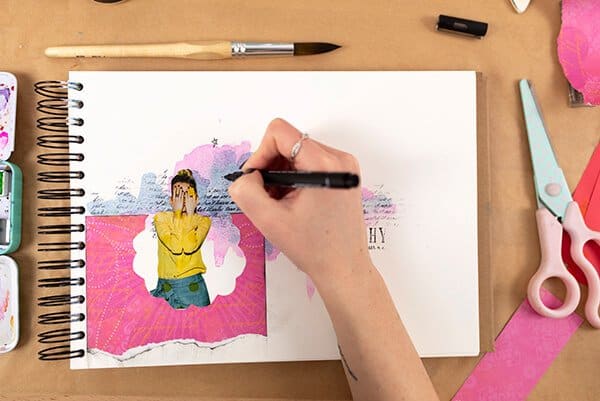 The most important factor for choosing ink for watercolor is that it's waterproof. This is normally labeled on the pen or bottle. A good waterproof ink won't smudge or bleed when you apply watercolor to it. With high-quality ink, you won't experience any transfer of color or bleeding. It is important it is labeled waterproof or water-resistant, and not water-soluble.
Not Water-soluble
A lot of inks and pens may say that they are water-soluble. You want to avoid these pens and inks. Water-soluble means the ink is actually made with water, so it will run a lot when you start applying watercolor to it. Although some people like the messy cute art it can make, for most people, you want to avoid any pens that say they are water-soluble.
It's a good rule of thumb to assume any pen or ink that doesn't state whether or not it is waterproof or water-resistant is made with water-soluble ink and, therefore, will be really bad for watercolor! Also, it's a good idea not to buy any pen that states it's water-based either.
Pigments
It can be unclear if the pen is actually waterproof. A sign it's waterproof is that the pen or ink states it's made with pigments or is pigmented ink, as these are larger physical particles that don't actively dissolve in water. They still may be water-soluble, so it's always a good idea to research online, but I have yet to find a pigmented ink that is not also waterproof.
The Time it Takes to Dry
The last primary thing to think about when choosing ink for watercolor is the rate at which the ink dries. It can be a bad idea to apply watercolor right after drawing with ink, as this can cause smearing on the page. Some experts suggest waiting 12 hours before beginning to apply your watercolor paint, but a little over an hour usually suffices.
If you love sketching or just don't want to wait for it to dry, we have a wonderful ink we will be reviewing below that's extremely fast-drying and works great for watercolor, so stay tuned.
Choosing Pens For Watercolor: Our Favorites
You should have the basics down now, so what are the best waterproof pens for working with watercolor?
Gel Stick Pen from Uni-Ball
Uni-Ball Signo pen is our top pick for a quality gel pen that is waterproof. It works really well with watercolor and we have never had complaints. Also, it's fade-proof which is a nice addition as well. It has straight and very thin lines that don't create any blobs at the end of long lines. This is our most affordable and best gel pen option for beginners who struggle with choosing ink for watercolor.
*Best Gel Pen *Cheap
You can get this pen at Amazon.
Sakura's Micron Series
Sakura's Pigma Micron series is one of our favorites to use with watercolor. This is a fine liner which means it has a plastic tip that draws nice straight lines. This pen is one of the top recommended waterproof pens for a reason. It has a nice, sleek design and is a waterproof pen you really cannot go wrong with.
*Top fine liner Pen
You can get this pen at Amazon.
Kaweco Fountain Pen
Our other recommendations are all disposable pens, which means you're going to have to buy a new pen each and every time you run out of your ink. This can get expensive if you plan to draw a lot. An alternative that's beloved by experts is drawing with a fountain pen and putting your own black or colored ink into it. A fountain pen lasts for several years and the ink is the highest quality since you can buy directly from the best ink producers.
The famous Kaweco fountain pen is an affordable fountain pen that artists around the world love. It draws extremely smooth lines that look great alongside paint. Kaweco is based in Germany and has a reputation as one of the top craftsmen of fountain pens.
*Top Beginner Fountain Pen
Impact Uni-Ball Gel Pen
If you want to try a gel pen, another great option is the Uni-Ball Impact. This gel pen is slightly more expensive than the Signo, but it is the best option if you love thicker, more broad lines. The Impact produces gorgeous lines that create a strong outline. This is great for comic art or cartoons. Although If you don't like wider lines or like to do very detailed work, this is likely not the pen for you.
You can get this pen at Amazon.
Winsor and Newton
This is another fine liner that we love. It's a very high-quality fine liner that we've found works really well with watercolor. Winsor and Newton have a great lineup of different pens with a variety of sizes and colors all in one set!
The company was founded in 1832, so they're a classic company that has really perfected the fine liner pen. If you love options and want to pick your own tip size and color, this fine liner is our top recommendation.
You can get this pen at Amazon.
Parker Pens
Parker is a famous brand that makes pens and fountain pens that many watercolorists love. This pen is adored by the artists that use it. With an ergonomic design and various options for different price ranges, the Parker pen is a historic, tried, and true brand if you are looking for a quality fountain pen to load up with waterproof ink.
You can get this pen at Amazon | Goldspot.
Fudenosuke Brush
If you like experimenting, an option is going with a brush pen for your watercolor art. The perfect waterproof brush pen is the Tombow Fudenosuke pen. It works perfectly with watercolor and is an overall great brush pen for any drawing. The brush tip allows for variation in the widths of your lines which can create a neat effect when applied with watercolor.
This Tombow pen is a really great piece to add to your pen collection, but If you don't want any line-variation in your piece, this may not be the option for you.
*Top Brush
You can get this pen at Amazon.
Unipin Fine Line
This is another fine liner pen that comes in a set of five in various sizes. This allows you to experiment with the widths of your ink outlines and drawings. UniPin fine liner is a great pen set for beginners and works great with watercolor paint. It's marketed as waterproof and fade-proof, but unfortunately, we did experience some fading/smudging when we used an eraser for our pencil markings. This is a fantastic option if you don't plan to use any pencil markings that you need to erase.
You can get this pen at Amazon.
Faber-Castell Assorted Pens
This is an amazing little pack of 8 waterproof pens from Faber-Castell. It comes with 4 fine liners and 4 brush ink pens that are all different sizes. This pack gives you a taste of everything when it comes to quality ink pens and they all work with watercolor.
Faber-Castell is a classic, luxury brand that was founded all the way back in 1761! You're really getting a great brand if you go with the Faber-Castell Pitt Artist Pens.
*Most Variety
You can get this at Amazon.
Lamy Safari
Our last option is the famous Lamy Safari fountain pen. You can not have a list of good pens without including this beautiful writing instrument. It is a beginner fountain pen, and it draws just beautifully. We recommend this for people who are interested in trying out at least one fountain pen but are on a budget.
You can get this at Amazon | Goldspot.
Choosing Ink for Watercolor: Our Favorites
If you're looking for the best materials for watercolor and ink, your best bet is to buy a waterproof ink bottle to use with a dip pen or fountain pen. These create beautiful ink outlines and effects that work perfectly with watercolor painting.
Carbon Ink from Platinum
One of my favorite inks for watercolor, the Platinum Carbon ink is a beautiful waterproof ink that looks great when applied with watercolor. It's a permanent ink that has a natural black textured matte color to it. This gives it so much character. It comes in a cute glass bottle with a lot of care put into it. The ink is from Japan and is a little on the expensive side, but you won't be disappointed if you go with it.
*Our Favorite Ink
Archive Ink from De Atramentis
De Atramentis Archive Ink is an incredible ink that is 100% waterproof and fast-drying. The ink dries in only a couple of minutes and then is absolutely waterproof with no smearing or fading at all. You can erase as much as you want over it too. The ink comes out as a beautiful and deep black color.
Super Black India Ink from Speedball
If you're looking for a pure black, you want to pick up an India ink. Speedball has made a great product with their Super Black India Ink. Most inks actually have several shades of grays in them, while this is a truly black ink that creates nice outlines when you use it with watercolor. I've heard people mention occasional smearing, but I haven't personally seen this to be the case with Speedball India Ink.
If you use a fountain pen with India Ink, you'll want to clean it out pretty often to avoid clogging because of how thick the ink is. But if you're looking for a pure solid black ink, you can't do much better than Speedball's Super Black India Ink.
*Our Favorite Pure Black Ink
You can get this ink at Amazon.
Ink Bottle from Winsor and Newton
Winsor and Newton don't only make nice fine liners! They also have a really great ink option that I have recently fallen in love with. It's a cute matte black and it's an India ink that has character and texture as well. I've found the Winsor and Newton ink to take a while to dry, so you'll want to wait around two hours to be sure it'll have zero smudging.
You can get this ink at Amazon.
Sailor Kiwa-Guro
The Sailor Kiwa-Guro is another nice waterproof ink. The Sailor company is a famous fountain pen company that has also made some extraordinary inks. This ink writes and draws just beautifully, but there have been a couple of reviews saying it loses its waterproofness after several months. This is very strange, but definitely possible. I haven't experienced this, but it does knock it down a peg for me.
The ink itself is beautiful. It's a solid matte black and dries very quickly. It's one of the highest quality inks on this list and would be higher up if not for the reports of it losing its waterproof.
You can get this ink at Amazon.
Final Thoughts About Choosing Ink for Watercolor
When choosing pens and ink for watercolor, remember that the most important thing is that they're waterproof. This means that you can use the ink before or after you've painted with watercolor and the ink won't smear. How amazing is that?
There are so many options to choose from, but the ones we reviewed have amazing characteristics for combining ink and watercolor, just carefully decide what you really need for your particular style and budget.