Gift Ideas For Artists Who Love Art Journaling
Wondering what to buy for your creative artsy friends? Especially those creative friends who love art journaling?
Or maybe you're just another artist like me and want to make a wish list for Santa (a.k.a. your boyfriend, husband, mom, friends).
Either way, I've made a list of gift ideas for artists, especially for art journal lovers. I promise they'll love these gifts because every artist out there, whether they're professionals or amateur crafters, are super addicted to art supplies.
THEY WILL LOVE YOU FOR FILLING UP THEIR ART STASH.
You can check them out below. I've already used some of these products, and some of them are still on my I WANT list.
Disclaimer: Some links in this post may be affiliate links. This means that if you purchase something through that link, I get a small commission, at no extra cost to you.
Gift ideas for artists #1: An art journal
Jane Davenport Mixed Media Art Journal
I have this art journal and it is really amazing, especially for watercolors. It's big enough to paint in, but also small enough to carry around.
---
Dylusions Creative Art Journal
I haven't tried this one, but artists seem to love them. It's definitely on my wish list, and I'm sure other people enchanted by art journaling will love it.
customizable cover (paint the cover any way you want)
includes an envelope inside for ephemera
---
It's great for creative women artists who
enjoy writing thoughts, quotes or poems
relax by drawing or sketching
This journal is so beautiful that the artist in your life will do a happy dance if this is in their gift box, or under a Christmas tree. I got a similar one from my boyfriend and I've loved using it ever since.
Here's how I used a similar one: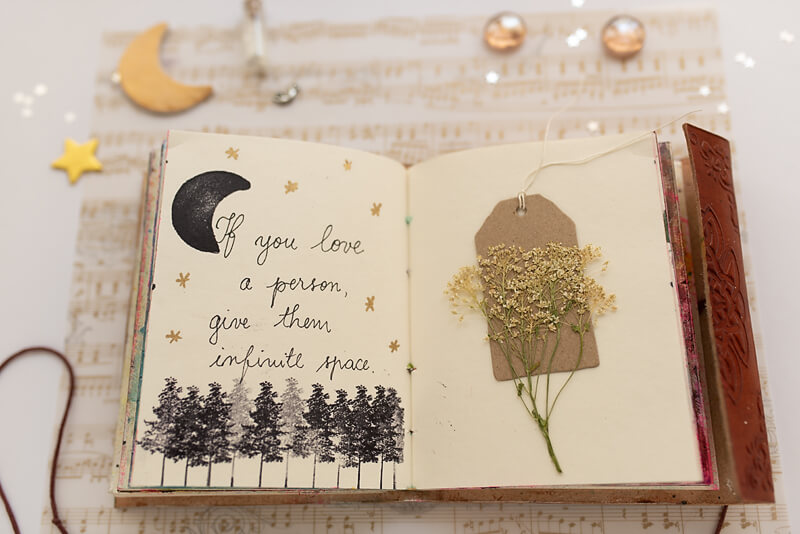 ---
Gift Ideas For Artists #2: Books About Art And Art Techniques
Jane Davenport: Fabulous Figures
This is a great gift for beginner artists who
can't draw the human body yet, but are eager to learn
want to draw and paint whimsical figures
love fairytales and have a wide imagination
The book is inspirational and teaches you how to draw and paint human figures that are unusual, whimsical, beautiful, colorful and feminine. There are step-by-step tutorials, and all of them are illustrated.
---
Steal Like An Artist by Austin Kleon
This unusually named book can be a thoughtful and fun gift for a person who
is just beginning with making art
is searching for their own style
needs the inspiration to be more creative
---
Karen Campbell's Official Guide. How to draw & Find Your Style
This book is new on the market and I'm dying to flip through it. It's definitely on my wish list.
Karen has a video where she goes through the book and explains what's inside and how to use it. You can check her video here.
The book is great for a beginner artist who
wants to learn to draw faces, eyes, hands, etc.
learns the best from detailed step-by-step illustrations
Gift ideas for artists #3: Art supplies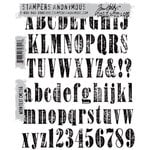 Alphabet Stamp by Stampers Anonymous
Every art journal lover should have letter stamps. They're versatile and can be used in many different projects. And the truth is, all artists love stamps, and it's not possible to have too of them.
---
These inks can be used with stamps, or with water so the ink becomes liquid.
It's great for experimenting.
They can be used in many different projects and last for so long. Worth every penny.
---
These brushes are great gifts for art journalists who
are still learning about watercolor techniques
who often carry their art supplies with them (the brushes are already filled with water which is very convenient)
love to have different brushes in their stash
I use them all the time and love them. Now I can't imagine painting in watercolors without these handy brushes.
---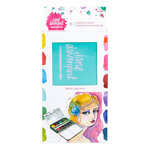 Jane Davenport Brights Watercolor Set
This watercolor set is an amazing choice for artists who
are in love with watercolor
want great quality watercolors
want bright and vivid colors
carry their art supplies with them a lot (the set is small enough to fit any bag or pocket, and has a handy holder at the back so you can hold it in one hand while painting with the other)
I've had this set for months and I must tell you it's so perfect that I can't get enough of using it. And still, there's plenty left so I think I'll be able to use it for a long, long time.
Here are some art journal pages I painted with these watercolors: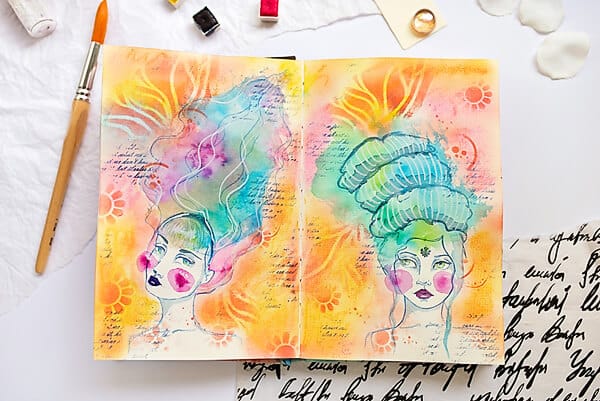 ---
One of my best art journaling investments. The stamp set is great for creative art journal lovers who
still can't draw faces like they'd want to and need more practice
are a bit impatient and want a fast drawing
would like to practice painting faces
---
Reusable Non-Stick Craft Sheet
It's such a great product because it
protects the work surface
And it's an awesome gift idea for any artist, especially art journal lovers and mixed media artists.
---
A person who enjoys art journaling will love this pen because
can be used in mixed media
writes over acrylic paint and textured background
One of the best art supplies I've ever used. The white Posca pen is so amazing that every art journal enthusiast definitely craves for this.
Gift ideas for artists #4: Fun and cute
There are many other things artists would love besides art supplies. Here are a few suggestions for fun gifts for art lovers:
Charm Bracelet Gift for an Artist
A cute gift idea for a female artist. It's jewelry and it's about art, what could a woman want more?
---
This is such a cute gift any artist would love to have.
Because artists get messy. So, they need a fun way to protect their clothes. Trust me on this one.
---
I think every artist made a similar mistake at least once: almost drank the paint water. This happens because we artists sometimes keep the painting water in our mugs. It's silly, but it's just like that.
So, how fun is this gift? It's useful and it makes you smile. I'd definitely like it on my craft table.
---
Most umbrellas are boring and when it's dark and rainy outside, why not cheer somebody up by getting them this artistic umbrella?
Every artist knows about Van Gogh and his paintings and I think a rainy walk would feel more joyful and interesting with this umbrella.
Which artistic gift are you going to get?
I hope you've found interesting gift ideas for the artist in your life or for yourself.
Yeah, why not? If you're craving for some of these items, share this post, I bet somebody will see it this year and make you happy. If not, shove the list in their face. You know what I mean. If you doubt people can decide what to give you, give them these suggestions, and everybody ends up happy.
You can also combine some of these gifts ideas and make a lovely art journal kit for that one creative and artistic person you love so much.
RELATED ART JOURNALING ARTICLES
Top 5 Art Supplies To Use In Your Art Journal
8 Art Journal Supplies For Beginners
What Is Art Journaling: Everything You Need To Know To Get Started