An Easy Mixed Media Tutorial For A Mindful Art Journal Experience
If you want to include creative mindfulness in your art journaling process, here's a fun fall collage for you.
So, the other day, while I was thinking about a fall collage in my art journal, an idea came out of the blue.
Well, I was imagining what my page would look like, and I decided to use a tree and leaves to represent letting go of things in my life.
Through years of art journaling, I've found that creating art and being mindful about it can do wonders to my mood and overall positive self-reflection.
Let me explain.
WHAT IS MINDFULNESS?
There's a short article on mindful.org where they say that mindfulness is
"…the basic human ability to be fully present, aware of where we are and what we're doing, and not overly reactive or overwhelmed by what's going on around us.
While mindfulness is something we all naturally possess, it's more readily available to us when we practice on a daily basis."
I couldn't agree more. If you want to learn more about yourself, you should practice mindfulness on a daily basis in order to really see its benefits.
Art and mindfulness
My point is that, besides the fall season being truly inspirational and visually irresistible, it can also remind us of the importance of letting go.
If you think about the fall and the falling leaves, you can see that the trees let go of leaves so they can prepare for new and fresh things.
People can do this, too. However, sometimes we forget how some things hold us down and we refuse or can't let them go.
So, with this artistic mindfulness exercise, I wanted to share how to become more aware of the things you want to let go of. Letting go is not always easy to do. Quite the opposite. It's mostly hard as if you were trying to convince a 3-year-old to eat some spinach. It seems nearly impossible, and it often ends in someone being angry or crying.
But, let's try this mindful exercise and make some art along the way, and see where it takes you.
Get your free Book of Mindful Art Journal Prompts
Make unique & meaningful art without the burden of making it pretty
but actually enjoy art as self-care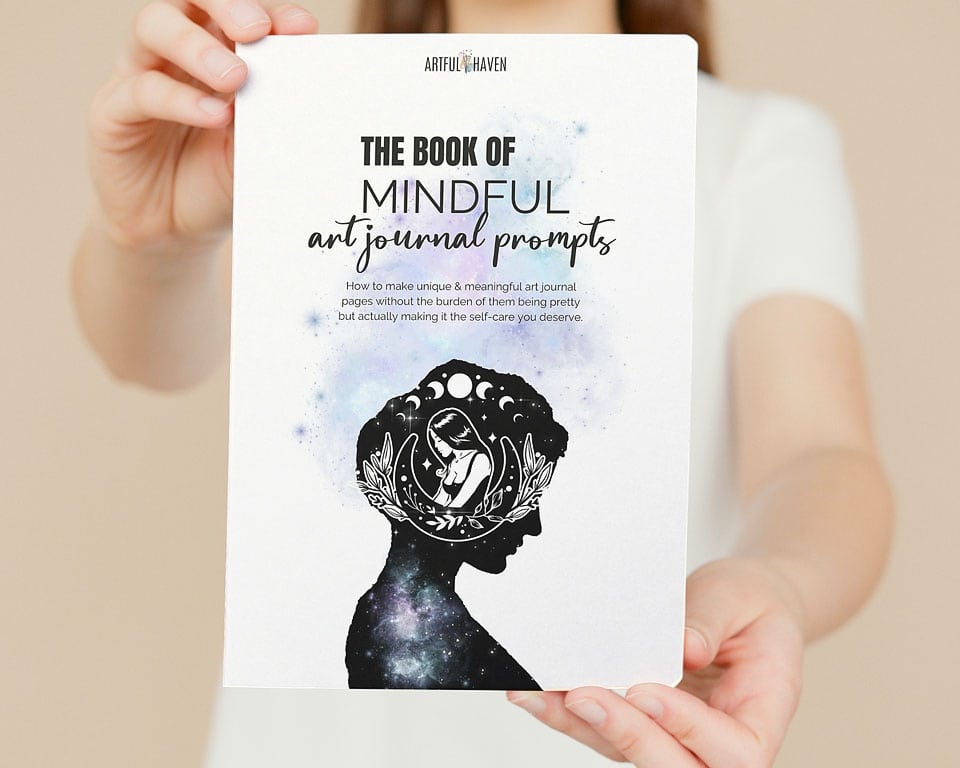 WHAT YOU'LL FIND IN THIS POST
After preparing all the supplies (listed below), I'm going to go through the process step-by-step and explain what to do, with a lot of photos for your reference.
Above all, I'd like you to pay the most attention to the mindfulness exercise part of this fall collage. It really feels nice to write things down and become more aware of those things that have been holding you back, such as bad habits, lack of self-confidence, a loud inner critic's voice, etc.
This exercise can be just the beginning of the mindful and conscious habit you can create to change all those annoying things you feel you must let go.
Supplies you'll need for this mixed media tutorial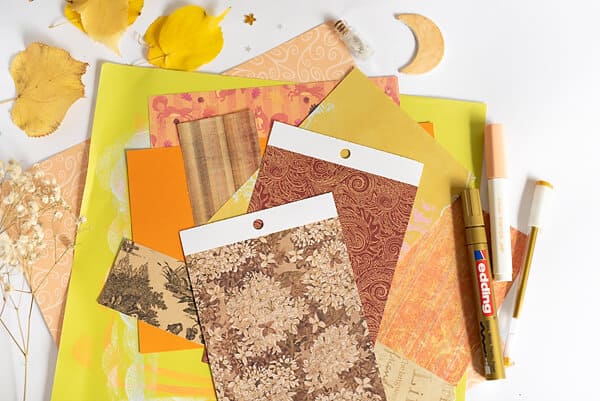 You won't need many supplies, just the basic ones. Here's the list:
Acrylic paint (red, orange, yellow, white)
Kitchen sponge
Scissors
Ink
Pen/Marker for writing
Some cut out leaves and branches
FALL COLLAGE: A STEP-BY-STEP mixed media TUTORIAL
Step 1. The background
Let's prepare the background first. This is a fall collage so I picked colors from the usual fall color palette: red, orange, yellow and a bit of white to make some areas lighter.
Put some paint on the page and start dabbing and blending with a kitchen sponge. I always use a dry sponge, not wet, because sponges can hold so much water and the water often bleeds through the paper, and it kind of ruins the acrylic paint.
Here's how it looks after dabbing and blending. Later, I did the same for the opposite page on the left.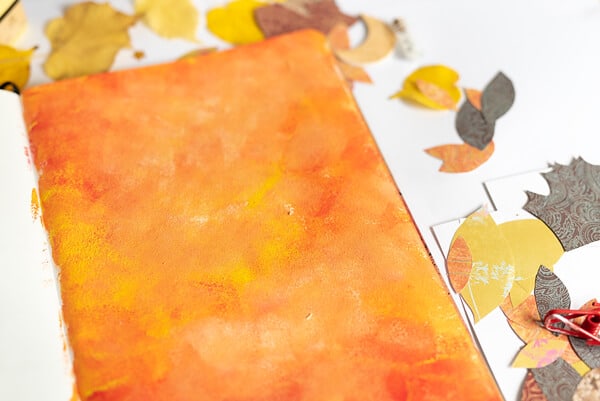 Step 2. Cut the leaves and the tree
While the background is getting dry, cut the leaves and the tree with the branches. Don't worry about the size or the form of the leaves, just play. I like cutting different sizes so the end image would be more dynamic.
I cut mine from scrapbook papers because I liked their design and the colors.
Also, I used some ink to distress the edges of the leaves a little bit. This makes them pop out more. You can use ink or a marker to trace the edges if you'd like.
Step 3. Write on the leaves
This is where the mindful part of the exercise begins.
Think about the things you want to let go of. All those relationships, habits, mindsets, attitudes in your life that take the joy out of your days.
Take a minute or two and really reflect on these things. What feels heavy around your neck? Do you want to change something about yourself? What fears do you have and want to let go of?
Write all these things on the leaves. As many as you feel the need.
Step 4. Glue the fall collage pieces
Now, let's glue the tree and all these leaves down. But first, check if your background is completely dry. If it's not, the glue might not stick. I usually do this kind of collage with a glue stick, and it works just fine.
Before you add the glue, play with the branches to see where to put them.
I wanted it to look like the wind is swaying the branches in one direction and blowing all the leaves off.
Next, start gluing the empty leaves on the branches.
After that, glue the negativity leaves as if they were falling off the tree and flying away into the distance.
Step 5. Write a message/quote
Choose a nice quote that resonates, a saying, or anything you'd like to serve as a reminder of this collage and the mindful moment.
Also, you can write a positive affirmation that describes how you want to feel after you let go of the negative.
Use a marker that you know won't get ruined by the acrylic paint on the background. Or, you could type and print a quote, cut it in the shape of a leaf, and glue it down.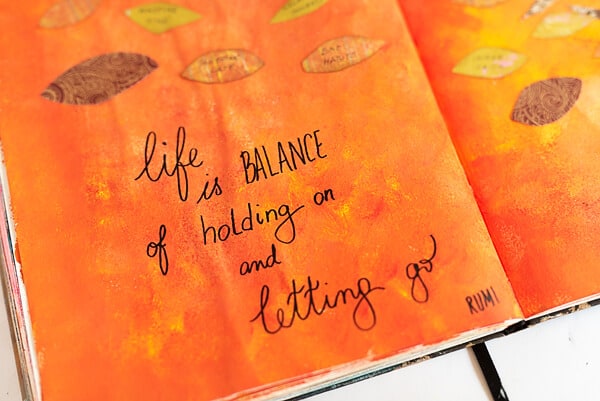 FALL COLLAGE AND MINDFULNESS
And there you go, you found inspiration in the fall season and you also did a creative mindfulness exercise to explore your own dungeons and become more aware of how you feel and what you want to change.
Isn't that a big step towards positive change?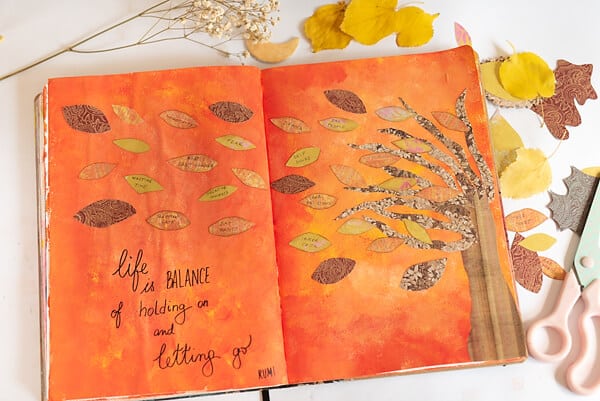 Combining art and mindfulness like this has been my passion for a long time. Every single time this experience surprises me in a way that I don't expect.
By being mindful while exploring art, you create a positive environment for more self-care and growth, whether it's personal or artistic.
Get your free Book of Mindful Art Journal Prompts
Make unique & meaningful art without the burden of making it pretty
but actually enjoy art as self-care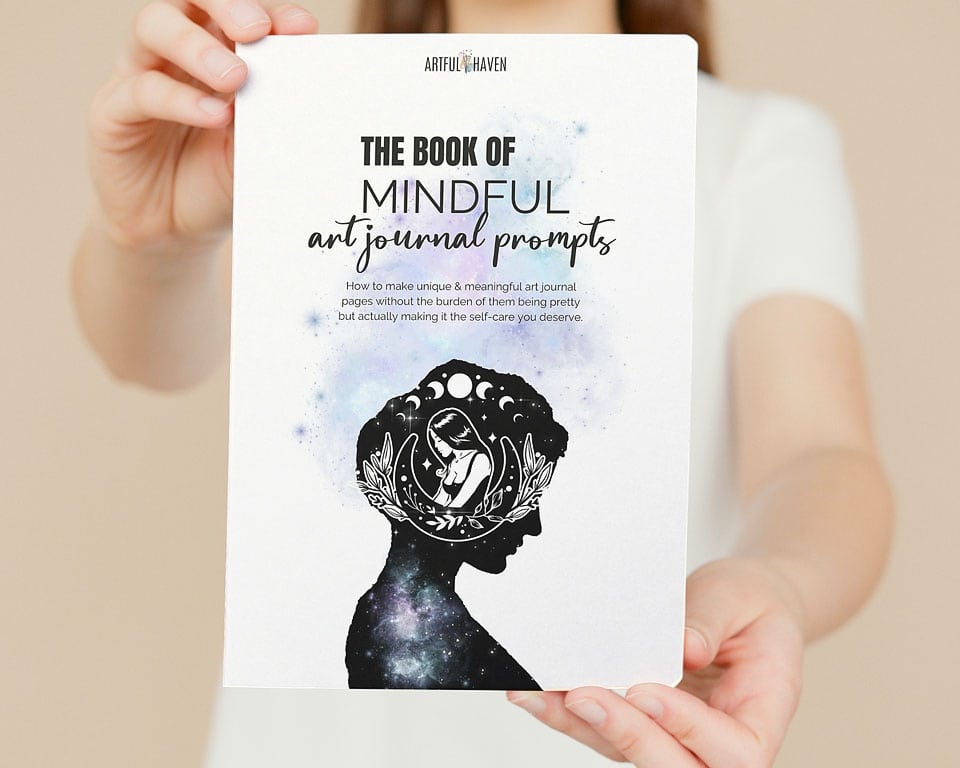 If you like the fall collage mixed media tutorial, pin it to your favorite Pinterest board!