Art Journal Prompts, Ideas, And Printables Inspired By The Fall Season
If you like the fall season, you'll love making art in your art journal about it. Especially with these fall art journal prompts and ideas.
Above all, it's a great period for art journaling. It gets cooler outside and being all warm and fuzzy in our home just invites us to make some art. Don't you feel the same?
That is why I'm sharing some ideas and prompts for your fall art journal pages, as well as some autumn quotes you can use.
FALL ART JOURNAL PROMPTS
Some of the prompts are for drawing and painting, and some are fall writing prompts. You can combine the two and really make beautiful fall art journal pages.
Fall art ideas and prompts
1. When we think about fall, the first thing that pops up in our minds is leaves. There are many ways you can use leaves in your art journal. You can trace leaves with a pen or a marker in your art journal.
2. Use pressed leaves and just include them on a page by gluing them. I mostly use double-sided tape for this.
3. If you've pressed some, try doodling on leaves to make them more interesting and imaginative. And then, glue them on the page.
4. Collect leaves of different sizes, types, and colors and press them. After they're pressed, make a collage with them. For example, you could make a face with different leaves, or a human figure. Make imaginary forms and bodies.
5. A fun technique is to stamp with leaves and acrylic paint. I explain this in detail in the article about nature journaling.
6. Have you heard of leaf rubbing? This is an awesome technique that we all did as kids. You put a textured leaf under the paper and use a pencil to go over the leaf. The texture of the leaf will be perfectly visible on the paper. It's like embossing. This process is also explained in detail in the post about journaling with nature.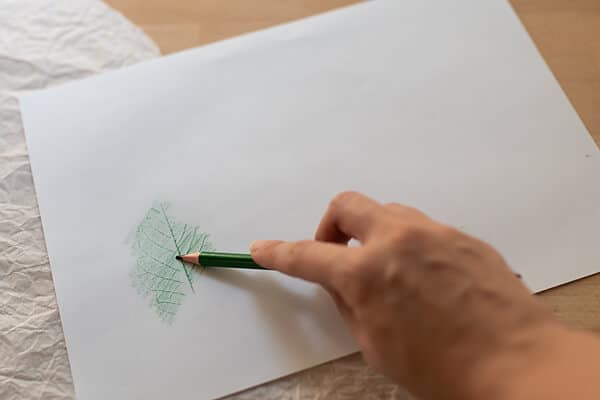 7. You can use this rubbing technique with the resist technique. You do all the steps above in prompt 6, but you do it with a wax crayon. For example, the wax resists watercolor. So, when you paint watercolor over the wax crayon, the wax resists and you get a neat look.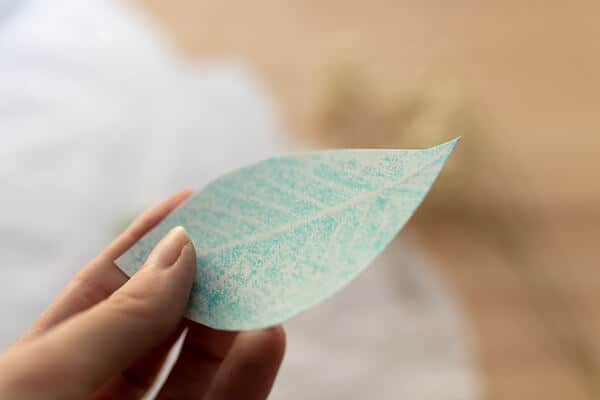 8. Color the whole page in your art journal in the autumn colors. After that, doodle raindrops all over the page. You could only leave a tiny bit of space to write something among these raindrops. Or, doodle bigger raindrops and write something inside them.
9. Try to make fall color palettes. Look around you and get inspired by the colors of nature. Use watercolors and try to make a fall color palette by mixing different colors. It'll be like doing swatches.
10. Make a watercolor background with fall colors and write words that remind you of the fall season.
11. Find magazine photos in autumn color palette and make collages. You can tear the magazine pages and make a collaged leaf or a tree with them.
12. Take photos of yourself and your friends or family and make a fall scrapbook page. Or a whole photo album!
13. Doodle trees and add orange and red leaves with watercolor. Also, have fun by creating trees from your imagination. The most beautiful ones you'd like to exist.
14. Doodle leaves, especially imaginary ones. Let your imagination flow.
Fall writing prompts
15. Write a fall quote or any quote that reminds you of the season. (Check the list of fall quotes here). Decorate it with doodling or watercolor. Add some stickers, too.
16. Write down all the things you like about the fall. Doodle some leaves around them, or draw a small cup of hot chocolate or some raindrops.
17. Go outside and take photos of everything that catches your eye: leaves, colors, patterns, etc. Then, write about what you love about these photos and why you took them. Also, what could you use in design or art by looking at these natural patterns?
18. Write about what you want to accomplish during this season. How do you want to grow?
19. Write about the rain. How does it make you feel? List emotions connected to autumn, and see if there's a pattern of how you feel every fall?
20. This is the season of thankfulness, too. So, write about what you're thankful for. Think about the little things, too, like being grateful for the beautiful sunset when the softest sunshine reaches you through the read autumn leaves.
21. Write a poem about the fall, your own or somebody else's. Go really fancy with your handwriting her. Let it be elevating and beautiful.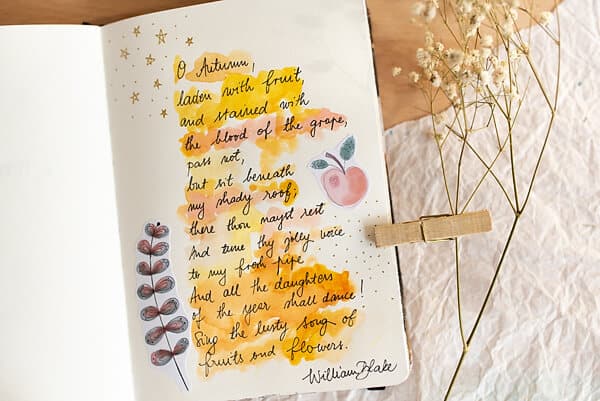 22. Since this is a season of change and letting go, what would you like to change or let go of?
FALL QUOTES AND SAYINGS
Life starts all over again when it gets crisp in the fall.

F. Scott Fitzgerald
And all at once summer collapsed into fall.

Oscar Wilde
Autumn is a second spring when every leaf is a flower.

Albert Camus
Anyone who thinks fallen leaves are dead, has never seen them dancing on a windy day.

Shira Tamir
How beautifully leaves grow old. How full of light and color are their last days.

John Burrows
Winter is an etching, spring a watercolor, summer an oil painting and autumn a mosaic of them all.

Stanley Horowitz
Autumn… the year's last, loveliest smile.

William Cullen Bryant
MAKE A THEMED FALL ART JOURNAL WITH THESE PROMPTS
Again, what I like the most about fall is its ability to inspire us with so many things, especially visual things. But also, the crisper air makes it even sweeter to stay inside and create art by looking through the window.
Do you feel inspired? I hope you do. There's so much the fall season offers when it comes to colors and visuals. Use them to make amazing fall art journal pages.
Besides all these prompts above, another neat idea would be to make a fall art journal dedicated only to the autumn season experience. So, make all the pages about the fall, try out these prompts, separately or combine them.
RELATED ART JOURNAL ARTICLES
30 Art Journal Prompts for Inspiration When You Feel Uncreative
Nature Journaling: Nature Inspired Art
Themed Art Journals: Make Different Types of Art Journals
Do you like these fall journaling prompts? Save them for later to your favorite Pinterest board!