How To Keep A Travel Art Journal (With Tips, Ideas, And Writing Prompts)
A travel art journal is a visual journal where you record your traveling experiences, events, feelings, new things you've learned, etc., while making art.
Here are a few benefits of having a travel art journal:
Keeping a travel art journal gives you a more profound experience of your trips.
Also, you become more mindful of everything you see, taste, or feel while you travel.
Even if you make the journal after you've come home, it still enriches your experience and lets you relive it again.
I want to share a few ideas on how to make an easy travel journal, what to include in it, how to pack your art supplies, etc.
HOW TO MAKE A TRAVEL ART JOURNAL?
What is the best travel journal? Well, I think it's the one that's practical and not too big.
Why? Because when you travel, you don't want your travel journal to make the trip feel like you're a camel carrying loads of things on your poor back. You want the journal to be small enough so it can fit any bag, and then you can take it everywhere with you.
Having this in mind, let's talk about how to make a light one. And we know how satisfying a DIY process is.
So, here's what you need for a DIY travel journal:
Sheets of thicker paper the size you want. I cut mine around 8×8 inches (approximately 20×20 cm) so I could fit 10×15 photos in it.
A bone folder or a butter knife
Hole puncher (I use an ordinary office one with two holes)
Step 1: measure approximately 0.7 in (2 cm) from the edge of the paper. Mark the 0.7 in (2 cm) with a pencil.
Step 2: take the ruler, align it with the pencil marks and take the folder/knife to create a folding line.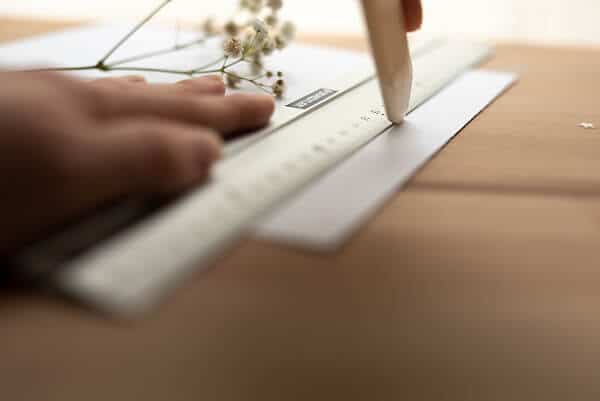 Step 3: put the ruler along the folding line and gently fold the paper on the inside.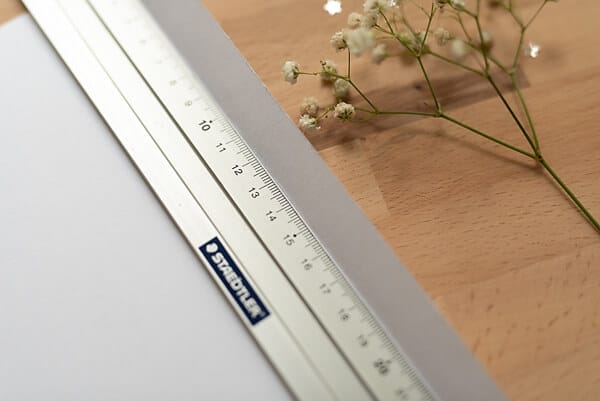 Step 4: Then, punch the holes on each sheet of paper. You'll put the twine through these holes to tie the papers together.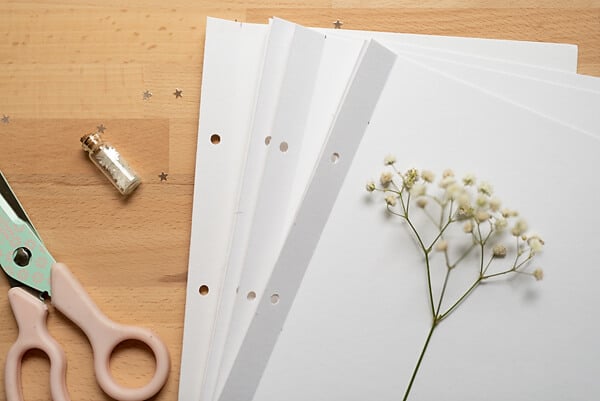 BUT, you can also leave the binding part last until you put things on your pages and decorate them, so you can move the pages as you like. Do what's seems more practical to you.
And voila: a brand new notebook for your travel art journal, ready to record your best trip.
HOW DO YOU ORGANIZE TRAVEL ART JOURNALS?
First of all, you decide whether you want to take a journal with you on the trip, or you'll create one after you come back. Below is one page in my travel journal I made after visiting Barcelona.
Prepare your travel journal in advance
On the other hand, if you want to experience the joy of creating art in an unknown inspirational place, then pack your travel art journal kit!
Also, prepare an envelope to collect ephemera on your trip, like tickets, flyers, etc.
You can plan what you'll collect or write on your trip. Make a few sections in your art journal so you have them prepared and ready. Here are some ideas:
What's the most inspiring and beautiful place you've seen
Your personal stories from the trip (funny and awkward ones included)
What you've learned about the people, places or culture
Later on, on your trip, you can take photos of each of these sections.
You can paint pages or write titles for your sections, and then fill all these up while you travel.
Make a travel art journal after your trip
If you feel that art journaling during your travels will get in your way, then leave the journal home. Bring only a small notebook and a pen.
This way, you can write down anything during the journey and use it later in your journal. On your trip, collect different ephemera and put them in an envelope or a small bag.
If you collect tickets and other paper ephemera, you can write on the back about the places, dates and your experience.
Just be careful about taking organic things like tea or flowers, because they might cause some issues with the security and customs.
I usually make my travel journal when I'm back home. This way, I somehow have extra experience after the journey is over. By creating afterward, I relive the trip and enjoy the reminiscence.
WHAT TO PUT IN A TRAVEL JOURNAL?
As in any art journal, it goes the same here: Whatever your journal can hold and whatever you want to put in it.
Photos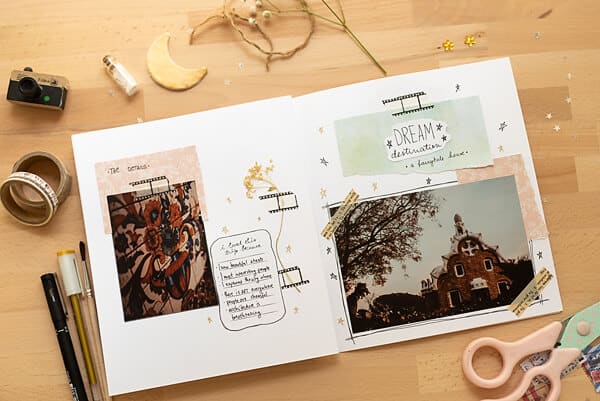 I love putting photos in my travel journals. I mean, photos of everything! Take photos of yourself and your company, buildings you love, streets, even people.
Also, look for interesting details like doors, doorknobs, windows, flowers, street signs, parts of statues, street name signs, street art, graffiti, food, window shops, etc.
Tickets and other paper ephemera
Having these little details in your travel journal makes it more vivid and shows the overall feel of the trip.
I often take every ticket I buy and they usually have dates on them, so that's pretty neat. Putting them in a tiny envelope on a page is also a fun idea. If you have a big ticket, make it part of the background.
For example, we always get a tourist guide booklet or a map on our travels, right? These are large so use them as backgrounds or cut them out in smaller pieces. You can strategically cut out the location of your hotel, or the most amazing place you've visited.
Also, you can make pockets out of these maps to save your smaller ephemera.
You can take flyers from museums, shops, or menus and also use them as backgrounds or embellishments.
Use words!
For example, I've used the word wanderlust because of its meaning and because the word sounds amazing.
Postcards or postal stamps
Everywhere you go, you can buy a postcard of the place. And there are some pretty lovely and creative postcards.
If you get a bunch of them, you can make a small art journal if you bind them together. Then, how about journaling at the back of the postcards?
Also, you can glue postcards in your travel journal, especially if you couldn't take a photo of that particular place.
If you learn new words in the local language and they kind of stick in your mind, why not use them in your travel journal?
Paper scraps or stickers
Use those small paper pieces lying around and include them next to your photos or write on them. They can add up to the overall atmosphere and colors of your journal if you use similar colors as in your photos, ephemera, etc.
And stickers! They're easy to use so they fit perfectly for a travel art journal.
WHAT SHOULD I WRITE IN MY TRAVEL ART JOURNAL?
I like writing in small sections because it's easier to skim those later. And it's easier to organize my thoughts. Aaaand, small sections of text look great on the paper. Then you can doodle around them to frame them.
Here are some travel journal prompts for writing:
I like this place because…
The most artistic part was…
The new dish I've never tried before…
The wonderful thing about the culture…
The thing that surprised me the most…
The most inspirational architecture…
This is the most magical place…because…
The most interesting words in the local language…
What has inspired me most to create art?
The most memorable experience on the trip…
What was the weather like?
What is the sunset like in that place?
Have you fulfilled any of your life-long wishes on this journey?
The weirdest and quirkiest thing about this place…
HOW TO PACK ART SUPPLIES FOR TRAVEL?
You'd like to take a lot of supplies, right? But, it doesn't sound very practical, I know.
So, to make this more practical, I would pack these:
a small pouch to take your supplies
a watercolor brush (they are practical for any trip because they hold water, so one thing less to worry about)
binder clips (so they can hold your pages while you work, let's say, on a bench in Paris!)
I think this is not much to carry with you. Also, you can choose the pouch that can carry your travel notebook or your DIY journal, and all other supplies. Any bag or a rucksack can handle these, right? So, your back is safe.
Can I take art supplies on a plane?
With these supplies, you don't have to worry about having any issues. On the other hand, if you decide to carry any liquids, pack them in your checked bag in heavy-duty zip-lock bags.
Or put all your supplies in your checked luggage, and then you're safe.
This way, you'll avoid any trouble with airport security.
If you only have a carry-on, I still think you'll have no trouble with these. However, you aren't allowed to take liquids on a plane, or anything suspiciously sharp.
I've carried pens and pencils in my bag everywhere. They only took my tweezers once, which I'd give a lot easier than my art supplies.
Just to be sure, you can check the TSA (Transportation Security Administration) regulations site, where they have a search area called What Can I Bring? I've heard that TSA has an app, too, but I've never used it.
So, plan these things in advance if you don't like awkward airport situations.
TRAVEL JOURNAL IDEA: USE QUOTES
Quotes are great. Love them. I use them all the time in my art journals. They can inspire us, trigger an emotion or leave us speechless.
I've collected some quotes about traveling that I think you might like and use in your travel journal.
A list of inspirational travel quotes
"If you think adventure is dangerous, try routine, it's lethal." – Paulo Coelho
"We travel because distance and difference are the secret tonic of creativity. When we get home, home is still the same. But something inside our minds has changed, and that changes everything." – Johan Lehrer
"Jobs fill your pocket, but adventures fill your soul." – Jamie Lyn Beatty
"Twenty years from now you will be more disappointed by the things that you didn't do than by the ones you did do. So throw off bowlines. Sail away from the safe harbor. Catch the trade winds in your sails. Explore. Dream. Discover." – Mark Twain
"People don't take trips, trips take people." – John Steinbeck
"Travel brings power and love back to your life." – Rumi
"I'm in love with cities I've been to and people I've never met." – John Green
"It's a funny thing coming home. Nothing changes. Everything looks the same. You realize what's changed is you." – F. Scott Fitzgerald
"I am not the same having seen the moon shine on the other side of the world." – Mary Anne Radmacher
HOW ABOUT MAKING THAT TRAVEL ART JOURNAL NOW?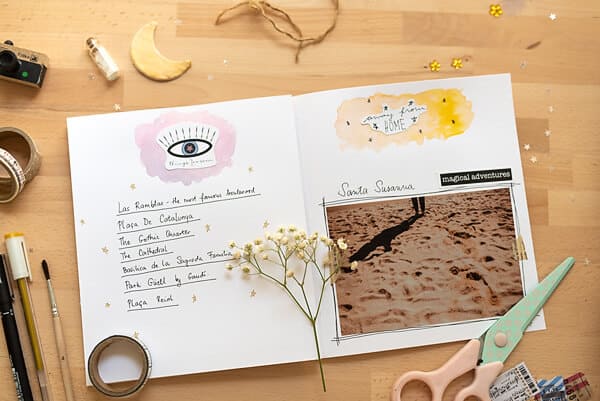 Maybe you already have a ton of photos from your last trip. Or different tickets scattered around your home. This could be the perfect time to collect them and make your travel scrapbook.
Or are you planning a trip? Start planning your travel journal as well. Make the trip even more fun and be more mindful of it by journaling about it. Connect your travel experience with art-making. It's a great way to grow and learn.