9 Amazing Gifts for Watercolor Artists They'll Absolutely Love Using In 2023
Have you wondered what to get someone who likes watercolor? Lucky for you, there are many gifts for watercolor artists that they'll fall in love with and you'll be their hero for making them feel special. Trust me, there's no better gift for an artist than art supplies. Period.
What to have in mind before buying gifts for artists?
Make sure you know exactly what they need. Rather than buying them something they already have, find out what they don't have but would like to try.
Figure out if your artist is a beginner or advanced. You can ask them this. Then decide whether to get them something super advanced and more expensive, to knock their socks off. Or, if they're just starting, you can get them something beginner-friendly, like student-grade supplies.
You'll never make a mistake with quality watercolors, paper, and brushes. These are essentials to any watercolor artist and they use them a lot.
So, let's see what you can get them.
Disclaimer: Some links in this post may be affiliate links. This means that if you purchase something through that link, I get a small commission, at no extra cost to you.
Watercolors
If the artist in your life is only a beginner, then you can get them student-grade watercolors that are also budget-friendly. This also gives you the opportunity to get them more things at once.
However, if your piggy bank allows, you can get your artist some better quality watercolors that'll blow their minds.
Winsor & Newton Cotman Water Colour Paint
They have a basic set of colors but you can always mix them and expand the palette. The set is small so it's perfect for beginners, for traveling or carrying around.
Also, the paints can last a long time, according to satisfied artists who used them. That's a great plus.
And the paint pans are removable and you can replace them with new pans when these run out. No need to buy the whole pack again.
Jane Davenport Watercolor Set – Neutral
This is one of my favorite watercolor sets. I have the neutral and the brights sets (see below). They're amazing paints because of the rich pigment and the interesting colors and their names.
The neutral set is great for painting portraits because of all the skin tones, but they can be used for a variety of paintings because they're soft & neutral. Perfect combo for an artist who likes vintage, minimalistic, or aesthetic style.
Jane Davenport Watercolor Set – Brights
This was my first high-quality watercolor set and I fell in love with it immediately. The colors are so bright, rich, and vibrant that the painting process is amazingly enjoyable.
Jane (the designer) gets artists completely and she creates these products having the artist's needs in mind.
The little tin box comes with a ring handle at the back, so it's easy to hold while painting.
Below is a paint set that I see many artists use. So, you'll be sure your person is getting something really special. It's more expensive than the sets above, but I believe both, beginner artists and more experienced ones, will love using it.
The wonderful thing about these is that you can add additional watercolor pans and nest them in this metal box. Still, you get 12 colors in the set. They're of great quality and your artists will love them.
Brushes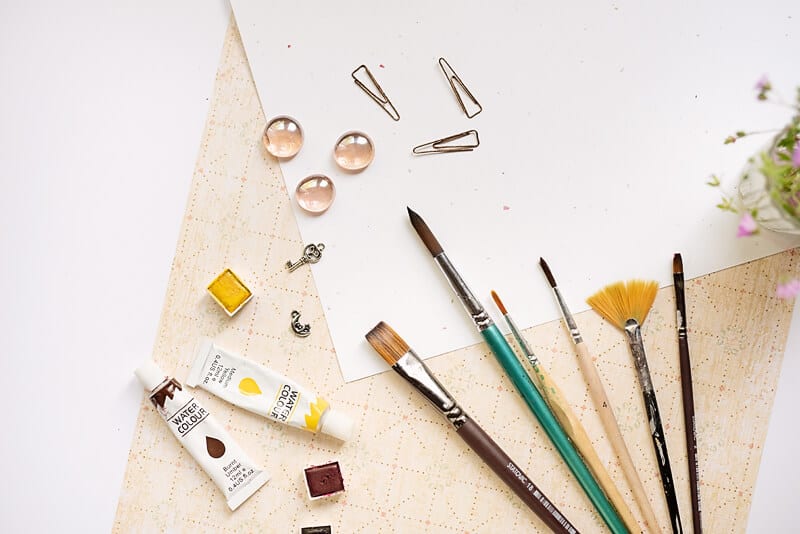 Every watercolor artist needs paintbrushes. And a lot of them. So, since you're already getting a gift for your watercolor artist, what about getting them a whole set of brushes, or just that one, high-quality brush that'll change their painting experience for the better?
Bear in mind that watercolor artists love using round brushes. They're more useful than flat brushes, ok? So, here are some round paintbrushes you can get them.
In this set, you'll get 6 round brushes in different sizes. It's an excellent gift because it lets your artist paint larger surfaces as well as details. This is super important for a watercolor artist.
This set of brushes is more expensive because the brushes are made of natural hair. It contains 5 sizes which is a great plus. So, if you want to gift something of great quality beyond the beginner level, this could be a wonderful gift.
Some call them water brushes and some watercolor paintbrushes. Either way, these are such gems in the art world. Get your artsy person a set of these and you'll have their love and respect for sure.
They're practical because they already have a water container so artists use them when they paint on the go, or in any situation when they don't want to bother with water jars.
These brushes are great for traveling and carrying around. They are detachable, which means they can fit in any bag, even a pocket.
This brush folder has 60 pockets so all the brushes your artist has can nicely fit in it. It's a rollable folder so it doesn't take up too much space which is great for traveling.
Paint palette
In my opinion, ceramic or glass palettes are the best. There are many plastic ones out there, but they don't seem like a nice gift and well….it's plastic (environment, right).
So, if you're adding a little something more to the gift basket, let it be a ceramic palette that has many small containers for mixing paint.
Here are some suggestions.
It's a functional paint palette but also a bit stylish, in the shape of a flower. It cleans up easily and won't stain. Not to mention the high rating it got from users on Blick (4.8. out of 5).
This is also another stylish paint palette that would be an excellent gift for a watercolor artist. It's white and made of porcelain. This palette is also easy to clean, but most importantly, it has multiple little containers for mixing a great number of colors.
Watercolor paper/paper pads/art journal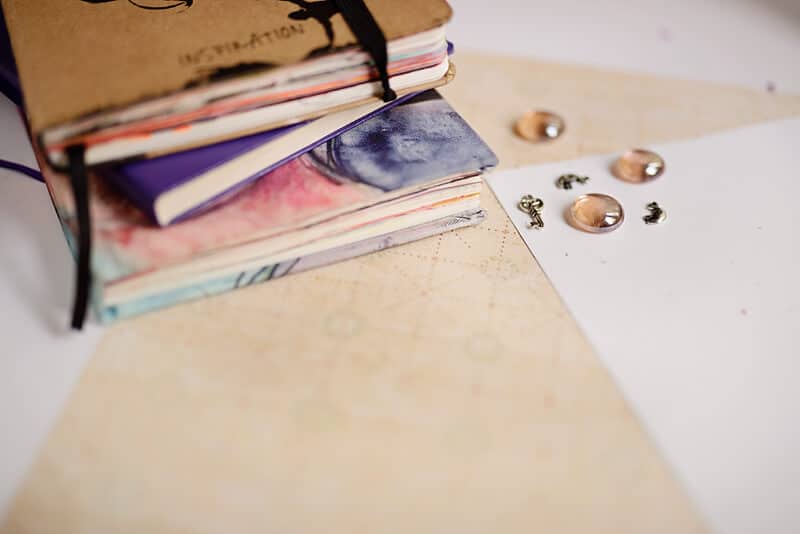 All watercolor artists know that you can paint with watercolor on plain paper. What they need is watercolor paper. And you can get those in paper pads or art journals.
When it comes to watercolor paper, the heavier they are the better. That means that the thicker paper you paint on, the better the paper will behave. It won't crumple or bleed and watercolors look amazing on this paper.
Anything ranging from 150gsm to 300 gsm will work fine.
Here are some paper pads and art journals as great gifts for watercolor artists.
This set of papers only has 20 sheets, but they're of superb quality. Any watercolor artists will drool over these.
This is a neat little sketchbook with watercolor paper inside, 200gsm. I have this one and the watercolor looks amazing on this paper.
These sketchbooks are small and easy to carry around. Maybe that's just what your artist is looking for.
Waterproof pen/marker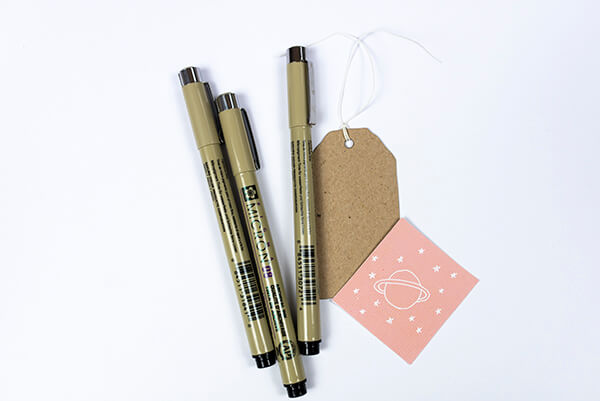 All watercolor artists also draw and sometimes they need a waterproof pen to make painting easier and stress-free. So, if you get your artist waterproof pens, they'll love them. Guaranteed.
I suggest Sakura Micron pens or Uni-pin fineliners.
Mechanical pencil
A good pencil is also a great gift for watercolor artists since they draw a lot. And a good mechanical pencil is worth having.
My suggestion is the Pentel mechanical pencil because I've seen so many artists use it and praise it. You won't go wrong with this one.
Watercolor courses
Wow, this would be an amazing gift. If you can't find live courses in your area, an even better idea is to get them a subscription to online course platforms.
Check out Creativebug and their courses. The subscription is super affordable and you can get a whole year of courses for your artist.
Books on watercolor
This is a book an artist can use daily to practice and get inspiration and ideas. Suitable for beginners and experienced watercolorists.
The book is full of whimsical illustrations and wonderful color combinations. There are many projects, tips on composition, perspective, imaginative techniques, and simple exercises.
Watercolor pencils
Watercolor pencils are a great thing to have because they're easy to store and carry around and have the same look as watercolors. Avoid buying student-grade pencils because the higher quality ones will give the best results. Here are two suggestions below.
Faber-Castell Albrecht Dürer Watercolor Pencils and Sets